Harvey Weinstein indicted by New York grand jury on rape and sex assault charges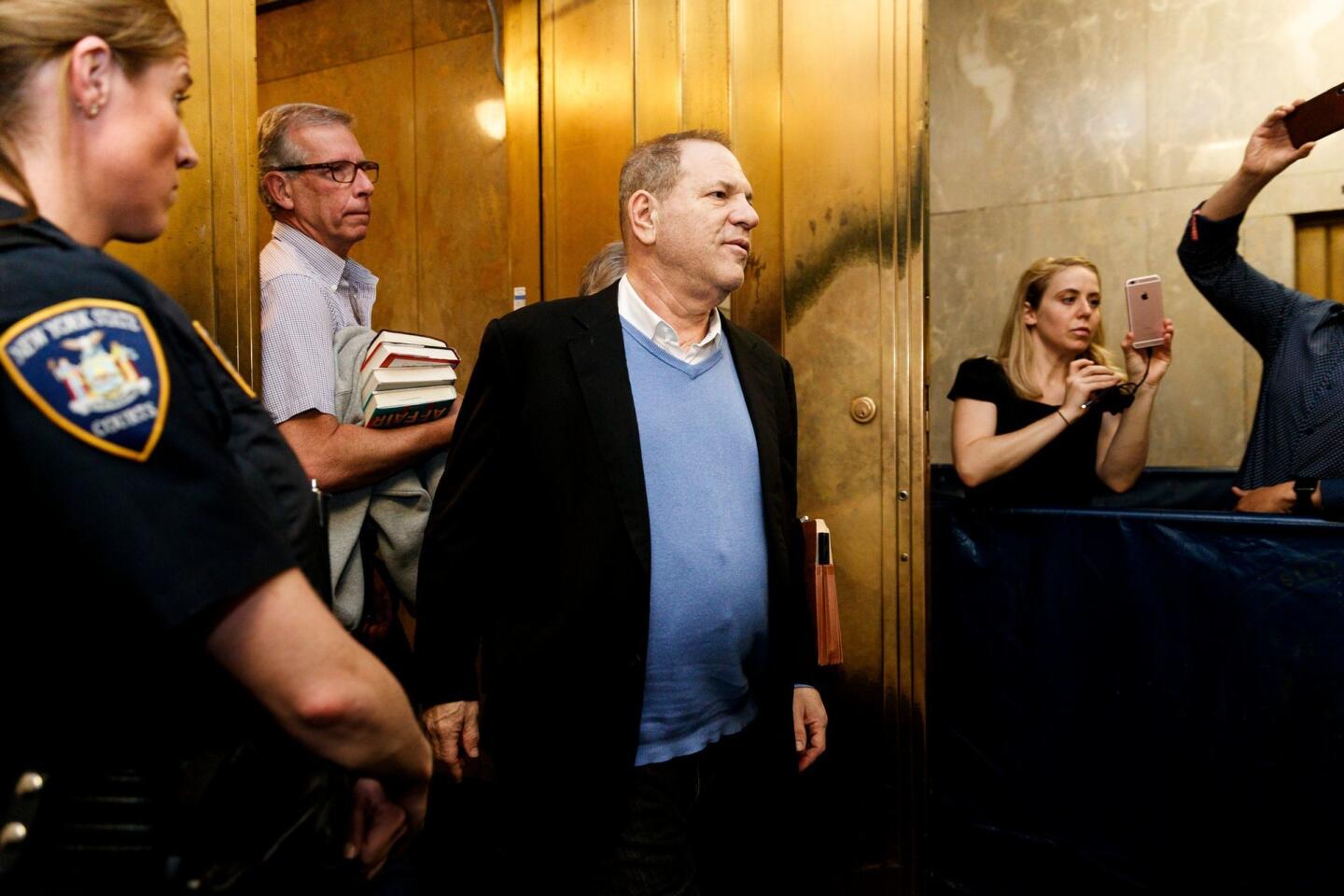 Harvey Weinstein leaves court after being charged with multiple sex crimes in New York.
(Justin Lane / EPA/Shutterstock)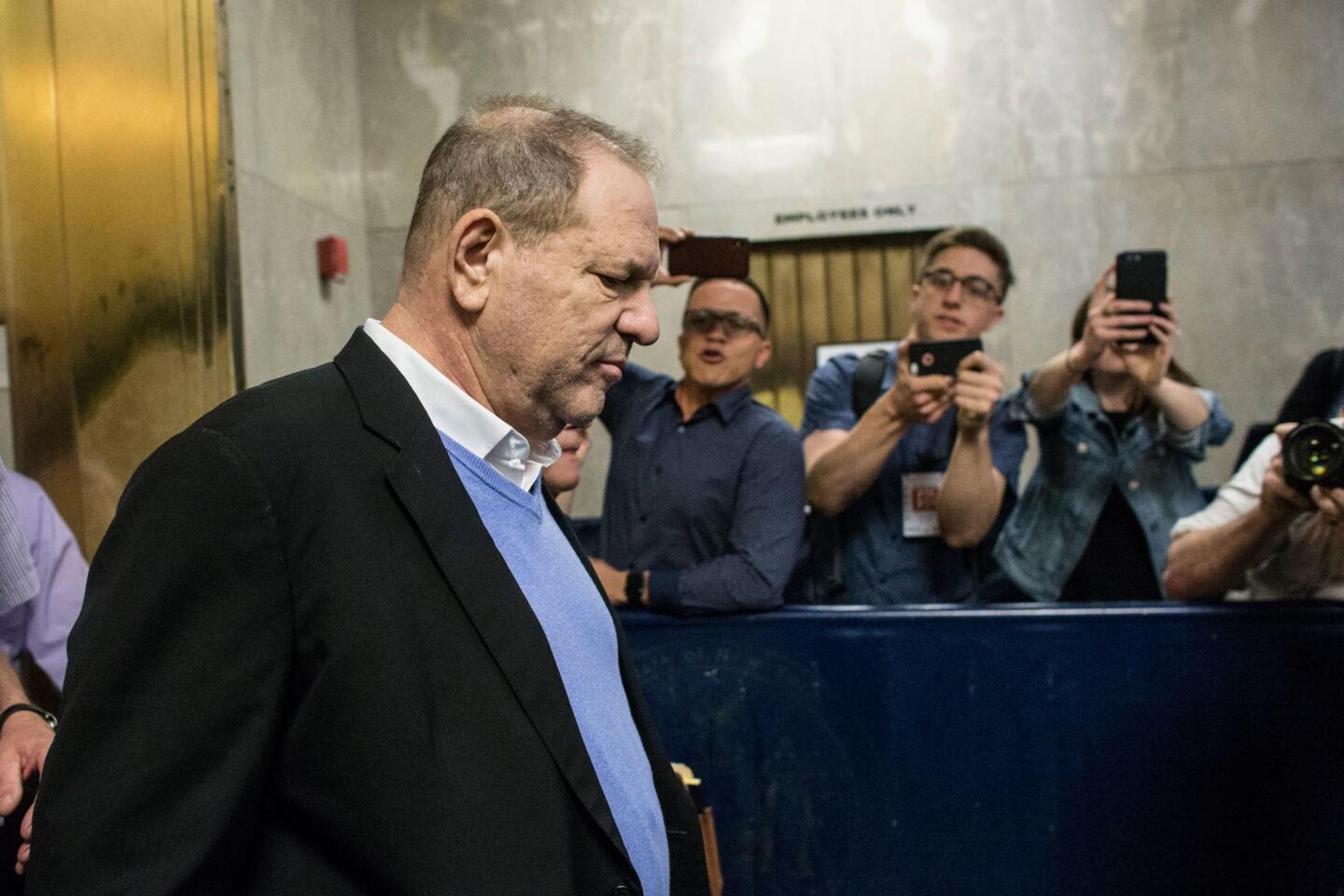 Harvey Weinstein was released on bail after being charged with multiple sexual crimes in New York.
(Kena Betancur / AFP/Getty Images)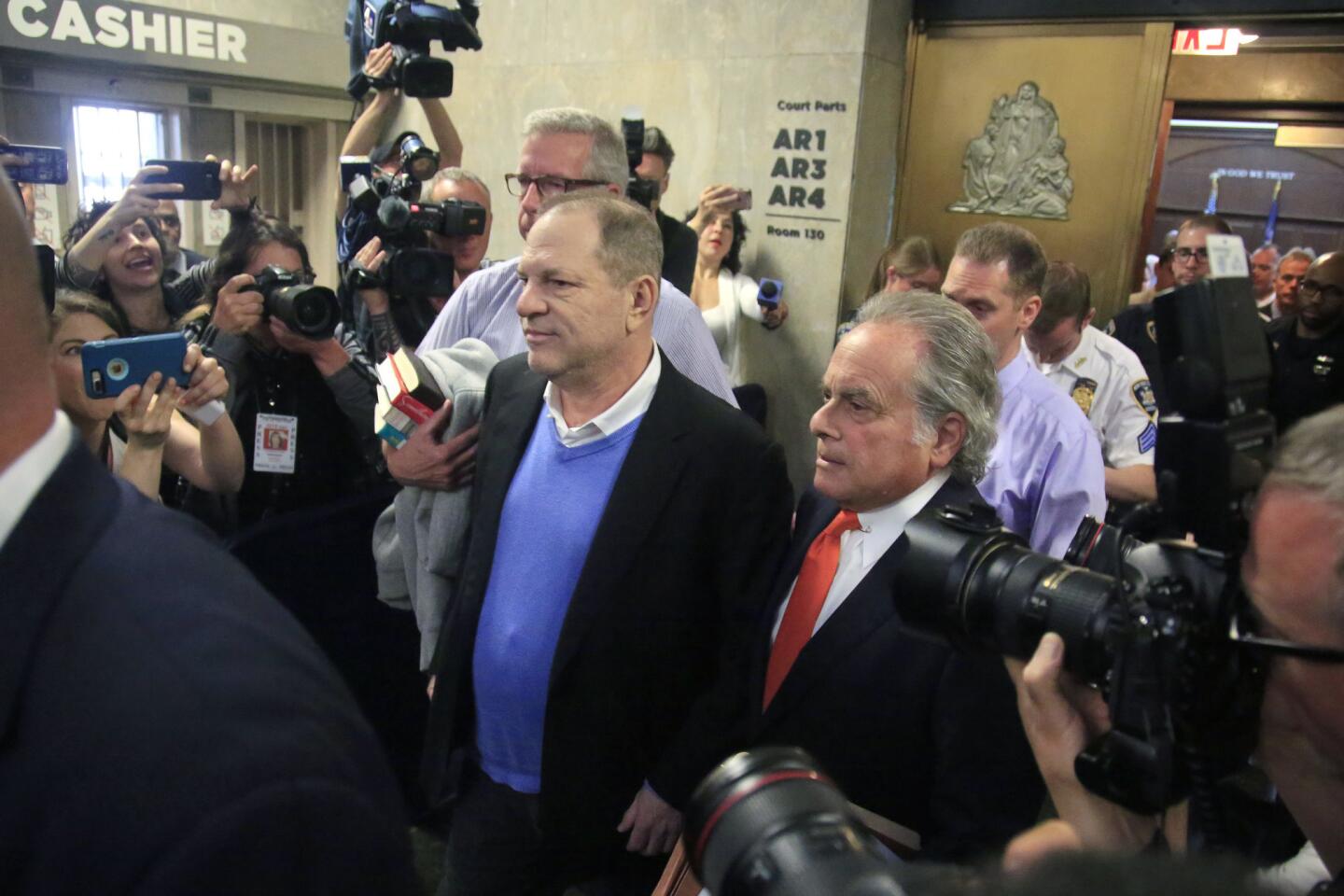 Harvey Weinstein, center, heads for the exit with his lawyer Benjamin Brafman after posting bail at Manhattan Criminal Court.
(Bebeto Matthews / Associated Press)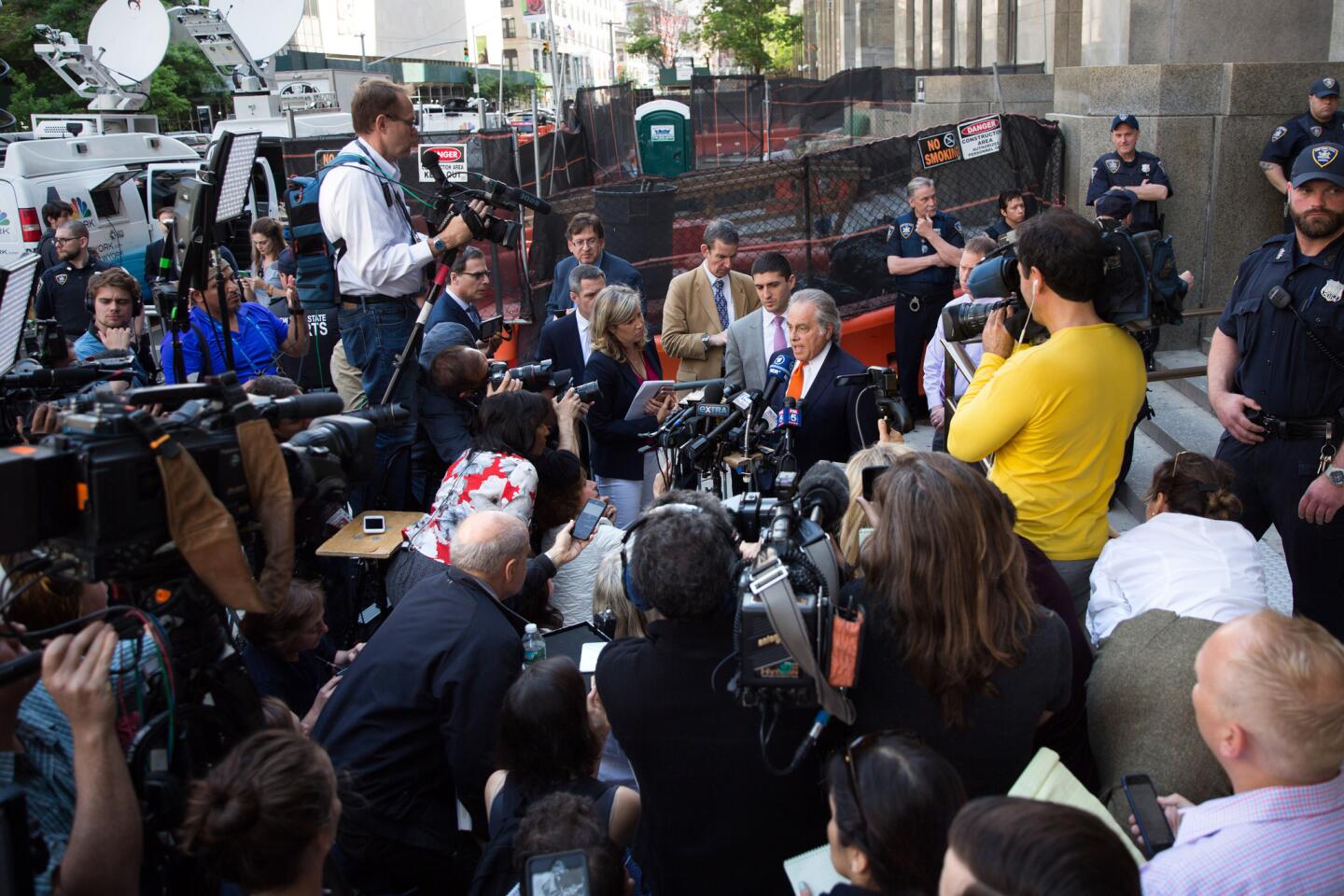 Harvey Weinstein's attorney Benjamin Brafman speaks to the press following Weinstein's appearance in criminal court.
(Kevin Hagen / Getty Images)
Harvey Weinstein leaves the New York Police Department's 1st Precinct headquarters in handcuffs after his arrest on sex crime charges.
(Bryan R. Smith / AFP/Getty Images)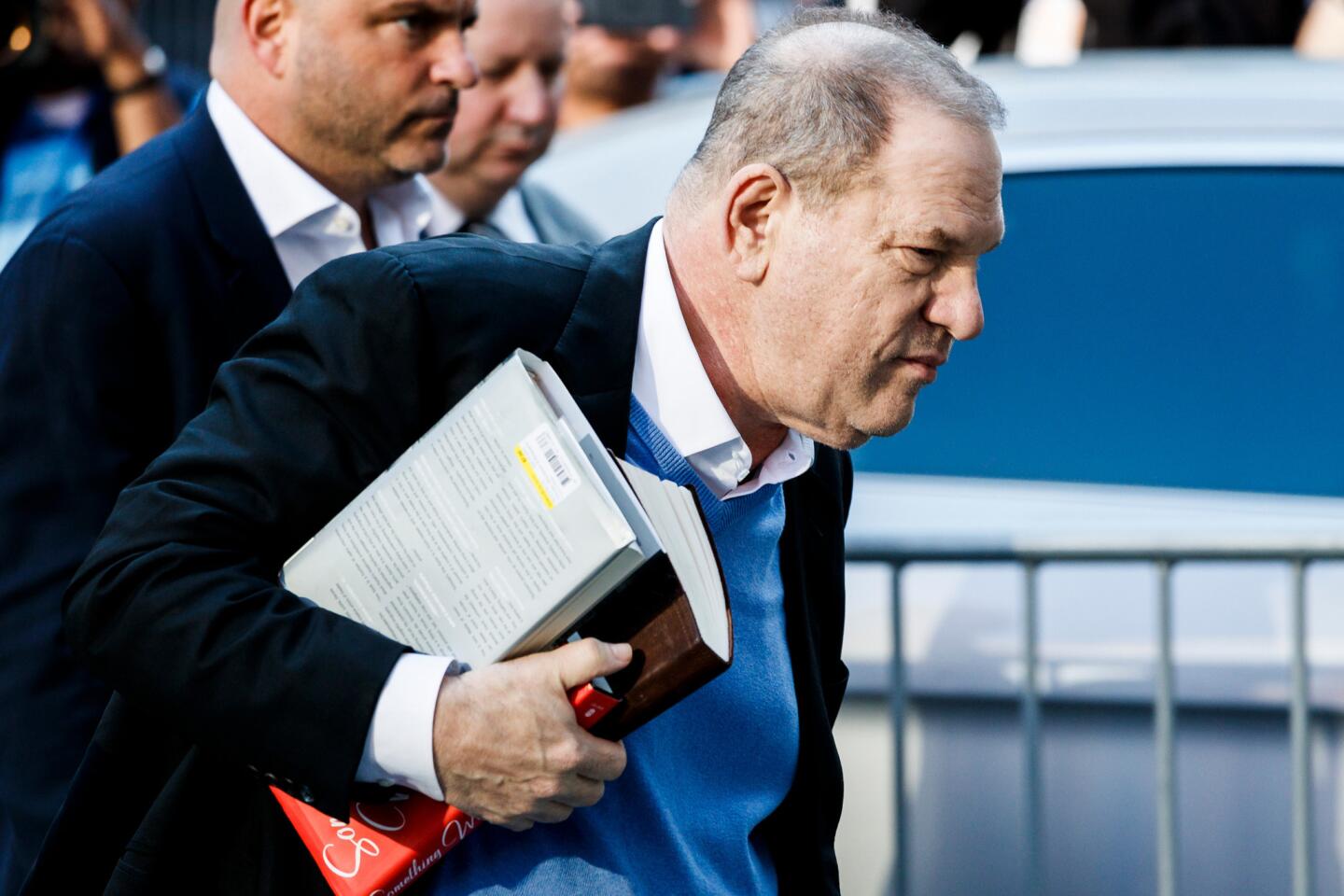 Harvey Weinstein arrives at the NYPD's 1st Precinct headquarters to turn himself in to face multiple sex assault charges.
(Justin Lane / EPA / Shutterstock)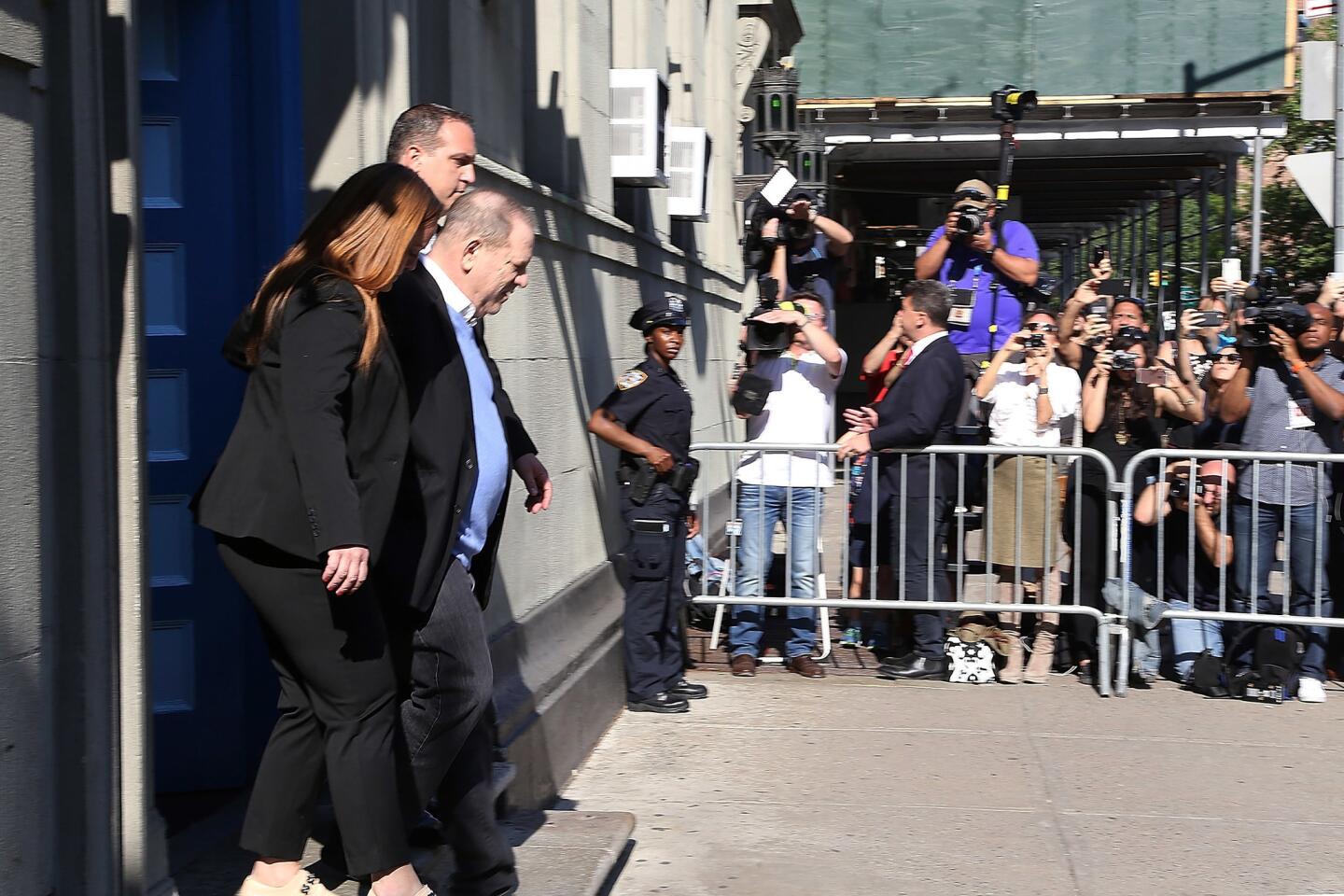 Harvey Weinstein is escorted from police precinct headquarters in handcuffs after being charged with rape, committing a criminal sex act, sexual abuse and sexual misconduct.
(Manny Carabel / Getty Images)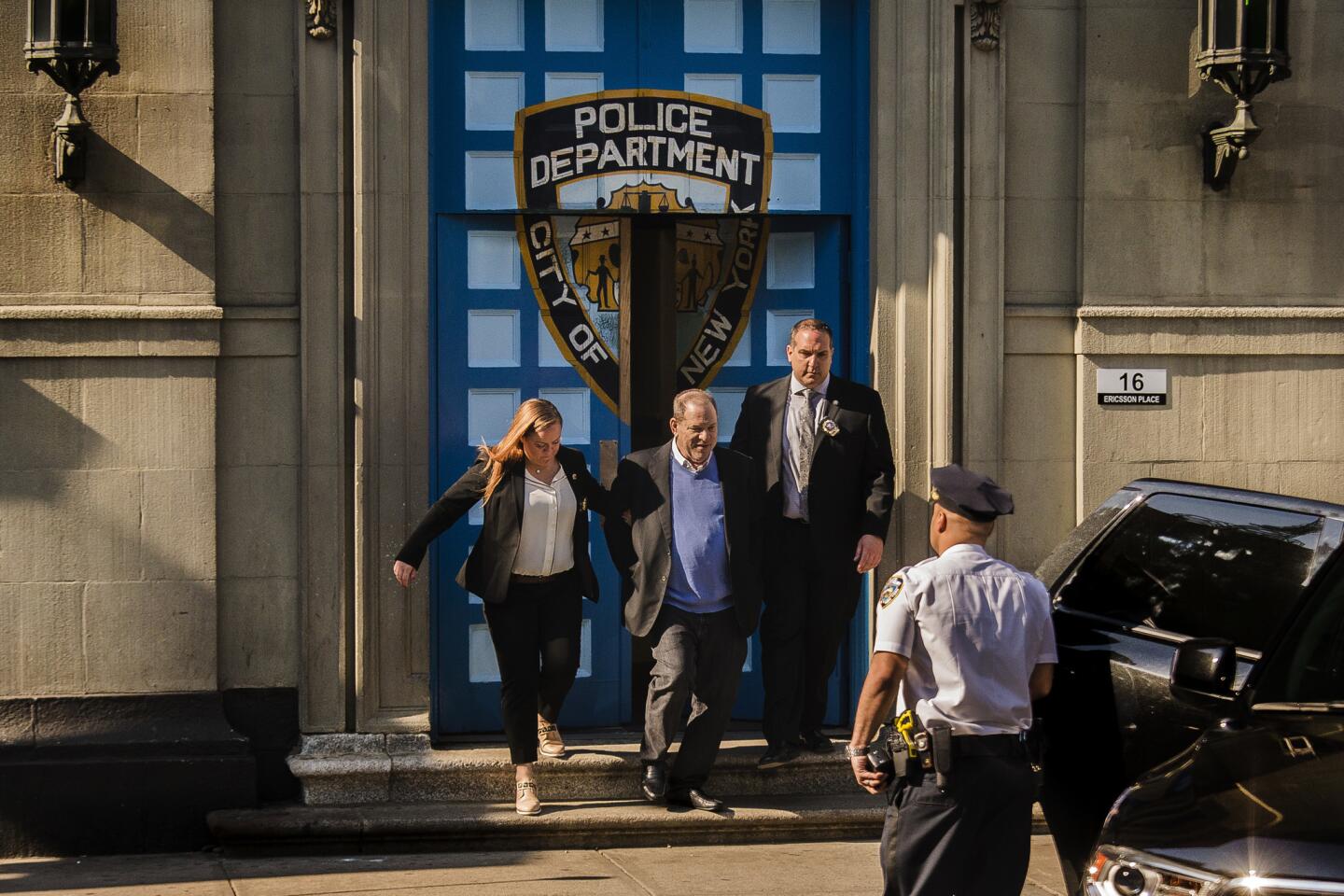 Harvey Weinstein leaves New York Police Department station after being charged with multiple counts of sexual assault.
(Andres Kudacki / Associated Press)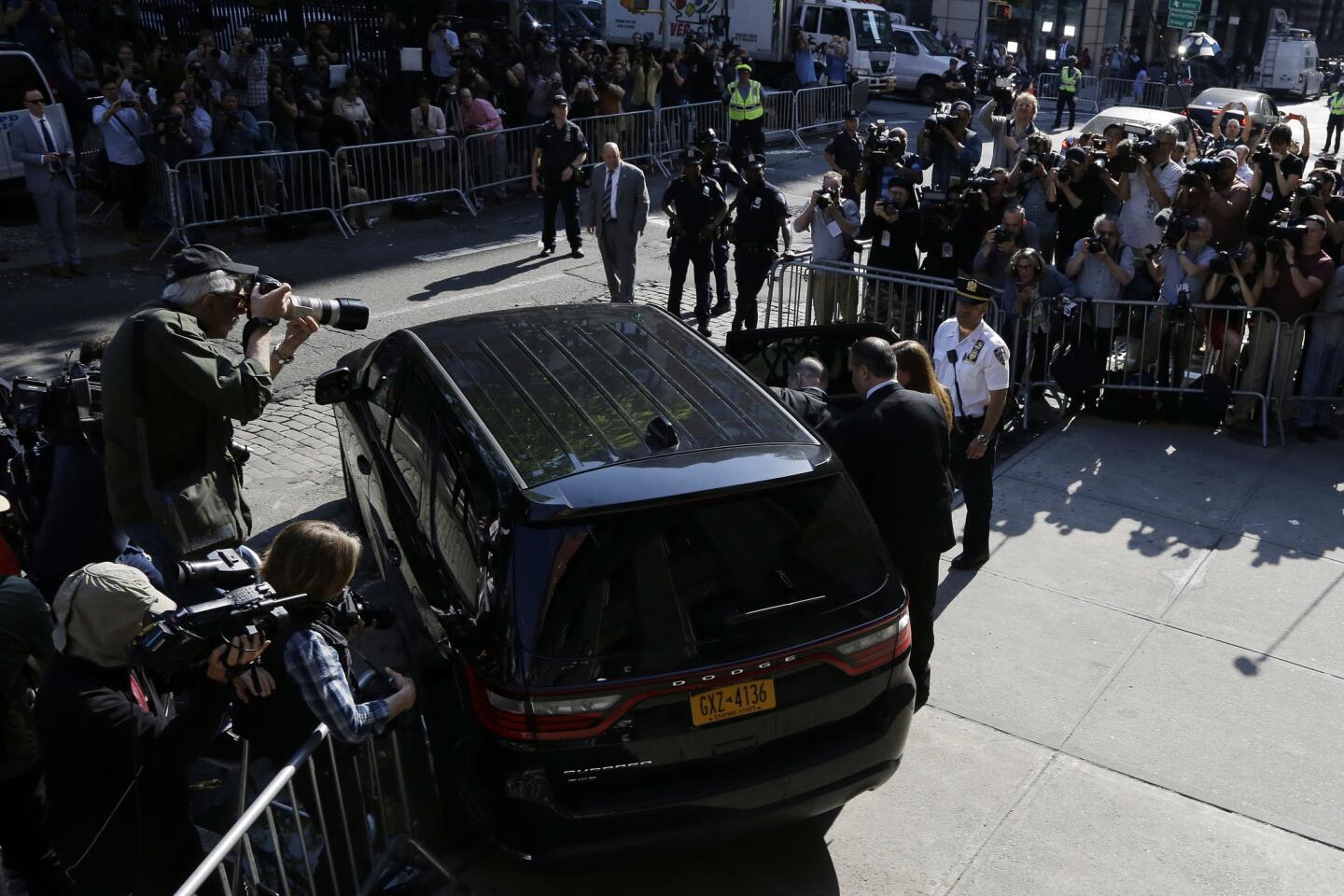 Press and onlookers crowd around as Harvey Weinstein climbs into a waiting car after being charged with rape and other sex crimes in New York.
(Julio Cortez / Associated Press)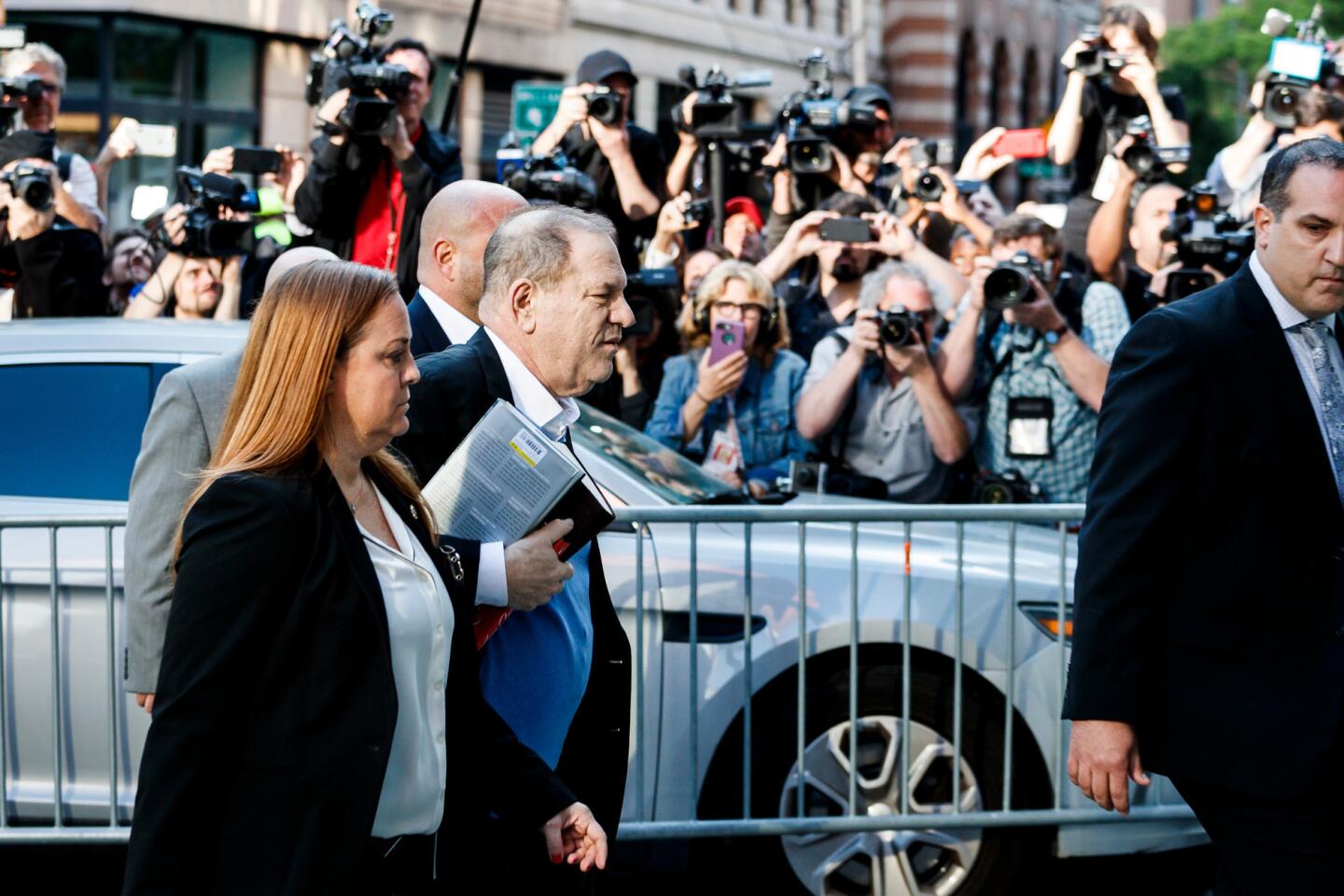 Former movie producer Harvey Weinstein arrives at the New York Police Department's 1st Precinct station to turn himself in to face multiple sexual assault charges on Friday.
(Justin Lane / EPA/REX-Shutterstock)
A New York grand jury indicted producer Harvey Weinstein on two counts of rape and another of a criminal sexual act Wednesday just days after he surrendered to authorities.
Weinstein is charged with rape in the first degree, rape in the third degree and committing a criminal sexual act in the first degree for alleged forcible sexual acts against two women in 2004 and 2013.
"This indictment brings the defendant another step closer to accountability for the crimes of violence with which he is now charged," Manhattan Dist. Atty. Cyrus R. Vance Jr. said in announcing the indictment. "Our office will try this case not in the press, but in the courtroom where it belongs. The defendant's recent assault on the integrity of the survivors and the legal process is predictable. We are confident that when the jury hears the evidence, it will reject these attacks out of hand."
A grand jury indictment allows prosecutors to skip going before a judge to show there is sufficient evidence to bring Weinstein to trial.
Weinstein's attorneys have said that one of the women alleging that he raped her had a 10-year consenting relationship with him during the period of the alleged attacks.
"The announcement of Mr. Weinstein's indictment does not come as a surprise," said his attorney Benjamin Brafman. "We also note of course that the indictment merely mirrors the same charges in the criminal court complaint and does not add anything to the case we did not already know."
We "asked the district attorney for more time so that Mr. Weinstein's attorneys could gather the material needed to properly prepare him for his grand jury testimony, but that request was denied," Brafman added.
After his arrest Friday, Weinstein was released on $1-million cash bail and his movements restricted to New York and Connecticut. Weinstein consented to 24-hour-a-day GPS monitoring and a temporary restraining order requested by one accuser.
Manhattan Assistant Dist. Atty. Joan Illuzzi said in court that Weinstein "used his position and power" to sexually exploit his victims. She said he was being prosecuted for "two separate forcible sexual assaults against two separate women."
Following Weinstein's arrest, Brafman set out some of the producer's defense.
"Mr. Weinstein did not invent the casting couch in Hollywood," Brafman said Friday. "And to the extent that there is bad behavior in that industry, that is not what this is about. Bad behavior is not on trial in this case. It's only if you intentionally committed a criminal act, and Mr. Weinstein vigorously denies that."
Brafman added in a statement after Wednesday's indictment: "Mr. Weinstein intends to enter a plea of not guilty and vigorously defend against these unsupported allegations that he strongly denies. We will soon formally move to dismiss the indictment, and if this case actually proceeds to trial, we expect Mr. Weinstein to be acquitted."
The indictment is the first to result from months of investigations in New York, California and London.
Sources with knowledge of the case who spoke on condition of anonymity said one of the women involved is a once-aspiring actress who has alleged that Weinstein assaulted her during a meeting at his Miramax office in 2004. Lucia Evans told the New Yorker magazine last year that Weinstein said during a meeting that she'd "be great in 'Project Runway' " before forcing her to perform oral sex.
The second alleged victim's identity has not been reported.
RELATED: Full coverage of Harvey Weinstein sexual misconduct scandal »
According to the New Yorker story, Evans said she met with Weinstein in one of his offices when she was a student at Middlebury College.
"He immediately was simultaneously flattering me and demeaning me and making me feel bad about myself," she told the magazine. Weinstein told her that she'd be perfect for "Project Runway" — the show, which Weinstein helped produce, premiered later in 2004 — but that she needed to lose weight. She also said he told her about two scripts, a horror movie and a teen love story.
"At that point, after that, is when he assaulted me," Evans said.
She said that she objected but that Weinstein exposed his penis and pulled her head down toward it.
"I said, over and over, 'I don't want to do this, stop, don't,' " Evans told the New Yorker. "I tried to get away, but maybe I didn't try hard enough. I didn't want to kick him or fight him." In the end, she said, "he's a big guy. He overpowered me." She added: "I just sort of gave up. That's the most horrible part of it, and that's why he's been able to do this for so long to so many women: People give up, and then they feel like it's their fault."
Weinstein has been accused by more than 80 women of misconduct that includes sexual harassment and rape. Police in Los Angeles, Beverly Hills, New York and London have conducted investigations into more than 20 allegations.
Los Angeles County Dist. Atty. Jackie Lacey's team has been reviewing two investigations into Weinstein by Beverly Hills police, as well as three Los Angeles Police Department investigations — including an Italian actress' allegation of rape in 2013.
According to law enforcement sources, detectives believe that case is promising for prosecution because the woman told her story to three people, including a priest, relatively soon after the alleged attack. LAPD detectives also have evidence the woman was a guest at the Beverly Hills hotel where she claims Weinstein attacked her, the sources said. The case does have flaws, they added. Detectives found little physical evidence of an attack and have been unable to secure proof that Weinstein was at the hotel when the woman says the rape occurred.
Twitter: @lacrimes
---
UPDATES:
4:25 p.m.: This article was updated with an additional statement from Weinstein's attorney and other details.
This article was originally published at 3:40 p.m.
Sign up for Essential California for news, features and recommendations from the L.A. Times and beyond in your inbox six days a week.
You may occasionally receive promotional content from the Los Angeles Times.