'It's like living in a war zone': Westmont grows more weary of violence after police shooting
Resident Herbert Baker brings a bouquet of roses to the memorial site for Carnell Snell Jr.
(Gina Ferazzi / Los Angeles Times)
Two children walk along Western Avenue in the unincorporated neighborhood of Westmont near where Carnell Snell Jr., 18, was killed by Los Angeles Police Department officers Saturday.
(Rick Loomis / Los Angeles Times)
"It's a shame that his life ended at 18 years old," said Carlena Hall, center, Carnell Snell Jr.'s great-aunt. With Hall are Snell's sister Tranell Snell, 17, left, and his aunt Debbie Washington.
(Rick Loomis / Los Angeles Times)
Mike Miller sits amid dozens of candles that mark the house where Carnell Snell Jr. was fatally shot.
(Rick Loomis / Los Angeles Times)
Carl Winzer lights candles at the scene where 18-year-old Carnell Snell Jr. was killed.
(Rick Loomis / Los Angeles Times)
Five bullet holes pierce a screened gate where Carnell Snell Jr. was killed.
(Gina Ferazzi / Los Angeles Times)
A "Carnell's Life Mattered" sign is attached to a stop sign at the corner of 107th Street and Western Avenue near the location where Carnell Snell Jr. was killed.
(Gina Ferazzi / Los Angeles Times)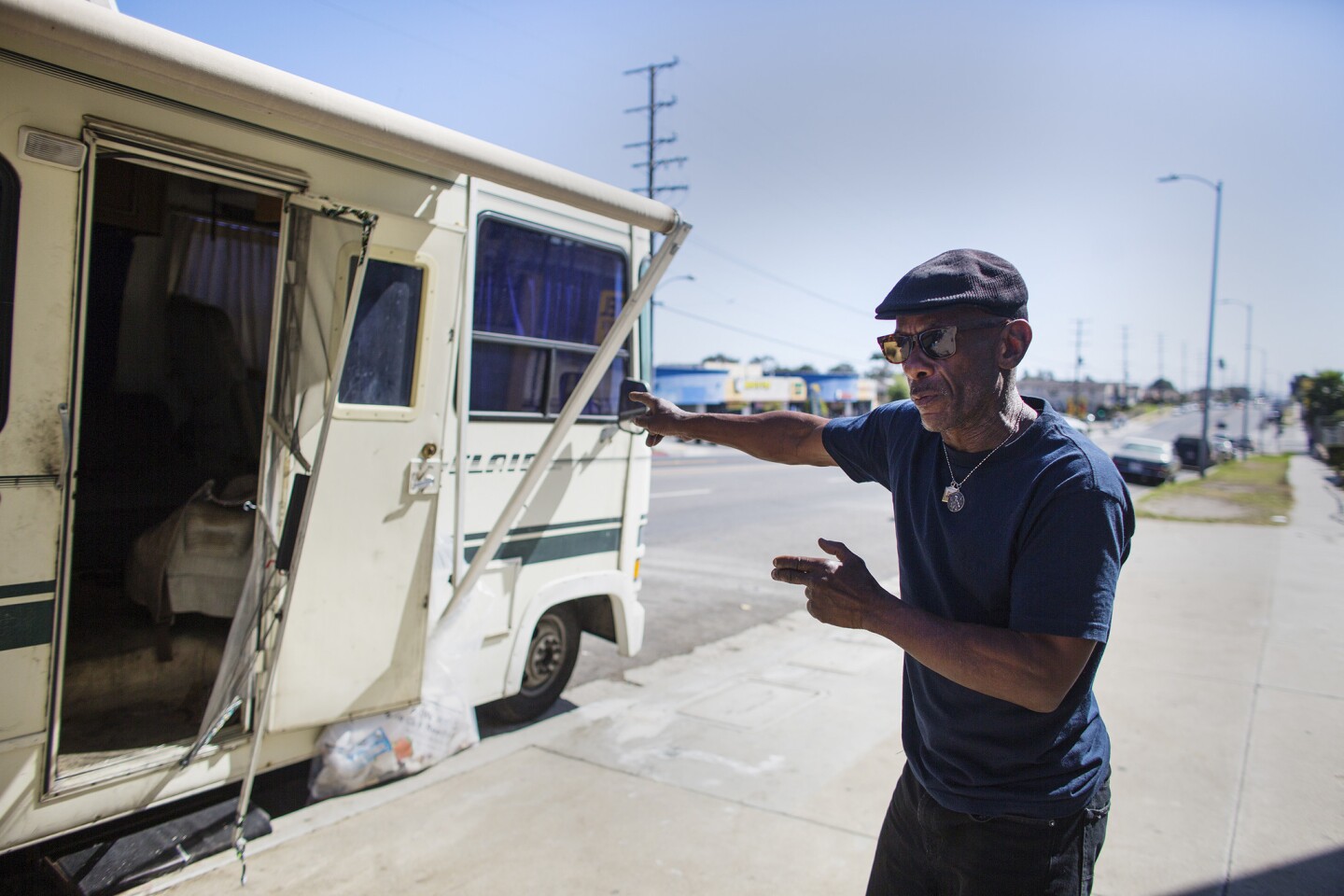 Resident Steve Vaden, 62, says he saw Carnell Snell Jr. and another man exit a vehicle, which had been reported stolen, on Western Avenue before Snell was killed by LAPD.
(Gina Ferazzi / Los Angeles Times)
Westmont resident Toni McCaleb said she plans to move out of the neighborhood since Saturday's shooting of Carnell Snell Jr.
(Gina Ferazzi / Los Angeles Times)
Herbert Baker and his granddaughter brought roses to the neighborhood memorial for a man who had been fatally shot by police not too far from their home.
To Baker, 68, the incident is another example of the troubles in Westmont — an unincorporated slice of land that lies between Los Angeles and Inglewood. For years, the area has experienced one of the highest homicide rates in L.A. County.
Eight people have been killed in Westmont so far this year, all of whom were shot to death, according to coroner's records. The total for last year was 16. Even though the area of more than 30,000 is seeing a drop in homicides, residents say they still are weary.
Homicide Report: A story for every victim »
The community — its streets lined with duplexes and single-family homes, with churches, liquor stores and hair salons — has become center stage for protests in recent days following the fatal shooting of 18-year-old Carnell Snell Jr. by Los Angeles police.
What started with officers pulling over a suspected stolen vehicle ended with them chasing Snell, who authorities say had a loaded gun, and shooting him near West 107th Street and Western Avenue, in Sheriff's Department territory.
In June, a 15-year-old teenager talking to a friend as he stood in a driveway was shot and killed north of where Baker lives. Last month, a 45-year-old man watching his son play basketball just before sundown was killed in front of his child.
Before Snell's death Saturday, the last time a person was killed by law enforcement in the area was in March 2015; L.A. County sheriff's deputies came across Victor Daniel Terrazas — whom they suspected of killing a 32-year-old woman — in an alley. According to the Sheriff's Department, Terrazas opened fire and deputies shot back.
Baker, a chiropractor who works in Gardena, worries about his children, grandchildren and great-grandchildren. He tells the older ones to be careful whom they associate with. Sometimes, he sees people being arrested by deputies near his home off West 105th Street and Vermont Avenue. After sundown, he chooses to stay inside his home.
"We're so used to it," Baker said. "It's like living in a war zone. You learn how to cope."
In recent years, efforts have been made to effect change.
For example, a task force with representatives from the South Los Angeles sheriff's station, residents and business owners meets weekly to discuss community issues.
Interested in the stories shaping California? Sign up for the free Essential California newsletter »
"I think by us … having this open dialogue, it helps," Capt. April Tardy said.
The Rev. Gary Bernard Williams had just finished participating in a funeral service and stepped outside the Westmont church when he heard gunshots Saturday.
His first thought: "Another gang-related shooting," he said. Instead, the victim turned out to be Snell.
Williams, who had been a pastor in the neighborhood for three years until this summer, said that during that time, he encountered young men with gunshot wounds several times.
"It's a nice area, but gun battles are constant," he said.
Williams has held neighborhood peace walks. He said he's talked to seniors who were afraid to leave their homes, and to young people who struggle to get to school.
"There's a lack of jobs," he said. "Jobs will create peace in that community. A lot of these young men and these young women, if they were employed … they would find a new life."
Resident Toni McCaleb said that she hasn't had any problems in the three years she's lived in the area. Her children warned her of a rash of violence in the neighborhood last summer, but she said she didn't feel threatened.
Last weekend's events changed her mind.
During protests Sunday, her 33-year-old son was trying to get home, McCaleb said. Police questioned him, and McCaleb started to worry. So she asked him to stay with relatives in Victorville.
"Our kids are getting killed, and it doesn't make sense," McCaleb said Monday outside a Chinese food restaurant. She and her family are planning to move.
"We just decided it's not worth staying here," she said.
Baker said he tries to give back to his community and hopes things will improve. For now, he worries each time his grown children leave the house.
"They might not come home," he said. "That's the reality."
For more crime news, follow @nicolesantacruz on Twitter.
To read the article in Spanish, click here
ALSO
Protests erupt in South L.A. for a second night after police fatally shoot an armed teen
Mother laments son's death in El Cajon police shooting: 'I wanted his future to be longer than that'
17 arrested following protests after fatal El Cajon police shooting
Anger simmers after two fatal police shootings in South L.A.; LAPD chief says officers feared for their lives
---
Life is stressful. Our weekly mental wellness newsletter can help.
You may occasionally receive promotional content from the Los Angeles Times.