California revels in a rare wet winter, and more storms are in the forecast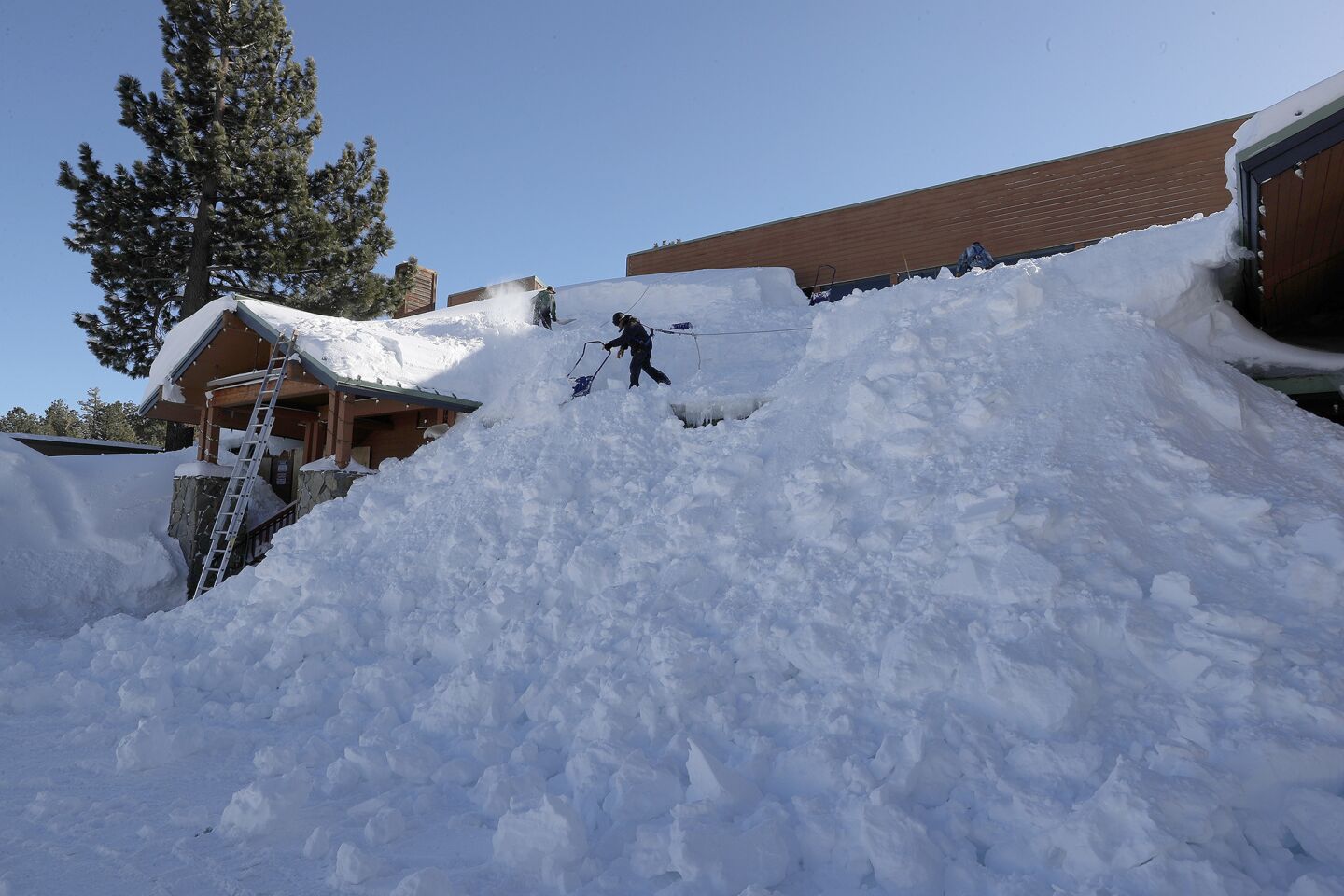 Workers shovel giant snowdrifts off the roof of the Mammoth Luxury Outlets in Mammoth Lakes on Feb. 6 after a blizzard dropped as much as 10 feet of snow.
(Allen J. Schaben / Los Angeles Times)
Snow blankets U.S. 395 and the Eastern Sierra near Mammoth Lakes.
(Allen J. Schaben / Los Angeles Times)
Workers shovel snow off the roofs of condos in Mammoth Lakes on Feb. 6.
(Allen J. Schaben / Los Angeles Times)
A skier glides past snow-covered trees at Mammoth Mountain Resort. The resort was closed because of the blizzard on Feb. 5 but reopened the following day.
(Allen J. Schaben / Los Angeles Times)
Heavy snow blankets Mammoth Lakes Feb. 6. Since the storms started Feb. 2, Mammoth Mountain has seen 132 inches of snow.
(Allen J. Schaben / Los Angeles Times)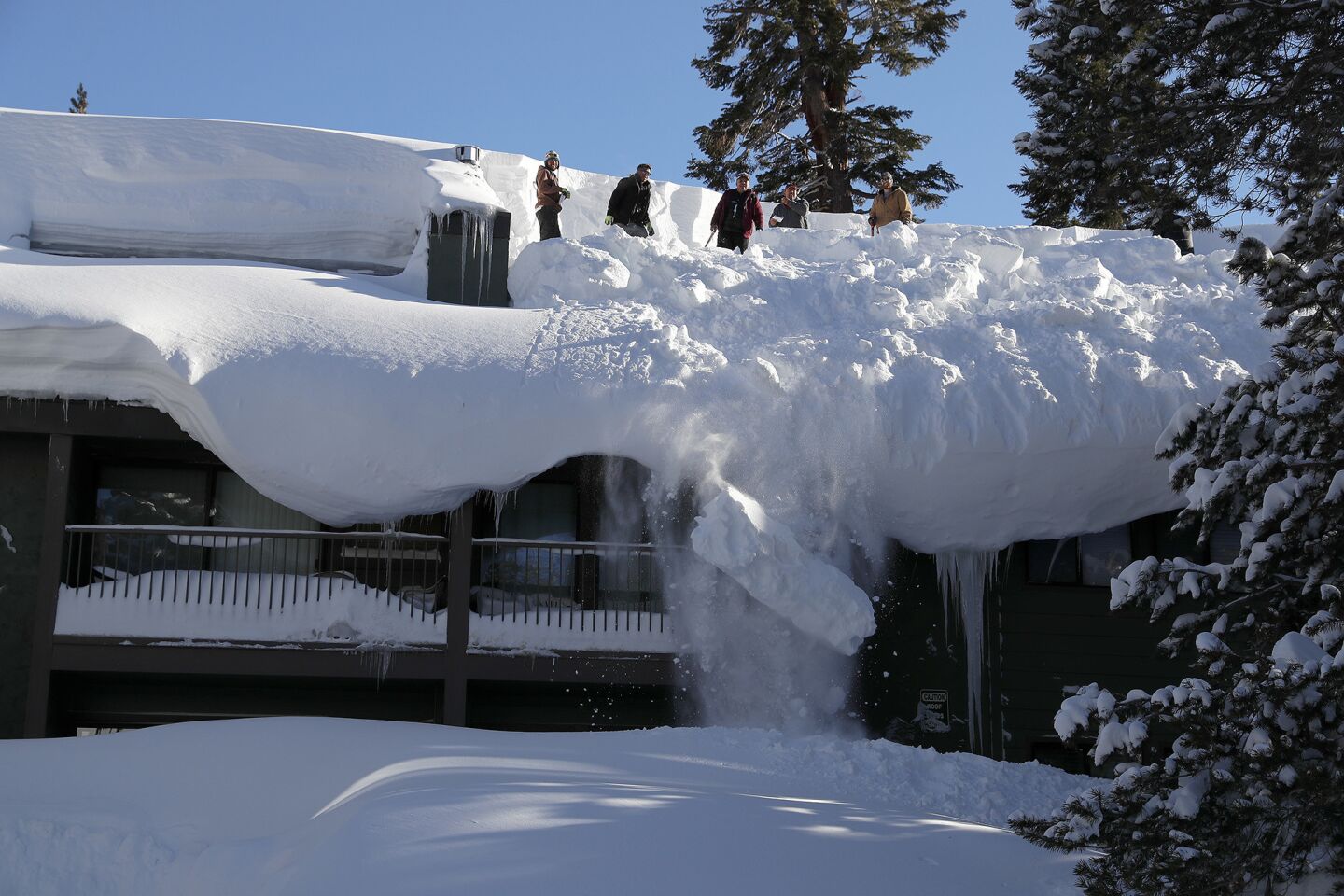 Working to displace giant drifts from a roof at St. Anton Condos in Mammoth Lakes.
(Allen J. Schaben / Los Angeles Times)
Snow covers the mountains as an Orange County Sheriff's patrol boat navigates Anaheim Bay in Sunset Beach on Feb. 6.
(Luis Sinco / Los Angeles Times)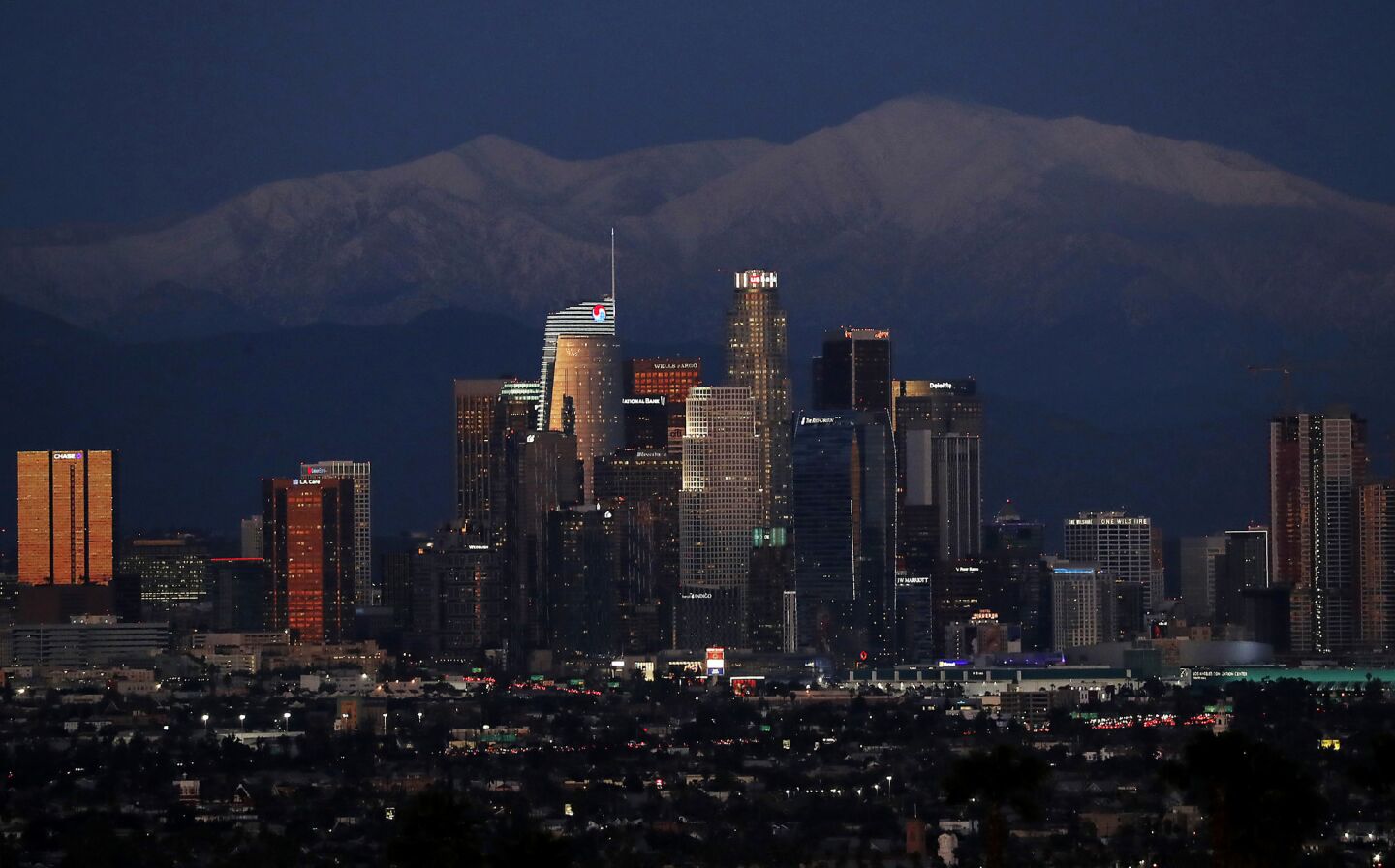 On the evening of Feb. 6, the San Gabriel mountains serve as a backdrop to the downtown Los Angeles skyline.
(Luis Sinco / Los Angeles Times)
Las montañas de San Gabriel sirven como telón de fondo para el horizonte del centro de Los Ángeles.
(Al Seib / Los Angeles Times)
El viento sopla la nieve desde la cima de la montaña Whitney, la cima más alta en Estados Unidos, después de tormentas recientes, en los límites de los condados californianos de Inyo y Tulare. La ladera oeste de la montaña termina en el Parque Nacional Sequoia.
(Allen J. Schaben / Los Angeles Times)
Una pareja descansa bajo Mobius Arch en Alabama Hills en Lone Pine, ubicada en el Valle Owens, condado de Inyo.
(Allen J. Schaben / Los Angeles Times)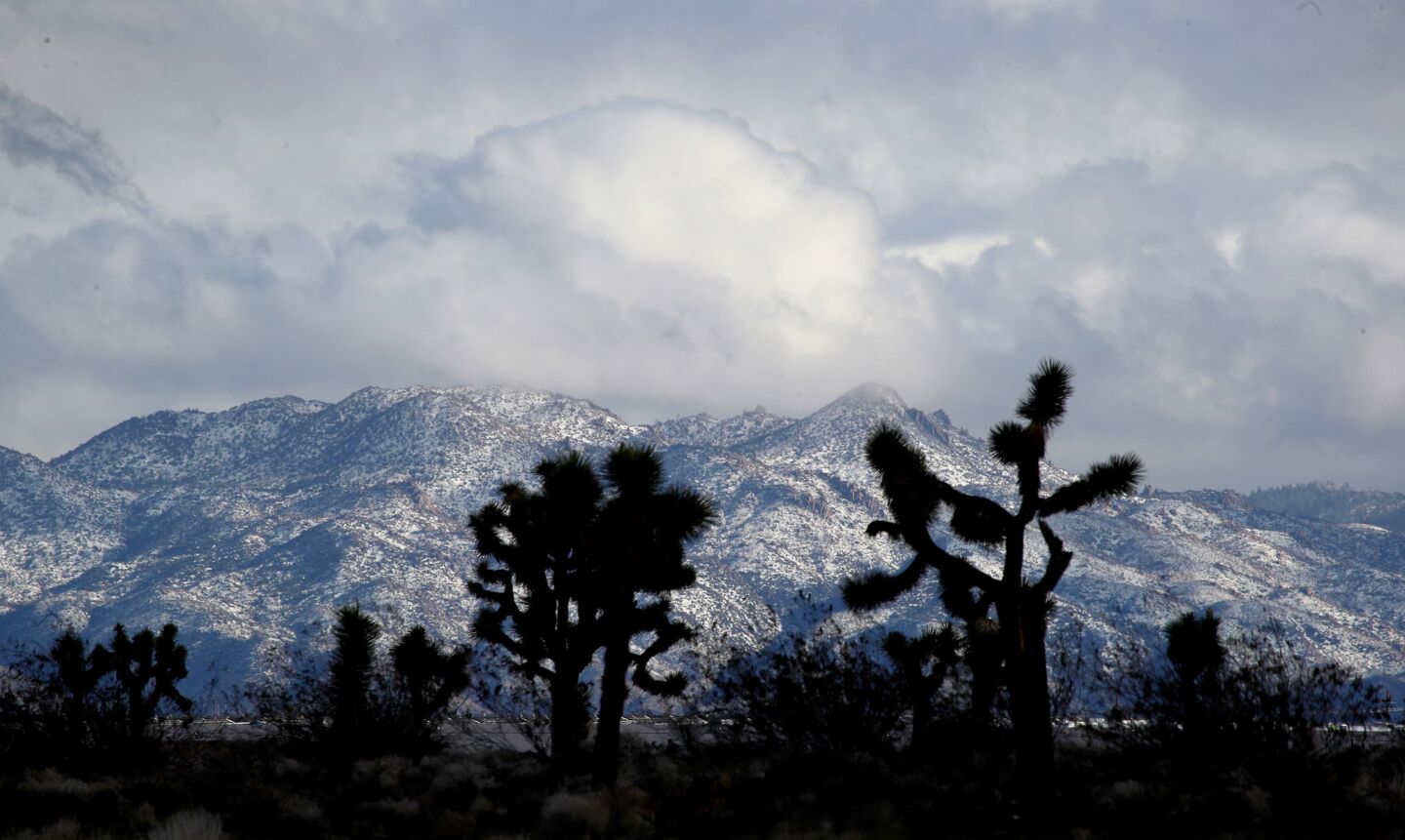 Los árboles de Joshua están recortados por montañas cubiertas de nieve en Adelanto, California.
(Allen J. Schaben / Los Angeles Times)
La nieve bloqueó caminos e hizo peligroso conducir desde Middletown hasta Cobb Mountain en Lake County.
(Kent Porter / Associated Press)
Reporting from San Francisco —
Snowcapped mountains are pretty typical in California — just not the peaks that got a dusting this week.
A series of storms has brought a rare wet winter to the state, sending snow levels plunging and creating some surreal scenes Californians won't soon forget: a blanket of white covering vineyards in Napa Valley. Plows clearing California 17 between Santa Cruz and San Jose. Peaks in the San Francisco Bay Area with an alpine feel. Even San Francisco's Twin Peaks got some snow.
The conditions highlight a season of storms that have left their mark from the Sierra Nevada range, where one-third of California's water supply originates, to Los Angeles, which has endured six dry winters out of its last seven. It's a welcome turn of events for a state still recovering from severe drought.
By Tuesday, it was almost becoming too much of a good thing.
In the Sierra, as much as 10 feet of snow kept several ski resort closed Tuesday. In Southern California, officials warned of snow levels dropping Wednesday to elevations as low as 2,000 feet above sea level, which could shut down sections of Interstates 5 and 15 as well as other mountain passes.
Big Bear and Wrightwood were poised to see as much as 3 to 4 inches of snowfall through Tuesday night, and up to 8 inches could fall at Mt. Laguna in San Diego County.
This latest series of storms comes around the midpoint of California's wet season.
"This is shaping up to be a wet year," said Chris Orrock, spokesman for the California Department of Water Resources, citing atmospheric-river events that gave the state a good three weeks of rain in January before a round of cold storms arrived at the start of February.
There are no guarantees, of course. But the preliminary outlook is that Tuesday's storm was "just the first of several cold-weather storms coming into California down from the Gulf of Alaska," Orrock said. Another could hit the state later this week.
While Northern Californians are seeing a typically wet winter, the rain in Southern California has seemed more like an aberration. Downtown Los Angeles has received 12.91 inches of rain since Oct. 1 — that's 167% of average for this time of year and close to the annual average of 14.93 inches.
It's also a stark contrast from last winter — the third-driest water year for downtown L.A. since record-keeping began in 1877. At this time last year, just 1.89 inches of rain had fallen since Oct. 1. Experts generally have attributed the recent string of dry years to troublesome masses of high pressure that have blocked storms from dousing California during a brief wet season.
"What a contrast," climatologist Bill Patzert said. "Here in Southern California, we're way above the curve."
Wet years have been notably scarce for Los Angeles in recent times. In the last two decades, 14 years have been drier than normal. The last wetter-than-average water year was 2016-17, which culminated with then-Gov. Jerry Brown declaring an end to a punishing five-year drought.
RELATED: New scale will measure atmospheric rivers in California from 1 to 5, like hurricanes »
The snowpack across the Sierra Nevada, California's greatest mountain range and the state's frozen reservoir of water, was above normal on Feb. 5 — 125% of average for the date. The highest snowpack of the year is usually measured April 1.
The southern Sierra has been particularly blessed with extra snow, currently 133% of normal. The Tulare Basin has received more precipitation since Oct. 1 than in all of the last water year. And from Sunday through Monday morning, Orrock said, the Santa Barbara and Ventura areas received about 6 inches of rain.
"So Southern California, which kind of trailed a little bit behind the rest of the state," he said, "has caught up and is above average as far as precipitation goes."
This winter, North America has seen polar-vortex events that have delivered exceedingly cold temperatures and heavy snowfall across the Northeast and Midwest — but also wet, cool storms out of the northwest Pacific Ocean with an occasional enhancement from the subtropics known as the atmospheric river, Patzert said.
RELATED: With Colorado River water shortages looming, feds will intervene on drought plan »
"For the West, it's an ideal setup," Patzert said. "For the Midwest and the Northeast, it's been punishing."
Classic cold winter storms from the Gulf of Alaska are seen as particularly beneficial for the state. They produce plenty of snow and keep precipitation frozen in the mountains — important to retaining a reserve of ice that can melt slowly, lasting through the summer and fall as a key source of water for the state.
Storms that are too warm can melt the snowpack too fast and leave the state short on water as it enters the long, dry summer and fall months.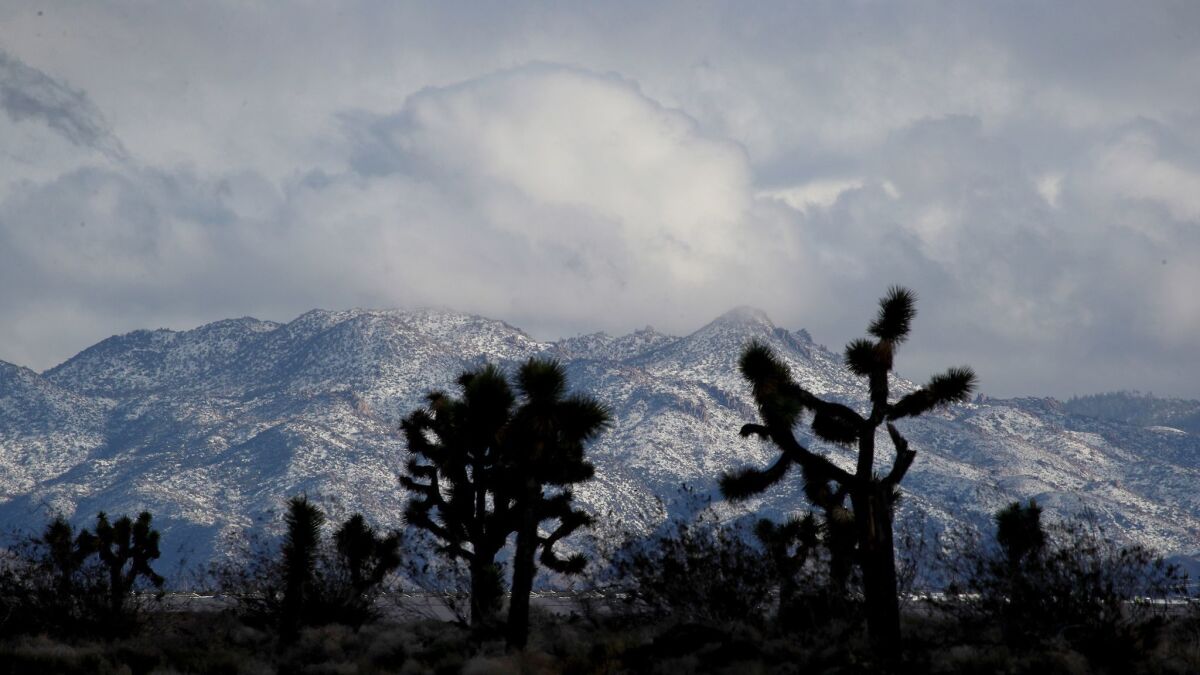 Particularly beneficial for California is how recent storms have been relatively free of catastrophe. There's been significant rain, but it hasn't all fallen at once. And that's come as a blessing after last year's dry spell for Southern California's parks and yards, which are greening up.
"As long as this pattern persists, we should end up way above normal. Reservoirs will be filled. Hopefully, there won't be too much damage in the burn zones," Patzert said. "All things considered, instead of the perfect storm, it's been, literally, the perfectly benign storms. Just what we needed."
Cities of the Bay Area and the Central Valley have seen precipitation totals at about average or just shy of average for this time of year, said meteorologist Jan Null, due to a relatively dry November and December.
The last time San Francisco had a truly impressive show of snow was exactly 43 years ago — Feb. 5, 1976 — when 5 inches fell on San Francisco's Twin Peaks and an inch downtown, according to Null.
The main roads between Sacramento and Sierra ski resorts reopened Tuesday after being closed Monday because of whiteout conditions; the storm dumped more than 7 feet of snow along Interstate 80 at Kingvale, about 13 miles west of Donner Memorial State Park.
Roads in and out of Yosemite National Park were closed due to heavy snow and downed trees.
The kind of snowfall seen in the Bay Area on Tuesday happens roughly one in every five years, Null estimated — unusual enough that social media and TV stations were abuzz as snow dipped to low levels and produced accumulations thick enough to make snowballs in the Santa Cruz Mountains and Mt. Diablo in Contra Costa County.
"It doesn't snow often, but when it does, it's absolutely breathtaking," tweeted Pahlmeyer Estate Vineyard, where a thin layer of snow blanketed vines on Atlas Peak.
And there was a rare sighting of snow from the bay's shoreline at San Mateo County's Coyote Point Marina, where harbormaster Mark Bettis could see white atop the East Bay hills beyond the San Mateo Bridge.
"I've seen it half a dozen times," said Bettis, who has called the Bay Area home since 1988.
But the sight of the snow-covered peaks, beyond a canoer paddling in still water, excited his younger coworker.
"I don't recall ever looking across the bay and seeing snow," said Adam Zuffi, 26, a park aide.
By Wednesday morning, the clouds had cleared and Southern California's northern view included snowcapped mountains.
So far, Interstate 5 and other passes have remained open. Snow was reported Tuesday at Palmdale Airport, and officials urged caution when driving on frosty mountain roads.
Panzar reported from Los Angeles, Lin from San Francisco.
---
The stories shaping California
Get up to speed with our Essential California newsletter, sent six days a week.
You may occasionally receive promotional content from the Los Angeles Times.