Wildlife corridor will connect O.C. coast to Cleveland National Forest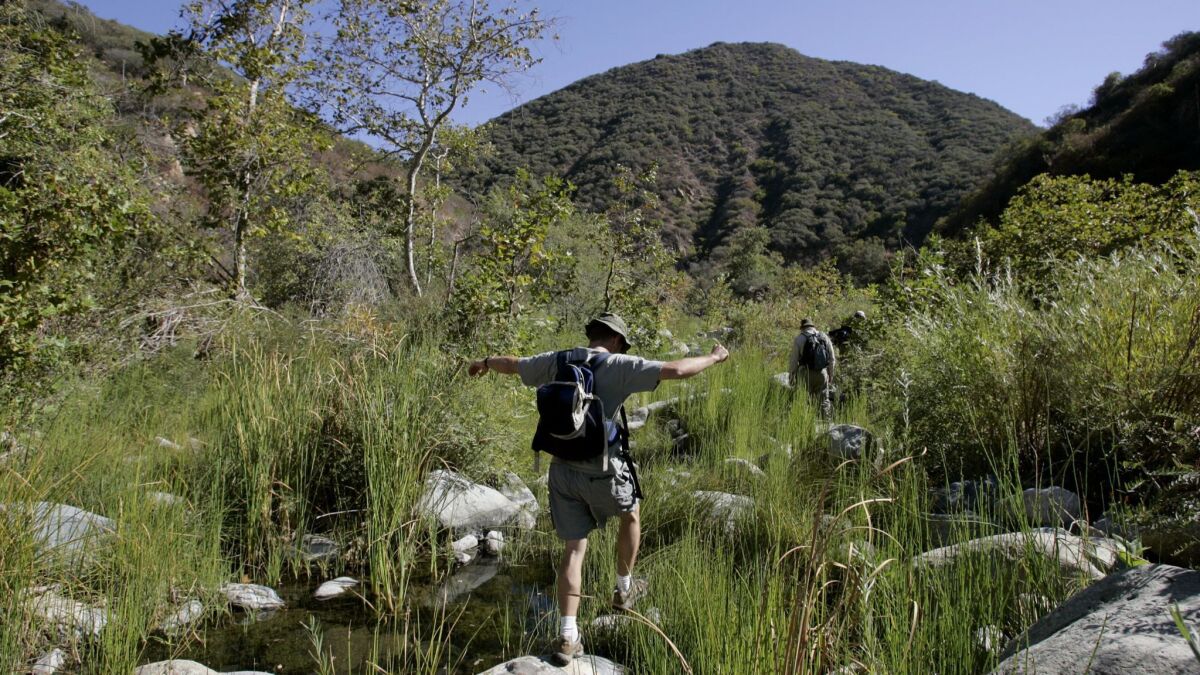 Ground was officially broken last week on a $13-million effort to restore a wildlife corridor that will connect the Cleveland National Forest with Orange County wild coastal terrains.
The project, in the making for more than two decades, seeks to encourage biological diversity in the animals that dwell in the more than 20,000 acres of coastal chaparral surrounding Laguna Beach.
"Today we are returning the land that we have been borrowing," Irvine Mayor Donald Wagner said Tuesday during a groundbreaking ceremony. "It's going to be home for so many of the animals that were here long before us."
The project entails restoring 2.5 miles of a 6-mile corridor to allow species such as the gray fox, bobcat, coyote and various native birds to travel between Orange County coastal habitat and the Santa Ana Mountains.
The 2.5-mile piece, at its widest nearly one-quarter mile, is currently dirt awaiting replenishment spanning the eastern border of the Orange County Great Park in Irvine. The grounds were formerly used for agriculture and as the Marine Corps Air Station El Toro golf course.
The corridor is being funded by the Great Park developer, FivePoint Holdings, which is developing 688 acres of the park for the city for the ability to build thousands of homes nearby.
Restoration started earlier this year when FivePoint began grading. Contractors will be selected in spring to replant vegetation.
The project is estimated to be complete by mid-2019.
Elisabeth Brown, president of grassroots environmental group Laguna Greenbelt, said by phone that she's been fighting for the corridor since the early 1990s.
Laguna Greenbelt has contributed to a number of environmental triumphs in the county, including establishing the 22,000-acre greenbelt around Laguna Beach, Crystal Cove State Park and the 38,000-acre Nature Reserve of Orange County.
Brown, with others, discovered at that time that Laguna's coastal habitats were like an island, segregated from other natural terrains.
Being divorced from larger natural habitats has had a deleterious effect on the animals living in that cramped space.
"The land is not big enough," Brown said of the coastal habitat. "An animal looking for a mate can't find one that they aren't related to. You end up with non-diverse animals and dangerous situations."
Diversity is crucial in an animal population because it safeguards against singular catastrophic events. If animals are mating with their family members and reintroducing the same traits into the collective genome, a single disease could wash through the population and wreak havoc.
"You have to have diversity, and the only way to do that is for the animals to move freely between one large chunk of open space to another," Brown said.
More open space means more potential mates.
Brazil writes for Times Community News.
---
The stories shaping California
Get up to speed with our Essential California newsletter, sent six days a week.
You may occasionally receive promotional content from the Los Angeles Times.