Innocent man freed after spending 20 years behind bars for attempted murder in a Compton shooting
Marco Contreras is a free man. (Sign up for our free video newsletter here http://bit.ly/2n6VKPR)
On his drive to Calipatria State Prison, Ricardo Perez thought of the couple he'd met a few months earlier and their desperate plea: Can you help us get our innocent relative out of prison?
It was spring 2012. Perez was fresh out of Loyola Law School and yearning for a meaningful case, so he agreed to look into their relative's conviction. After reading the trial transcript, he went to meet Marco Contreras.
"Are you innocent?" he asked him. "If you're not, I won't judge you and I won't tell your family. But if I'm going to spend the next several years on this, I need to know for sure."
Contreras looked him dead in the eye, Perez recalled, and said, "I'm innocent."
That conversation led to years of investigation and, ultimately, Contreras' release from custody on Tuesday — the second time this month that a team of lawyers and students from Loyola have helped free a wrongfully convicted man.
After spending 20 years behind bars, Contreras used the moments after his release to speak to others in his situation.
"Keep fighting," he said in Spanish. "Be patient and keep fighting."
Contreras, 41, who maintained his innocence, was convicted in 1997 of attempted murder and attempted robbery for a shooting at a Compton gas station a year earlier. He was sentenced to life in prison.
Superior Court Judge William Ryan ruled last week that Contreras was factually innocent, and Deputy Dist. Atty. Bobby Grace said Tuesday that prosecutors lost faith in Contreras' conviction, adding that other men have been linked to the crime.
Attempted murder and conspiracy charges were filed Thursday against Antonio Salgado, 41; Antonio Garcia, 61; and Ricardo Valencia, 46. Both Garcia and Valencia pleaded not guilty Monday, and Salgado hasn't been arraigned.
Contreras' attorneys say an eyewitness inaccurately identified him as the gunman, although he'd been at home sleeping at the time. It's an example of the unreliability of witness misidentification, said Adam Grant, another Contreras attorney.
"This is a huge problem," he said. "It's a thorny problem because the public considers it reliable."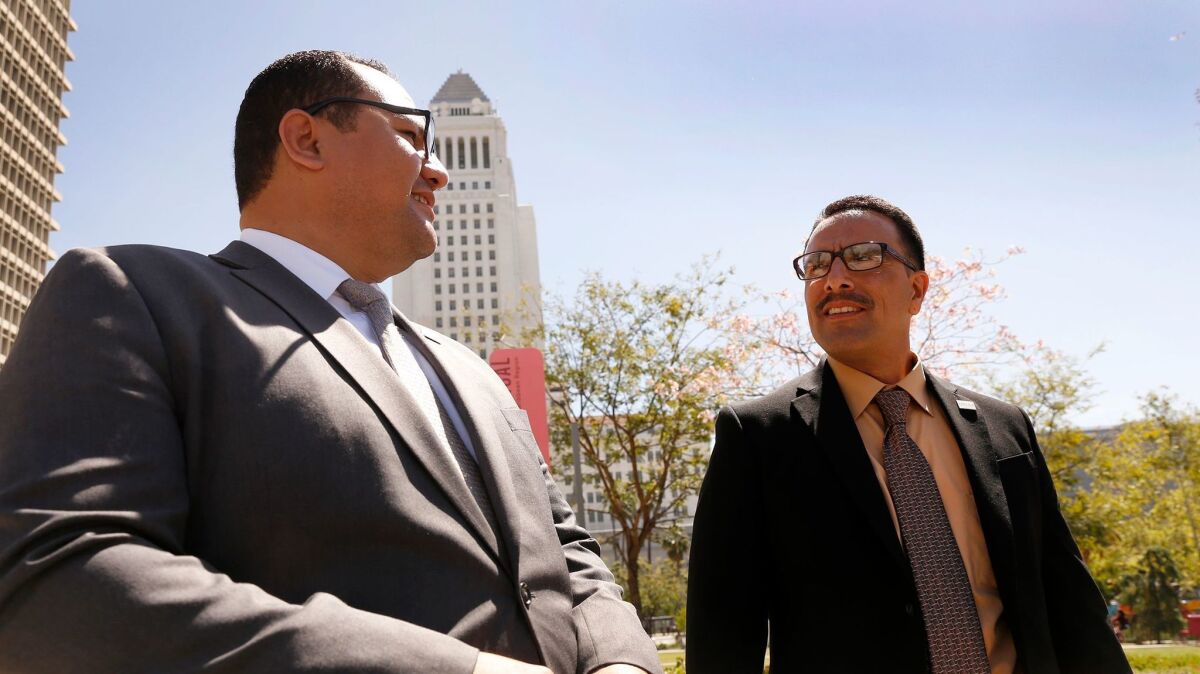 Loyola Law School's Project for the Innocent began looking into the case in 2012 after Perez put them in touch with Contreras' family. During their investigation, lawyers and students found new evidence, including a striking physical similarity between Contreras and Salgado. The team of attorneys then presented its findings to the district attorney's conviction review unit — a crew of prosecutors and investigators dedicated to overturning wrongful convictions — which conducted its own investigation, along with sheriff's investigators, into the shooting.
In a letter to the judge made public this week, prosecutors laid out the facts of the case, which they say point to Contreras' innocence.
At a Mepco gas station on a September morning in 1996, a man fired several shots at Jose Garcia, who was wounded but survived after a month-long hospital stay. While stopped at a red light nearby, Alicia Valladolid, an intern for the L.A. County Sheriff's Department, saw the gunman run into a getaway car – a blue and beige Bronco.
She jotted down the license plate number and investigators tracked the car to Contreras. When his brother, Miguel, told police he owned the Bronco, he was charged with attempted murder, attempted robbery, as well as being an accessory after the fact. At Miguel's preliminary hearing, Valladolid spotted Marco in the audience and told a detective he was the shooter she'd seen. Marco was arrested and charged as the gunman.
At his trial, the victim expressed some doubt in identifying him as the shooter, saying, "I'm not sure about the face." And defense witnesses testified that Marco was home at the time of the shooting. But jurors found him guilty.
Miguel pleaded guilty to being an accessory after the fact and was sentenced to a 16-month prison sentence. His other charges were dropped as part of his plea deal.
After his release, he told Compton police that his brother — who had a clean criminal record — wasn't the gunman. Around that time, a detective had been trying to interview Salgado, a documented gang member the detective believed was the true gunman. Salgado fled to Missouri, records show, after realizing police were looking for him.
Although Miguel had long resisted being viewed as "a rat," according to court records, he eventually told his family that Salgado was the gunman and agreed to help authorities with an undercover sting operation.
During a secretly recorded conversation with Valencia, Miguel brought up the shooting. Valencia told him it was an orchestrated hit likely tied to a drug dispute and said Salgado had admitted to being the gunman.
During a 2014 interview with prosecutors and Loyola attorneys, Miguel said he and Salgado had been hired by Antonio Garcia, another co-worker, to carry out a murder-for-hire plot. Miguel — who described his role in the crime as merely assisting a friend — said he believed Antonio Garcia had promised to pay Salgado $10,000.
Contreras' release is the second big reversal handled by the district attorney's conviction review unit since its creation in 2015. Last year, prosecutors asked the same judge to throw out the murder conviction of a man charged in the 2000 slaying of a college student in a Palmdale parking lot. Earlier this year, Ryan tossed the conviction and declared Raymond Lee Jennings factually innocent.
In the other Loyola case from two weeks ago, a different judge threw out the murder conviction of Andrew Leander Wilson, who served 32 years behind bars after being convicted of a 1984 stabbing.
As Marco Contreras was escorted into court Tuesday, he turned to look at his family in the audience. He nodded at them several times, and tears welled in his eyes. Perez patted him on the back.
At the end of the hearing, Contreras — dressed in a black suit — stood to address the judge.
"I'd like to thank you for allowing me to be here," he said. "Also the D.A. — I'd like to say thank you to everybody."
The judge smiled and told Contreras he hoped he had a good support system to help him adjust to life outside of custody. The world, the judge warned him, had changed a lot in 20 years.
"This is a new chapter," Ryan said. "Good luck to you, sir."
The audience of Loyola students and Contreras' family burst into applause, shouting, "Woo! Woo! Woo!" Contreras threw his fist in the air in celebration, and the courtroom bailiff smiled. Perez said a single word — surreal — was running through his mind.
During a news conference after the hearing, Contreras' mother, Maria, walked slowly toward her son. She embraced him in a tight hug and congratulated him in Spanish.
"¡Felicidades, hijo!" she told him. "¡Felicidades, mi hijo!"
She told reporters she'd always known he was innocent, saying before his arrest that he'd never gotten in trouble — not even a traffic ticket, she said.
Asked whether he felt any rancor, Contreras shook his head: "No, none. There's no reason."
For now, he said, he was looking forward to two things: good Mexican food and April 11. He's a Jehovah's Witness, and that's the day his denomination will remember the anniversary of Jesus' death.
His faith, he said, had kept him from spiraling into depression.
For more news from the Los Angeles County courts, follow me on Twitter: @marisagerber
ALSO
Antiabortion activists face 15 felony charges over undercover videos that targeted Planned Parenthood
Woman climbs down from crane in downtown L.A. after a standoff with police and firefighters
Nicaraguan immigrant dead from injuries at ICE facility in Southern California
---
UPDATES:
7:10 p.m.: This article was updated with additional details about the case and quotes from Perez and Marco Contreras.
This article was originally published at 2 p.m.
---
The stories shaping California
Get up to speed with our Essential California newsletter, sent six days a week.
You may occasionally receive promotional content from the Los Angeles Times.