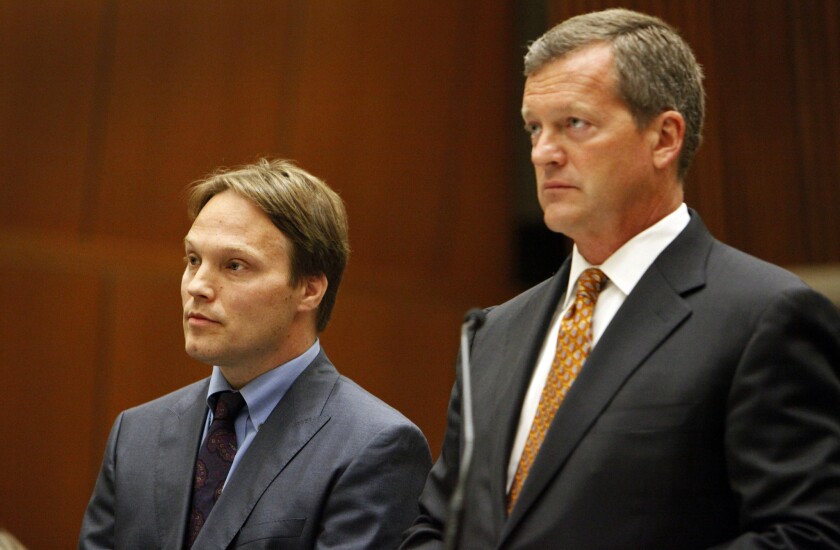 UCLA chemistry professor Patrick Harran has been ordered Friday to stand trial on felony charges stemming from a laboratory fire that killed staff research assistant Sheharbano "Sheri" Sangji more than four years ago.
Los Angeles Superior Court Judge Lisa Lench denied a defense motion to dismiss the case, which is believed to be the first such prosecution involving a U.S. academic lab accident.
Harran is charged with willfully violating state occupational health and safety codes and faces up to 4 1/2 years in prison if convicted.
DOCUMENTS: Report finds fault in death of lab assistant
"We fully expect to vindicate Professor Harran," his attorney, Thomas O'Brien, said after the hearing. "This was an accident, a tragic accident. We have always maintained that, as the University of California has, and we expect him to be vindicated."
Sangji, 23, was not wearing a protective lab coat Dec. 29, 2008, when a plastic syringe she was using to transfer t-butyl lithium from one sealed container to another came apart, spewing a chemical compound that ignites when exposed to air. She suffered extensive burns and died 18 days later.
Harran, 43, is accused of failing to correct unsafe work conditions in a timely manner, to require clothing appropriate for the work being done and to provide proper chemical safety training.
From the outset, he and UCLA have cast Sangji's death as an accident and said she was an experienced chemist who was trained in the experiment and chose not to wear a protective lab coat.
Harran's lawyers sought to bolster those contentions during a preliminary hearing that spanned several days late last year and in a written motion to dismiss the felony charges or have them reduced to misdemeanors.
Among other things, they argued that Harran believed that Sangji, who had graduated just five months earlier from Pomona College in Claremont with a bachelor's degree in chemistry, was adequately trained by a previous employer and by a senior researcher in Harran's lab.
Prosecutors countered that there is no evidence that Harran or anyone else trained Sangji in the handling of the chemicals that set her clothing ablaze, causing severe burns over nearly half her body.
"The bottom line with regard to the lack of training provided by defendant Harran is that, if victim Sangji had been properly trained ... victim Sangji would be alive today," they wrote in court papers.
ALSO:
LAPD surrounds shirtless burglary suspect on Venice roof
Police unsuccessfully use Taser on tree branch-wielding attacker
Blackface parody video at UC Irvine reminds students of past racism
---