Caltrans to put toll lanes on 405 Freeway in Orange County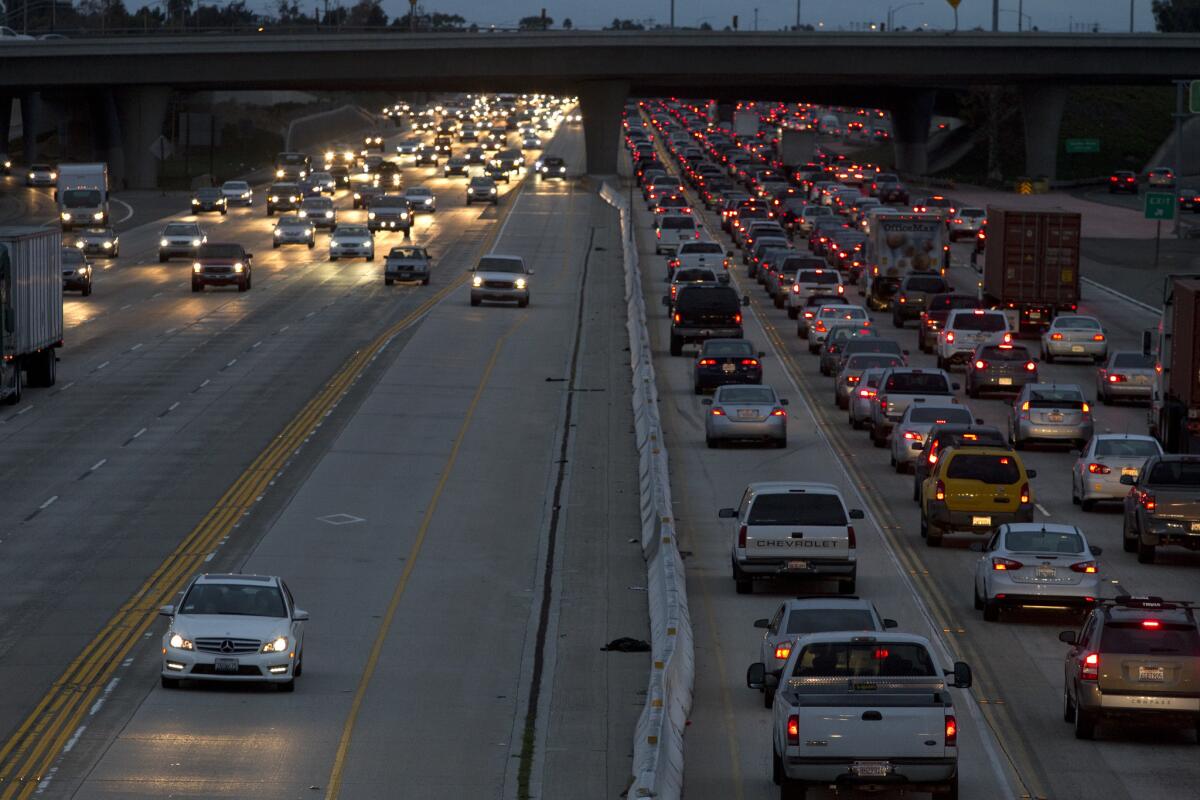 The battle over toll lanes on California freeways moved to Orange County on Friday when Caltrans announced it would defy local officials and place what critics call "Lexus lanes" on a 14-mile stretch of the 405 Freeway.
The lanes would be on a notoriously congested section of the freeway between Seal Beach and Costa Mesa. The cost of the tolls has not been finalized, but some existing toll lanes can charge about $10 one way during rush hour.
The move comes as communities throughout Southern California are increasingly considering toll lanes in order to relieve traffic and generate funding.
After years of resistance, Los Angeles officials added toll lanes along parts of the 10 and 110 freeways.
Riverside County is now in the process of creating express lanes on the 91 Freeway in Corona, while San Bernardino County officials are exploring the possibility of toll lanes on the 10 and 15 freeways as well.
But none of those areas have seen the strong opposition that Caltrans has encountered in Orange County, where numerous cities as well as the county's transportation agency have come out against the idea.
Caltrans officials said Friday that adding high-occupancy toll (HOT) lanes on the 405 would speed traffic.
"We've got over 400,000 people using the 405 corridor every day," said Ryan Chamberlain, Orange County district director for Caltrans. "I'd say there's going to be a lot of people celebrating this decision."
But there was little celebrating in Orange County — at least among many local officials.
"The state of California and those in Sacramento are trying to implement a concerted agenda to have layers of taxes, fees and tolls to extract dollars out of everyday drivers," said Huntington Beach Mayor Matthew Harper. "I think once voters realize what's coming down at them, they're going to rebel and people are going to want to keep the freeways free."
Despite Orange County's history as a longtime proponent of toll lanes and roads, putting pay-to-drive lanes on the 405 has generated more than a year of rancorous debate.
One reason is that existing carpool lanes would be converted to toll lanes. The project also takes advantage of funds set aside to expand the freeway using money from the county's half-cent sales tax.
"The taxpayers of Orange County have been paying an additional sales tax to improve traffic, but Sacramento is usurping that," said Supervisor John Moorlach.
As county transportation officials mulled over how best to expand the 405, six cities along the route, including Huntington Beach and Costa Mesa, banded together as the "corridor cities" to fight the lanes, saying they would put an unfair burden on commuters, push traffic onto local streets and prevent motorists in toll lanes from pulling off the highway to patronize local businesses.
In December, Orange County Transportation Authority board members opted not to support the toll lanes, instead favoring a plan that would add one free lane in each direction.
Although local opposition has been heated, some see high-occupancy toll lanes as the future in a region growing in population but strapped for funds.
The Southern California Assn. of Governments, the metropolitan planning organization for six Southern California counties, is in the process of completing a study on HOT lanes; and preliminary results suggest they are a good option for dealing with traffic, said Executive Director Hasan Ikhrata.
"We should be open to options that relieve congestion and that are going to get us out of the mess we are in," he said. "This is one option that seems to be working."
Martin Wachs, professor emeritus of urban planning at UCLA, said HOT lanes are being gradually incorporated into regional transportation plans throughout the state and especially in Southern California. He favors the option and said the perception that the lanes are only for the rich isn't necessarily true.
"Lower-and middle-income people use them occasionally, perhaps less often than rich people. But if a person has limited income and their child has to be picked up at child care, then they do a calculation," he said.
It's not clear how the tolls will be collected in the 405 toll lanes plan. But other stretches of toll roads in Southern California have required lone drivers to carry a transponder, which provides a means for billing the owner.
On those roads, motorists with multiple passengers must have the transponder, but do not pay a toll.
There is no set timeline for the opening of the HOT lanes because funding for them has not yet been secured, Caltrans officials said.
The agency's plan, recommended by Caltrans' project development team, would allow the OCTA to move forward with its proposal to add one free lane in each direction before eventually creating the high-occupancy toll lanes at an estimated total project cost of $1.7 billion.
The agency expects the bulk of funding — $1.3 billion — to come from the county's half-cent sales tax. But it's unclear how the remaining $400 million will be raised. Chamberlain, the local Caltrans director, mentioned several possibilities, including federal loans, grants and private investors. Once the project's environmental impact report is finalized in several months, officials will begin looking for funding, said Caltrans spokesman David Richardson.
Chamberlain said he does not anticipate departing from the toll lanes recommendation. He said that HOT lanes benefit commuters because they allow transportation officials to better manage traffic and that they provide a consistent option for faster travel.
Caltrans is also exploring the possibility of allowing vehicles with two or more occupants to ride free in the toll lanes, but a final decision has not been made, he said.
Diana Carey, a Westminster councilwoman who also represents the corridor cities, said the group will be looking at options to fight back against the proposal.
"They've really overstepped their bounds big time," she said.
Get the Latinx Files newsletter
Stories that capture the multitudes within the American Latinx community.
You may occasionally receive promotional content from the Los Angeles Times.