California Commute: Orange County takes continuous-access approach on carpool lanes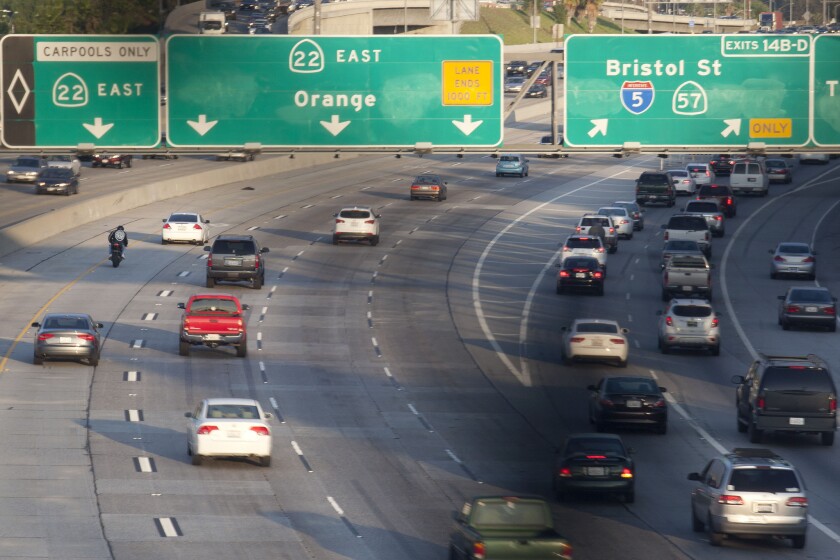 Freeway carpool lanes are being extended and tied together across Southern California, but one county is taking a decidedly different — and some studies suggest safer — approach to how they work.
Orange County is reconfiguring its 267-mile network of HOV lanes so motorists can enter and exit anywhere, rather than just in designated areas that are often spaced far apart.
During the ongoing conversion, the double yellow lines prohibiting drivers from moving in and out of carpool lanes at will are being replaced by white dashes.
O.C. officials, who began the change seven years ago on the 22 freeway, cite research that says the so-called continuous-access approach has reduced accidents, congestion and pollution in part by cutting down on sudden accelerations and quick lane changes.
The free-access approach also results in fewer potentially dangerous maneuvers in regular highway lanes next to the carpool lanes, officials say.
So far, Caltrans and the Orange County Transportation Authority have reworked at least 106 miles of HOV lanes along five freeways. In addition to the 22, they are now installed on the 55 freeway, Interstate 5, the 91 and the 57 freeway that goes from Orange to Glendora.
According to a 2009 OCTA survey, a substantial majority of Orange County motorists thought free-access HOV lanes reduced travel times and were safer than conventional carpool lanes. About 80% also wanted to keep the 22 freeway lanes and expand the continuous access model countywide.
"I like them," said Gloria Reyes of Westminster, the director of a nonprofit community organization who regularly uses the carpool lanes on the 22. "The lanes aren't closed at every other exit, and they make the traffic flow easier."
Complete data isn't available, but Officer Florentino Olivera, a spokesman for the California Highway Patrol in Orange County, said accident investigators were seeing fewer crashes on the continuous-access carpool lanes.
"They're helping the public," Olivera said. "We are seeing a reduction in weaving and last-minute lane changes."
In addition to Orange County, there are several hundred miles of free-access HOV lanes in Northern California.
So, why aren't they being used in Los Angeles County, which has 531 miles of carpool lanes?
Patrick Chandler, a spokesman for the Los Angeles Caltrans district, said that the county has always used limited-access lanes and that, based on various studies, there is no compelling reason to change.
Caltrans' research division concluded last year that both types of HOV lanes have comparable travel speeds but that continuous-access lanes can, in some instances, accommodate fewer vehicles.
A UC Irvine study concluded in 2012 that the benefits of converting HOV lanes to continuous access were uncertain. The 55 freeway performed better after the change, but the 57 performed worse, researchers concluded.
However, a larger, 2007 study by the UC Berkeley Traffic Safety Center, involving 60% of the state's carpool lanes, found that conventional, limited-access HOV lanes had noticeably higher accident rates and more severe accidents than continuous-access lanes.
Another study six years ago by researchers at UC Riverside found that continuous-access lanes produce lower exhaust emissions because they keep traffic flowing more smoothly and reduce weaving as well as sudden speed and lane changes.
The upshot is that studies to date haven't fully resolved key questions of which type of carpool lane is safest and produces the biggest overall payoff for motorists — at least not to the satisfaction of L.A. County officials.
"No continuous-access lanes are planned" in Los Angeles County, Chandler said. "There is no driving force for them."
At least for now in Southern California, Orange County is riding alone toward free-access carpool lanes.
Follow @LADeadline16 for transportation news.
---
The stories shaping California
Get up to speed with our Essential California newsletter, sent six days a week.
You may occasionally receive promotional content from the Los Angeles Times.