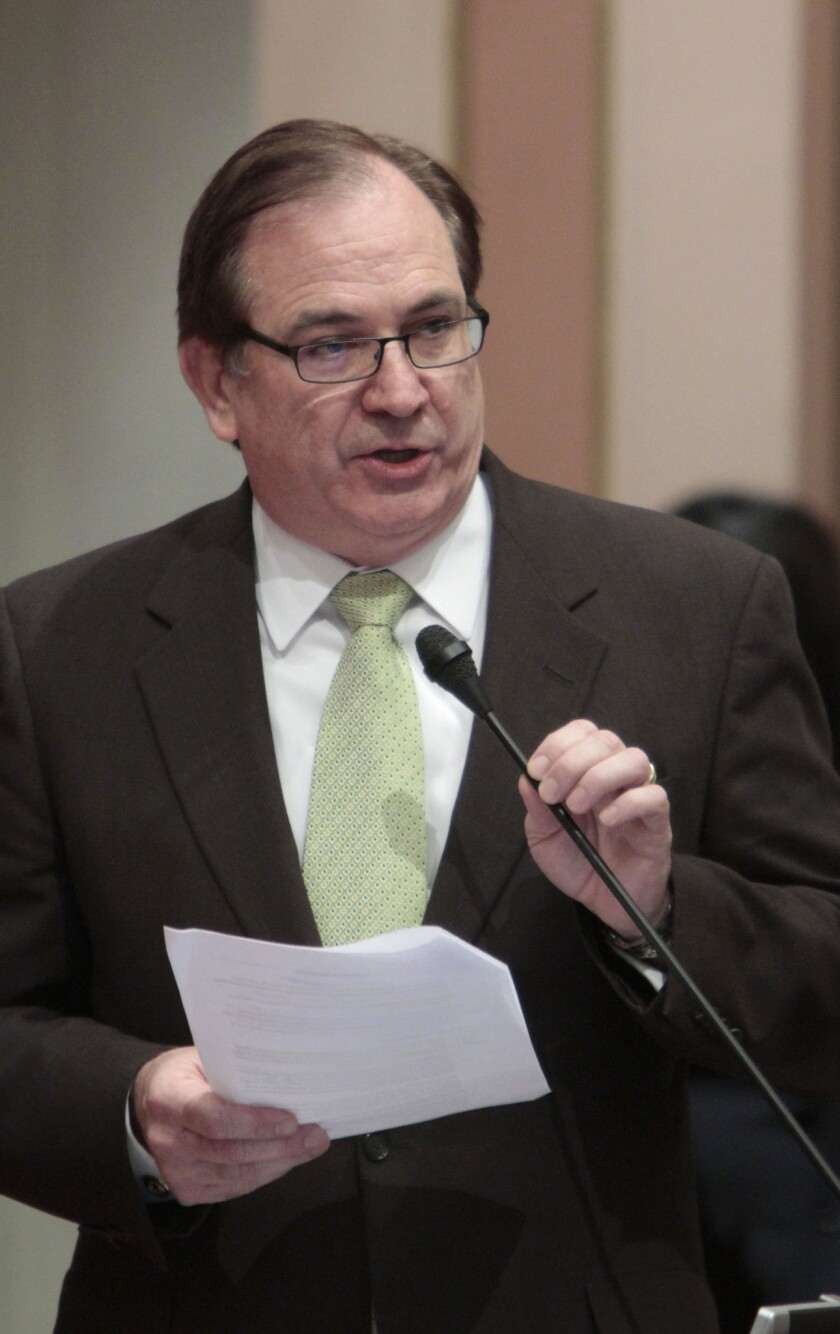 SACRAMENTO — California Republican leaders have a plan for depriving the Democrats of supermajorities in both houses of the state Legislature and rebuilding the party in this year's elections, but it will take raising up to $13.6 million, which GOP officials admitted Tuesday is a very tall order.
The strategic plan, a copy of which was obtained by The Times, calls for "surpassing historical leadership fundraising" for a party that raised just under $10 million in the 2012 election year.
"It's an aggressive goal but we think we can reach it," said Senate Republican leader Robert Huff of Diamond Bar, who co-authored the 18-page plan with Assembly Republican leader Connie Conway of Tulare.
Democrats currently have a supermajority in the Assembly but are one vote short of having one in the Senate. The California Republican Party had $1.36 million in the bank as of March 14, compared with $10.3 million available as of that date to Democrats. "We will never have as much money as the Democrats, but we are doing well," Huff said.
Still a Democratic operative scoffed at the idea that the Republican goal of $13.6 million is realistic. "Apparently, April Fools' Day has come early because Republican leaders are setting pie-in-the-sky fundraising goals they have no hope of achieving in multiple races they have little hope of winning," said Jason Kinney, a political consultant for the Senate Democratic Caucus.
The strategic plan estimates Republicans will need $8.7 million to protect seats held by GOP lawmakers in competitive districts, including Sens. Andy Vidak of Hanford and Anthony Cannella of Ceres, and Assemblyman Eric Linder of Corona.
An additional $3 million will be needed to "eliminate Dem supermajority in both houses of the Legislature" by taking back competitive seats, the plan says. In the Senate, a key contest will be in the 34th Senate District, where Orange County Supervisor Janet Nguyen is the leading Republican candidate against former Democratic Assemblyman Jose Solorio, the plan says. The strategic plan also says Republicans can unseat Democratic Assembly members Sharon Quirk-Silva of Fullerton and Steve Fox of Palmdale.
The rest of the fundraising goal is for maintaining a strong party infrastructure for 2014 and beyond.
The Senate Democratic Caucus' Kinney said the document is "more of a prayer than a plan — and an explicit admission that, after years of solid Democratic-led progress for California, Republicans are going to have a very hard time raising the resources they need to be competitive and to make their case in November."
ALSO:
Gov. Jerry Brown reports more than $11,000 in gifts
California lawmakers report meals, sports tickets, other gifts
Assembly speaker got nearly $38,000 in gifts, travel last year
---