Kamala Harris calls Loretta Sanchez's Native American 'war cry' shocking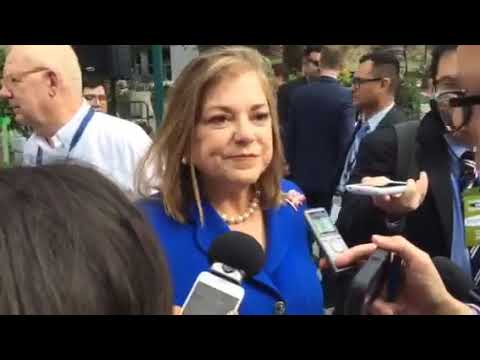 <p>Rep. Loretta Sanchez (D-Santa Ana) discusses making a Native American "war cry" gesture. (Peter Jamison / Los Angeles Times)</p>
U.S. Senate candidate and Atty. Gen. Kamala Harris was at a loss for words Saturday when told that her principal opponent, U.S. Rep. Loretta Sanchez of Santa Ana, had been videotaped making a joke about the difference between Indian Americans and Native Americans in which she tapped her hand to her mouth in imitation of a "war cry."
"I don't know what to say to that. That – that – that's shocking," Harris said, raising her eyebrows in disbelief when the comments were shared with her after an afternoon news conference. "That's shocking," she repeated.
LIVE UPDATES: Coverage from the convention
Harris' mother is Indian and her father Jamaican.
Sanchez made the controversial comments while speaking to the Indian-American caucus at a restaurant near the Anaheim Convention Center on Saturday. A video of her gaffe made the rounds on Twitter and YouTube and quickly became the talk of the California Democratic Convention and wasn't helped by the curious explanation Sanchez offered after the fact.
She said the joke concerned her confusion over whether a potential campaign supporter she spoke to on the phone was Native American or Indian American.
Asked about the potentially offensive "war cry" gesture, she said, "Well, I think Native Americans have an incredibly great history, and a great presence in our country, and many of them are supporting our election."
Sanchez, who announced she was entering the race this week, is known for a freewheeling style that can sometimes get her into trouble. She is facing an uphill battle against Harris, who has been fundraising and racking up prominent endorsements since January.
The video of the gesture was shot by Uduak-Joe Ntuk, a delegate from Long Beach. Ntuk said he has not taken sides in the Senate race but was stunned by Sanchez's joke.
"I was shocked," he said. "A murmur went through the crowd. It was like, 'Whoa.' Most everyone in the caucus was Indian American."
Ntuk said Sanchez's actions were "not what we stand for in the Democratic Party."
A flier for the caucus gathering shows that Sanchez was the headline speaker. The description of her remarks: "Welcome to O.C. by Rep. Loretta Sanchez."
Twitter: @petejamison
Sign up for Essential California for news, features and recommendations from the L.A. Times and beyond in your inbox six days a week.
You may occasionally receive promotional content from the Los Angeles Times.