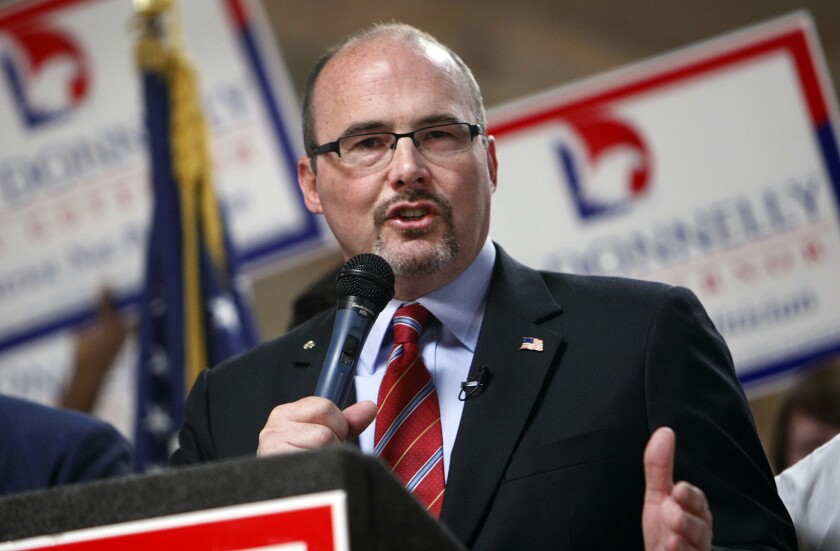 Republican gubernatorial candidate Tim Donnelly slashed at Gov. Jerry Brown's budget proposal Thursday morning, saying the incumbent was taking a rosy, short-sighted view of the state's fiscal health that fails to address systemic challenges facing California.
He said Brown was basing his budget plan on the taxes generated by Proposition 30, the voter-approved hikes in the state sales tax and on high earners.
"After picking the pockets and balancing California's budget on the backs of hardworking taxpayers through the largest tax increase in state history, Gov. Brown this morning declared all of California's problems magically solved," Donnelly said in a statement. "It must be nice to view the state's problems through such rose-colored lenses. The reality is, a magnitude of problems still face California. The governor's surplus is a myth. It will be short-lived, as businesses flee the state to escape Prop. 30."
Brown on Thursday morning unveiled a $155-billion budget proposal that would increase general fund spending by more than 8%, to $106.8 billion. With his administration projecting a $4.2-billion surplus at the end of June, Brown called for setting up a $1.6-billion rainy-day reserve fund, and for paying down $11 billion of the state's debt. The proposal calls for a $10-billion infusion into schools and community colleges to make up for years of cutbacks, $1 billion in new money for higher education to ward off new tuition increases, and $670 million more for the state's public healthcare system to deal with new enrollees because of the federal healthcare overhaul.
Donnelly faulted the plan for failing to tackle the state $218-billion unfunded pension liability, for including billions of dollars of new spending, for proposing to make it easier for cities to raise taxes and for shifting money to the high-speed rail proposal.
"The real bottom line: The fiscal outlook for millions of Californians isn't as rosy as Jerry Brown would have you believe," Donnelly said.
Former Lt. Gov. Abel Maldonado and investment banker Neel Kashkari, who are also weighing gubernatorial bids, had yet to weigh in.
ALSO:
California sees big tax boost in December
Gov. Jerry Brown to propose billions in new spending
Early parole, money for jails in Brown's proposed budget
Twitter: @LATSeema
---