Southland sizzles with record-breaking heat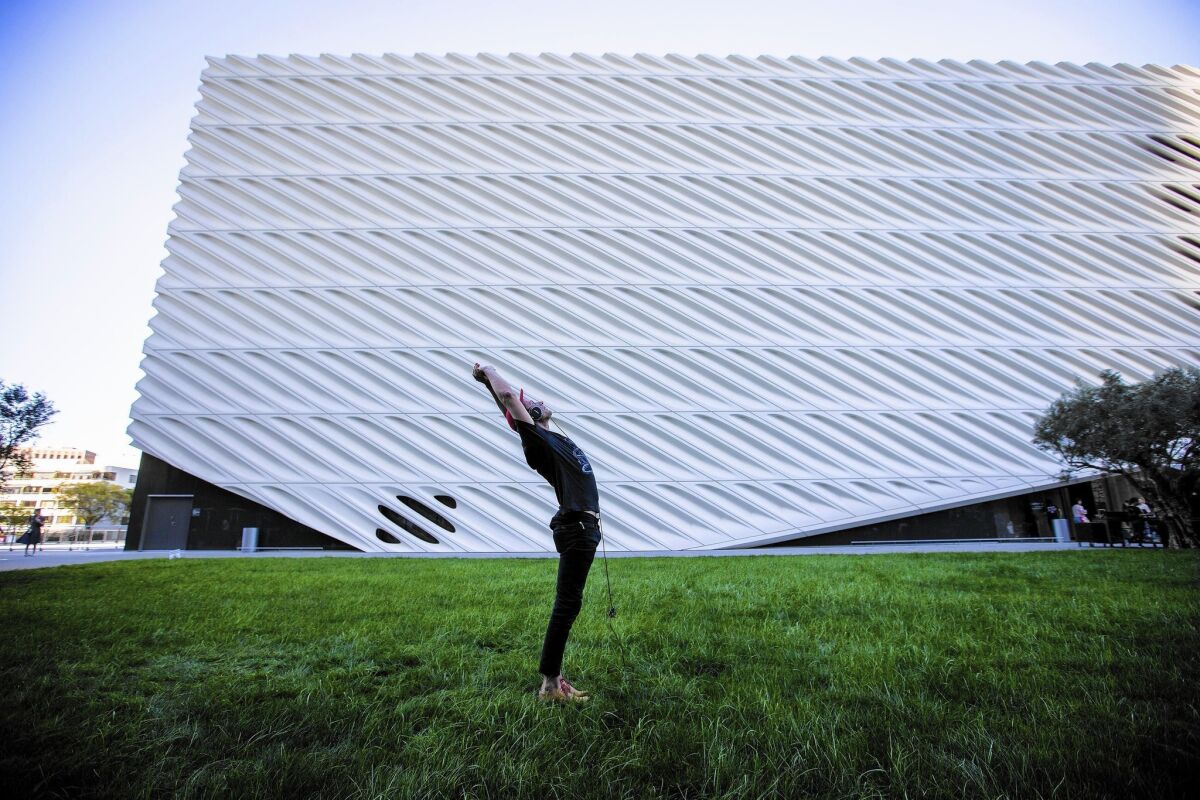 Snow still capped Southern California's highest mountains Tuesday, but the rest of the region wore a decidedly summer glow as a heat wave continued to break temperature records.
Temperatures soared into the 90s, and forecasters expected more of the same Wednesday before a modest cool-down begins.
The heat — coming during a winter that many thought would be filled with El Niño-fueled rainstorms — brought problems not often seen in the depths of winter.
See more of our top stories on Facebook >>
The Los Angeles Unified School District recorded more than 100 air-conditioning-related service calls. The Los Angeles Department of Animal Services issued a heat alert to pet owners.
Firefighters had extra units positioned because of hot Santa Ana winds that could ignite brush fires.
USC students Pat Corcoran and Alexandra Plzak enjoy the warm weather on campus Tuesday as temperatures reached a record 87 degrees in downtown Los Angeles.
(Francine Orr / Los Angeles Times)
Los Angeles City firefighter Harold Kim cools down after battling a house fire in 90-degree heat Tuesday.
(Wally Skalij / Los Angeles Times)
Blakey Olsen of Laguna Beach practices yoga in front of the Broad Contemporary Art Museum as temperatures set a record at 87 degrees in downtown L.A. on Tuesday.
(Allen J. Schaben / Los Angeles Times)
A man carries a surfboard at sunset at El Porto beach on Monday in Manhattan Beach.
(Patrick T. Fallon / For The Times)
Basilios Papaioannou of West Hollywood builds a drip castle in the sand at Venice Beach.
(Katie Falkenberg / Los Angeles Times)
People play football and climb on the rock jetty at Venice Beach.
(Katie Falkenberg / Los Angeles Times)
Boys play in the ocean at Venice Beach.
(Katie Falkenberg / Los Angeles Times)
Ariel Rhone uses an umbrella for shade near the Venice boardwalk on Monday.
(Katie Falkenberg / Los Angeles Times)
Venetia Taylor of New York enjoys the afternoon reading a book at the Ace Hotel rooftop pool on Broadway Street in Los Angeles
(Barbara Davidson / Los Angeles Times)
Dan Charcoal, who is vacationing in Southern California from Maui, golfs on Zuma Beach during a hot winter day Monday.
(Wally Skalij / Los Angeles Times)
Dilip Ray performs jumping jacks during his daily workout at Warner Park in Woodland Hills. Warm temperatures and high winds are expected today.
(Mel Melcon / Los Angeles Times)
Holly Di Renzo gives her daughter Bella, 4, left, and son Dante, 3, a push, as they ride on the swings at Lost Canyon Park in Simi Valley.
(Mel Melcon / Los Angeles Times)
Feet dangle from a lifeguard tower along PCH in Malibu during a hot winter day Monday.
(Wally Skalij / Los Angeles Times)
On a warm, windy afternoon a woman heads to her car after shopping at the 99 Cents store in Simi Valley.
(Mel Melcon / Los Angeles Times)
Cedric Laheurte places an Oscars "floaty" in the swimming pool as warm weather is in store for the annual Oscars nominee luncheon today at the Beverly Hilton Hotel.
(Al Seib / Los Angeles Times)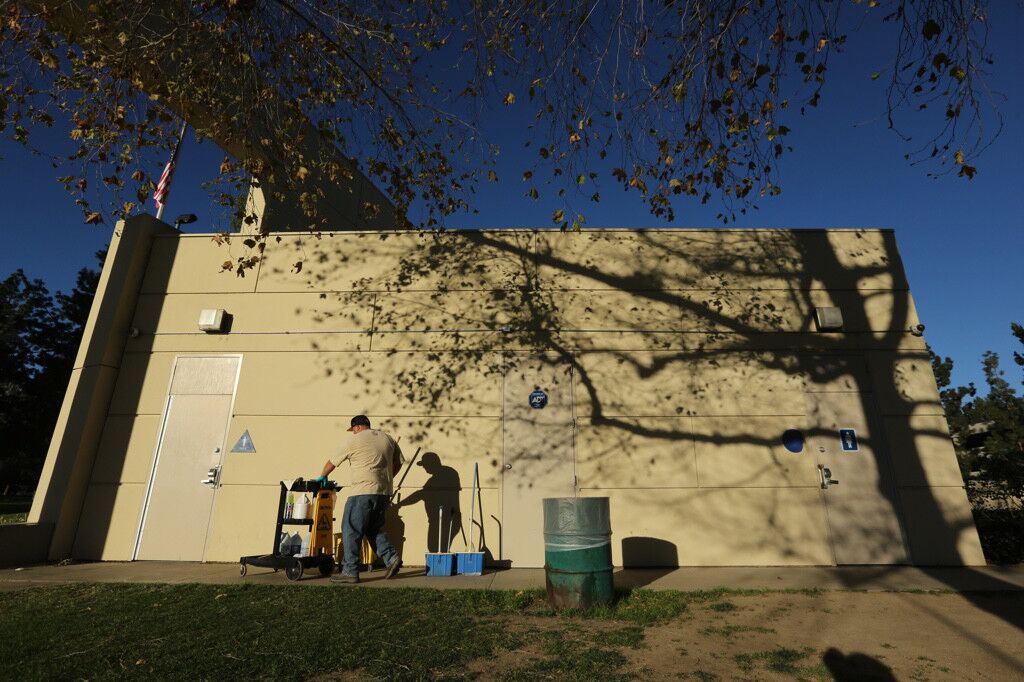 Strong winds and high temperatures have fire crews on alert. Above, David Castro works at Warner Park in Woodland Hills on Monday.
(Mel Melcon / Los Angeles Times)
When the heat wave started Monday, Susan Alvarez planted tomato seeds in three pots outside of her brother's home in Boyle Heights.
She said she loves gardening but admits she might feel the pain later because she neglected to put on sunscreen.
El Niño, she joked, is an "urban myth."
Indeed, the temperature downtown hit 89 Tuesday, passing the previous high of 85 set in 2006. Records for the day were also set at UCLA (90), Long Beach (92) and Santa Ana (95).
Los Angeles is hosting back-to-back marathons this weekend, and the hot weather sparked concerns that it could slow performances and possibly endanger runners.
Temperatures were expected to drop through the remainder of the week, with a high of 78 forecast Saturday when elite athletes from around the country will compete on a downtown course for spots on the U.S. Olympic team. Temperatures could top 80 downtown on Sunday, when the annual Los Angeles Marathon is run.
The Olympic trials, being held in Los Angeles for the first time, have a 10:06 a.m. start — three hours later than the Sunday race — pushing finish times into the hottest part of the day. Analysts foresee a slow, tactical race with few runners willing to risk overextending themselves.
Anticipating warm weather, some of the approximately 375 registered runners have been training in hot-weather sites such as Florida and San Diego.
That adjustment could gain them an advantage, said Douglas Casa, a heat physiology expert and chief executive officer of the Korey Stringer Institute at the University of Connecticut.
"A heat-acclimated runner can expect to perform 2% to 3% better in a warm marathon, " Casa told Runner's World magazine.
The warm temperatures could also help the U.S. mount a more competitive team for Rio de Janeiro, where August temperatures are expected to be in the high 70s. Eight years ago in Beijing the men's Olympic marathon was run in conditions that were so hot, humid and smoggy that only one athlete covered the second half of the race faster than the first.
Organizers of Sunday's L.A. Marathon said they will be prepared for likely heat-related emergencies among the thousands of runners —of wide-ranging age and athletic conditioning.
During last year's race, on a March day when temperatures hit 90 at the finish line, at least 185 people were treated by medical personnel along the route, with at least 36 taken to hospitals. One man suffered a heart attack.
This year's L.A. Marathon was moved up from the usual spring date to pair it with the Olympic event.
The National Weather Service is predicting a high of 78 in Century City (Mile 19) and 76 at the finish line in Santa Monica.
"While temperatures are currently not forecasted to be as high as last year's race in March, we recognize that most runners have been training in cooler temperatures, so we advise that they begin hydrating now and slow their pace down on race day," said Tracey Russell, chief executive of Conqur Endurance Group. "As a precaution, we are planning to implement similar measures as we did in 2015 because they were effective."
The Skechers Performance Los Angeles Marathon will start at 6:55 a.m., 30 minutes earlier than in previous years to avoid the hottest part of a day.
Runners might in fact prefer warm conditions over the heavy rain that weather experts expected this time of year thanks to El Niño.
El Niño, the warming of ocean waters about 1,000 to 2,000 miles south of California along the equator, helped produced a series of powerful storms in Northern California that has rebuilt the snowpack — it's 105% of normal in the Sierra Nevada — and begun to refill drought-depleted reservoirs. But Southern California has remained mostly dry.
Weather experts Tuesday resorted to probability theory and sports analogies to explain why the predicted deluge of this year's El Niño has materialized as a heat wave instead.
"History does not indicate that big El Niños always give wet winters in California," said David Pierce, a researcher at the Scripps Institution of Oceanography.
Three of the prior five were wet, but two were near normal and one, in 1965-66, was distinctly dry, Pierce said.
"With only five prior El Niño events to judge from, predicting the outcome is like throwing dice," he said.
Nicholas A. Bond, a research meteorologist with University of Washington, said one factor is that the warm Pacific Ocean and thunderstorms characteristic of an El Niño are farther west that expected, near the Asian side of the ocean, so the atmospheric disturbances they cause are more removed from the California coast.
------------
FOR THE RECORD
Feb. 10, 12:10 p.m.: An earlier vesion of this article said Nicholas A. Bond was a research meteorologist with Washington State University. He is a research meteorologist with University of Washington.
------------
Despite growing doubts that this year's El Niño will produce the drastic Southern California weather once predicted, both climate experts said strong rains could still come this spring.
"So it may still be a little bit premature to declare the current El Niño a bust," Bond said.
Times staff writers Joseph Serna, Britny Mejia and Sonali Kohli contributed to this report.
---