Santa Monica's Hack the Beach micro-festivals bring tech world into the city's fold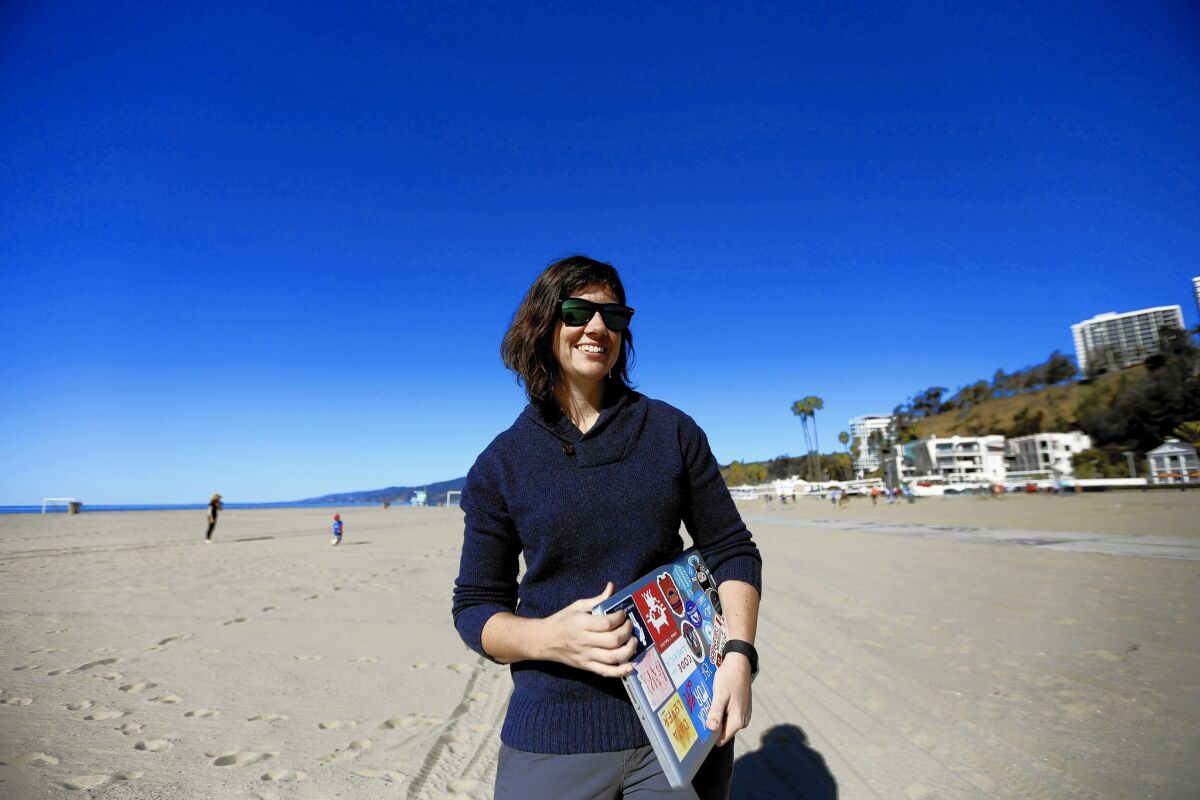 To the young and digitally savvy, city government can seem frustratingly old-school: paper forms, snail's-pace action, meetings you can't join unless you show up at City Hall.
Officials in Santa Monica know it doesn't have to be that way.
They have courted the tech world with lures such as a 100-gigabit-per-second municipal fiber network. They have laid out an underground welcome mat of what's known as dark fiber, ready and waiting for new businesses.
That wooing has made the city a Silicon Beach hub — with a mix of large entertainment and Internet companies, start-ups and "co-working" office space.
Now Santa Monica wants to get its tech population involved in the fabric of civic life, to pique its interest in city issues and harness its talents.
Last year, municipal staff, Chamber of Commerce members and business leaders joined together to launch Hack the Beach — a "series of micro-festivals" designed to bring the tech world into the city's fold.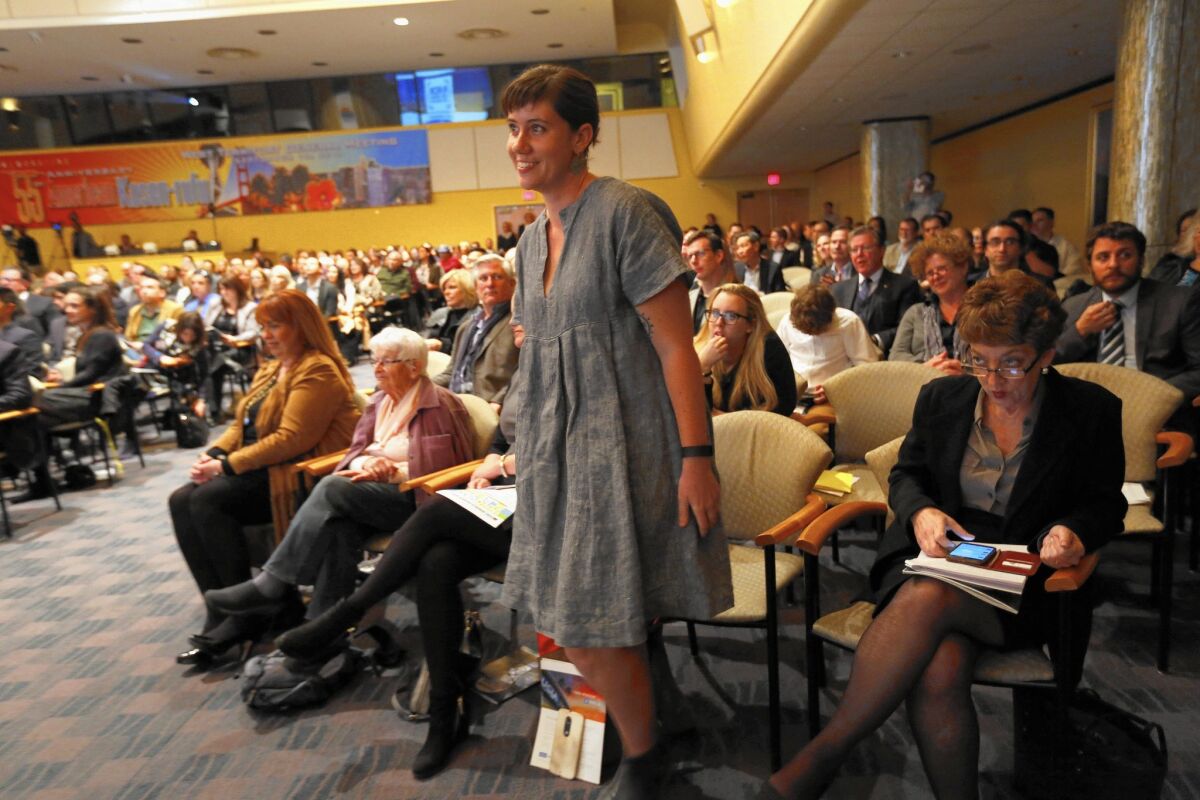 "This whole new culture has sprung up here. We wanted to figure out how to hook up with that," said Carl Hansen, the chamber's director of government affairs.
In October, Hack the Beach announced its first contest: soliciting from residents "apps, ideas, processes, and/or technology to help Santa Monica improve our sense of community, mobility and civic engagement."
Promotional efforts announced "Santa Monica 2.0, Initializing.... Are you a Silicon Beach rock star? Are you passionate about your community?" More than 30 teams signed up. In November, seven finalists were chosen.
It was more in-depth than your standard fast-and-furious hackathon.
To shape their projects, the contestants were given ample access to expertise. They were encouraged to use the city's open source data. Each entry also was assigned a city team, made up of those employees most knowledgeable about its subject.
In the last week of January, the finalists pitched their ideas to judges at General Assembly, a computer programming school with a loft-like space in the heart of downtown.
L.A.'s Eric Garcetti has billed himself the "high-tech mayor" and likes to dabble in code. Santa Monica Mayor Tony Vazquez, who is 60, opened the evening of Hack the Beach pitches by joking about his own old-fashioned ways and how he gets his "very techie" kids to explain apps to him.
But, he said, entertainment and tech now account for about 22,000 jobs in the city. "As I look around the room, to me this is exciting," Vazquez said. "Because I'm used to going to meetings, especially in the city, with a lot of folks that are usually older than me."
Interested in the stories shaping California? Sign up for the free Essential California newsletter >>
One group presented an entry called Anyway — as in, "I'm driving there any way" — a ride-sharing app aimed at filling up solo commuters' cars, with the added passengers helping to cover the driving costs.
Another had an app called Cityholla to direct residents, through a series of questions, to events that might be of interest.
A team described its plan for a coastal ferry called Ocean Ray, which would attract tourists but also could relieve pressure on often-jammed Pacific Coast Highway. The crowd loved it, although it wasn't the kind of quick-turnaround project that Hack the Beach organizers were after.
The five judges, a mix of city and tech, asked questions and then went into a back room to choose the winner.
The reveal took place two nights later at the annual State of the City event — which featured a free bike valet service, vegan spring rolls and urns of locally sourced water.
"Innovative ideas are, by their nature, a disruption of the status quo," Laurel Rosen, the chamber's president and chief executive, told the crowd. "We are a city of visionaries who are innovators, creators and disrupters."
Join the conversation on Facebook >>
City Manager Rick Cole spoke of the Santa Monica offices of companies including Uber, Hulu and Activision.
Cole spoke of the city's fame, as measured by the Internet. "On any given day, Santa Monica averages 30 million impressions worldwide on social media," he said. Its pier "is one of the top 10 most Instagrammed places in the world," and its Apple store on the Third Street Promenade is the highest-grossing in the state.
"But we have a long way to go," Cole said, "because when you enter the lobby at City Hall, you still see people waiting on benches, waiting their turn to process building permits. Here we are, the epicenter of Silicon Beach, and our city website sucks."
It was a good lead-in to the announcement of the Hack the Beach contest winner: software called CityGrows that enables government to automate such processes as permitting — so that people can apply for permits, staff can review them, and approvals and denials can be made online, with automatic notifications when action is needed so that no one along the way drops the ball.
Vyki Englert, 29, who accepted the trophy for herself and her CityGrows partner, was once an intern in Santa Monica's information technology department. One of her jobs there had been to help relaunch the planning department's website, which she said hadn't been updated in 14 years.
For winning the contest, she and Stephen Corwin got, among other things, free training, classes, office space and mentorship from various high-tech businesses.
They also soon will get the satisfaction of seeing the city start to use their software.
But Englert said the real prize was the inside look at how local government works.
"It's that kind of internal-external cultural exchange," she said, "that kick-starts innovation."
Twitter: @latimescitybeat
ALSO
Apartment teetering on the edge of a ocean cliff is demolished
'Coronageddon' has begun: 91 Freeway closed in Corona for 55 hours
Southern California Gas Co. opposes legislation to require new tests of all Aliso Canyon wells
---
Life is stressful. Our weekly mental wellness newsletter can help.
You may occasionally receive promotional content from the Los Angeles Times.