Caricatures won't be making the trip when Palm restaurant relocates
Palm co-owner Bruce Bozzi Jr., is surrounded by caricatures of celebrities that grace the walls the West Hollywood restaurant. After 40 years, Palm is moving to Beverly Hills, but most of the sketches won't be making the trip.
(Genaro Molina / Los Angeles Times)
Caricatures at the Palm include actors Gene Hackman, in plane, and John Travolta.
(Genaro Molina / Los Angeles Times)
Agent Tom Ross, left, and music industry attorney Kim Guggenheim look over the caricatures. Both Ross and Guggenheim are longtime customers of the restaurant.
(Genaro Molina / Los Angeles Times)
The sketches of actor John Wayne, from left, former Los Angeles Mayor Tom Bradley and actor Danny Kaye. Palm is scheduled to relocate in November.
(Genaro Molina / Los Angeles Times)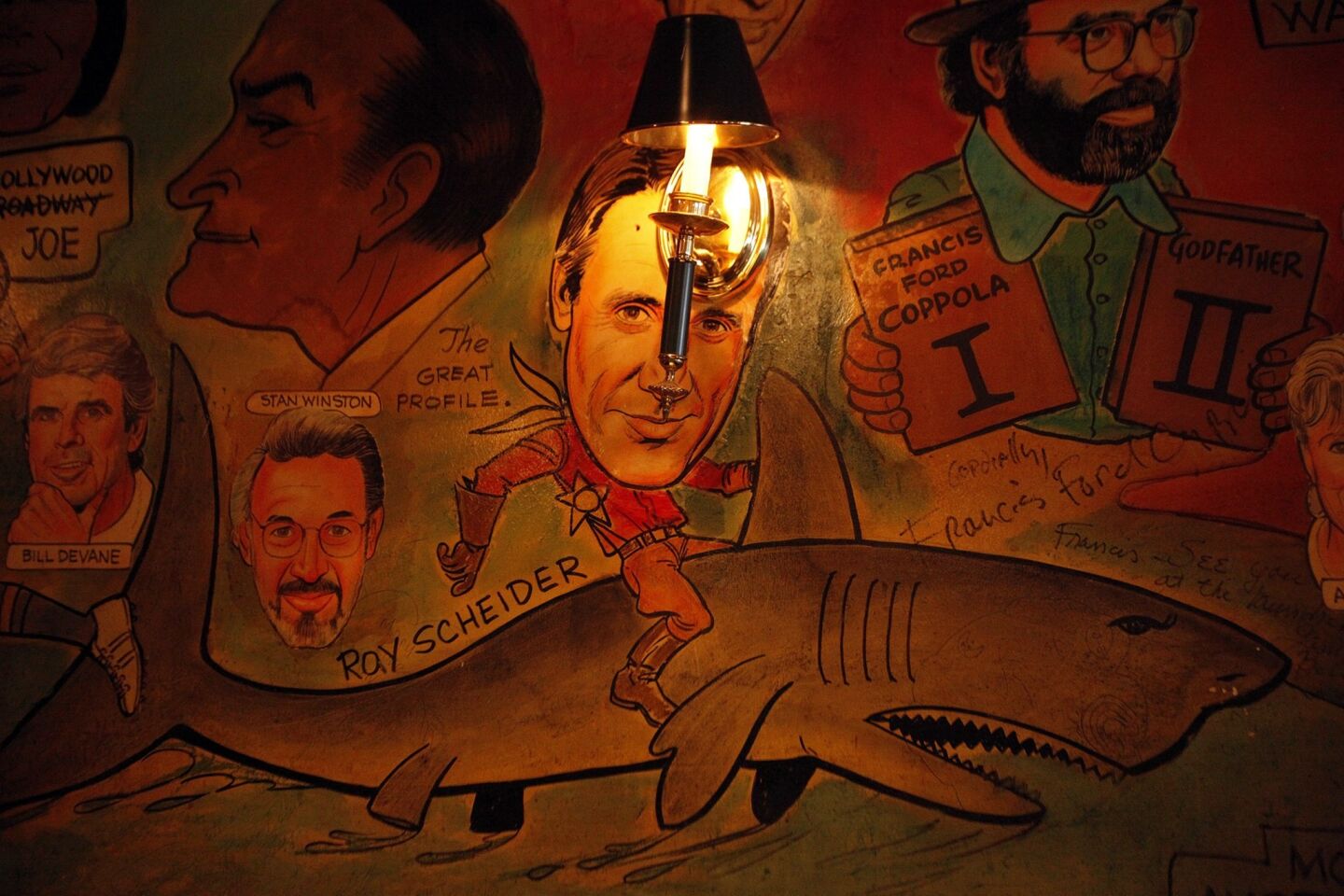 One drawing depicts actor Roy Scheider, from the movie "Jaws," riding the infamous shark.
(Genaro Molina / Los Angeles Times)
Cook Rodolfo Suazo, in doorway, talks with waiter Alex Concepcion while surrounded by dozens of caricatures of celebrities that grace the walls of West Hollywood's Palm restaurant.
(Genaro Molina / Los Angeles Times)
Rick Mendoza cuts out the likeness of chef Luis Rodriguez at Palm restaurant in West Hollywood to test how easily the caricatures can be removed from the walls before the restaurant relocates to Beverly Hills.
(Genaro Molina / Los Angeles Times)
A caricature of famed sports commentator Howard Cosell. Cosell was one of the few celebrities depicted at the establishment who left his signature by his likeness.
(Genaro Molina / Los Angeles Times)
Tayna Hodge, general manager of West Hollywood's Palm restaurant, stands near caricatures of celebrities Walter Matthau, George Burns and famed Hollywood columnist Army Archerd.
(Genaro Molina / Los Angeles Times)
Star Trek creator Gene Roddenberry signed "Love and prosper" near his caricature on a wall of Palm.
(Genaro Molina / Los Angeles Times)
The sketch of basketball great Wilt Chamberlain. Palm management says it is inviting all those depicted in the illustrations to take their images home.
(Genaro Molina / Los Angeles Times)
Serving assistant Kristhy Morales sets up a table inside Palm, which, after 40 years, is scheduled to close its West Hollywood location on Sept. 30 and reopen in Beverly Hills in November.
(Genaro Molina / Los Angeles Times)
Bruce Bozzi Jr.'s great-grandfather knew how to draw attention after he opened a restaurant in an Italian section of New York City in 1926.
Pio Bozzi and his friend John Ganzi had arrived from Parma, Italy, and intended to name their restaurant after their hometown, but their thick accents made it sound more like "Palm." So they shrugged and named it that.
During the Depression, the Second Avenue steakhouse in Manhattan was popular with artists who worked nearby at King Features syndicate and cartoonists from the Hearst Corp. Because of the bleak economy, some came in without enough cash for lunch or dinner.
So Bozzi and Ganzi let the starving artists swap hand-drawn caricatures of local celebrities that they could mount on the Palm's walls in exchange for free food.
That decorating motif was continued in 1972 when Palm opened a second location in Washington, D.C., and again in 1975 when the West Hollywood restaurant opened.
And that explains why some 2,300 local celebrities' sketches are painted and glued onto walls and ceilings of the Palm Restaurant on Santa Monica Boulevard, and the dilemma that Bruce Bozzi now faces.
Because of redevelopment plans, Palm is moving in early November to Beverly Hills. Unfortunately, the celebrity caricatures won't be making the move.
After the Sept. 30 closing, workers will take jigsaws to the plaster drywall and carefully cut out as many of the 2,300 drawings as feasible and give them to the stars and industry executives who inspired them.
"We'll have them wrapped up in butcher paper for people to take," Bozzi said.
Bozzi, 48, is a fourth-generation co-owner of the family-run, 28-restaurant chain in the U.S. and Mexico City. His business partner is Wally Ganzi, a third-generation family member. "It's still a mom-and-pop business," Bozzi said.
Some of the caricatures overlap and likely can't be salvaged, Bozzi acknowledged. And those that aren't retrieved by their subjects may be auctioned off for charity. A couple will be framed and displayed in the new restaurant.
Bozzi's personal favorites depict former customers Farrah Fawcett and Lee Majors. He also has a photograph of Fawcett and Majors taken by pioneering paparazzo Ron Galella of the pair walking out of the Palm in 1978, toting one of the restaurant's to-go bags.
Near the Fawcett and Majors caricatures are two of O.J. Simpson, though both have been altered with the placement of others' faces on Simpson's likeness.
"We covered his face after somebody put a steak knife into O.J.," Bozzi explained.
As word has spread that the Palm is closing, employees have begun compiling a list of sketches that are being claimed by celebrities' families.
Relatives of James Garner and Telly Savalas frequently dine at the Palm, and will likely be given the actors' caricatures. Bozzi said that the late singer-actor Al Martino's daughter Alison Martino celebrates her father's birthday there each year. She'll likely claim her father's caricature, he said.
Though some of the sketches will find their way to Beverly Hills, the motif at the new location will be more of a "1970s California look," Bozzi said.
"We'll pay homage to the city with a whole wall highlighting iconic spots in L.A., from the Santa Monica Pier to downtown's Disney Hall," Bozzi said. "It will be a living wall."
bob.pool@latimes.com
Twitter: @BobsLAtimes
The stories shaping California
Get up to speed with our Essential California newsletter, sent six days a week.
You may occasionally receive promotional content from the Los Angeles Times.