Signs of progress, and the need for more, at West L.A. event for homeless veterans
A Los Angeles city housing worker handed Charles Lipari a rental voucher that could end his three years of homelessness.
The U.S. military veteran would still have to wait an average of 20 to 25 days for an inspection. Still, it was an improvement over previous years when veterans had to wait a month or two for the housing authority to act.
Lipari, who said he spent three years in the streets and in shelters after an eviction triggered by post-traumatic stress disorder, was among a group of veterans who received housing vouchers at an event Wednesday at the West Los Angeles Veterans Affairs campus.
The vouchers pay for housing and mental health counseling and other support to get veterans off the streets.
Officials sought to demonstrate success in eliminating red tape that has long plagued efforts to house Los Angeles County's 4,500 homeless veterans, the most of any region in the nation.
The vouchers were the highlight of a Department of Veterans Affairs stand-down, a military exercise modeled on a Vietnam-era tradition to bring services and support to veterans living in the streets. The VA, after years of neglect and contention, says it is restoring the West L.A. facility as a center for veteran housing, recreation and medical treatment.
I'm about to become homeless because of the mayor!
Andrew Boch, 45, U.S. Army veteran
Los Angeles City Housing Authority Chief Executive Douglas Guthrie said it used to take 30 to 60 days just to secure a voucher, but that his department had reduced that to a single day.
"We can print out vouchers on the spot," he said.
Several veterans, however, said they could not find landlords to take the vouchers in Los Angeles' overheated rental market. Michael Vaughn, 55, an Army veteran living in a shelter in Bell, said he had a voucher in hand but no place to cash it in.
"It's a hot mess," Vaughn said.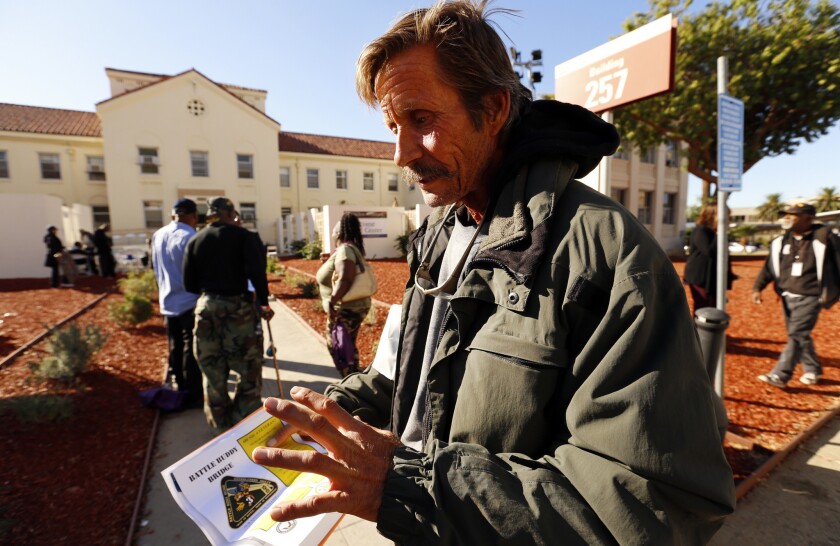 Others said the VA was continuing to drag out benefit decisions and appeals that would give them the income to find apartments.
Vincent Kane, special assistant to VA Secretary Robert A. McDonald, said a drive to persuade landlords to rent to veterans was going "not as well as we'd like it to."
But, he said, "Today is a big step. Things are starting to change for the better."
Mayor Eric Garcetti told the small crowd that 4,630 formerly homeless veterans in the Los Angeles area had been placed in housing in the last 22 months, but that 2,000 are stuck in the streets, and four to five veterans lose their shelter every day.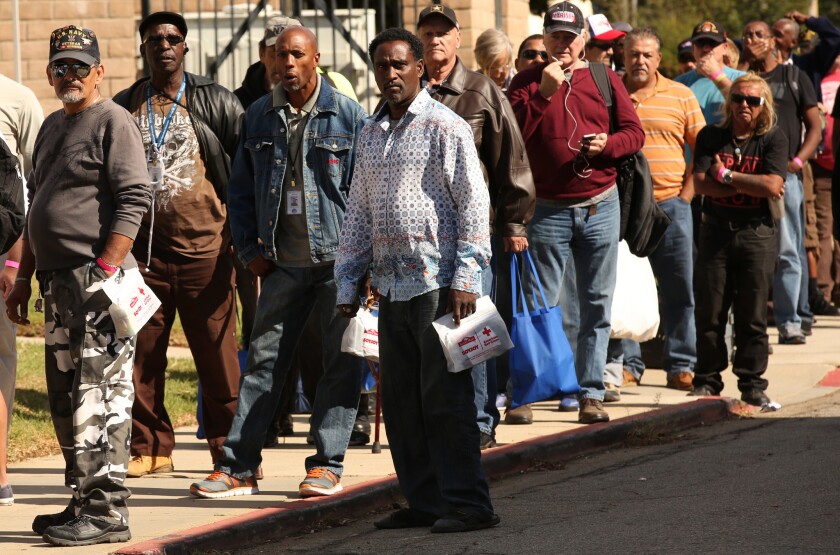 "For too long we have accepted homelessness is just a way of life," Garcetti said. "We know we can solve it. The question is will we have the political will to do it."
The next speaker, Michael Mullen, former chairman of the Joint Chiefs of Staff, was interrupted by a man waving his cane in the air and yelling angrily, "I'm about to become homeless because of the mayor!"
Andrew Boch, 45, later identified himself as a U.S. Army veteran and said the VA had told him his income was too high to qualify for a voucher. But without credit, he can't get an apartment on the open market, Boch said.
Other veterans tried to shout him down, and security and outreach workers hustled him away and calmed him down, before the mayor's homeless advisor, Greg Spiegel, led him inside to seek help.
Cameron Jake Mitchell, 54, a merchant seaman and former Coast Guard member, said the VA had improved in recent months.
"What caught me off guard is they were nice," he said.
Mitchell said veterans need to hustle on their own to find apartments. Vaughn, however, said officials were not "taking care of even our most simple needs."
Twitter: @geholland
ALSO:
The difference between sugar and high fructose corn syrup? Jurors will decide
Rural UC Merced on edge after police kill student who stabbed four
Family of Chinese mom who died after birth complications gets $5.2 million
---
The perils of parenting through a pandemic
What's going on with school? What do kids need? Get 8 to 3, a newsletter dedicated to the questions that keep California families up at night.
You may occasionally receive promotional content from the Los Angeles Times.