Shakeup at Homeland Security as migrant children are moved back to troubled Texas facility
Reporting from WASHINGTON —
A widening scandal over unsanitary conditions for children at a U.S. Border Patrol facility in Texas sparked resignations, replacements and last-minute vote-wrangling Tuesday as the Trump administration and Congress scrambled to respond to a crush at the border.
The acting head of U.S. Customs and Border Protection, John Sanders, announced his resignation amid growing outcry over reports that more than 300 children were held in a remote Border Patrol station in Clint, Texas, with insufficient food and water, and were left to try to care for one another.
The Democratic-led House approved a $4.5-billion bill late Tuesday to provide funding to address the humanitarian crisis, but not before threats from progressives to oppose the measure resulted in last-minute changes to strengthen protections for migrant children.
The House bill ignores the White House's request for additional enforcement money, garnering a veto threat from administration officials and opposition from congressional Republicans. The Senate has been working on its own version that is also expected to come to a vote soon.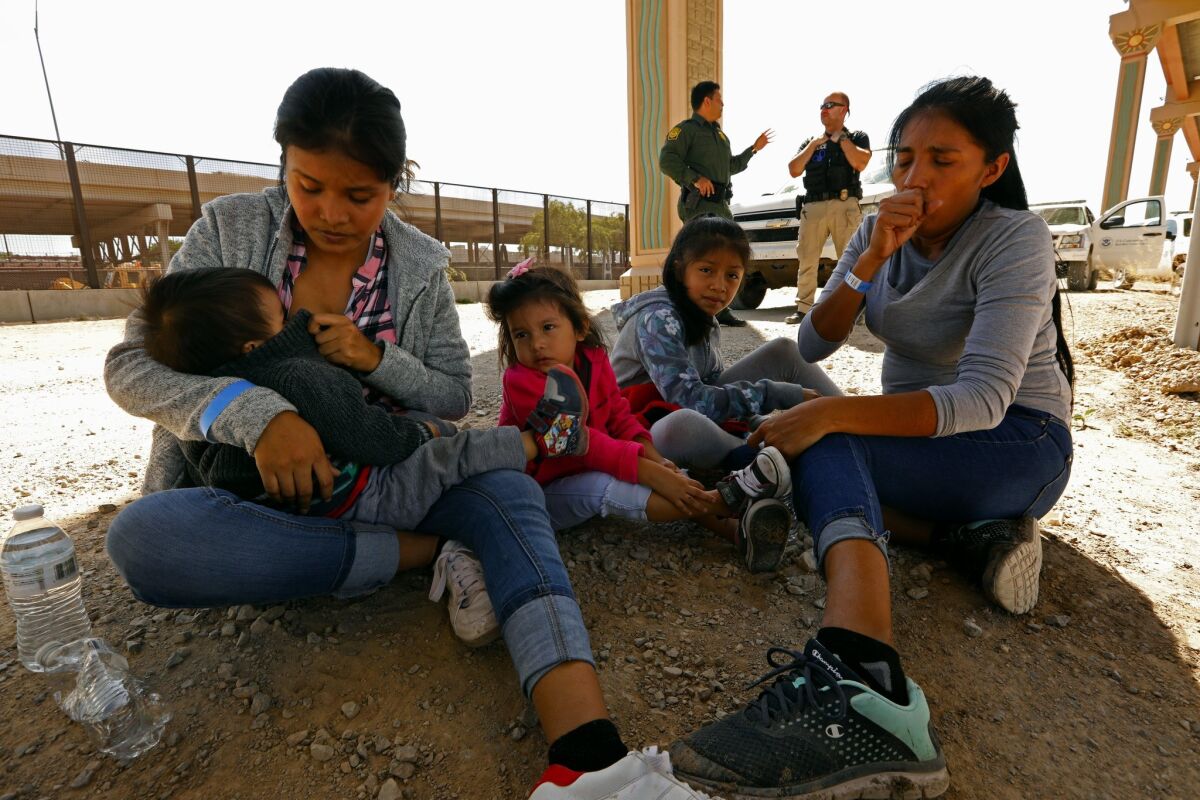 In a closed-door meeting with rank-and-file Democrats on Tuesday morning, Speaker Nancy Pelosi (D-San Francisco) urged lawmakers to come together around the House bill rather than be left with no counter to the measure from the GOP-controlled Senate.
"A vote against this bill is a vote for Donald Trump and his inhumane ... attitude toward the children," Pelosi said.
Senate Majority Leader Mitch McConnell (R-Ky.) showed no appetite to consider the House bill.
"The idea here is to get a signature," he said, referring to approval by President Trump. "I'm hoping that the House will conclude that [the Senate bill is] the best way to get the problem solved."
On Tuesday, however, Trump blamed Democrats for what he described as efforts to block the emergency funding.
Trump said he was "very concerned" about conditions in migrant detention facilities but contended, without evidence, that conditions were better under his administration than under that of President Obama.
He added he did not ask Sanders to step down, but said he "knew" the change at the top of the agency was coming. The president and his closest aides kicked off a purge of top Homeland Security officials in April that has left roughly a dozen leadership vacancies.
Sanders' departure from the agency charged with overseeing ports of entry, temporary processing of migrants and the Border Patrol prompted another shuffling of top Homeland Security officials. Acting Immigration and Customs Enforcement Director Mark Morgan has moved over to Customs and Border Protection, and acting Deputy Director Matt Albence will move up to lead ICE, a Homeland Security official confirmed.
"This is your organization … own it!" Sanders wrote in a Tuesday memo to his agency, in which he did not directly address the controversy about the children's detention. "Don't underestimate the power of momentum as you continue to tackle some of this country's most difficult challenges."
Trump once fired Morgan, who was Border Patrol chief in the last months of the Obama administration. Trump officials brought Morgan back to be ICE's acting chief less than two months ago. He pushed for the widespread raids set to target thousands of families for removal last week before Trump — who'd first announced the raids on Twitter — pulled back.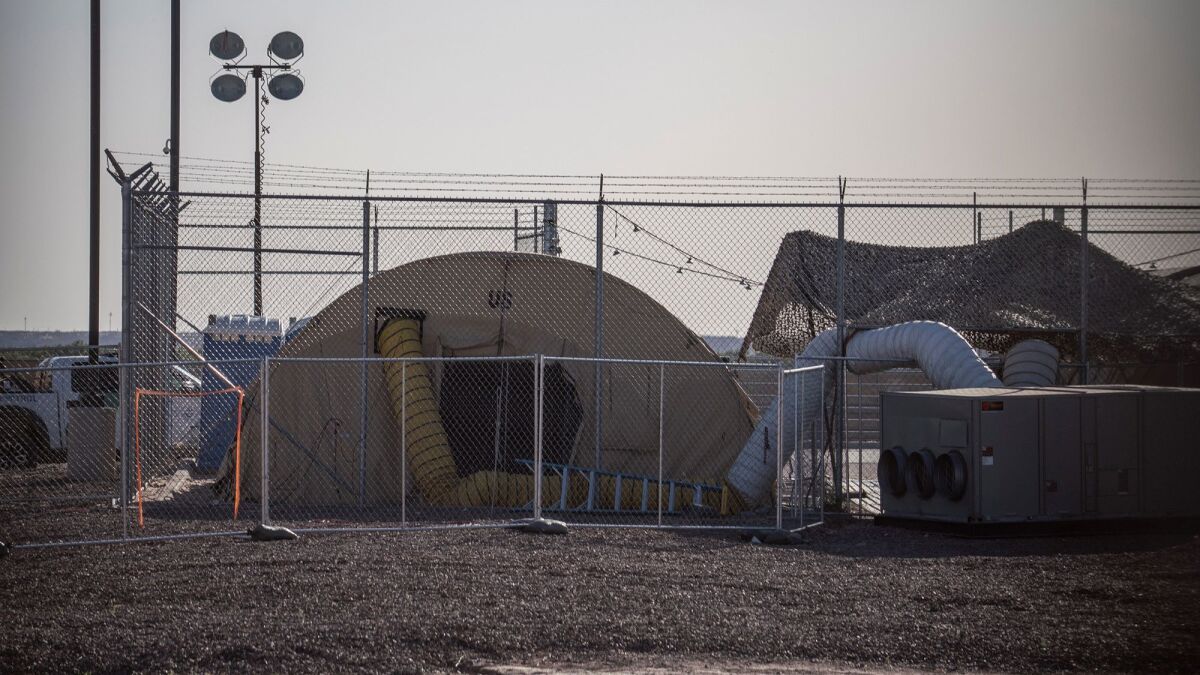 Morgan will inherit a widening problem following the reports of unsanitary conditions at the Clint station and others. Rep. Veronica Escobar (D-Texas) said Monday the federal government had removed most of the children from Clint, with roughly 30 remaining.
But Tuesday, a Customs and Border Protection official confirmed that 127 of the migrant children transferred from the Clint station were subsequently moved back.
When asked why the children had been returned, the official said it was "because the numbers have been reduced," and the Health and Human Services Department's Office of Refugee Resettlement "was able to take a number of them."
There was no word on whether improvements had been made to the facility in response to the reported conditions.
Progressive Democrats were able to secure several changes to the original House bill that would institute reforms, such as new requirements that the federal government establish care plans for people in its custody and replace contractors who fail to meet care standards. It would also provide $2 million in additional funding for the needs of immigrants in removal proceedings.
Even with the changes, several Democrats said the bill does not go far enough. But they suggested they planned to vote for the bill anyway, as a first step toward addressing the crisis.
"This bill is a desperate measure for a desperate situation," said Rep. Raul Ruiz (D-Palm Desert).
Lawmakers are hoping to act this week before Congress leaves for a weeklong Fourth of July recess.
"Children ripped away from their parents, kept in cages, denied nutrition, hygiene, diapers, toothbrushes," Minority Leader Charles E. Schumer (D-N.Y.) said on the Senate floor. "How can our country do this? And all because some in the president's purview think that might deter immigrants."
On Sunday, volunteers in El Paso tried to deliver diapers, soap, sleeping bags and stuffed animals to the Clint facility, according to Abigail Seldin, a Washington-based entrepreneur who purchased the items to be delivered and described herself as a "concerned mom."
"I picked the same size diapers that my toddlers wear each day," Seldin said in an interview.
The donations were rejected, she said.
Trump administration lawyers argued in court last week that the government shouldn't be required to provide migrant children in its custody with soap, toothbrushes, towels, showers or a full night's sleep inside facilities like the one in Clint.
Border Patrol officials have not responded to questions about conditions at the Clint facility from the Associated Press, which was the first to report on the situation. In an emailed statement Monday, officials said: "Our short-term holding facilities were not designed to hold vulnerable populations, and we urgently need additional humanitarian funding to manage this crisis."
Sanders stressed in a telephone briefing for reporters early this month that the agency was dealing with the largest monthly total of apprehensions at the border in more than a decade. "We are in a full-blown emergency," he said.
Attorneys who visited the Clint facility last week said older children were trying to take care of infants and toddlers, the Associated Press reported Thursday. Some had been locked for three weeks inside the facility, where 15 children were sick with the flu and 10 others were in medical quarantine.
"How is it possible that you both were unaware of the inhumane conditions for children, especially tender-age children at the Clint Station?" Escobar asked in a letter sent Friday to Sanders and U.S. Border Patrol chief Carla Provost.
Although it's unclear where all the children held at Clint had been moved, Escobar said some were sent to another facility on the north side of El Paso called Border Patrol Station 1.
But Clara Long, an attorney who interviewed children at Border Patrol Station 1 last week, said conditions were not necessarily better there. Long and a group of lawyers inspected the facilities because they were covered by the Flores settlement, a Clinton-era legal agreement that governs detention conditions for migrant children and families. Trump officials have pushed to end the Flores settlement.
Many children interviewed had arrived alone at the U.S.-Mexico border, but some had been separated from their parents or other adult caregivers including aunts and uncles, the attorneys said.
Customs and Border Protection has confirmed that when children arrive at the border with a relative other than a parent, they are separated and considered unaccompanied. Such cases are categorized as "family relationship in question" and not separately tracked, the agency said.
Government rules call for children to be held by the Border Patrol in their short-term stations for no longer than 72 hours before they are transferred to the custody of the Department of Health and Human Services, which houses migrant youths in facilities across the country through its Office of Refugee Resettlement while authorities determine whether they can be released to relatives or family friends.
Last month, Sanders appeared at a news conference with Sen. Lindsey Graham (R-S.C.) and addressed photos that had emerged of other rough conditions in which children were being held by his agency.
"Children should not have to sleep on the ground under Mylar blankets," he said. "This is the United States of America."
O'Toole and Haberkorn reported from Washington, Hennessy-Fiske from Houston. Times staff writer Cindy Carcamo in Los Angeles and the Associated Press contributed to this report.
Must-read stories from the L.A. Times
Get the day's top news with our Today's Headlines newsletter, sent every weekday morning.
You may occasionally receive promotional content from the Los Angeles Times.