(Irfan Khan / Los Angeles Times)
SAYRE, Okla. — Truck Stop 40 is easy to skip. Yellow billboards with bold red letters advertise it off Exit 26, halfway between Amarillo and Oklahoma City, promising a "truck and service garage" that sells sandwiches. But mechanics and fast food are easy to come by on Interstate 40 and by themselves are no reason to stop.
To hundreds of Indian American truckers passing by each day, the two words not in English are more appealing.
"Taji roti," they say in Punjabi. "Fresh food."
Today, as the number of Sikh truckers has grown, dozens of no-frill highway stops selling food from India's Punjab region have sprung up along U.S. interstates. Truck Stop 40, on the outskirts of Sayre, Okla., population 4,625, is among the oldest, biggest and best known.
"We don't know anybody from town, but with Punjabi truckers we are famous," says Harpreet Chhoker, 52, who along with her husband has run the 24-hour vegetarian restaurant next to a horse pasture for 11 years.
She speaks from behind the register in the simple restaurant, where there's seating for a dozen at pink laminate tables, a TV playing Bollywood videos and Indian news, and plenty of to-go cups of hot chai for truckers in a rush.
A handwritten menu of the day's specials is taped in front of her. They include chole puri (spicy chickpeas served with puffy fried wheat bread), makki di roti (flatbread made from cornmeal), bhindi (crispy okra in a light tomato sauce), and dal (black lentils). Fresh yogurt is made daily for lassi, a smoothie done sweet with mango or tangy with salt and water. One of the most popular items is Indian instant coffee — beaten with milk, sugar and cocoa to resemble cappuccino.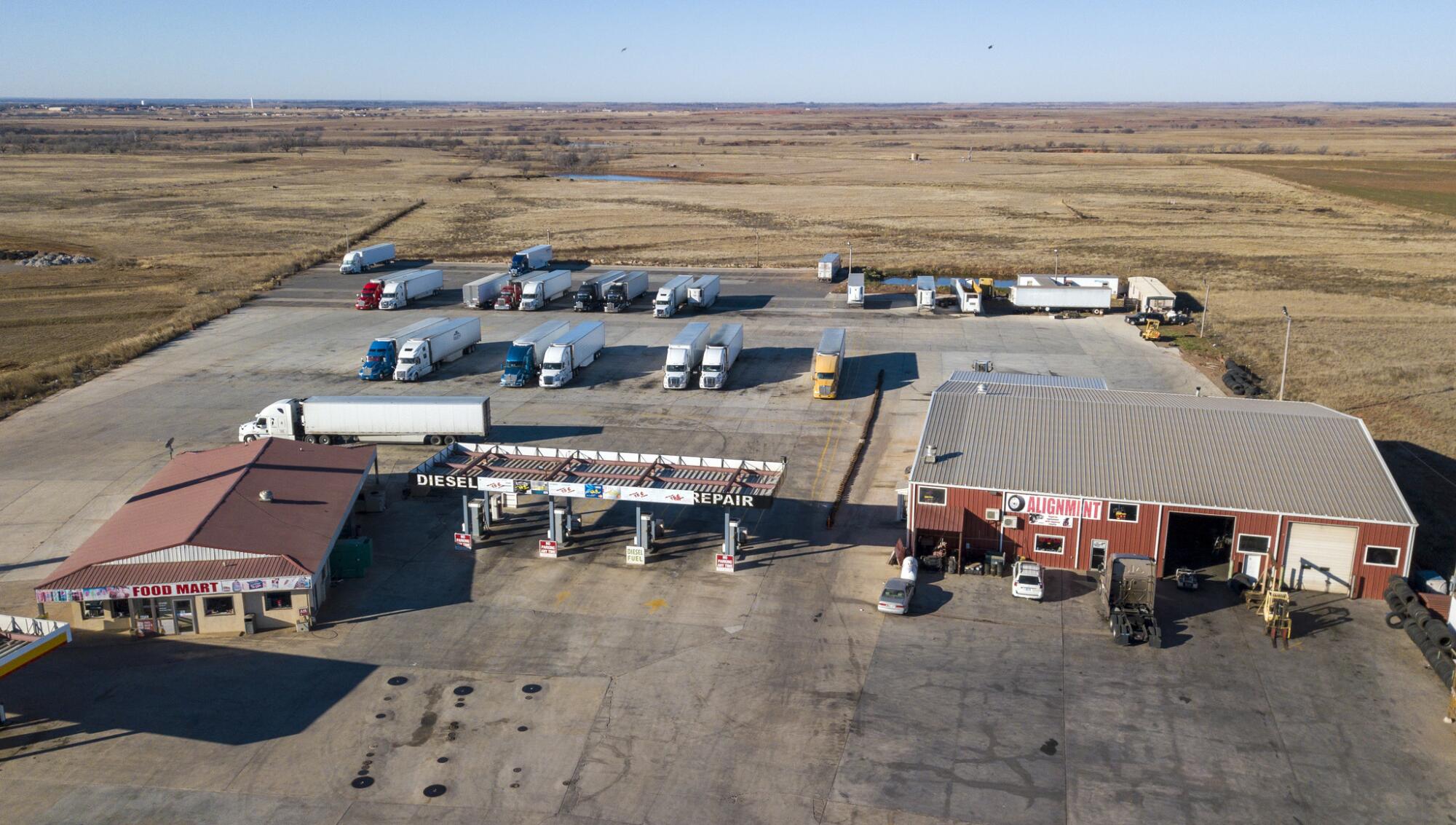 Truckers shuffle in and out. They talk into headsets in Punjabi as they eat.
Brothers Randeep Singh, 21, and Hardeep Singh, 24, stop by on their way home to Fresno after loading their trailer with dog food in New Jersey. After immigrating in 2016 from the northern Indian city of Hoshiarpur, they worked at gas stations before switching to trucking. "We don't get a lot of breaks, so when we do, we try to stop here always," says Randeep as he takes bites of chole puri.
Ahmad Tasawar, 34, is on his way to California from Baltimore and orders lentils with rice. "It's a lot better than stopping for Taco Bell," says Tasawar, a Pakistani American Muslim who has driven for seven years and is one of the few non-Sikhs around.
It's not all South Asians. Edmund Paddon, 56, arrives on his way from Toronto to make a drop-off in Albuquerque before picking up tomatoes and corn in Nogales, Ariz., for the return north. "There's a truck stop down the road, but it's just greasy food," says Paddon as he eats paratha (wheat flatbread) with pickled mango.
An American flag covers a window in the back of the dining space that looks into the mechanic shop next door, where Chhoker's husband, Raj Chhoker, works daily aligning tires and replacing alternators.
The couple has 20 staffers, all Indian Punjabis who live on the plot in trailers. Nearly all are immigrants recruited by word of mouth. They maintain the food stop, a mechanic shop, a gas station, a deli and a Sikh temple housed in a trailer. Raj, 61, dreams of one day building a motel and a casino.
"My plan is to make my own town here," says Raj, a former trucker who moved his family from suburban Houston to this 10-acre lot in 2005 after spotting a "for sale" sign during a delivery. He bought it for $200,000 and now lives in a two-story house on it along with Harpreet and two sons.
Behind the Story: On a search for Sikh truckers »
To enter Truck Stop 40, you turn off I-40 and veer north, crossing the highway below before seeing an 80-foot American flag and tall red barn-like structure that has the word "Tires" painted on it in big block letters. To the right of a glass vestibule is a much smaller white sign that says "Indian Food." Outside, you see the highway and hear trucks roaring down the road. Inside, you hear the the twang of Punjabi and smell potatoes and carrots sizzling in ginger, cumin and turmeric.
It's a stark contrast from downtown Sayre, about five miles southwest down the interstate. Its quiet six-block-long Main Street is made up of two-story brick buildings renovated to give them an old Western feel that evokes the city's beginnings in 1901. That's when the town sprung up alongside what would become Route 66. There are at least 10 churches, and the few restaurants — a coffee shop, steakhouse, barbecue joint, a Sonic and a Mexican spot — mostly close by 6 p.m. or earlier.
The county is 88% white, and the Chhokers, one of the few families around that is not white or black, mostly keep to themselves. Going from Houston to a tiny town was hard at first, says Harpreet, who used to work as a Walmart cashier. She remembers those first summers when she would see "just all the dust and no people" from the lot.
To keep herself busy, she began giving away chai to truckers who came in for repairs. Soon, they convinced her to sell food.
"I used to miss seeing Indian people," Harpreet says. "Now we have so many come every single day — you don't even see this many in the big city."
Sign up for Essential California for news, features and recommendations from the L.A. Times and beyond in your inbox six days a week.
You may occasionally receive promotional content from the Los Angeles Times.