Officials and family paint different portraits of suspect in Vegas rampage
Reporting from LAS VEGAS —
Lakeisha N. Holloway was making changes. The 24-year-old filed paperwork this year to start her own women's clothing business in Oregon, then decided to change her name to Paris Paradise Morton.
Her cousin, LaShay Hardaway, described her as a hard-driving young mother who spent long hours designing clothes and doing her best to support her 3-year-old daughter. "She's kind of an overachiever," the cousin said.
Hardaway can barely believe that the woman she grew up with is the same person now accused of killing one person and suspected of attempting to murder dozens more in Las Vegas on Sunday night.
Police said that about 6:30 p.m., under the bright lights of the Las Vegas Strip, Holloway intentionally swerved her 1996 Oldsmobile into a crowded sidewalk in front of Paris Las Vegas Hotel & Casino. Her daughter was in the back seat, officials said.
The car struck and injured at least 35 people as it veered through the crowd. The victims were visitors from all over North America: California, Oregon, Washington, Colorado, Arizona, Florida, Pennsylvania, Mexico and Quebec, Canada, officials said.
They included nine college wrestlers from Delaware Valley University in Doylestown, Pa., and Pacific University in Forest Grove, Ore., who had come to Nevada's shrine of tourism not for gambling but for a wrestling tournament.
As the car mowed through the crowd, officials said, bystanders banged on the windows and tried to pry open the doors to stop the driver and stop the madness, but they couldn't. The Oldsmobile limped away on a flat tire.
As rescuers arrived, they found the wounded scattered in front of Planet Hollywood, Bally's Las Vegas Hotel & Casino and Paris Las Vegas, the casino-hotel with its own Eiffel Tower.
The lone fatality was Jessica Valenzuela, 32, of Buckeye, Ariz., a married mother of three who was pronounced dead at a hospital less than an hour after being struck.
See more of our top stories on Facebook >>
Officials said Holloway parked her battered car a mile away at the valet area of Tuscany Suites & Casino, left her toddler in the car and told a worker to call 911 because she'd run over some pedestrians.
She was arrested. Then the puzzlement began.
In a news conference Monday to announce a murder charge against Holloway, Clark County Sheriff Joe Lombardo said video surveillance "confirms we do believe it to be an intentional act."
As for a motive, Lombardo did not provide one other than to say he did not believe it was terrorism.
Holloway told Las Vegas detectives who interrogated her Sunday night at police headquarters that it had been a "stressful" day in which she had tried to sleep in her car at various places in the city but kept getting chased away by security guards, according to a police report.
"She would not explain why she drove onto the sidewalk but remembered a body bouncing off of her windshield, breaking it," the police report said, noting that Holloway denied she was under the influence of drugs or alcohol.
Las Vegas is already a dangerous city for pedestrians. Packed with people, the Strip is a place with a high potential for mass casualties.
The same one-block stretch of sidewalk had been the site of a 2005 incident in which a car ran down a group of tourists. The driver, 27-year-old Stephen Ressa, told investigators said he saw "demons" walking along before he plowed into the crowd, killing two people and injuring 12.
In similar incidents across the country, some perpetrators were intoxicated, and others were in the throes of psychiatric problems.
In March 2014, four people were killed and 20 injured when an aspiring rapper rammed into a crowd outside a nightclub in Austin, Texas. He was found guilty of murder last month. His attorneys said he was confused and drunk.
In October, a woman who authorities contend was intoxicated drove into a group watching the Oklahoma State University homecoming parade. Her attorney said he believed his client was mentally ill.
In early 2001, a freshman at UC Santa Barbara steered into a crowd in nearby Isla Vista and killed four people. At one point, he jumped onto the hood of his car and declared, "I'm the angel of death." He was charged with murder, found guilty and committed to a mental hospital after his lawyers persuaded the jury he was insane.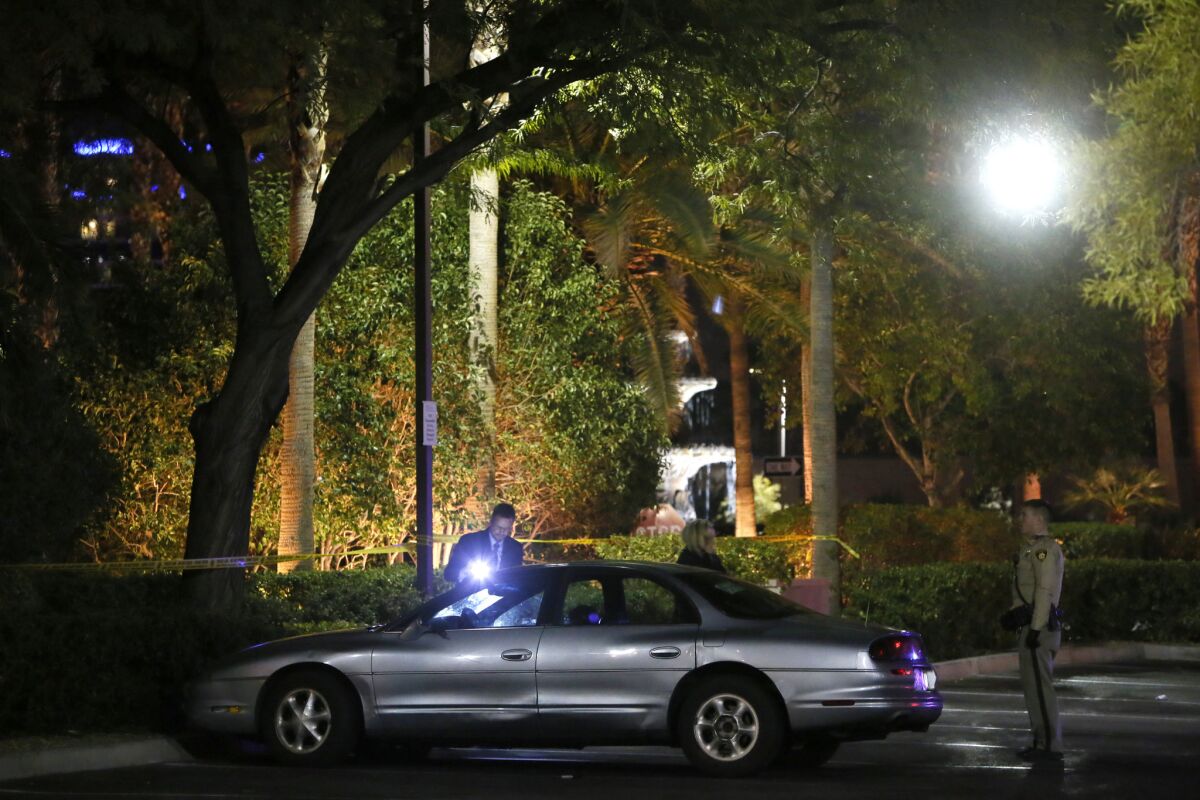 Two years ago, a man upset over a botched drug deal drove his car down the crowded Venice boardwalk, somehow avoiding the barrier that had been installed to protect pedestrians. A newlywed from Italy on her honeymoon was killed and 17 people were injured.
Investigators in Las Vegas are trying to determine what may have influenced Holloway. Officials said that she did not show signs of being drunk but that she may have been on a stimulant. The results of a toxicology test were pending Monday morning.
A Las Vegas police spokesman, Michael Rodriguez, said Monday afternoon that Holloway was in "medically restricted housing" in jail. He declined to give a reason, saying that "it could be that she's suicidal" or "it could be for some medical reason she can't be with the general population."
Clark County Dist. Atty. Steven B. Wolfson said officials plan to file additional charges, possibly a "multitude" of counts of attempted murder, a felony count of leaving the scene of an accident, and child abuse and neglect for having a toddler in her back seat during the incident.
The girl was taken into protective custody while authorities look for her father, officials said.
Holloway's Oregon driving license has been suspended since 2012, when she was cited for failure to comply with auto insurance requirements, and officials later cited her for driving without a license and insurance, said Sally Ridenour, a spokeswoman for the Oregon Department of Transportation.
"It's a pattern," Ridenour said, adding that Holloway had also been cited for driving without a license and insurance in 2011.
It's also unclear how Holloway spent her time in Las Vegas. Officials and her family said she had been in town for about a week, but that's where the stories diverge.
Interested in the stories shaping California? Sign up for the free Essential California newsletter >>
Sheriff Lombardo told reporters that Holloway had been living out of her car with her child and may have been headed to Dallas, where the child's father might be living.
But her cousin said Holloway had a hotel room and had traveled to town "to go and check out the economy, and some other things."
"She's never been homeless," Hardaway said, recalling that her cousin had held down jobs consistently since she was 16.
To Hardaway, the descriptions from officials and in news reports made no sense. "It sounds like we're not even talking about her," she said.
Pearce reported from Los Angeles and Duara from Las Vegas.
ALSO
Trump once fought an ugly battle over an L.A. landmark -- and blinked
Cortines deputy will lead LAUSD as the search for a superintendent continues
If Chargers bolt, fans will have bittersweet memories of perhaps the last game in San Diego
Must-read stories from the L.A. Times
Get the day's top news with our Today's Headlines newsletter, sent every weekday morning.
You may occasionally receive promotional content from the Los Angeles Times.