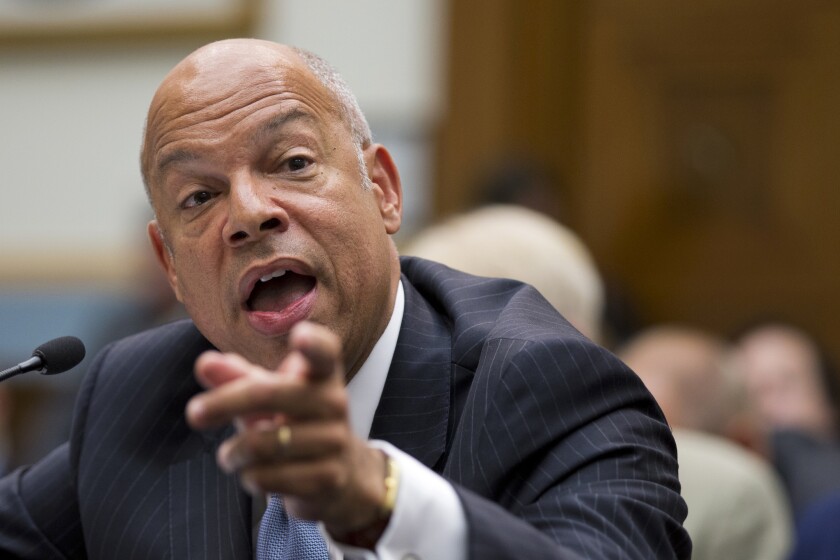 Reporting from Washington —
House Republicans sharply criticized Homeland Security Secretary Jeh Johnson over what they called the failure of the Obama administration to deport an immigrant with a long criminal record who has been charged in the shooting death in San Francisco of Kathryn Steinle.
Juan Francisco Lopez-Sanchez, 52, who pleaded not guilty to one charge of murder, had been deported to his native Mexico five times for illegally entering the United States.
Lopez-Sanchez served a lengthy sentence in federal custody for reentering the country after having been deported. Once that sentence ended, earlier this year, federal officials handed him over to San Francisco authorities on a decades-old drug charge. San Francisco officials decided not to pursue that case and released him despite a federal request to hold him.
House Judiciary Committee Chairman Robert W. Goodlatte (R-Va.) and other Republicans said that immigration officials should not have transferred an immigrant with a long criminal record and no legal status to a city, such as San Francisco, that doesn't cooperate with immigration officials.
"This effectively releases criminal aliens onto the streets, with all too tragic results," said Goodlatte, who has called for federal detention requests, or "detainers," to be mandatory.
"The Department of Homeland Security's reckless policies on the safety of Americans was made all too apparent in recent weeks," Goodlatte told Johnson during a hearing Tuesday.
"A convicted criminal alien who had been deported numerous times killed an innocent American woman on a popular pier in San Francisco," he said.
Johnson said the killing in San Francisco highlights the need for local jurisdictions to notify immigration officials when an immigrant in the country illegally is going to be released and to honor federal detention requests. But Johnson said making such cooperation mandatory would be a "huge setback," because it would further inflame the distrust between some local communities and his department.
About 300 cities and counties, including San Francisco, don't honor requests from Immigration and Customs Enforcement to keep someone in a local jail until immigration officials can take the individual into custody. Recent court decisions have said such requests violate an individual's constitutional right to due process and that local jurisdictions could be held liable for wrongful imprisonment.
Goodlatte said Lopez-Sanchez's release was the result of broader Obama administration policies to slow down deportations of people who have been in the country for many years and have committed no crimes other than immigration violations.
The number of people ordered deported from the country but not detained has increased 17% in the last three years, from 143,582 in 2012 to 168,680 in 2015, according to federal immigration figures released to the House Judiciary Committee.
The Obama administration has tried to focus deportation officers on removing people who pose a threat to public safety, have recently crossed the border or have repeatedly flouted the country's immigration laws, Johnson said.
Johnson said he wanted to review the decision that federal Bureau of Prisons officials made to honor San Francisco's outstanding warrant on Lopez-Sanchez instead of placing him back into deportation proceedings this year.
"I want to evaluate whether some discretion can be built into the process so when we're faced with a choice like that, we can make the best decision for the purposes of public safety," Johnson told the committee.
The hearing marked Johnson's first appearance before Congress since the 32-year-old Steinle was shot July 1 while walking with her father on the Embarcadero.
Last year, Johnson closed down a controversial program called Secure Communities that notified immigration officials when an immigrant in the country illegally was booked into a local jail. Critics said that program swept thousands of people into deportation proceedings who had committed minor infractions, were witnesses to crimes or were arrested but never charged with a crime.
The replacement, called the Priority Enforcement Program, asks local police to notify immigration officials when someone is scheduled to be released and detain them until they can be taken into federal custody.
Johnson said he is trying to improve the department's strained relationship with hundreds of local cities and counties. Many local police chiefs and sheriffs are concerned that witnesses to crimes won't cooperate with local cops if they are afraid of being reported to immigration authorities.
The new program, which is voluntary, "is a failure," Goodlatte said. Local jurisdictions should be forced to honor federal detention requests, and the Department of Homeland Security should sue jurisdictions that don't comply in federal court, Goodlatte said.
"Politely asking for cooperation from sanctuary cities is a fool's errand," Goodlatte said.
Twitter: @ByBrianBennett
---