Police response to Ferguson protests, in a word, failed, federal draft report says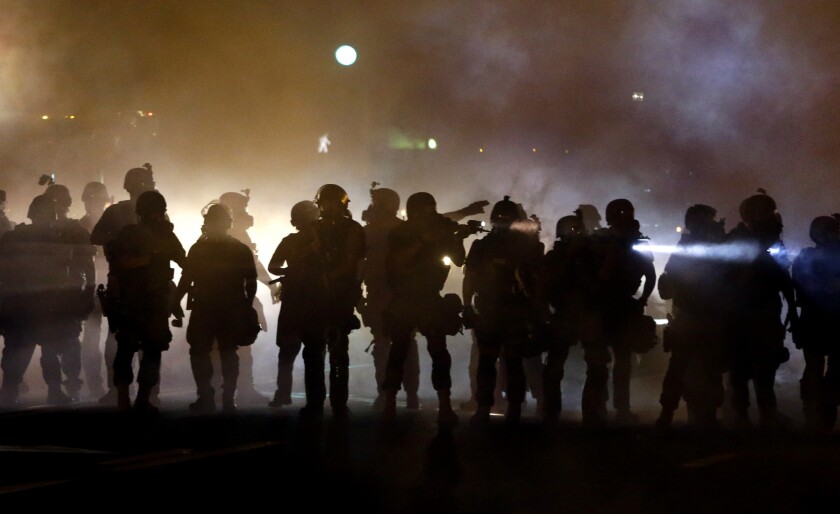 Reporting from Washington —
Police in Ferguson, Mo., delivered an "ineffective response" to the riots that followed the fatal police shooting of Michael Brown last year, did not understand the gravity of the public anger and fired "Stingerballs, PepperBalls, bean bag rounds and baton rounds" in failed attempts to quell the escalating disturbance, the U.S. Justice Department has concluded.
A draft report by Justice Department officials, sent to four police agencies in the Ferguson area and obtained Tuesday by The Los Angeles Times, strongly indicates that federal officials will expect local authorities to make sweeping changes in how they handle similar public outbursts.
The killing of Brown, a young black man, by a white police officer in August ignited protests that continued for weeks.
Marked "Internal Review Only – CONFIDENTIAL" and "NOT FOR DISSEMINATION," the draft report determined that the Ferguson, St. Louis County and St. Louis police departments as well as the Missouri State Highway Patrol failed in dozens of areas to keep the peace, ease tension and end the rolling nightly violence.
"It proved to be an ineffective response," the report says. "There were no effective protocols in place to handle an event like this."
The report adds, "For the first two days, the St. Louis County PD and the Ferguson PD believed the Ferguson incident would be short-lived and focused only on immediate tactical responses. They did not effectively plan for a long-term operational strategy."
A spokesman for the city of Ferguson, whose Police Department handled the first two days of the protest response, could not immediately be reached for comment, and a spokesman for the State Highway Patrol declined to comment.
St. Louis County Police Chief Jon Belmar spoke Tuesday about the report by the Justice Department's Office of Community Oriented Policing Services, also known as COPS, but he did not directly address the report's concerns.
"This was presented to us as a draft, confidential report, and our responsibility is to work with the COPS office to ensure the accuracy of the draft appendices presented to us," Belmar said in a statement provided to The Times.
In a statement, the St. Louis Metropolitan Police Department said that it was "willing to engage in constructive dialogue about best practices" but that it had seen only a 16-page draft of the report.
"The department reached out to COPS to inquire about a blueprint for handling similar situations. We were told none exist and we were forging new ground," the department said. "Now, agencies around the country look to our region for input on issues relating to civil unrest."
The review examined the 17 days between Brown's death on Aug. 9 and his funeral on Aug. 25, and in 46 areas that were studied found deep problems with the way local authorities handled the violence.
The draft findings were sent to local officials for their formal response, with a final report expected from Washington soon.
"This is a working draft and may differ from the final report," said a source close to the investigation.
Other similar COPS reviews have taken on police departments in San Diego and Las Vegas, dealing with other allegations of misconduct and abuse, and allowing federal officials to oversee how improvements are made.
Brown, 18, was shot to death after being confronted by Ferguson Police Officer Darren Wilson. In November, a St. Louis County grand jury declined to file criminal charges against Wilson, an event that triggered more violent public protests.
The report largely echoes criticisms by activists and local residents that the multi-agency police response was ineffective and heavy-handed.
The report notes that on the first day of riots, police used dogs for crowd control, a policy "inconsistent with widely accepted policing practices and in fact exacerbated tensions by unnecessarily inciting fear and anger among amassing crowds."
It says that although many protesters complained police were firing "rubber bullets" at them, in truth officers were firing Stingerballs, PepperBalls and bean bag and baton rounds in the initial days of violence. In addition, when military-style uniforms, equipment and weapons were brought in, as well as other armored vehicles, "it produced a negative public reaction."
The police further were criticized for placing snipers in positions with rifle sights to monitor the crowds. That, Justice Department officials say, "is inappropriate as a crowd control measure" and "served only to exacerbate tensions between the protesters and the police."
Further failings included police not setting up a clearly marked "free speech zone" for protesters to vent their anger, different agencies failing to share information with each other, and the fact that some officers removed their nameplates from their uniforms, the report says.

All of this created an "absence of trust," the report says, and left many officers with "fatigue and stress" and under "personal threats" aimed at them and their families.
Twitter: @RickSerranoLAT
Twitter: @MattDPearce
---
Must-read stories from the L.A. Times
Get all the day's most vital news with our Today's Headlines newsletter, sent every weekday morning.
You may occasionally receive promotional content from the Los Angeles Times.