Polygamous sect's control of Utah and Arizona towns seems certain to end after jury's verdict
Reporting from COLORADO CITY, Ariz. —
Decades and decades ago, members of a breakaway fundamentalist faction of the Mormon Church fled their Utah home, most choosing the remote corners of North America to live in isolation. One group picked this mile-high cocoon, protected on three sides by the Vermilion Cliffs to make their last stand for a polygamous society.
They encircled themselves yet tighter, building high fences around compounds and houses, with no trespassing signs mounted on every outward-facing wall. For the better part of a century, they held fast — nothing much more than a curiosity on a route to the Grand Canyon.
Now, once more, they may be on the move.
A Phoenix jury's verdict on Monday is almost certain to forever upend the strict theocracy instituted by the Fundamentalist Church of Jesus Christ of Latter-Day Saints in the police departments and municipal governments of Colorado City, Ariz., and Hildale, Utah, twin communities collectively known as Short Creek.
The jury found that the towns intentionally sabotaged people considered threats and enemies to the imprisoned FLDS prophet Warren Jeffs and his brother and surrogate, Lyle Jeffs. The jury found that the police departments followed, harassed and intimidated nonbelievers, and the cities denied services to new residents from outside the faith.
The striking landscape around Hildale, Utah.
(Robert Gauthier / Los Angeles Times)
A trash fire smolders along South Center Street in Colorado City, Ariz.
(Robert Gauthier / Los Angeles Times)
Girls walk on Lauritzen Street in Hildale, Utah, less than a block from the Utah-Arizona border, to Colorado City.
(Robert Gauthier / Los Angeles Times)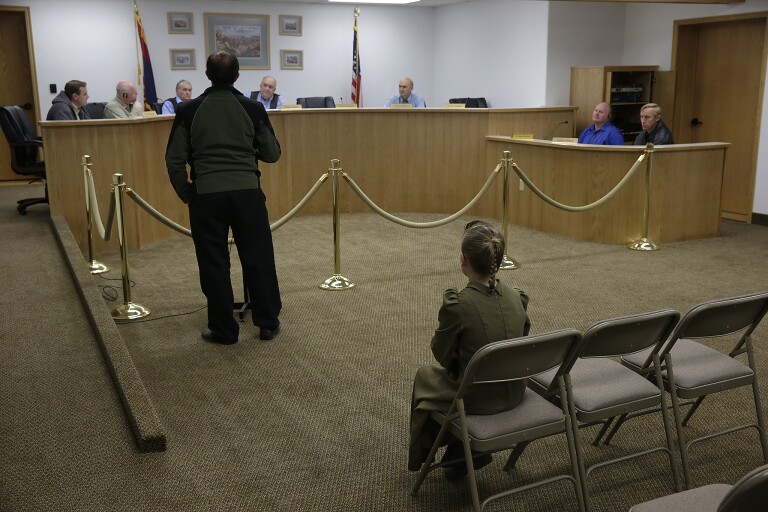 Colorado City, Ariz., officials conduct a planning meeting.
(Robert Gauthier / Los Angeles Times)
A woman performs yard maintenence at a business located on Utah St. Hiildale.
(Robert Gauthier / Los Angeles Times)
Hildale, Utah, is just across the border from Colorado City, Ariz. Much of the property in Hildale is owned by the United Effort Plan trust, founded by the Fundamentalist Church of Jesus Christ of Latter-Day Saints.
(Robert Gauthier / Los Angeles Times)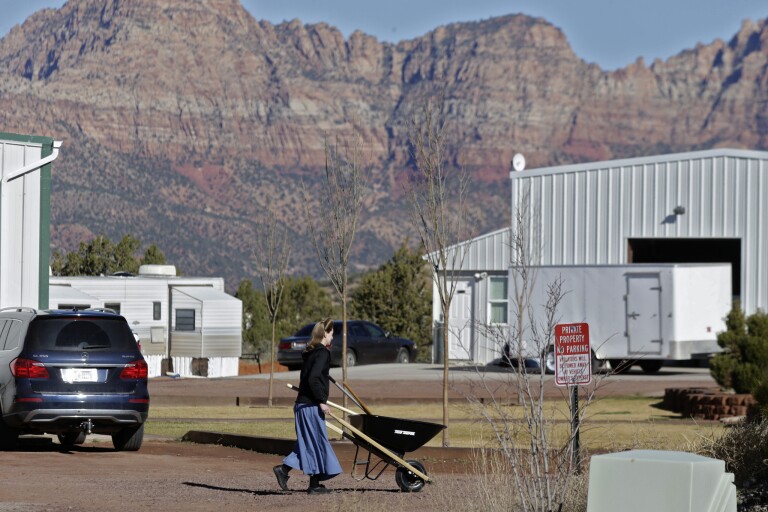 A woman works in Hildale, Utah.
(Robert Gauthier / Los Angeles Times)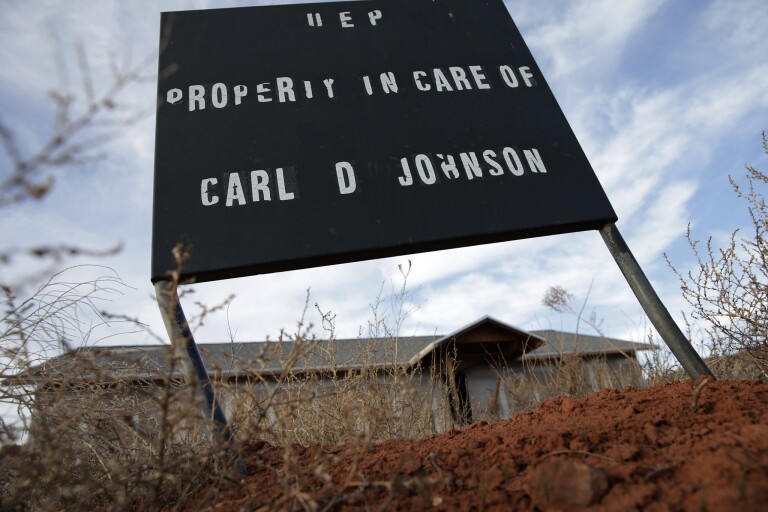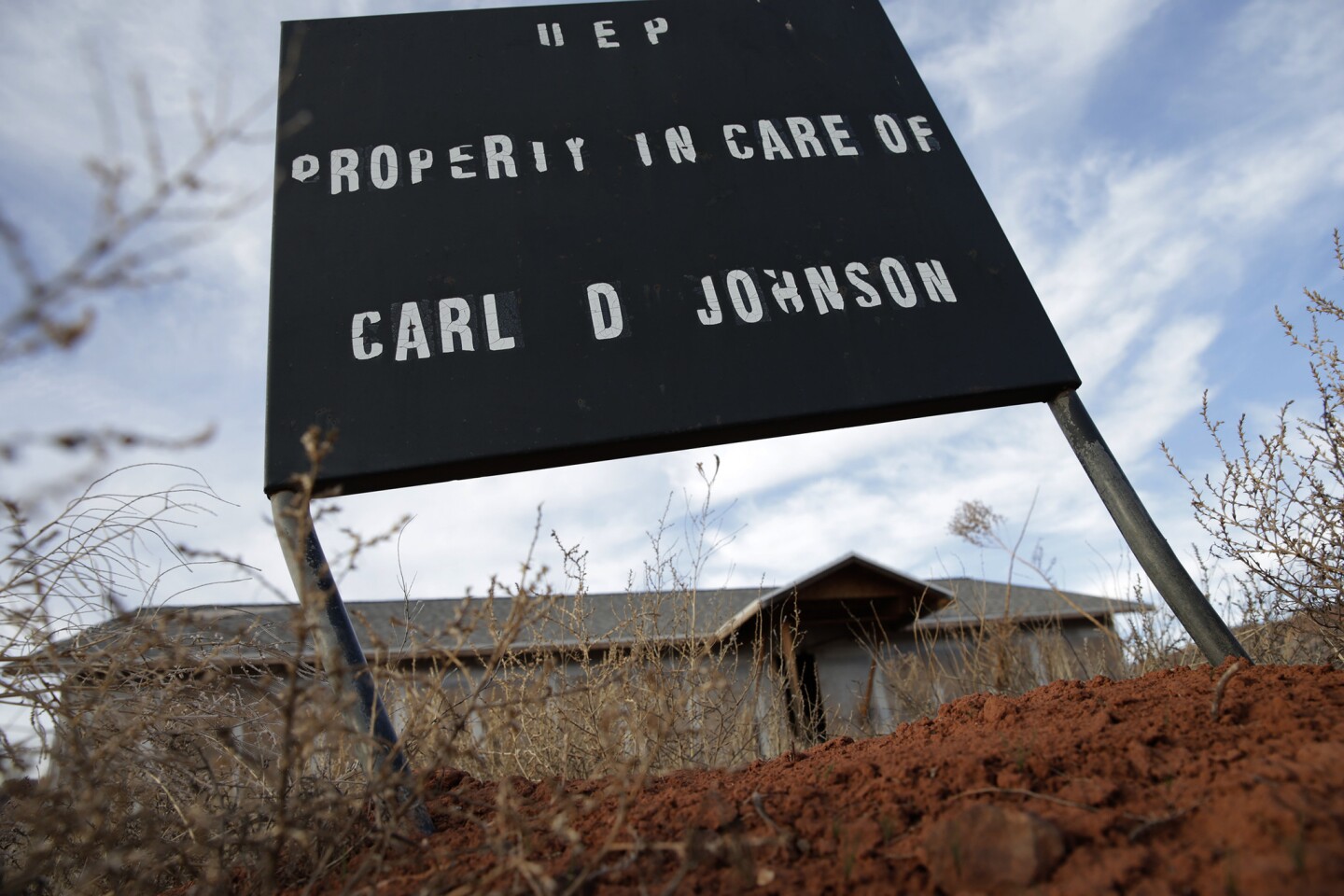 One of numerous unoccupied homes sits unfinished in Colorado City, Ariz.
(Robert Gauthier / Los Angeles Times)
Colorado City Mayor Joseph Allred said in a brief interview Wednesday that he expected a rash of people to leave the city as enormous tracts of land formerly owned by the church were subdivided and sold off by a Salt Lake City trustee, leading to the eviction of the FLDS families still living on the properties.
"I think people leaving would be happening with all the evictions," Allred said. "But it's not my concern where people go."
The city is composed of clean, wide boulevards laddered by rough dirt roads, all set against striking copper-hued cliffs that earned this area the name Color Country. Life here has long been an odd mix for nonbelievers and those in the church, which is not affiliated with the Church of Jesus Christ of Latter-day Saints. At a satellite campus here of Mohave Community College, staff learned to address, at least partially, the needs or wants of church members.
For example, FLDS women in the nursing program still live under Warren Jeffs' prohibition against using the Internet. Sometimes, college President Michael Kearns said, staffers will hit the "send" button if the women fill out an online form — technically sparing the women from "using" the Internet. Staff draws the line, however, on filling out online-only board exams students must take.
All around Colorado City are the marks of Jeffs' reign. They are in the unfinished roofs and skeletal wood frames of houses; all construction on church property or land owned by church members ended in 2005, when Jeffs declared that all building stop and construction money be redirected to his church.
Attempts to contact the FLDS church leadership were unsuccessful. When approached in public at FLDS-owned businesses in town, men and boys would stand silently or occasionally wave. Women in long dresses gave curt replies or didn't respond at all.
Allred, who repeatedly invoked his 5th Amendment rights against self-incrimination during the trial, would not comment on the case or its outcome, but said, "The city is fair and impartial," and treats all of its citizens fairly.
Mohave County Sheriff Jim McCabe disagrees. For most of his 31 years in the county that surrounds Colorado City, sheriff's deputies would run daily patrols in the area, but didn't regard the local police as anything more than an arm of the FLDS church.
Then three years ago, McCabe received a state grant to offer his deputies more overtime. He immediately put his deputies on full-time patrol in Colorado City. "You put water where there's a fire," McCabe said. "With the constant allegations of unconstitutional behavior coming from inside that community, we had to do something. We've been working on this thing for 20 years."
McCabe's department isn't alone — allegations of misdeeds by the church troubled state and federal law enforcement for decades, but a disastrous raid on the cities in 1953 only made the case that FLDS families were victims and lawmen heavy-handed thugs. Jeffs' reign, beginning in 1998, drew the attention of law enforcement back on the sect as he exiled men he considered a threat and reassigned wives and families to his allies.
Facing a criminal indictment, Jeffs fled the state, assisted by city officials in Colorado City and Hildale before he was found, convicted and imprisoned for life for child sex abuse.
The U.S. Justice Department has pursued the city since 2012, when it filed a civil rights lawsuit alleging the city had violated the 1st, 5th and 14th amendment rights of some residents.
From the evidence, including then police Chief Fred Barlow writing to Jeffs as his "servant," the jury found that the police departments had a pattern of violating the rights of nonbelievers. When the Justice Department has found a similar "pattern and practice" problem in other police departments, a lawsuit typically leads to a consent decree that empowers the federal agency to oversee elements of the local police department's affairs.
Will that be the case in Hildale and Colorado City?
"How much intolerance will the [Department of Justice] tolerate?" asked Amos Guiora, a University of Utah law professor. "That's the question for how much life will change there when the federal government makes changes. Are they going to leave some of [the church's] ways in place, or change everything?"
That won't happen soon enough for some people, who are delighted at the prospect of federal intervention. "We're wide awake now," said Jason Black, a former longtime church member who left the FLDS in 2013.
See more of our top stories on Facebook >>
Art Jeffs, who lost two-thirds of his clientele when his uncles, Warren and Lyle Jeffs, declared him "a son of perdition" and exiled him, said he hoped the shrinking specter of the FLDS would encourage outside investment in town.
With land available at cheap prices, residents worry about who could move in next.
Jerusha Darger, who left the FLDS church, said she hoped the theocratic approach of the Jeffs wasn't replaced by lawlessness. Her brother, who cut off communication when she left her faith, is the Colorado City police chief. "What comes next, I guess it could be bad," Darger said. "But it wouldn't be worse."
Twitter: @nigelduara
ALSO
'Lawyer and D.A. investigator have bloody brawl in O.C. courthouse
Complaint over loud 'boom box' music leads to brawl on Spirit Airlines flight
What's wrong with the American diet? More than half our calories come from 'ultra-processed' foods
---
Must-read stories from the L.A. Times
Get the day's top news with our Today's Headlines newsletter, sent every weekday morning.
You may occasionally receive promotional content from the Los Angeles Times.