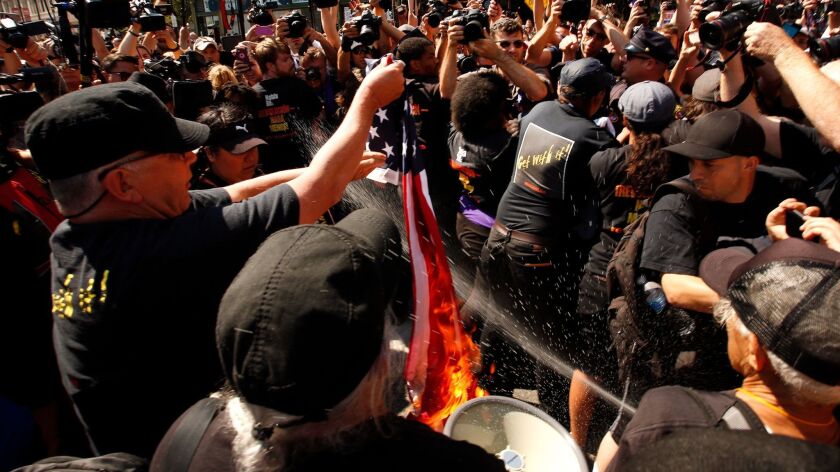 A judge has dismissed disorderly conduct charges against leftist protesters who burned an American flag outside the Republican National Convention in Cleveland last year, ruling Tuesday that they were arrested for practicing 1st Amendment-protected free speech.
The misdemeanor case against 12 of the protesters had lingered in Cleveland Municipal Court for more than a year before Judge Charles L. Patton granted the protesters' motion to dismiss the case on free-speech grounds. Patton cited a 1989 U.S. Supreme Court decision that flag-burning was protected by the 1st Amendment.
"The government may not prohibit the verbal or nonverbal expression of an idea merely because society finds the idea offensive or disagreeable, even where our flag is involved," Patton wrote in his ruling.
In a telephone interview, Patton said: "The guy was doing what he did, and the Supreme Court said he could do it." When Patton reviewed video of the incident, "It looked like they were doing a peaceful protest."
The July 20, 2016, arrests were one of the most turbulent moments outside the convention where Donald Trump accepted the GOP nomination for the presidency.
Other protests during the convention were generally smaller and less intense than anticipated. But a planned flag-burning demonstration by Gregory Lee "Joey" Johnson of the Revolutionary Communist Party — the man whose flag-burning outside the 1984 RNC in Dallas led to the Supreme Court ruling — drew a crowd of journalists and angry counterprotesters in Cleveland.
Other leftist protesters formed a protective circle around Johnson and chanted "America was never great." As he set fire to the flag, a uniformed police official appeared to spray an extinguisher at the flame, setting off a tussle between the protesters and the police that ended with the group getting arrested.
Sixteen people were initially arrested, with two of them charged with felonies on suspicion of assaulting police during the scrum, but all charges have since been dropped. Johnson's charges had already been dropped before Tuesday's ruling.
"We are thrilled that the court saw these arrests for what they were: quashing dissent," Noche Diaz, one of the defendants whose charges were dropped, said in a statement. "We are proud of what we did at the RNC and that we stood up to the suppression of speech."
More than 40 attorneys volunteered to defend protesters pro bono, including members of the National Lawyers Guild and the Cleveland branch of the NAACP.
"This should be read as a clear message to the city — and particularly to the police — that they must respect the 1st Amendment rights of protesters, whatever their message," one of the attorneys, Jacqueline Greene, said in a statement.
Matt Pearce is a national reporter for The Times. Follow him on Twitter at @mattdpearce.
---