Kalamazoo Uber driver admits he 'took people's lives,' police say
—
An Uber driver accused of killing six people in a shooting rampage in Michigan gave rides the same day to several passengers who warned the company about him, including one who called 911 over his driving, company officials said Monday.
Uber officials did not disclose the nature of the complaints they received Saturday about Jason Brian Dalton, 45, of Kalamazoo, who was charged with murder Monday in a series of random shootings on the same day he apparently drove several Uber customers.
One passenger, who took a ride from Dalton about an hour before the first shooting, told local media that he called 911 and contacted Uber after Dalton ran through stop signs and drove through medians and lawns.
Uber representatives declined to clarify whether the company had allowed Dalton to keep driving after receiving several alerts about him, citing the ongoing law enforcement investigation.
Though the transportation company has a policy of immediately suspending drivers accused of violence, Uber's chief security officer, Joe Sullivan, said the firm preferred to first contact the driver and investigate complaints about bad driving, because not all of those complaints "turn out to be 100% fair or accurate."
Flowers lie near a makeshift memorial outside a Cracker Barrel restaurant in Kalamazoo, Mich. According to police, a man drove around Kalamazoo fatally shooting several people at multiple locations on Saturday, including the parking lot of the restaurant. Authorities identified the shooter as Jason Dalton.
(Andraya Croft / Associated Press)
Members of the community pray before the start of the Kalamazoo Community Prayer Service at Centerpoint Church on in Kalamazoo, Mich. A gunman who seemed to choose his victims at random opened fire Saturday outside an apartment complex, a car dealership and a restaurant in Michigan, killing six people in a rampage that lasted nearly seven hours.
(Andraya Croft / Associated Press)
A member of the community prays before the start of the Kalamazoo Community Prayer Service at Centerpoint Church in Kalamazoo.
(Andraya Croft / Associated Press)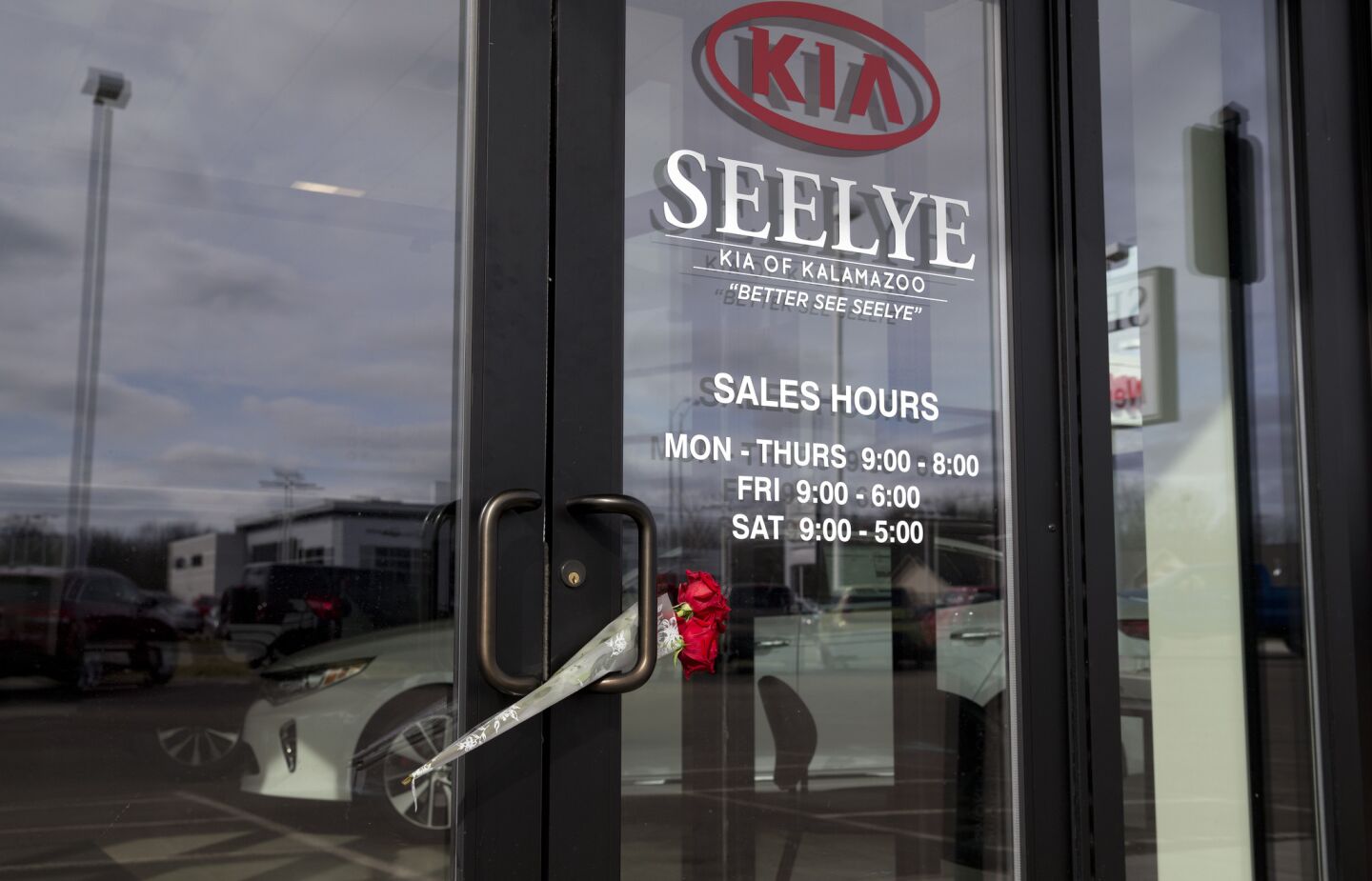 A rose is placed in the door at the Kia Dealship where a gunman went on a shooting rampage in Kalamazoo, Mich.
(Tasos Katopodis / Getty Images)
A general view of the Cracker Barrel where a gunman went on a shooting rampage in Kalamazoo, Mich.
(Tasos Katopodis / Getty Images)
A vehicle driven by a suspect in multiple shootings sits at at Ransom and Porter streets in downtown Kalamazoo, Mich., after the driver was arrested in Kalamazoo.
(Ed Finnerty / Associated Press)
"In the United States, 911 is the panic button" when serious incidents occur, Sullivan said.
Dalton sat expressionless Monday as he was arraigned via video in a Kalamazoo County courtroom packed with television cameras, which had gathered to broadcast the news of yet another American mass shooting.
The violence in Kalamazoo did not last a few bloody minutes, as it had in the San Bernardino or Newtown, Conn., mass shootings, but came in waves over five hours. No motive has been given.
Investigators counted three crime scenes in Kalamazoo County: an apartment complex, a car dealership and a Cracker Barrel parking lot. Six people were killed and two injured. Officials suspect Dalton of acting alone.
In court, Dalton showed little emotion as Kalamazoo County District Judge Christopher T. Haenicke took several minutes to read through the 16 criminal charges filed, which included counts of murder, assault and weapons violations.
After detectives told Dalton he had the right to remain silent, "Dalton ultimately told detectives under Miranda that he took people's lives on 2/20/2016," Kalamazoo Public Safety Det. Cory Ghiringhelli testified in court, the Kalamazoo Gazette reported.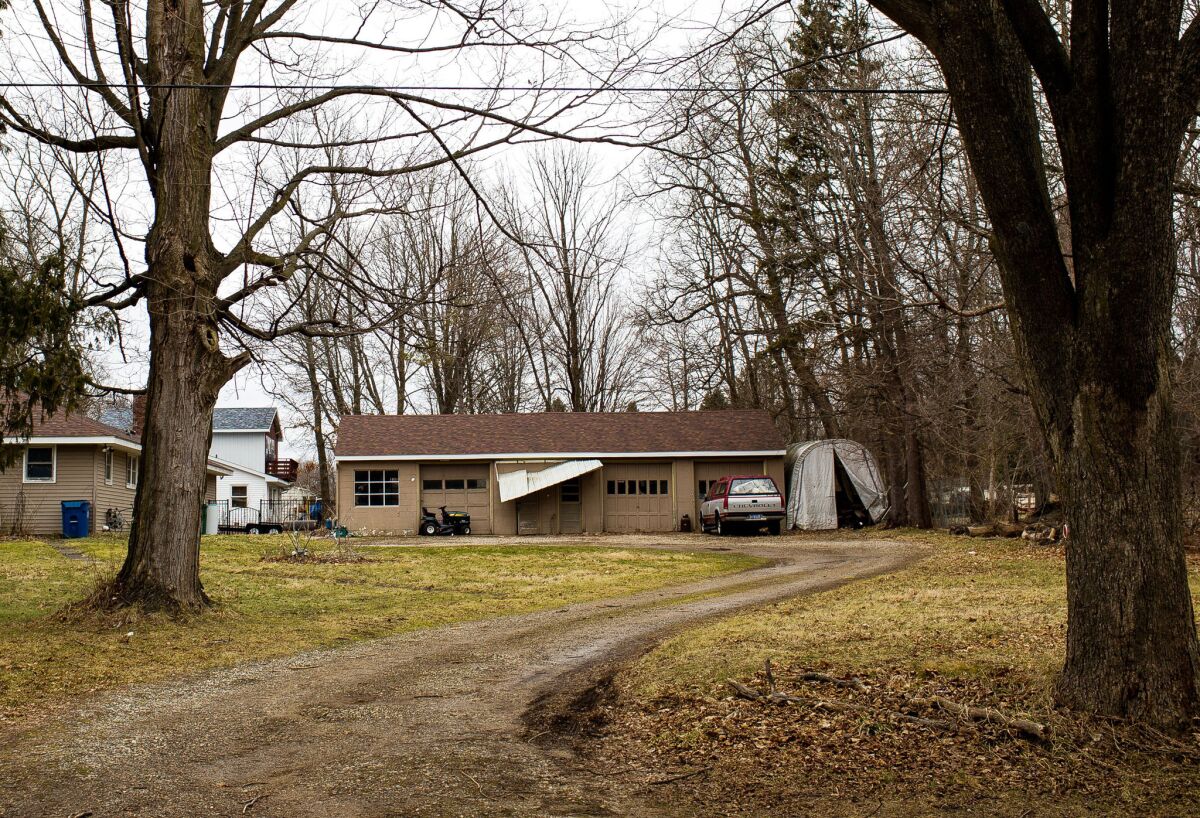 Kalamazoo County Prosecutor Jeffrey Getting said investigators were still checking whether Dalton legally owned the handgun officials say he used in the shootings, the newspaper reported.
Dalton took a deep breath when the judge announced that the charges included the attempted murder of a 14-year-old girl. Dalton said "yes" when the judge asked whether he understood the charges.
When Haenicke asked whether Dalton would like to talk about his connections to Kalamazoo, the suspect responded, "I would prefer just to remain silent." Haenicke ordered Dalton held without bail.
Officials say the attacks began at 5:42 p.m. Saturday at the Meadows apartment complex on the eastern end of Kalamazoo County, where Dalton is accused of shooting a woman multiple times. Officials said she was severely injured but was expected to survive.
The next shooting happened at 10:08 p.m., when, officials say, Dalton fatally shot a father and son at a Kia car dealership. At 10:24 p.m., officials say, Dalton shot and killed four women in a Cracker Barrel restaurant parking lot and seriously injured a 14-year-old girl.
Dalton was arrested after a sheriff's deputy saw his car leaving a bar in downtown Kalamazoo, and he was pulled over without incident, officials said. Officials found a gun during the arrest, they said.
About an hour before the first shooting, Dalton had been acting strangely and driving dangerously, one passenger said.
Dalton picked up Matt Mellen for an Uber ride about 4:30 p.m. Saturday, and Dalton had a dog in his back seat and introduced himself as "Me-Me" and not Jason, Mellen told WWMT-TV.
After Dalton took a telephone call about a mile from Mellen's house, Dalton started driving "really erratically," Mellen said.
"We were running stop signs, kind of driving through medians, driving through the lawn, speeding along and then, finally, once he came to a stop, I jumped out of the car and ran away," Mellen told the television station.
"He wouldn't stop. He just kind of kept looking at me, 'Well, don't you want to get a ride to your friend's house?' and I was like, 'Well, yeah, but I want to get there alive, you know,'" Mellen said.
Mellen said he contacted police and Uber "to get this guy off the road," calling the trip a "pretty scary ordeal."
Dalton signed up for Uber on Jan. 25 and had given more than 100 rides, receiving a generally positive rating of 4.73 out of 5 before the day of the shootings, Sullivan, the chief security officer at Uber, said in a conference call with reporters Monday. Officials said Dalton passed a background check and did not appear to have a criminal record.
Sullivan said that with 3 million rides a day, the company gets "a number of reports on a daily basis" regarding incidents both large and small. Those reports are monitored by a support staff that works "24/7."
On the same conference call, Uber safety advisory board member Margaret Richardson called the focus on Uber "a distraction" given the "availability of guns to people who shouldn't have such easy access to them."
Dalton's family, in an unsigned statement released through a Kalamazoo attorney's office, expressed "shock and disbelief" at the shootings and said they were "devastated and saddened" for the victims.
"This type of violence has no place in our society, and we express our love and support for everyone involved," the statement said. "We intend to cooperate in every way that we can to help determine why and how this occurred."
Dalton's next court appearance is scheduled for March 3.
matt.pearce@latimes.com
Twitter: @MattDPearce
See more of our top stories on Facebook >>
ALSO
Kalamazoo shooting: Here's how Uber does its background checks
Hiltzik: After Kalamazoo, shouldn't Uber stop opposing background checks?
Passenger: I warned Uber of erratic driver before Kalamazoo killings began
---
Must-read stories from the L.A. Times
Get the day's top news with our Today's Headlines newsletter, sent every weekday morning.
You may occasionally receive promotional content from the Los Angeles Times.