What we know about Mark Riddell, a test-taking whiz linked to a college cheating scam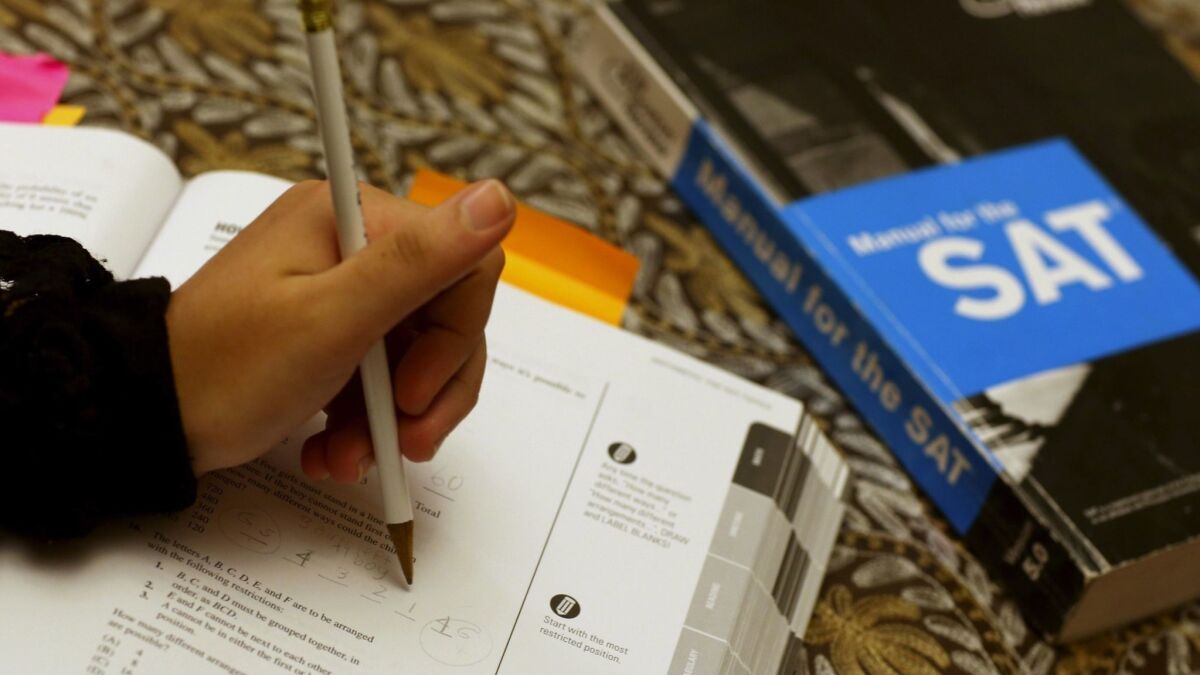 Reporting from Atlanta —
Shortly after dawn one day last month, a tanned, golden-haired college prep coach from Florida strolled into a West Hollywood test center with instructions to help the daughter of a California businesswoman score high marks on her college entrance exam.
Mark Riddell, a 36-year-old Harvard graduate, did not emerge until two hours after the teen finished her ACT test and left.
Without the student's knowledge, officials say, he tweaked her answers to ensure she would score between 33 and 35, just shy of a perfect mark of 36.
Federal prosecutors have charged 50 people in a sprawling, multimillion-dollar college admissions scam in which wealthy parents are accused of bribing test prep experts and coaches to help their children cheat on standardized tests and guarantee they get into elite schools.
The scheme was allegedly orchestrated by William "Rick" Singer, a Newport Beach businessman and college preparatory consultant who pleaded guilty Tuesday to charges of fraud, racketeering, money laundering and obstruction of justice. But the man accused of actually taking the exams, or tweaking the answers later, is Riddell, a test prep whiz touted to parents as the "best test-taker" who could "nail a score."
"Whatever number that we're trying to get, that's what he works to get," Singer allegedly told Michelle Janavs, a Newport Coast mother and former executive at a large food manufacturer.
Prosecutors at the U.S. Attorney's Office in Boston have charged Riddell with conspiracy to commit mail fraud and honest services mail fraud, as well as conspiracy to commit money laundering.
From 2011 to February 2019, U.S. attorneys allege, Riddell flew regularly to California, and occasionally to Texas, to take tests for the children of Hollywood celebrities, real estate developers, a fashion designer and a Napa vineyard owner.
According to prosecutors, he has agreed to plead guilty to all charges and co-operate with the investigation in the hope of obtaining a more lenient sentence.
"I want to communicate to everyone that I am profoundly sorry for the damage I have done and grief I have caused those as a result of my needless actions," Riddell said Wednesday in a statement released through his attorney. "I understand how my actions contributed to a loss of trust in the college admissions process."
He did not return messages seeking his comment.
"Just a really smart guy," Andrew Lelling, U.S. attorney for the District of Massachusetts, said at a news conference on Tuesday. "He didn't have inside information about the answers. He was just smart enough to get a near perfect score on demand or to calibrate the score."
A graduate of Sarasota High School who lived in Palmetto, a small city about 40 miles south of Tampa, Riddell worked as the director of college entrance exam preparation at IMG Academy, a large and exclusive private prep school in Bradenton, Fla., that coaches elite high school athletes.
The academy, which boasts celebrity alumni including Andre Agassi, Serena Williams, Jim Courier and Anna Kournikova, has a sprawling 500-acre campus with more than 50 tennis courts, an 18-hole golf course, two basketball gyms and a 5,000-seat stadium. High school tuition ranges from $61,650 to $77,650 a year.
IMG issued a short statement Tuesday evening, saying Riddell had been suspended indefinitely.
Before charges were brought, the academy promoted Riddell on its website as a tennis pro and Harvard alumnus who had "assisted thousands of students in gaining admission to top American universities such as Stanford, Duke, Columbia, Dartmouth College, the University of Chicago and others."
According to the academy's online biography of Riddell, which was taken down shortly after prosecutors announced charges, he coordinated IMG's curriculum for the test preparation program for the SAT and ACT and hired tutors for one-on-one private instruction.
Full coverage: Dozens charged — including Hollywood actresses — in connection with college admissions scheme »
IMG also described Riddell as a "ranked ATP Tour tennis professional." Records from the Assn. of Tennis Professionals show Riddell competed in just four single and six double tournaments between 2003 and 2005, never winning a single set. He earned just $892 in the course of his professional tennis career.
In some cases, Riddell helped teenagers answer questions during the exam, prosecutors allege. In others, prosecutors said, he corrected answers after they had completed the test. In one instance, he is accused of completing an entire exam without the student's knowledge.
After receiving payment from the parents, Singer typically paid Riddell $10,000 for each test, according to the indictment.
In the fall of 2015, as Riddell allegedly prepared to aid the daughter of Manuel Henriquez, a Palo Alto finance company chairman and chief executive, prosecutors say he explained in an email to her high school counselor that he was willing to fly to San Francisco because his wife had a newborn and he needed proctoring experience to apply for graduate school.
"I could quite frankly use the work," he wrote.
A few weeks later, Riddell allegedly sat side by side with the teen in her high school as she took her SAT exam and provided answers to the questions. Later, prosecutors said, he admitted to them that he "gloated" with the teen and her mother after the exam about how they had cheated and gotten away with it.
In October 2016, prosecutors allege that Riddell flew to Houston to help two students fill out the ACT exam at the same time, instructing them to answer different questions incorrectly so that they did not have identical incorrect answers.
In June 2018, prosecutors allege, Singer agreed to accept $50,000 from a Los Angeles parent, Jane Buckingham, CEO of a boutique marketing company, in exchange for having her son take the ACT exam at a public high school in Houston.
Under the agreement, the court documents say, Singer would pay Riddell to secretly correct Buckingham's son's answers after he had completed the test, as well as bribe an administrator to allow Riddell to do so.
However, in July, Buckingham's son became ill with tonsillitis and was unable to travel to Houston as scheduled. According to prosecutors, Singer and Buckingham agreed to have Riddell take the exam and Singer asked Buckingham to provide a sample of her son's handwriting for Riddell to imitate.
Riddell flew to Houston to take the test in a hotel room and returned to Tampa the same day, according to prosecutors.
The next day, Singer allegedly emailed Buckingham: "Test went well."
Riddell had scored a 35 on the test, prosecutors allege. Buckingham then wired Singer $35,000, a partial payment toward the agreed-upon fee of $50,000, according to prosecutors.
If Riddell is convicted, the U.S. attorney's office has recommended that he pay more than $447,000 in a forfeiture money judgment.
"I will always regret the choices I made," Riddell said in his statement Wednesday. "But I also believe that the more than 1,000 students I legitimately counseled, inspired, and helped reach their goals in my career will paint a more complete picture of the person I truly am."
Some experts who study college sports said they were not shocked to hear of Riddell's actions: He had simply taken advantage of an academic admission system already founded on money.
"If the system of IMG and college admissions in general was not set up to make use of rich people's money, this would not have occurred," said Richard M. Southall, a professor and director of the College Sport Research Institute at the University of South Carolina. "People with money and access and privilege will do what they need to do, in their mind, to get their child into an elite school."
"What Riddell is doing at IMG is entrepreneurial in the sense that these parents have expendable income and they're willing to pay somebody to tutor their child," he added.
"And then it's like, "Gee, that's kind of hard, he has to learn to take a test… Let's just have someone take a test for him.'"
ALSO
Felicity Huffman is out on bail. Lori Loughlin faces charges today in admissions scandal
Late-night hosts take aim at Lori Loughlin and Felicity Huffman over admissions scandal
How USC's 'side door' allowed unqualified prospective students to gain admission
Must-read stories from the L.A. Times
Get the day's top news with our Today's Headlines newsletter, sent every weekday morning.
You may occasionally receive promotional content from the Los Angeles Times.