How USC's 'side door' allowed unqualified prospective students to gain admission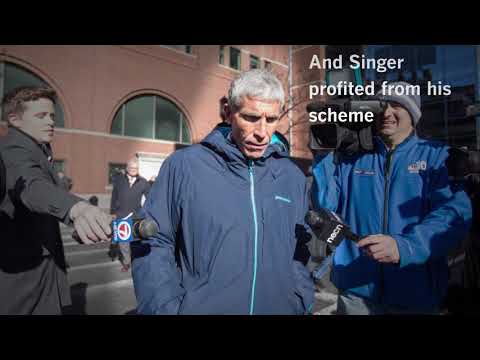 The scheme, which allegedly began in 2011, centered on the owner of a for-profit Newport Beach college admissions company that wealthy parents are accused of paying to help their children cheat on college entrance exams and to falsify athletic recor
A prominent Napa Valley vintner worked feverishly last fall to secure his daughter's admission to USC as a water polo recruit.
The catch: The girl wasn't qualified to join the powerhouse team that is routinely among the nation's best.
That didn't stop the father, according to court documents. His effort over more than a year — aided by a for-profit college counseling and preparation business in Newport Beach — included arranging a fraudulent SAT score, fabricating an athletic profile that described her as a "2017 Team MVP" and emailing a photograph of another individual playing water polo that was presented as her. A senior athletic department official at USC would see to it that the daughter would receive a conditional acceptance to the highly selective private university. In return, the father would send the official a check for $50,000.
Early Tuesday, prosecutors announced a dozen indictments in U.S. district court in Boston, alleging a $25-million racketeering conspiracy in which parents from around the country bribed coaches and an athletic administrator to designate their children falsely as recruited athletes.
Court-approved wiretaps taped numerous discussions between parents and a cooperating federal witness from the counseling business, detailing how relaxed admission standards for talented athletes were used as a "side door" into the university for normal students whose test scores and transcripts were not exemplary enough for admission on their own.
The shock waves of the indictments could be felt as far west as Waikiki, Hawaii, early Tuesday morning when authorities arrested decorated USC water polo coach Jovan Vavic, who was on the island to coach his Trojans in an upcoming women's contest Saturday. Authorities also brought into custody USC senior associate athletic director Donna Heinel, who is alleged to have received bribe payments totaling more than $1.3 million while facilitating the entry of more than 24 non-athletes into the university.
By Tuesday afternoon, USC fired Heinel and Vavic, the 16-time national championship winner and 15-time national coach of the year who was alleged to have received $250,000 in bribes as part of the sweeping scheme.
"We are aware of the ongoing wide-ranging criminal investigation involving universities nationwide, including USC," read a released USC statement. "USC has not been accused of any wrongdoing and will continue to cooperate fully with the government's investigation."
A UCLA coach was also involved in the alleged scheme. Jorge Salcedo, the men's soccer coach, was indicted for allegedly accepting $200,000 in bribes for his role in facilitating the enrollment of one female student and one male student to the school under the pretense of being soccer players even though they did not play the sport competitively. UCLA placed Salcedo on leave Tuesday.
The indictment specifies that in the spring of 2016, Salcedo had the help of former USC women's soccer coach Ali Khosroshahin, who was fired by USC in 2013, and his former assistant coach, Laura Janke, who left USC in 2014. Khosroshahin and Janke were also indicted and arrested Tuesday for allegedly fabricating athlete profiles for the prospective non-athlete students and receiving payments totaling nearly $350,000 sent to their private soccer club.
The racketeering conspiracy spanned 2011 to last month, and USC athletics employees — allegedly led by Heinel, the department's chief administrative officer and senior woman administrator — held important roles throughout.
A 200-page complaint released Tuesday showed how the Newport Beach-based college counseling business, The Edge College & Career Network, also known as "The Key," allegedly joined with Heinel and coaches from around the nation to turn admissions fraud into an art form.
In one exchange in the complaint, a corroborating witness — described as a founder of "The Key" and its purported charity, "Key Worldwide Foundation" or "KWF" — said this scheme has been used for decades.
On a call intercepted by a court-approved wiretap, Agustin Huneeus Jr., the father of the fake water polo recruit, begins to express to the KWF founder — not yet a government witness — that he is worried about being caught.
Sign up for our daily sports newsletter »
"You understand that [my daughter] is not worthy to be on that team," Huneeus said. "And is there any risk that this thing blows up in my face?"
"Hasn't in 24 years," the witness said.
"I know, but the environment. … Like some article comes out that the polo team is selling seats into the school for 250 grand," Huneeus said.
"Well, no, because she's a water polo player," the witness said.
"But she's not. I mean, that's what I mean," Huneeus said.
In this conversation from August 2018, the witness detailed the process Heinel and Vavic allegedly would use to get Huneeus' daughter into USC — a process authorities say was emblematic of what Heinel did with other students.
"I take her transcript, test scores and profile to the senior women's athletic director, who actually is the liaison for all sports at USC. Everything has to go through her," the witness states.
The witness outlined how Heinel met every two weeks with a sub-committee that evaluates athletic admission candidates. In the complaint, no candidate was refused by the sub-committee.
"So what she does is," said the witness, referring to Heinel, "she already works on presenting the kids before this gets to the meeting so she knows everything about them."
Full coverage: Dozens charged — including Hollywood actresses — in connection with college admissions scheme »
After they are approved for admission, the witness said, the students have to go through the process to get approved by the NCAA clearinghouse, which is treated as a formality. He told Huneeus that he would receive a letter from USC saying his daughter would be admitted months before the official offer letter would come in March.
"At that point, you will write a check for $50,000 … it will go to Donna Heinel … it will be made out to USC Women's Athletics," the witness said. "Essentially, you've been admitted before she's even applied. OK?"
When the official letter arrived in March, Huneuus would receive an invoice from the KWF charity for $200,000, "and then Jovan will call me and say, 'OK, this is how I want the money split,' and so on and so forth," the witness said.
"Do all of those funds go to USC, or do some go to stay in your foundation?" Huneeus asked.
"No, they go to USC in different ways," the witness said. "So what Jovan usually does is, I subsidize his staff salaries. I put two of his staff members on my books as contractors. And then I pay them throughout the year."
In another call, Huneeus wanted reassurance from the witness that his daughter would not actually have to join the water polo team.
"No, no," the witness said, "she doesn't have to do anything. They're going to send her a letter saying this is your orientation date. What you're going to do is not pay attention to it, and you're going to sign up for the first orientation date for regular students and just go to that date and from that point on you're no longer a part of athletics."
Once the witness pledged his help to the federal investigation in return for a more lenient sentence, he was directed to call the parents and get them on tape agreeing to what would become the allegations against them. He would also instruct them how to respond if the Internal Revenue Service came asking questions about their payments to the KWF charity.
"I'm going to say that I've been inspired how you're helping underprivileged kids get into college," Huneeus said. "Totally got it."
In response to the government's findings, USC quickly tried to distance itself from Heinel and Vavic.
"We understand that the government believes that illegal activity was carried out by individuals who went to great lengths to conceal actions from the university," USC's statement continued. "USC is conducting an internal investigation.
"USC is in the process of identifying any funds received by the university in connection with this alleged scheme. Additionally, the university is reviewing its admissions processes broadly to ensure that such actions do not occur going forward."
Six universities joined USC and UCLA in the complaint — Yale, Stanford, Wake Forest, Texas, Georgetown and the University of San Diego. But USC was the only athletic department that had a senior administrator allegedly involved in the scheme.
There were other examples of methods used to get students into USC:
A prospective student went to a high school that did not have a football team, but Heinel allegedly brought him forward to the athletic admissions sub-committee as a football recruit who was being recruited to USC as a punter or kicker. Part of the fabricated profile was a photo-shopped picture of the student's face on top of a kicker.
A prospective student was admitted as a women's basketball player. The corroborating witness told the father that Heinel was asked why the young woman was not playing basketball once on campus. In an effort to get their story straight, the father was instructed his daughter should say she had a foot injury — "plantar fasciitis" — which prevented her from walking onto the team as a freshman.
A prospective student, the daughter of "Full House" actress Lori Loughlin and fashion designer Mossimo Giannulli, was allegedly admitted as a recruit of the USC women's crew team, even though she did not compete in crew. Her fabricated profile included a picture of her working out on an ergometer.
In April 2017, as tens of thousands of high school seniors nationally awaited the big news from their dream schools, Giannulli copied Loughlin on a joyful email to the witness. The subject: "Trojan happiness."
Times staff writers Matt Hamilton, Ben Bolch and Nathan Fenno contributed to this report.
Twitter: @BradyMcCollough
Get the latest on L.A.'s teams in the daily Sports Report newsletter.
You may occasionally receive promotional content from the Los Angeles Times.