As freedom awaits, newly paroled O.J. Simpson isolated at prison for his protection
Reporting from Las Vegas —
O.J. Simpson was on the move again — this time to his own cell in the Lovelock Correctional Facility.
Prison officials said Friday the former football star was removed from the general population for his own protection as he waits for his release in early October.
Brooke Keast, spokeswoman for the Nevada Department of Corrections, said after Simpson was granted parole Thursday, officials decided it made sense to keep him out of harm's way.
Keast said prison officials usually don't allow hearings to be viewed by the nearly 1,700 inmates, but with the widespread attention Simpson received, that proved impossible.
"When you have people who are lifers that are not going to be getting out, there are some people who might want to make a name for themselves," Keast said. "It's not worth the risk."
Simpson's parole hearing — like most legal issues with the 70-year-old — was a spectacle that grabbed international attention. Media flooded Carson City, the small capital city of Nevada, with large array of satellite television trucks. His conviction on robbery charges nine years ago landed him in Lovelock, a speck of a town two hours northeast of Carson City, where the four-member parole board unanimously granted his release.
The decision to grant parole proved disappointing to some who were hoping Simpson would serve a longer sentence as payback for being acquitted in the 1994 double murder of his former wife, Nicole Brown Simpson, and her friend Ron Goldman.
Goldman's father, Fred Goldman, who along with the Brown estate successfully sued Simpson in a civil lawsuit related to the deaths, told "Good Morning America" on Friday that the family was disappointed with the parole commissioners' decision.
"They never pressed him about anything," he said. "He snapped at one of the commissioners. ... The first gentleman who spoke, he snapped at him. There was no feedback to that. He lied numerous times about many things. He was never re-questioned about anything."
Goldman said the commissioners appeared to go over a checklist of conditions that make inmates eligible for parole, "and they checked them off, and as long as he answered the proper number of items on the checklist, it was a done deal."
During the parole hearing, the commissioners said they received letters of support for Simpson's release as well as those who wished to see him remain behind bars, but they couldn't consider the 1995 acquittal in their deliberations.
Simpson told the board he'd led a "conflict-free life" and repeatedly said he was "a good guy." Fred Goldman took offense at the remarks.
"Everybody in the world except him knows that he has not led a conflict-free life," Goldman said. "He beat up his first wife, he beat up Nicole numerous times, he had numerous other altercations with people over the years — hardly conflict-free, nor do I suspect it'll ever be conflict-free. He's just not capable of being that person."
O.J. Simpson reacts after learning he was granted parole at Lovelock Correctional Center in Lovelock, Nevada.
(Pool / Getty Images)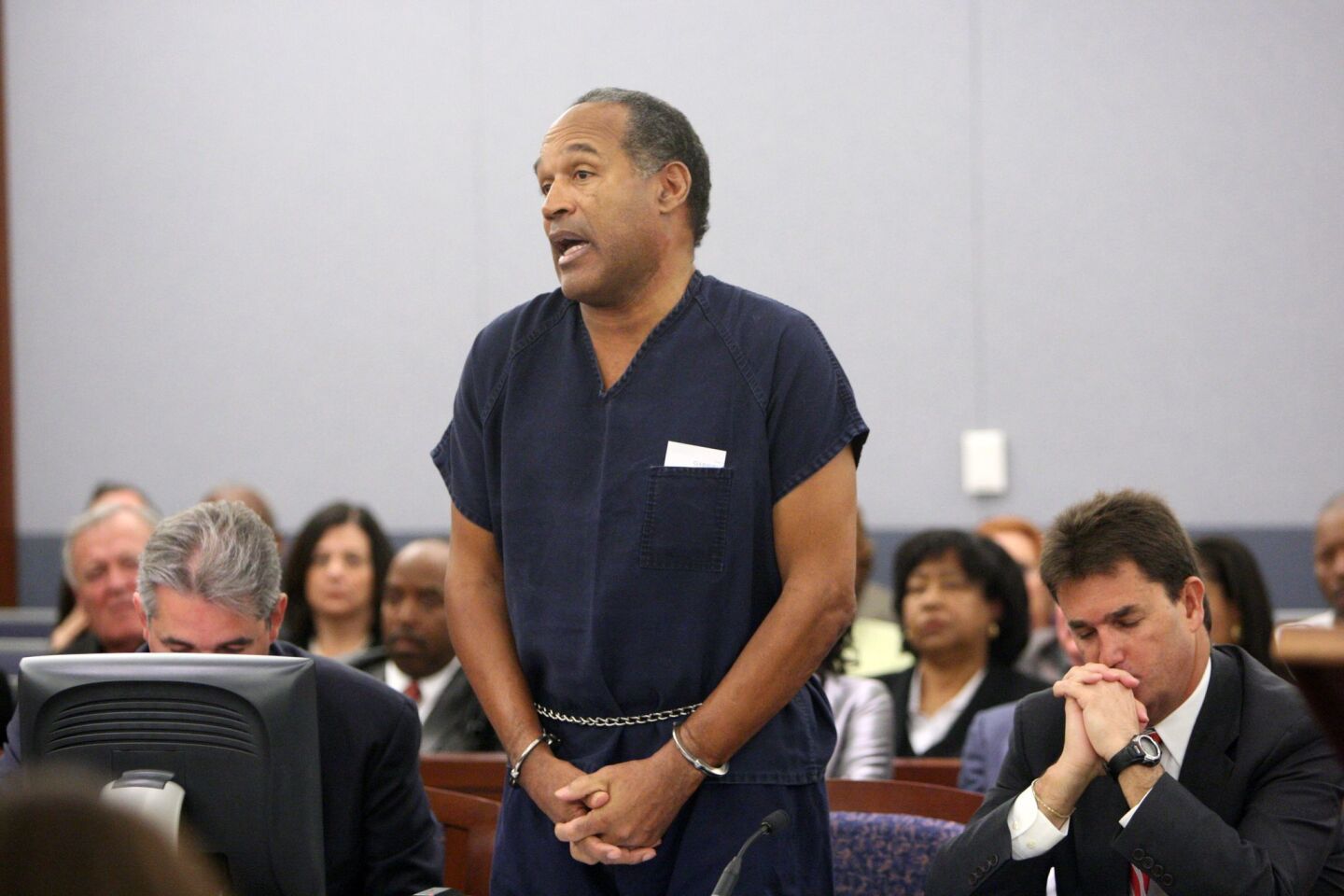 Simpson speaks Dec. 4, 2008, before his sentencing at the Clark County Regional Justice Center in Las Vegas.
(Isaac Brekken / AFP/Getty Images)
Simpson sits May 14, 2013, during a break on the second day of his evidentiary hearing in Clark County District Court in Las Vegas.
(Ethan Miller / Associated Press)
Simpson is handcuffed and escorted away from the witness stand during a break in his evidentiary hearing in Clark County District Court May 15, 2013 in Las Vegas.
(Pool / Getty Images)
Simpson listens during his premineary hearing November 14, 2007, as a judge orders him stand trial in Las Vegas, Nevada.
(Pool / Getty Images)
Kim Goldman, Ron Goldman's sister, told "Good Morning America" that the family had a "nine-year reprieve" with Simpson serving the minimum amount of time for the robbery conviction. His sentence could've been as long as 33 years.
"We're going to go back to doing what we've done. I run a nonprofit working with teenagers, I do stories on other victims and survivors, I'm raising my kids," she said. "We're active in the world of victims and survivors' advocacy. We're going to continue doing those things and take it one day at a time, and if he chooses to write a book, or do a reality show, we'll be there."
Simpson's plans for when he is released indicate a desire to move to Florida, though the state would have to accept him as a parolee. He told the parole commission he wanted to be with his family already living there.
Tanya Brown, Nicole Brown Simpson's sister, told CNN on Thursday night that she watched the hearing, but said their life doesn't revolve around Simpson.
"If you can't change it, you have to at least try to accept it," she said. "It works for me. I know it is what it is, and I know it's cliche to a lot of people, but it's what gets me through."
Twitter: @davemontero
ALSO
Timeline: O.J. Simpson's journey from sports legend to murder suspect to prisoner
This is what happened to all the important people in O.J. Simpson's life
Bill Plaschke: USC seems to be unwavering in its fond remembrance of former Trojan O.J. Simpson
---
Must-read stories from the L.A. Times
Get the day's top news with our Today's Headlines newsletter, sent every weekday morning.
You may occasionally receive promotional content from the Los Angeles Times.