O.J. Simpson is granted parole after serving 9 years for Vegas robbery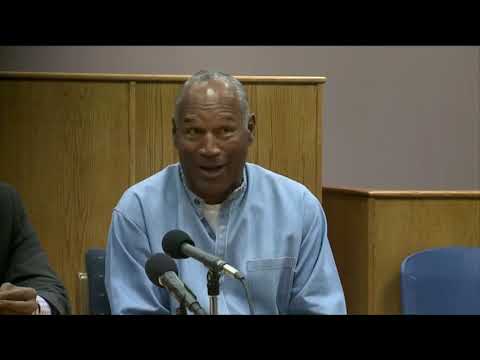 O.J. Simpson could be released from a prison in northern Nevada by October after serving nine years of a sentence for a Las Vegas robbery.
Reporting from CARSON CITY, NEV. —
He once drew the spotlight because he sought it. He bathed in it because he loved it. He chased the spotlight until it finally chased him back.
O.J. Simpson, the polarizing former football star, seemed to suggest he was ready to recede from the spotlight after succeeding in his quest for freedom after being incarcerated for nine years at a desert prison in northern Nevada.

For the record:
7:34 p.m. June 22, 2019An earlier version of this article identified sports memorabilia dealer Bruce Fromong as Bruce Frumong.
Simpson, convicted of robbery and kidnapping, was granted parole Thursday — a unanimous vote by the four-member Nevada Board of Parole Commissioners reported instantly by national and international media. He could be free as soon as Oct. 1.
His release, too, is unlikely to go unnoticed. The moment Simpson received his fourth and final vote from the Nevada Board of Parole recommending release, he dropped his head, as if to give a quiet cheer of celebration to himself, before responding, "Thank you."
He didn't look at his attorney or his daughter Arnelle Simpson, who had argued for his release. Simpson, 70, instead bowed his head again and placed his hands on the simple wooden table, as if in prayer as, once again, his every movement was broadcast to millions of people on national television who were curious to learn his fate.
The board asked him about life outside prison. What might it be like? Can you handle it? The former USC and NFL star running back shrugged it off like a tackler who had taken a bad angle on him. "I've been recognized since I was 19," he said. "I've dealt with it my whole life."
Simpson told the board he wanted to be with his family after missing birthdays and graduations. When it was suggested he might have a webcast or blog once he's out, he shook his head. Not interested.
But there was immense interest in him. Television trucks squeezed into a tight parking lot where the board met in a building in a light industrial park in Carson City. More were encamped about 100 miles northeast outside Lovelock Correctional Facility — accessible on a skinny road that had a checkpoint and a sign noting a "special event."
On social media, a familiar cry rang out: "The Juice is loose."
Prison had separated the Hall of Fame running back from the glitzy lifestyle he once led, Simpson testified at the hearing. He said he hadn't drunk alcohol in nine years and didn't miss it. He has been the commissioner of an 18-team prison softball league. He took a prison computer class not because he was interested in computers, but so he could exchange electronic messages with his four children, because, he said, his kids were less responsive to phone calls.
"Are you humbled by this incarceration?" asked Susan Jackson, a parole commissioner.
"Oh, yes, sure," Simpson responded. "I wish this would have never happened.… If I would have made a better judgment back then, none of this would have happened."
Simpson expressed some regret but did not appear overly apologetic. Remorse, however, is not a requirement for parole under Nevada law. "The board does not require that an inmate state or indicate that they are remorseful," Board of Parole spokesman David M. Smith said.
During the hearing, Simpson was assured by one of his victims that he already has a ride waiting for him when he gets out.
"I feel that it's time to give him a second chance; it's time for him to go home to his family, his friends," Bruce Fromong, a sports memorabilia dealer and a friend of Simpson's, told the board.
Fromong was threatened and robbed by Simpson and some of his associates in a Las Vegas hotel room in 2007, and his testimony in that case led to Simpson's imprisonment. But, Fromong told the board, "if he called me tomorrow and said, 'Bruce, I'm getting out, would you pick me up?'" Fromong paused, turned to Simpson and addressed him by his nickname: "Juice, I'd be here tomorrow. I mean that, buddy."
O.J. Simpson reacts after learning he was granted parole at Lovelock Correctional Center in Lovelock, Nevada.
(Pool / Getty Images)
Simpson speaks Dec. 4, 2008, before his sentencing at the Clark County Regional Justice Center in Las Vegas.
(Isaac Brekken / AFP/Getty Images)
Simpson sits May 14, 2013, during a break on the second day of his evidentiary hearing in Clark County District Court in Las Vegas.
(Ethan Miller / Associated Press)
Simpson is handcuffed and escorted away from the witness stand during a break in his evidentiary hearing in Clark County District Court May 15, 2013 in Las Vegas.
(Pool / Getty Images)
Simpson listens during his premineary hearing November 14, 2007, as a judge orders him stand trial in Las Vegas, Nevada.
(Pool / Getty Images)
Arnelle Simpson became emotional shortly after beginning her testimony, sometimes stopping to shake her head.
"No one really knows how much we have been through, this ordeal the last nine years," she said. She stopped and exhaled deeply, excusing herself before putting her fist up to her mouth to steady herself. "My experience with him — is that he's like my best friend, my rock."
She added: "As a family, we recognize he is not a perfect man.… But he has done his best."
Simpson looked upbeat during his first public appearance in years, smiling and nodding to parole commissioners through a video link from the prison.
But while the parole hearing was about his 2008 robbery conviction, many of Simpson's answers to the four commissioners brought back memories of his acquittal in the 1994 slayings of Ron Goldman and Simpson's ex-wife Nicole Brown Simpson.
"I'm in no danger to pull a gun on anybody. I've never been accused of it," he said. "Nobody has ever accused me of pulling any weapon on them."
Goldman and Brown were killed with a knife. Simpson lawyer Malcolm LaVergne noted the killings — and how they played no official part in Thursday's proceedings — at a televised news conference in Lovelock after the board's decision.
"Obviously, there's a 10,000-pound elephant in that room, and I think we were very successful in making sure that that elephant was sleeping and that it was washed and very clean and that it never started to rear its head," LaVergne said.
Simpson, who turned 70 this month, only barely resembles the athletic younger man who was tried and acquitted of murder in 1995.
Through a slight delay, Simpson blinked rapidly and blew out a deep breath at one point as he listened to state parole Chairwoman Connie Bisbee read off the list of charges that landed him a sentence of nine to 33 years.
"Mr. Simpson, you are getting the same hearing everyone else gets," Bisbee said, then acknowledged the media firestorm that his hearing has generated — one of the few news events to edge President Trump off the national news broadcasts. "Thank you, ma'am," Simpson replied, laughing.
This was Simpson's second parole hearing. His last one, in 2013, resulted in parole on one of the charges stemming from the 2007 robbery and kidnapping.
Simpson said on several occasions that he was "a good guy" and indicated that he mostly wanted to spend time with his family in Florida — and that the state of Nevada might be glad to be rid of him.
"No comment," one of the commissioners said to some laughter.
Simpson expressed regret at being involved in the crime, but drew some pushback from commissioners who took issue with his version of events, in which he said he didn't know a gun had been brandished in the hotel room during the robbery.
But Simpson held to his version, repeatedly apologizing and expressing regret for leaving a wedding in Las Vegas to go recover memorabilia he said was his.
"I am sorry things turned out the way they did," Simpson said. "I had no intent to commit a crime."
At one point, Simpson said he had not made any excuses for what he did during the years he'd spent in prison, but in the same sentence, he turned the blame toward the men who had joined him in intimidating the memorabilia dealers.
"I never should have allowed these alleged security guys to help me," Simpson said. "These guys took over."
This is what happened to all the important people in O.J. Simpson's life »
Twitter: @davemontero
Twitter: @mattdpearce
Montero reported from Carson City, Nev., and Pearce from Los Angeles.
ALSO
Timeline: O.J. Simpson's journey from sports legend to murder suspect to prisoner
'O.J.: Made in America' vanquishes boundaries as it wins the Oscar for documentary feature
As Bill Cosby trial begins, an O.J. Simpson-like constellation of race, celebrity, power and gender converges
---
UPDATES:
4:25 p.m.: This article was updated with additional context and background information.
11:55 a.m.: This article was updated to report that Simpson was granted parole.
11:45 a.m.: This article was updated with quotes from Bruce Fromong and Arnelle Simpson.
11:10 a.m.: This article was updated with testimony from O.J. Simpson.
10:30 a.m.: This article was updated with details from the hearing.
9:40 a.m.: This article was updated to report who will attend the hearing.
This article was originally published at 3 a.m.
Sign up for Essential California for the L.A. Times biggest news, features and recommendations in your inbox six days a week.
You may occasionally receive promotional content from the Los Angeles Times.