Trump says Mueller shouldn't testify to Congress, escalating fight with Democrats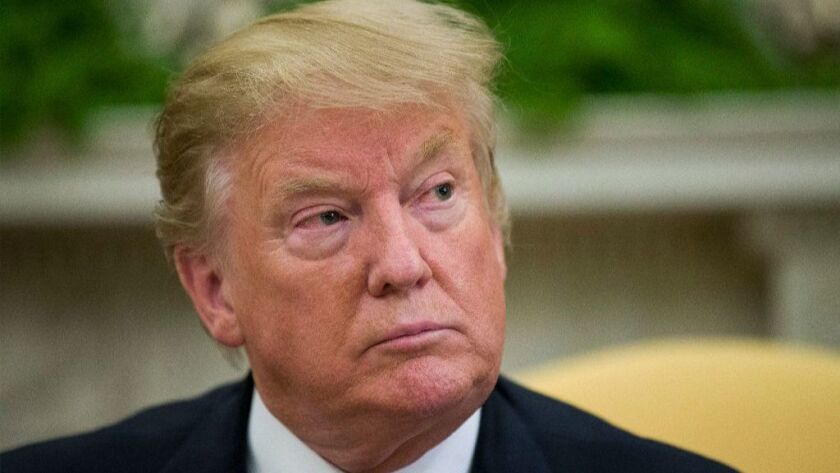 Reporting from Washington —
President Trump declared Sunday that special counsel Robert S. Mueller III should not testify to Congress, sharply escalating his fight with House Democrats over the aftermath of Mueller's report.
"Bob Mueller should not testify," the president tweeted on Sunday afternoon. Brushing aside congressional Democrats' contention that many aspects of the 448-page report need public clarifying – and are highly damning to Trump – the president added: "No redos for the Dems!"
House Democrats have said they have a tentative deal for Mueller to testify on May 15, and Atty. Gen. William Barr previously told Congress that he had no objection to Mueller testifying.
It was unclear whether Trump would try now to block an appearance by Mueller, who remains a Justice Department employee, or was merely making a rhetorical point.
There was quick Democratic pushback; Rep. Adam Schiff of Burbank, who chairs the House Intelligence Committee, wrote on Twitter that Mueller, together with former White House counsel Donald McGahn, "will testify."
Whatever the outcome, Trump's statement marked a further ratcheting up of tensions.
House Democrats have been pressing demands for a fuller version of the special counsel's released-but-redacted report and warned Friday that Barr risked a contempt citation if he fails to provide it by Monday.
There are fears on both side of the aisle that the confrontation over Mueller's report – which has morphed into a struggle over the scope of congressional oversight powers – could have lasting adverse consequences. Democrats say they are worried about a president claiming virtually unchecked powers; Republicans say they are trying to preserve executive prerogative and personal privacy.
Congressional Republicans, meantime, sought to tamp down new controversy over the president's omission, in a conversation last week with Russian President Vladimir Putin, of any warning to Moscow against interfering in the 2020 presidential election. It was the two leaders' first conversation since Mueller detailed sweeping and systematic Russian attempts to encroach on the 2016 campaign.
Weeks after Mueller completed his report, the document stands as a political Rorschach test. The special counsel did not find evidence of a criminal conspiracy between the Trump campaign and the Kremlin, but depicted an array of related misconduct and left open the possibility that the president had tried to obstruct justice. Mueller indicated he was in part constrained by Justice Department policy that a sitting president cannot be indicted.
Trump claimed total exoneration, even before the report was released to the public. His Republican allies have repeated accusations of a "witch hunt" and have gone on the offensive with demands that the investigators be investigated.
Democrats, by contrast, say the report showed that Trump may have committed impeachable acts, and that at the very least, the "road map" provided by Mueller must be followed through with exhaustive congressional investigations. Party leaders have stopped short of calling for opening impeachment proceedings, but have said further investigations are needed.
The next act in the drama is imminent, with the likelihood that Barr will not comply with requests by the House Judiciary Committee for an unredacted copy of Mueller's report. Barr says the redactions are mandated by laws protecting grand jury secrecy; House Democrats dispute that.
If the attorney general does not comply, he could face a contempt citation, said Democratic Rep. David Cicilline of Rhode Island, who sits on the committee.
"I think if the attorney general does not, the chairman will ask the committee to move forward with a contempt citation," Cicilline said in an interview on "Fox News Sunday." He said the panel needed to see a fuller version of the report and underlying evidence "so we can continue to do our work -- conduct oversight in a responsible and sober way."
Barr was a no-show for an appearance before the House Judiciary Committee on Thursday, and Democrats have widely panned him for what they describe as misleading comments in previous congressional testimony.
In his previous appearance last month, the attorney general failed to disclose that Mueller had written a letter to him sharply criticizing his summation of the report's contents. Barr's statement about the report's conclusions had caused "public confusion about critical aspects" of the special counsel's findings, Mueller wrote.
Rep. Doug Collins of Georgia, the ranking Republican on the House Judiciary Committee, defended the attorney general's decision not to appear.
"Bill Barr is not afraid of testifying," Collins said on CBS' "Face the Nation." He said the attorney general "just didn't want to be part of a show" by Democrats.
Mueller's documentation of Russian efforts to interfere in the 2016 vote is the report's most unambiguous major finding. Democrats say that should have been reflected in Trump's telephone call with Putin, in which Trump celebrated the end of what he has long termed an illegitimate investigation.
"We now know that his own Homeland Security secretary was told not to talk to him about the [Russian] threat to this election. We know that his own FBI director has said that 2018 [midterm election] was a dress rehearsal and that Russia is going to try this again. His director of intelligence said that they're getting bolder," Sen. Amy Klobuchar, a Democratic presidential hopeful, said Sunday on CNN's "State of the Union."
"All of this happens, and what does he do?" continued the Minnesota Democrat, who sits on the Senate Judiciary Committee. "He goes and cuddles up to Vladimir Putin again," she said. "That is wrong. And he then makes it worse by calling it a hoax."
Sen. Dick Durbin of Illinois, the minority whip, was even more scathing, saying Trump is in thrall to autocrats like Putin. Appearing on CBS' "Face the Nation," he said the president is "totally dazzled" and "gets all googly-eyed" when speaking to or about leaders like the Russian president, Saudi Arabia's Crown Prince Mohammed bin Salman or North Korea's Kim Jong Un.
Secretary of State Michael R. Pompeo, who made a round of appearances on Sunday's news-talk shows, did not directly respond to questions about why Trump did not warn Putin about interference, something the president has long shied away from doing.
"We have worked diligently to protect American – America's -- election system, something I wish the previous administration had done more effectively," Pompeo said on ABC's "This Week."
He cited "pretty good success in 2018" in safeguarding the midterm election campaign and asserted that "we continue to be very focused on that."
Rep. Eric Swalwell (D-Dublin), who is a member of the House Judiciary Committee, said the administration could not be relied upon to protect the United States from further electoral interference by foreign adversaries like Russia. Barr should be removed for mischaracterizing Mueller's findings and aiding in the GOP effort to cast doubt on the investigation's legitimacy, he said.
"I'm recommending that we impeach Atty. Gen. Barr so that we can get the information we need to protect our country," Swalwell said Sunday on "Face the Nation."
---
Must-read stories from the L.A. Times
Get all the day's most vital news with our Today's Headlines newsletter, sent every weekday morning.
You may occasionally receive promotional content from the Los Angeles Times.