House committee challenges weapon sales to Saudi Arabia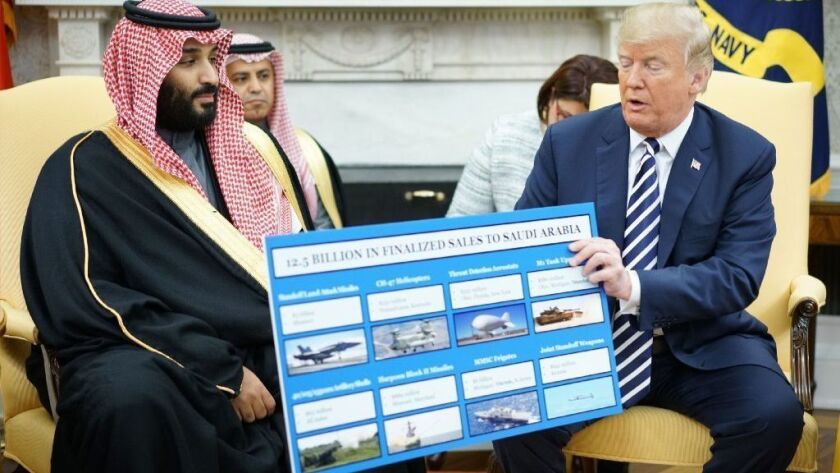 Reporting from Washington —
The Trump administration faced stiff bipartisan resistance in the House on Wednesday to its plan to sell $8.1 billion worth of precision-guided munitions and other lethal weapons to Saudi Arabia without congressional approval.
Testifying to the House Foreign Affairs Committee, R. Clarke Cooper, an assistant secretary of State, defended the White House decision to circumvent Congress because of what he called an urgent threat from Iran.
Democrats and Republicans criticized the weapons deal, and several expressed alarm that lethal weaponry was being sold to Saudi Arabia as it fights a war in Yemen that has killed thousands of civilians.
Secretary of State Michael R. Pompeo signed an emergency order on May 24 that authorized 22 sales to Saudi Arabia, the United Arab Emirates and Jordan.
The materiel includes Patriot air defense systems, Javelin guided missiles, surveillance aircraft and precision-guided munitions.
By declaring an emergency, the administration avoided what is usually a 30-day congressional review for weapons sales. Several lawmakers warned of a dangerous precedent in President Trump's use of executive power.
A joint resolution making its way through the House aims to block the sale by denying export licenses. Next week, the Senate plans to consider 22 joint resolutions — one for each sale — designed to prevent the transaction.
Trump, who views strong relations with Riyadh as a priority, is expected to veto, or ignore, any resolution that is passed.
This year, Congress passed a bipartisan resolution to withdraw the United States from the Saudi-led coalition fighting in Yemen. Trump issued a veto, and the resolution's congressional supporters did not have the votes to override the veto.
"I'm angry because, once again, the administration wants to cut Congress out of the picture," Rep. Eliot L. Engel of New York, the Democratic chair of the House committee, said Wednesday. "Again, there is no emergency. It's phony. It's made up. And it's an abuse of the law."
Republicans agreed, though in softer terms.
"This rarely used emergency authority ... in my judgment was unfortunate," Rep. Michael McCaul of Texas, the ranking Republican on the committee, told Cooper.
Engel and other committee members decried the Saudi use of U.S. weapons in Yemen, where coalition airstrikes have hit hospitals and contributed to what the United Nations calls the worst humanitarian crisis in the world.
But Cooper said the administration was determined to support Mideast allies opposed to Iran.
"These sales and the associated emergency certification are intended to address the military need of our partners in the face of an urgent regional threat posed by Iran," Cooper testified.
They are also intended to prevent Russia, China and other potential arms suppliers from stepping deeper into the Middle East, he said.
Cooper said the U.S. weapons will allow the Saudi-led coalition in Yemen to launch more precise airstrikes and avoid hitting civilians, a claim U.S. officials have repeatedly made in the past.
"Holding a partner, any partner, accountable doesn't preclude us from working with the partner," Cooper said.
Several lawmakers also cited the slaying last year in a Saudi Consulate of U.S.-based journalist Jamal Khashoggi as further reason to deny new U.S. weapons to the Saudis.
Although U.S. intelligence services concluded that the kingdom's de facto ruler, Crown Prince Mohammad bin Salman, probably ordered the gruesome killing, Trump and Pompeo have refused to criticize him.
"While I understand that Saudi Arabia is a strategic ally, the behavior of Mohammed bin Salman cannot be ignored," Sen. Lindsey Graham (R-S.C.), usually a reliable Trump ally, said last week when he and Sen. Robert Menendez (D-N.J.) introduced the 22 Joint Resolutions of Disapproval.
"Now is not the time to do business as usual with Saudi Arabia," Graham said.
In Wednesday's hearing, several lawmakers complained that Pompeo gave Congress closed-door briefings on the Middle East three days before he made the emergency declaration. They said he did not disclose new threats from Iran, raising questions of whether the emergency was real.
Cooper also did not disclose new information about Iran, but noted that Houthi rebels in Yemen had fired rockets at a civilian airport in southern Saudi Arabia on Monday.
The Houthi rebels, who are backed by Iran, have fought for more than four years to oust Yemen's internationally recognized government, which is supported militarily by the Saudi-led coalition.
A tenuous peace agreement for a critical section of Yemen has quieted fighting there and may allow humanitarian aid to reach population, the U.N. said Wednesday.
---
Must-read stories from the L.A. Times
Get all the day's most vital news with our Today's Headlines newsletter, sent every weekday morning.
You may occasionally receive promotional content from the Los Angeles Times.