At a Jehovah's Witness hall, congregants remember Prince as 'Brother Nelson'
Reporting from Minnetonka, Minn. —
This may have been the plainest room Prince spent time in as an adult.
Auditorium A in the Kingdom Hall of the St. Louis Park Congregation of Jehovah's Witnesses doesn't have a dance club or a recording studio. The Jehovah's Witnesses who meet in this small complex outside Minneapolis don't even have any musical instruments except for a piano hidden in a closet that no one uses. The walls are various shades of beige. Nothing shines, and nothing is purple. Nothing about it says "Prince."
That's because in Auditorium A, Prince Rogers Nelson was not known as Prince, the music megastar, but as Brother Nelson, the Jehovah's Witness. Here, one of America's greatest sex symbols didn't arrive in spandex and stilettos but in conservative suits and ties. He was often hard to spot among the congregation of dozens unless you were looking right at him. And that wasn't the only way he blended in.
Over the final decade of his life, Prince worshiped here because he was a fellow believer in the Jehovah's Witness tenets: that Jesus was a savior but was lesser to God, that these are the final days of civilization, that the dead will be resurrected, and that the world will live under a global government lead by Jehovah, a Hebrew name for God. Among the St. Louis Park congregation, Prince wasn't a celebrity but an equal in faith.
"He was accepted as our brother," said congregant Josephine Parker, 74, on Sunday as the congregation gathered for its first meeting since Prince's death. "He wasn't treated as maybe the world would treat him."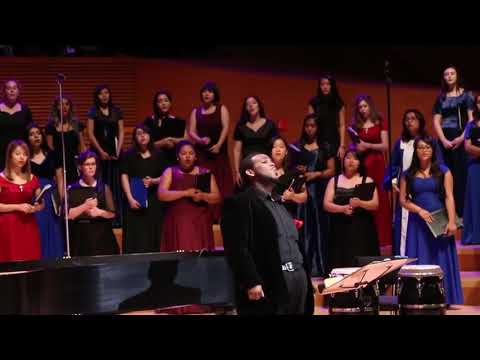 Hundreds of students, participating in the 27th annual High School Choir Festival at Disney Concert Hall in downtown Los Angeles, honor Prince with a rendition of "Purple Rain."
Parker fondly remembered Prince as a gentle soul and a "mild spirit," and his death last week at age 57 broke her heart. But, Parker said, "I look forward to the time we can welcome him back on the Earth."
Prince was one of America's most notoriously private celebrities, and few facts about his life were more beguiling than his conversion in 2001 to Jehovah's Witnesses, a faith not recognized as Christian by Catholics and Protestants largely because Jehovah's Witnesses don't believe in the Holy Trinity.
Jehovah's Witnesses call themselves Christians, and they admire Jesus, but they don't venerate the cross and don't celebrate Christmas or Easter — or birthdays. They don't gather in churches but in Kingdom Halls. They avoid political involvement and refuse to fight in wars.
Over the last week, some fans and acquaintances have wondered whether Prince's religious beliefs may have even contributed to his death, because Jehovah's Witnesses don't believe in taking blood transfusions for scriptural reasons. They do accept other medical treatments, however, and officials and people close to Prince have not released enough information about the singer's health to substantiate any of those suspicions.
Prince, who was raised as a Seventh-day Adventist, was converted — or at least helped along — by Larry Graham, the former bass player for Sly and the Family Stone.
"I don't see it really as a conversion," Prince told the New Yorker magazine in 2008. "More, you know, it's a realization. It's like Morpheus and Neo in 'The Matrix.'"
Prince embraced the faith and even proselytized his neighbors around his Paisley Park estate in the Minneapolis suburbs, who were sometimes shocked to find the star on their doorsteps.
On the afternoon of Yom Kippur in 2003, a Jewish couple in Eden Prairie opened their door to discover the 5-foot-2 singer standing in front of them. Even though a Vikings football game was on, they invited him in.
"My first thought is, 'Cool, cool, cool. He wants to use my house as a set. I'm glad! Demolish the whole thing! Start over!'" a woman who only gave her name as Rochelle told the Minneapolis Star Tribune.
But Prince was there to proselytize them to become Jehovah's Witnesses. "I said, 'You know what? You've walked into a Jewish household, and this is not something I'm interested in,'" Rochelle told the newspaper.
Prince reportedly replied to her, "Can I finish?" He stayed for 25 minutes and left a pamphlet.
Prince's adherence to the particularly conservative faith — which opposes same-sex marriage and premarital sex — also seemed paradoxical given his history as a gender-bending sex icon.
When asked about his views on same-sex marriage and abortion in 2008, Prince tapped his Bible and told the New Yorker, "God came to earth and saw people sticking it wherever and doing it with whatever, and he just cleared it all out. He was, like, 'Enough.'"
No contradiction seemed to exist for the Jehovah's Witnesses at the Kingdom Hall in Minnetonka on Sunday. Steve Smedberg, 63, said in an interview, "He believed the same thing the rest of us believed. I guess he was willing to let the Bible be his authority."
And in Auditorium A, Prince also seemed to have found a space in America where he might not be treated as some kind of deity. He arrived and left without fanfare at the group's gatherings, which are called "meetings." He contributed to discussion but never put himself at the center of attention. He never performed for the congregation, but he sang along with the prerecorded religious hymns like everyone else.
"Jehovah's Witnesses want to be average, normal people. That's my goal in life, to be normal," Smedberg said. "He seemed to want to be a normal person."
The Los Angeles County Museum of Art made it rain purple in honor of Prince on Friday.
(Barbara Davidson / Los Angeles Times)
Dancing in Leimert Park.
(Barbara Davidson / Los Angeles Times)
The 35W bridge lit in purple to commemorate the life of Prince on in Minneapolis, MN.
(Stephen Maturen / Getty Images)
Julya Baer honors Prince in Leimert Park, where fans laughed, cried and danced in remembrance of the music legend.
(Barbara Davidson / Los Angeles Times)
An impromptu block party held outside First Avenue nightclub in Minneapolis, MN.
(Stephen Maturen / Getty Images)
People dance during a candle light vigil in remembrance of Prince outside the Warner Theatre in Washington, DC.
(ANDREW CABALLERO-REYNOLDS / AFP/Getty Images)
The Superdome in New Orleans is lit purple to honor Prince.
(Gerald Herbert / Associated Press)
The High Roller at The LINQ Promenade on the Las Vegas Strip is lit with purple lights in memory Prince.
(Ethan Miller / Getty Images)
The Melbourne Arts Centre spire is lit in purple to honor Prince in Melbourne, Australia.
(JULIAN SMITH / EPA)
Los Angeles City Hall is decorated with purple lights in memory of Prince.
(Robert Lachman / Los Angeles Times)
A home, and a fan, in Long Beach.
(Rick Loomis / Los Angeles Times)
A gathering in Leimert Park.
(Barbara Davidson / Los Angeles Times)
Tori Trikki Dozier, right, and Loretta Thomas at Leimert Park.
(Barbara Davidson / Los Angeles Times)
Overcome with grief while listening to "Purple Rain."
(Barbara Davidson / Los Angeles Times)
A wall outside the First Avenue nightclub in Minneapolis.
(Stephen Maturen / Getty Images)
Timettra Wellington, left, of Long Beach and LaWanda Butler of San Bernardino get emotional while talking about Prince in Leimert Park.
(Barbara Davidson / Los Angeles Times)
Michael Hampton honors Prince in front of the Fox Theatre in Atlanta.
(Ben Gray / Atlanta Journal-Constitution)
Prince's star outside the Warner Theatre in the nation's capital.
(Andrew Callero-Reynolds / AFP-Getty Images)
People gather outside the Apollo Theater in New York.
(Don Emmert / AFP-Getty Images)
A mural in the lobby of the Grammy Museum in Los Angeles.
(Kevork Djansezian / Getty Images)
The Hard Rock Cafe in New York.
(Jewel Samad / AFP-Getty Images)
Anna Barry, who holds the title of "regular pioneer" in the congregation, remembered when Prince began arriving for worship meetings in the 2000s and participating in the study sessions where congregants discuss Scripture together.
When discussing the importance of spiritual harmony during one of his early meetings, Prince remarked to the congregation that "if you were in a band and one of the instruments was out of tune, you'd stick out like a sore thumb," Barry recalled.
When Barry complimented Prince for his contribution after the meeting, Prince responded, "Thank you, Sister Barry," and she was impressed he had learned her name.
"He felt like it was a safe place here," Barry said.
Prince often vanished from the congregation for long periods, apparently while he was traveling, and his fellow congregants didn't seem to begrudge him, acknowledging the effect his musical gifts had on the broader world. They also said he apparently visited other Kingdom Halls when he was on the road.
The last time Prince was seen in Auditorium A was on the evening of March 23 for an annual memorial held to mark Jesus' death. Prince was wearing a suit and tie and had his Bible and songbook like everyone else, but he looked "pale and tired," said Brian Steffen, a 69-year-old ministerial servant, the title given to selected men who undertake various operational duties in a Kingdom Hall.
Eighty-two congregants, plus a few journalists, attended Sunday's meeting after Prince's death, where the primary topic of discussion was forgiveness and love. The group sang prerecorded songs with titles including "Loyally Submitting to Theocratic Order." They also took turns reading from and discussing "The Watchtower," the faith's official magazine.
Although Prince's death had sent shock waves around the world, he was only briefly mentioned once at a gathering of people who actually knew him.
"Our brother, Prince Rogers Nelson, fell asleep in death last Thursday," said an elder, Sean Barry. And that was it.
He was just another faithful congregant, said Karla Mack, 54. "If he was here, he would be talking to you about the Bible and talking about Jehovah."
But after the gathering broke up, Steffen, the ministerial servant, acknowledged the loss.
"I knew he was a genius at what he did," Steffen said. "One time somebody came up to me after a meeting and said, 'Brian, now you can say you sang with Prince.'"
Follow @mattdpearce for the latest national news.
ALSO
Value of Prince's $300-million estate is expected to soar in coming years
How Coachella pulled off the Guns N' Roses reunion
Review: Fierce Beyonce has a warning for a cheating spouse, then turns bitterness into 'Lemonade'
Sign up for Essential California for news, features and recommendations from the L.A. Times and beyond in your inbox six days a week.
You may occasionally receive promotional content from the Los Angeles Times.