Four months after Hurricane Maria, Puerto Rico struggles with lack of electricity, food and water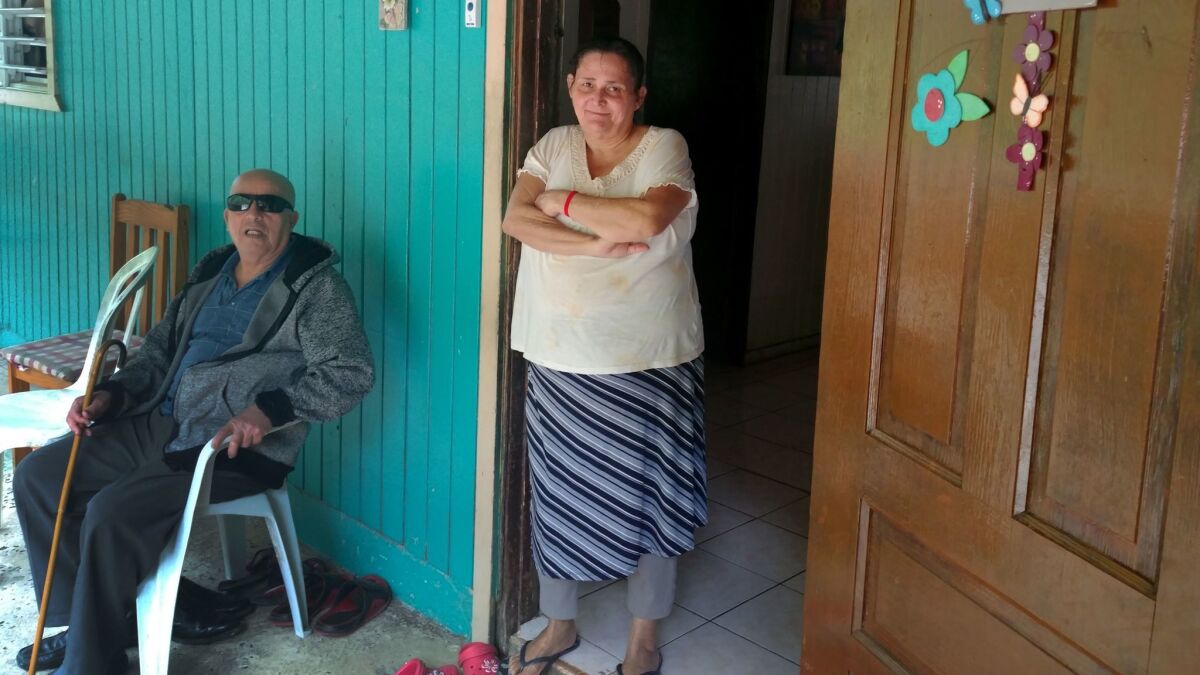 Reporting from Maricao, Puerto Rico —
It's been more than four months since Hurricane Maria devastated Puerto Rico, packing winds that flattened thousands of homes, killed scores of people and severely damaged the island's infrastructure.
Though criticized for what some island residents said was a slow, inadequate response, the Federal Emergency Management Agency has distributed mass quantities of food, water and other basic supplies that have contributed to helping many residents try to restore their lives.
But concerns have emerged recently about whether FEMA will soon end or scale back its aid to Puerto Rico, a territory where residents are U.S. citizens at birth, at a time when many residents continue to live without electricity and struggle to obtain food and water.
Federal officials said Tuesday that the agency had no intention of abandoning Puerto Rico and that food and water would continue to be distributed, but only to communities that have "an identified need" for such goods as they await the full return of normal services from local supermarkets, restaurants, banks and other entities.
"It's part of the natural transition from the immediate response to the longer-term recovery effort as power and water continues to be restored," said William Booher, FEMA's public affairs director. "As we progress into the recovery, the need is lessened across the island."
Booher said it was crucial for the government to find the balance between providing commodities in large quantities across the island and supporting the restoration of the local economy that sells the commodities, without competing with it.
"We're not cutting off aid to Puerto Rico," he said. "As long as there is a need identified, we will continue to work with the government of Puerto Rico and the local municipalities to support those needs."
Booher said FEMA supplies would be provided through volunteer agencies and other private, nonprofit organizations, such the Red Cross, Salvation Army and community churches.
The agency has provisions including more than 46 million liters of water, 2 million ready-to-eat meals and 2 million snack packs available for distribution in Puerto Rico if needed.
"A reduced reliance on FEMA for food and water is a key indicator of recovery progress," the agency said in a statement.
What has FEMA doneSept. 20?
After Hurricane Maria, FEMA collaborated with the island's government to establish nine staging areas for distributing supplies such as food and water to Puerto Rico's 78 mayors, the agency said.
Since the storm made landfall in Puerto Rico on Sept. 20, FEMA has distributed more than 65 million liters of bottled water costing more than $361 million and at least 58 million meals and snacks worth $1.6 billion.
The agency has also pointed to key infrastructure improvements as a sign that Puerto Rico was getting back on track. According to the latest U.S. government data, electricity has been restored to 65.4% of the island, 86% of residents have potable water, 96% of the island has cellphone service, 84.3% of gas stations are operating, and at least 23,455 blue roofs, which FEMA describes as "a temporary covering of blue plastic sheeting to help reduce further damage to property until permanent repairs can be made," have been installed.
More than $259 million has been provided in financial assistance to cover the cost of repairing and rebuilding homes and renting accommodation, according to FEMA.
Hector M. Pesquera, a Puerto Rican government official, said in a statement that "over the past few months, conditions in most areas have improved and many economic indicators are showing that recovery is underway."
Day-to-day conditions
The official death toll as a result of Hurricane Maria was put at 64, but an analysis by academic researchers found the figure could be more than 1,000. In December, Puerto Rico's governor ordered authorities to review all deaths.
Many residents still struggle to find clean water. Medical care remains scarce as many hospitals limp toward becoming fully operational.
The destruction of schools left thousands of students without computers, books and desks. Many storm survivors who lost everything they owned are having difficulty navigating the process to apply for assistance and file claims with FEMA, humanitarian aid agencies said.
Nelson Rosado Jr. was at his parents' home in the mountainous town of Maricao, in western Puerto Rico, on Tuesday trying to make sure his father and mother had as much food, water and medicine as possible.
Rosado's father, Nelson Rosado, 69, who is losing his hearing and sight, depends on his wife, Rebeca Valle, 60, for many of his needs. Neither of them drive.
Rebeca and Nelson rely on their children to take them more than an hour away to the nearest supermarkets in Lares, Mayaguez or Sabana Grande. The task has become even more treacherous since Hurricane Maria battered roads and power lines.
After the hurricane hit, the couple tried living with Nelson Rosado Jr., 42, and his family in Milwaukee, but they could not adapt to the cold or being away from home, so they returned to the island this month. They had relied on sources including FEMA for food and water and hope that the agency will help them again.
"They should continue bringing provisions," the younger Rosado said about FEMA. "For the people who live [in rural areas], it is much more difficult."
Nearby, Hector Torres, who lives on the border between the towns of Las Marias and Maricao, said many families rely on a FEMA distribution center in Las Marias for food and potable water.
Like others in his community, the 36-year-old nurse said he has gone to the center to pick up provisions such as bottles of water and snacks, including granola bars, apple sauce and candy bars.
He has not had electricity at his home since the hurricane hit. Help with water remains vital, he said, as some neighborhoods depend on electricity to power their water pumps.
In Las Marias, Jucino Morales stood in front of his home waiting for the crews responsible for restoring power in his neighborhood to make it to his street. He had learned from a passerby that the workers were near and he did not want to miss them.
"Things must come back to normal at some point," said Morales, 65.
Another driver stopped to say hello and asked whether Morales had his electricity back.
"Soon," Morales replied.
Times staff writer Simmons reported from Los Angeles and special correspondent Galarza from Maricao, Puerto Rico.
Follow Simmons @AMSimmons1 on Twitter
Must-read stories from the L.A. Times
Get the day's top news with our Today's Headlines newsletter, sent every weekday morning.
You may occasionally receive promotional content from the Los Angeles Times.