Southern Poverty Law Center picks former Michelle Obama aide to investigate workplace complaints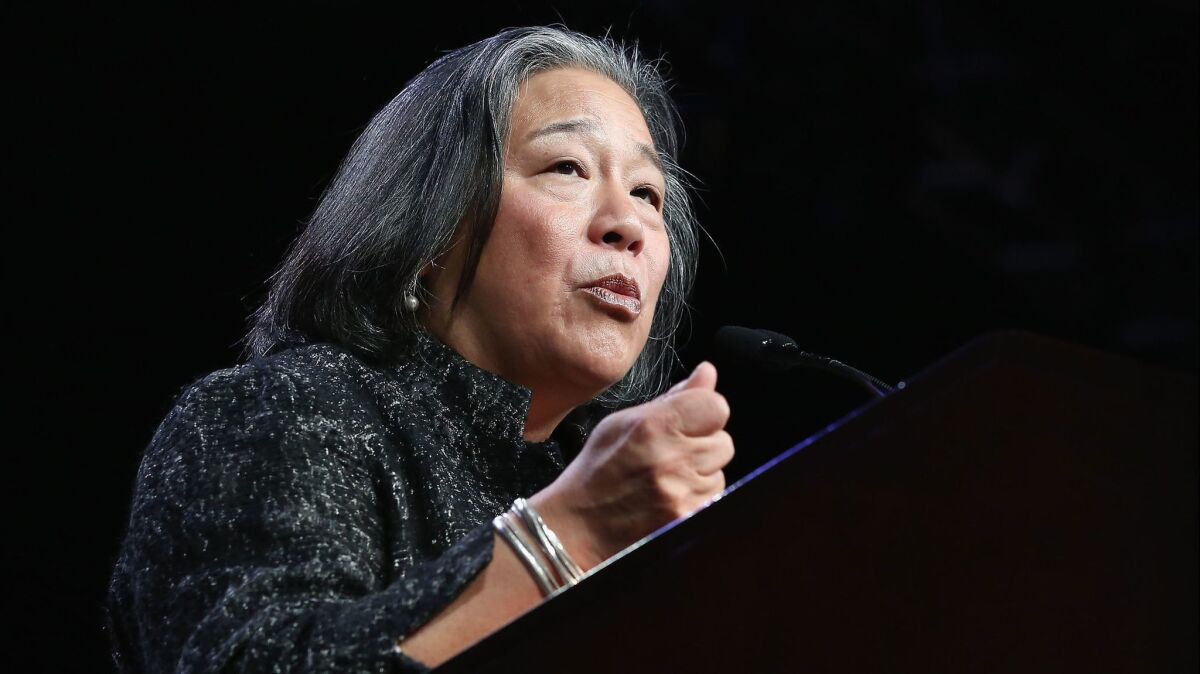 The Southern Poverty Law Center has tapped Michelle Obama's former chief of staff to lead a "top-to-bottom" examination of its workplace culture, less than a week after the anti-hate nonprofit fired co-founder Morris Dees for misconduct and its staff complained of discrimination against women and people of color.
Tina Tchen, who joined the Buckley LLP law firm after serving in the White House, will lead a review that reports to the Southern Poverty Law Center's board of directors, the nonprofit announced Monday.
The left-leaning Montgomery, Ala., organization, which tracks extremist groups across the U.S., is scrambling on two fronts to address employee unrest over working conditions, while also patching the hole left by Dees, whose firing last Thursday for undisclosed misconduct caught many staff members by surprise and delighted some of the center's far-right adversaries.
"The events of the last week have been an eye-opening reminder that the walk towards justice must sometimes start at your own front door and force you to look at your past so you can improve your future," Bryan Fair, chairman of the board of the Southern Poverty Law Center, sent in a message to staff on Monday.
Tchen will "hold a mirror" up to the organization and its leaders, Fair wrote: "No one's actions, no matter that person's position at the SPLC, including those of us on the board, will be exempt from scrutiny and accountability."
Southern Poverty Law Center fires co-founder Morris Dees amid employee uproar »
Tchen most recently chaired the Recording Academy's task force on inclusion and diversity, which was launched after the 2018 Grammy Awards, when the Academy's president and CEO said women needed to "step up" to achieve more representation in the music industry. Last month, Tchen's task force proposed a series of reforms designed to bring more female producers and engineers into consideration for work.
Tchen, who co-founded the Time's Up Legal Defense Fund to support women experiencing harassment at work, told The Times in an interview Monday that her scrutiny of the Southern Poverty Law Center would go beyond Dees, who has denied wrongdoing.
"Culture in an organization the size of SPLC isn't really about one person, even as dynamic as Morris Dees," Tchen said. She added that allegations of discrimination in "mission-driven" organizations, which suffer from the same problems they purport to fight, can be especially painful.
The leadership of the center is predominantly white, and after one of the center's black attorneys announced her resignation earlier this month — writing in a message to staff that there was "more work to do" to make women and people of color feel welcome — a group of staffers shared additional concerns with management in a letter.
"SPLC's integrity is on the line," the group wrote, adding that internal "allegations of mistreatment, sexual harassment, gender discrimination, and racism threaten the moral authority of this organization and our integrity along with it."
The Southern Poverty Law Center's leaders promised to take steps addressing their employees' concerns over inclusion, which includes Tchen's hiring.
"I am honored to be asked by SPLC to do this work," Tchen said. "I have admired it from afar for many years. It's an important civil justice institution in our country."
She added that she wanted to "continue to build it as a workplace everyone can be proud of."
---
Must-read stories from the L.A. Times
Get the day's top news with our Today's Headlines newsletter, sent every weekday morning.
You may occasionally receive promotional content from the Los Angeles Times.