A Honduran father reunited with his child says he 'never lost hope' he would see him again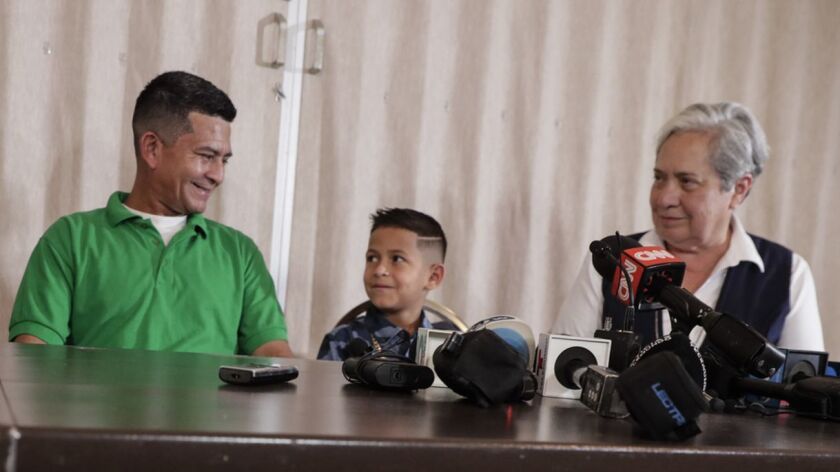 Reporting from SAN JUAN, TEXAS —
As the days stretched into weeks, and the weeks gave way to months, Omar Marino Dominguez Mejia tried not to lose faith that someday he and his son would be reunited.
"I never lost hope that sooner or later I would be with my son again," he said.
Their reunion came this week, as federal authorities raced to meet a court-imposed Thursday deadline to reunite more than 2,500 children separated from their parents after crossing the U.S.-Mexico border illegally. The parents and children were separated as a result of the Trump administration's "zero tolerance" immigration policy.
Dominguez and his 8-year-old son, Arin, on Thursday recounted their reunion a day earlier and their tortuous journey to the United States. Dominguez, 46, and Arin had fled Honduras and arrived at a border bridge in south Texas about three months ago. That's when father and son were separated.
"I presented myself to immigration seeking protection to save my life and that of my son because we were always running, trying to find a safe place," Dominguez said.
Dominguez was held at a detention center in Texas while Arin was sent to live with a foster family in New York.
On Wednesday, they were reunited and taken to the Basilica of Our Lady of San Juan del Valle, a massive shrine Catholic Charities has converted into a shelter for about 300 immigrants a day in San Juan. It's so crowded, some immigrants sleep on mats in conference rooms, hugging newly returned children. Volunteers from neighboring parishes bring meals — on Wednesday, Dominguez and his son had hamburgers.
At a news conference Thursday at the basilica, Arin and his father were joined by the Rev. Jorge Gomez, rector of the basilica, and Sister Norma Pimentel, who has been coordinating relief efforts for Catholic Charities.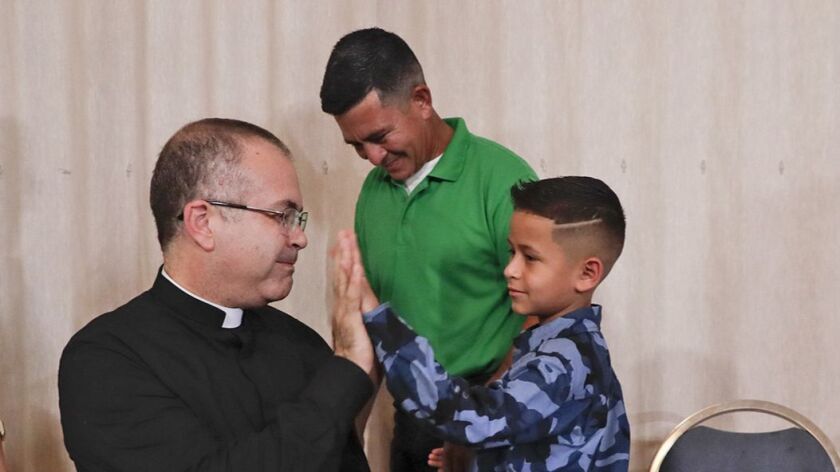 Arin said he was treated well by his foster family. In May, he celebrated his 8th birthday with them, and he showed off a gold chain they had given him as a gift. When they learned he would be returning to Texas, he said, his foster mother cried and offered to host him and his father. On Thursday, he chatted with his mother back in Honduras via WhatsApp as she cooked.
The separation appeared to have been harder on Dominguez, who recalled in detail having his son taken away from him.
"We always went together. Being separated from my son was very hard; it hurt a lot. He had never been separated from me. When they told me they would take him, that I would be deported and he would be kept there, I felt like I couldn't live without him," he said.
In that moment, Dominguez said, he was overcome with sadness.
"I couldn't breathe," he said.
But, he added, he never lost hope and clung to that.
Father and son now plan to travel to Kentucky, where Dominguez said he hoped to find work to support his wife and six children back in Honduras. "There's lots of hope and opportunities there," he said.
molly.hennessy-fiske@latimes.com
---
Must-read stories from the L.A. Times
Get all the day's most vital news with our Today's Headlines newsletter, sent every weekday morning.
You may occasionally receive promotional content from the Los Angeles Times.