Hundreds of children remain separated from migrant parents as deadline looms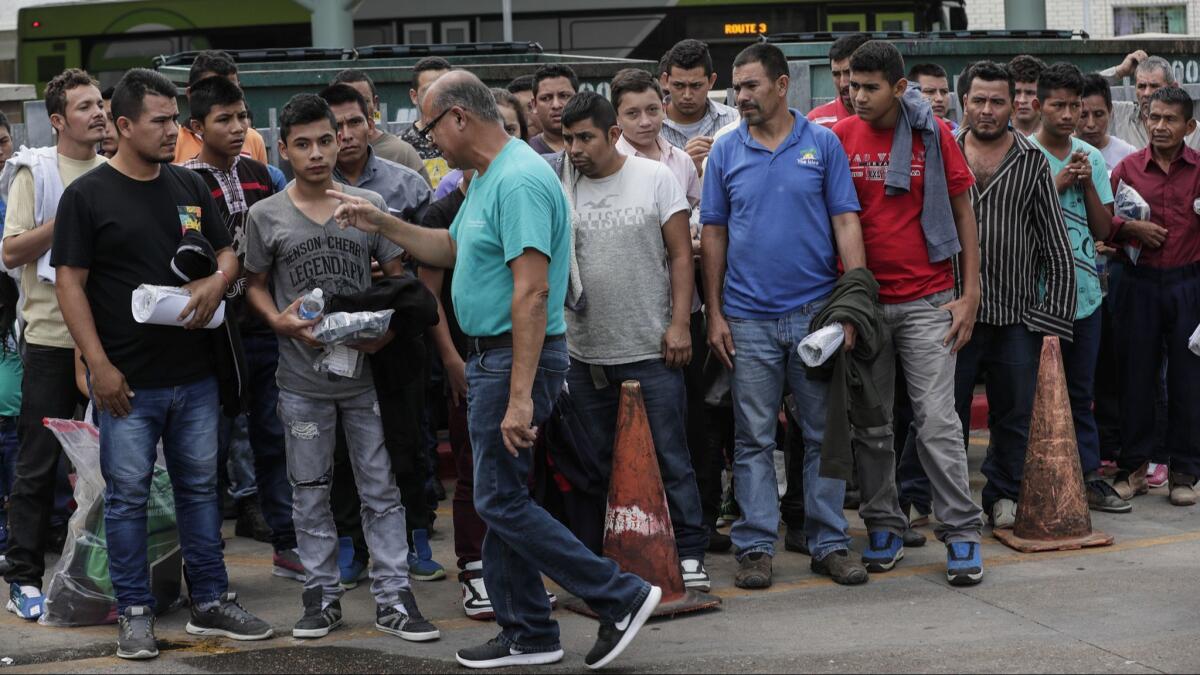 With just hours left on a court-imposed deadline to reunify migrant families who were separated after crossing the U.S.-Mexico border, government officials on Thursday said they had reunited 1,442 children with their parents.
An additional 378 children had been released to sponsors, were reunited with their parents in other ways or have turned 18, according to a report filed in court Thursday afternoon.
Under an order issued by U.S. District Judge Dana Sabraw in San Diego, Thursday is the deadline for reuniting the more than 2,500 children who were taken from parents.
Government officials say they have worked diligently to meet the deadline, but officials have also deemed hundreds of families ineligible for reunification by the deadline — including hundreds of parents who may have already been deported without their children.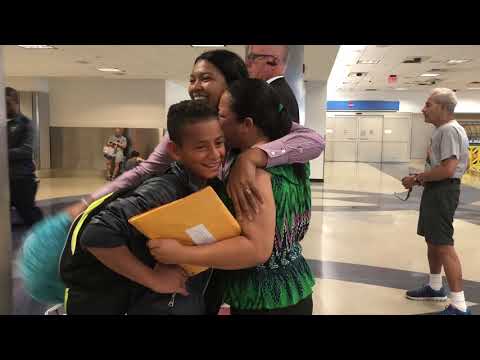 Mother Merin Cardoza Cardona is reunited on Thursday, July 26, 2018 with her children Yensi Cardona Cardoza, 17 and Edwin Cardona Cardoza, 11. 
In its filing Thursday, government officials said 711 families were ineligible for reunification; that includes 431 children whose parents have been deported.
An additional 120 children had parents who waived reunification, according to the government's report.
In court documents filed by the ACLU on Wednesday, parents who waived reunification described signing forms they did not understand because of language and literacy barriers.
Many of these parents "in fact do want their children back and did not remotely understand their rights," the ACLU said in its filing.
As families were reunited nationwide, Merin Cardoza Cardona, an immigrant from Honduras, went to Los Angeles International Airport on Thursday morning to see her children for the first time in two months.
When Yensi, 17, and Edwin, 11, appeared down a long hallway amid a stream of travelers, the mother gasped and ran to throw her arms around her children.
"It is the greatest joy to see them again," said Cardoza Cardona, who plans to seek asylum in coming months. She was detained in Texas while her children were held in a shelter in Miami.
Their reunification is among a few that has taken place in Los Angeles in recent weeks as the government worked to meet at the court-ordered reunification deadline.
Many of the estimated 3,000 detained families are expected to arrive in coming days to Los Angeles, home to a vast Central American population.
Already, lead aid groups had begun to receive notice of incoming arrivals.
At the downtown office of Immigrant Defenders Law Center, referrals began pouring in by phone and email two weeks ago. So far they've heard of 35 families that were recently reunited in Texas and are headed to Los Angeles.
Most of them are immigrants from El Salvador and Guatemala, coming by bus or plane from El Paso.
"We've been building our capacity to receive these families," said Lindsay Toczylowski, executive director of the law center. "We want to make sure that all those families who mean to come to L.A. are able to make it here and that they don't end up in family detention."
Aside from legal assistance, the law group has a case manager on staff to connect families to services.
This month, county and city officials began holding a series of meetings with nearly 40 agencies to work out a game plan for receiving reunited families. Their aim is to connect parents and children to services such as housing, school enrollment and trauma counseling.
"When children are separated from their mothers and fathers, those families have needs, including financial and legal assistance, guidance navigating city and county services, and mental health support for their emotional well-being," said Andrea Garcia, spokeswoman for Mayor Eric Garcetti.
On Thursday, Cardoza Cardona and her children planned to move out of a friend's house in the Inland Empire to stay with another friend for a few days.
"The house is small and the landlord doesn't want us here," she said.
That morning, a volunteer group of mothers known as Immigrant Families Together California Chapter helped her with a ride to the airport to bring her children home. The group formed a month ago to raise money to bail parents out of jail and buy plane tickets home.
"I'm grateful to everyone," Cardoza Cardona said. "I don't know where we're going to live or what's next, but we're together now. I have faith that God will help us."
---
UPDATES:
4:11 p.m.: Updated with scene from LAX.
Sign up for Essential California for news, features and recommendations from the L.A. Times and beyond in your inbox six days a week.
You may occasionally receive promotional content from the Los Angeles Times.