As Las Vegas grieves, the slot machines keep beeping and the shows go on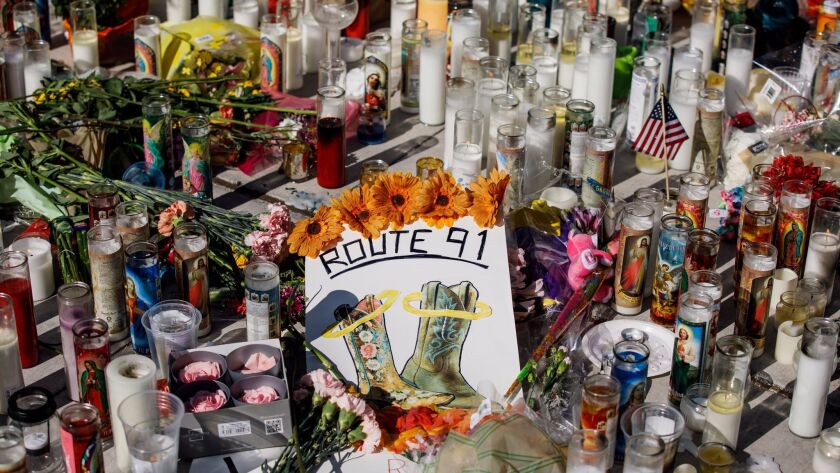 Reporting from LAS VEGAS —
The electronic billboard at the MGM Grand on the Las Vegas Strip flashed a somber message:
"For help locating missing or injured loved ones contact Las Vegas Metro Police 1-800-536-9488."
Beside that announcement loomed an advertisement for illusionist David Copperfield. "Alter your reality," it reads.
Las Vegas is a city in mourning, but Vegas being Vegas, sorrow takes a seat beside glamour. This desert playground is now a city of contrasts, where the cacophony of slot machines still echoes in the casinos even as people come to claim the dead. The Strip was uncharacteristically quiet — save for the screams coming from the roller coaster at New York-New York Hotel & Casino.
At a prayer vigil at City Hall the night before, Nevada state Sen. Aaron Ford (D-Las Vegas) said he saw lines of people, stretching around the block, waiting to donate blood. At one packed site, a spot was set aside for Lyft and Uber drop-offs to accommodate so many donors.
"Our city of lights, in our hour of darkness, still shines," Ford said.
For most of the day Tuesday, a stretch of the famous Las Vegas Boulevard had remained closed two days after Stephen Paddock opened fire on the Route 91 Harvest Festival from his room on the 32nd floor in the Mandalay Bay hotel across the street, killing 59 people and injured more than 500.
At Reno Avenue and Las Vegas Boulevard, next to the concert grounds, the world's media had set up shop. So many television cameras lined the sidewalk that it was impassable.
Chaplains stood on the pedestrian bridge between the Tropicana and Excalibur hotels, where people speaking different languages posed for selfies with the faux New York skyline behind them and snapped photos of the broken windows on the 32nd floor of Mandalay Bay.
One woman stopped her husband as they walked across the bridge, turning toward the hotel's gold tower.
"Oh," she said. "That's what I should take a picture of."
Gail Ferguson, 60, flew to Las Vegas from Orting, Wash., late Monday to be with her 33-year-old son, who was wounded in the leg in the shooting.
On Tuesday, Ferguson and her husband called MGM, which put them up in the Bellagio. Inside the cavernous hotel lobby were throngs of tourists.
"I said, 'This is too much for me,'" she recalled. "I'm staring at people, going, 'They are all so happy.'"
The Bellagio provided Ferguson and her husband a limousine to chauffeur them to and from the hospital. It was appreciated but didn't offer relief.
"This is a place where you come and forget about your life and have fun," she said. "This isn't fun."
Daniel Snell, whose daughter was shot in the thigh and suffered a fractured femur, left Sunrise Hospital late Monday and returned to the South Point Hotel, Casino & Spa. Snell, 58, of Laguna Niguel, was struck by the abrupt change in environment from hospital to casino. At South Point, everyone was drinking and gambling. The scene left him numb.
"I didn't feel anything," he said. "People can't feel my pain, or anybody else's pain."
Snell's daughter — who attended the festival with three friends, one of whom was shot in the back — underwent surgery Monday afternoon and was expected to be discharged in a few days.
Jostling between the sober hospital and the boozy casino, Snell said, he realized "life has to go on."
And yet, Las Vegas residents overwhelmingly want to help out. So many donations of food and water and clothing have poured in that they are being rerouted. Billboards throughout the city urge you to pray for Las Vegas.
In an interview, Mayor Carolyn Goodman said that although Las Vegas is devastated by the loss of life, it is "pulling together because we're trying to build a world-class city." She didn't mince words about the shooter: "His soul should rot in hell."
Goodman was not surprised that tourists were still filling the casinos. "We're a No. 1 convention center for 24 years in a row," she said. "There's great pride here. Everyone's hearts and minds are so saddened by this."
On Tuesday afternoon, the Las Vegas Convention and Visitors Authority put out a news release saying the "resort community" would use their billboards to display a "message of strength and gratitude."
"We've been there for you during the good times. Thank you for being there for us now," the billboards would read.
A few miles north of the shooting site, outside the Las Vegas Festival Grounds, a memorial grew: candles, flowers, teddy bears.
Anthony Dominguez, 17, who has lived his whole life in Las Vegas, brought a white candle from home and a Station Casinos matchbook. Two friends of friends were killed in the shooting, the quiet teenager said.
On Monday, his sister had posted a video on Snapchat from the normally busy Fashion Show Mall, where she works. There were no customers.
David and Sarah Grunder, tourists from Switzerland, tied an American flag to a fence.
"We're thinking about all the victims," David said, on the verge of tears.
They were here for their honeymoon. Then they rushed away, trying to avoid the television cameras.
Twitter: @haileybranson
Twitter: @MattHjourno
Times staff writer Kate Mather contributed to this report.
ALSO
Las Vegas shooting victims: Portraits of the fallen
As initial shock fades, the Las Vegas massacre revives debate on gun control
When the bullets started flying on their wedding anniversary, he died protecting her
---
Must-read stories from the L.A. Times
Get the day's top news with our Today's Headlines newsletter, sent every weekday morning.
You may occasionally receive promotional content from the Los Angeles Times.