California's climate change law clears a big hurdle after lobbyists crank up pressure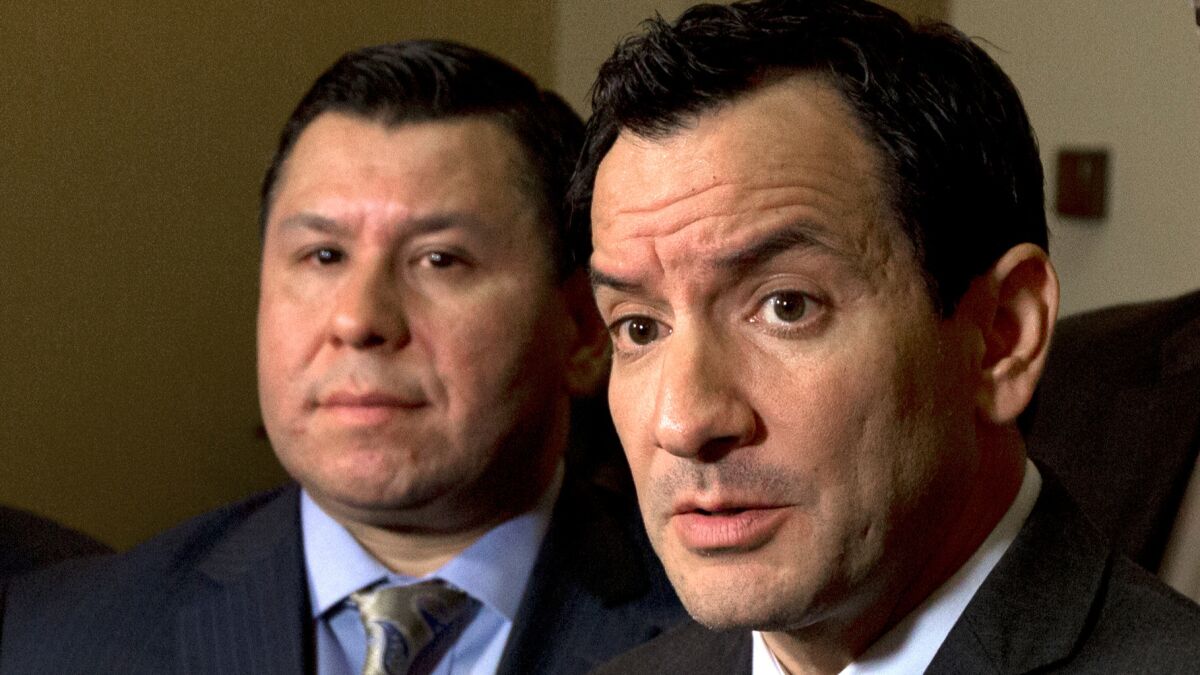 A controversial measure to extend California's target for reducing greenhouse gas emissions was approved by the Assembly on Tuesday, clearing a major hurdle in a battle at the Capitol over the future of the state's environmental programs.
White House officials and Gov. Jerry Brown cranked up the pressure on Assembly members to support the legislation, while oil industry lobbyists huddled with sympathetic lawmakers in an attempt to stall an effort that once seemed unlikely to gain traction this year.
The legislation would require slashing greenhouse gas emissions to 40% below 1990 levels by 2030, a tougher target than the current goal of hitting 1990 levels by 2020.
"When it's all said and done, this is a simple bill, but an extremely significant one," said Assemblyman Eduardo Garcia (D-Coachella), who introduced the measure on the floor. "It represents a new chapter of the state's climate policy."
The measure, Senate Bill 32, must receive a final vote in the Senate before it can go to Gov. Jerry Brown for his signature. It is the sequel to Assembly Bill 32, a landmark 2006 law that laid the groundwork for California's extensive array of environmental initiatives, including the cap-and-trade program, which provides a financial incentive to reduce emissions by forcing companies to buy permits to pollute.
"Today's action sends an unmistakable signal to investors of California's commitment to clean energy and clean air," said a statement from state Sen. Fran Pavley (D-Agoura Hills), who authored both measures.
The issue has been the subject of intense lobbying in Sacramento, especially after signals this month from Brown and some lawmakers that there may not be enough political support to pass the measure before the end of the legislative session Aug. 31.
After the vote, Brown issued a statement referencing Republican presidential nominee Donald Trump, who has called climate change a hoax, and thanking lawmakers for "rejecting the brazen deception of the oil lobby and their Trump-inspired allies who deny science and fight every reasonable effort to curb global warming."
Assemblyman Ken Cooley (D-Rancho Cordova), one of more than a dozen Assembly members who supported the legislation Tuesday after abstaining or voting against it last year, said he's confident lawmakers will have greater say over state regulations than they have in the past. White House officials reached out to Cooley and a few of his colleagues recently to talk to them about supporting the measure, he said.
"It just signals that clearly the White House views the leadership of California as an important part of a global conversation," he said. "It rose to the level where they were looking to reach out to members."
Democratic donor and environmentalist Tom Steyer was also in the Capitol during Tuesday's debate talking to lawmakers.
"You're dancing to the flute of a rich hedge fund billionaire who is running for governor," Assemblyman James Gallagher (R-Plumas Lake) told his colleagues who were supporting the legislation, a nod toward Steyer's rumored political ambition.
Here are the big issues California lawmakers are considering this month »
Steyer said it was only a coincidence that he was present Tuesday. Asked about Gallagher's comment, he said, "normally when I hear something like that, I think, wow those guys have run out of actual arguments and now they're trying to sling dirt."
Oil companies and manufacturers that opposed the legislation are now turning their attention to a related measure, Assembly Bill 197, which would increase legislative oversight of regulators and crack down on pollution from refineries and other sources.
If it's blocked, the new emissions reduction target from Senate Bill 32 won't take effect.
Despite some concerns from fellow Democrats, Assembly Speaker Anthony Rendon (D-Paramount) said his caucus would support Assembly Bill 197, which is scheduled for a hearing Wednesday morning.
"It's really about oversight, it's really about accountability," he said. "These are the types of things that we've been talking about as a caucus, as a Legislature, for some time."
Tuesday's vote came shortly after the latest report of revenues collected under cap and trade.
In the program, permits are traded on a market or sold in an auction. Although overall demand for permits increased, revenue is expected to be less than $10 million, even lower than the dismal results from the May auction.
Supporters have noted that revenue is not the best way to measure the success of a program intended to lower emissions, but the money has become an important part of the political conversation in the Legislature. Brown is counting on some of the money to help pay for the bullet train from Los Angeles to San Francisco, and lawmakers are working on plans to divvy up the rest among projects in their districts.
Rendon said he hopes approving new legislation this year will restore some confidence to the cap-and-trade market.
"We know that the last couple of auctions have been not what we wanted them to be," he said. "We're trying to let people know that we're dedicated to battling climate change in California and that what this program has done for the economy, it's going to continue to do so for quite some time."
However, the legislation would not address legal uncertainty stemming from a lawsuit over whether the existing cap-and-trade program has amounted to an unconstitutional tax. Eliminating that concern would require a two-thirds vote in each house of the Legislature, the threshold needed to approve taxes and fees.
Catherine Reheis-Boyd, president of the Western States Petroleum Assn., said in a statement that problems will only worsen because the measure advanced on Tuesday "fails to address fixes to cap-and-trade, which sends the wrong signals to the market."
The Brown administration has said more work will be necessary — possibly with a ballot measure in 2018 — to address the issue.
"Shoring up the cap-and-trade program — either through the Legislature or by the voters — will provide that certainty and will continue billions in funding for vital programs, especially in disadvantaged communities with the dirtiest air," said a statement from Nancy McFadden, a top aide to Brown.
chris.megerian@latimes.com; melanie.mason@latimes.com; liam.dillon@latimes.com
Twitter: @chrismegerian, @melmason, @dillonliam
ALSO:
A big question complicating the climate debate: Are current policies only benefiting the rich?
'An exercise in threading the needle': Lawmakers perform balancing act to move climate legislation forward
Updates on California politics
---
Must-read stories from the L.A. Times
Get the day's top news with our Today's Headlines newsletter, sent every weekday morning.
You may occasionally receive promotional content from the Los Angeles Times.