Now you can shower with your smartphone (You know you want to)
The Hoyo's creator says it can be used to protect your smartphone in the shower.
(Hoyo.com)
Drop your phone into the waterproof pouch for protection.
(Hoyo.com)
The Hoyo comes with a suction cap lid that you can attach to your shower wall. Result? You can shower while keeping an eye on headlines and your inbox.
(Hoyo.com)
The pouch keeps water out, but not sound. So you can take phone calls (might be a good idea to turn off the water before answering), or use it to catch up on TED talks.
(Hoyo.com)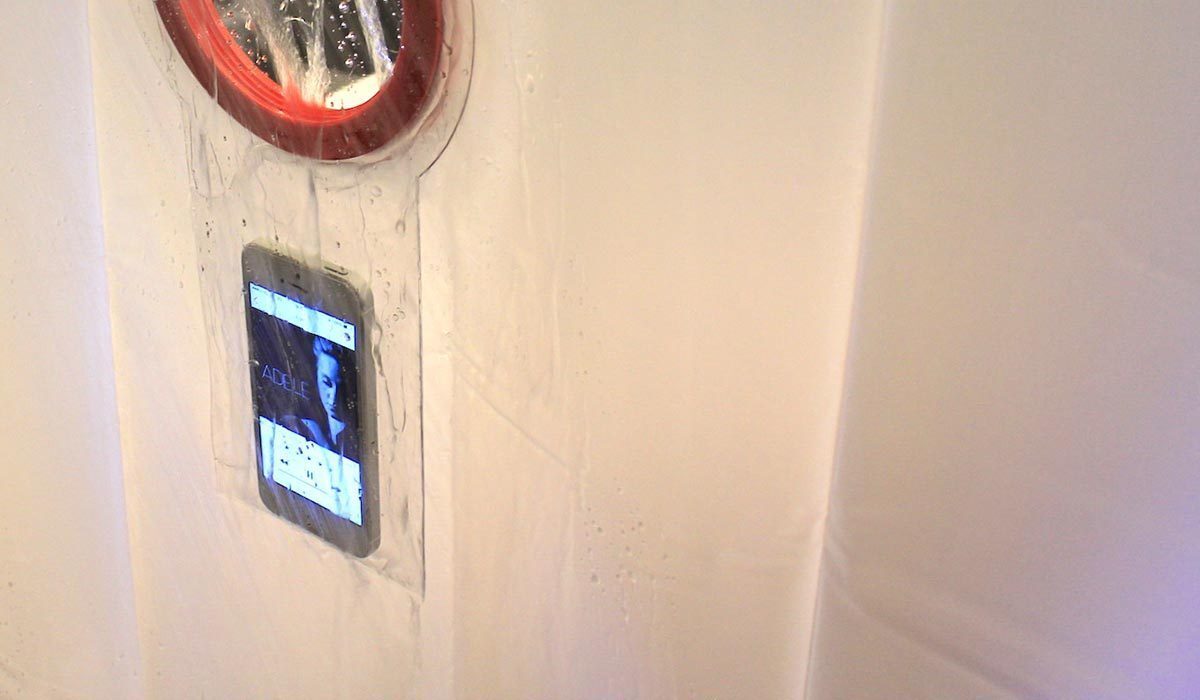 Your protected phone will allow you to listen to Adele. (Bonus: No one can hear you crying to "Someone Like You.")
(Hoyo.com)
And then you can transfer your protected phone to the bathroom mirror -- or, actually, anyplace you like.
(Hoyo.com)
The Hoyo's creator says it can also be used in other locations where you want a protective wrapping for your beloved device, such as the garden.
(Hoyo.com)
Hoyo will also protect your smartphone in the kitchen.
(Hoyo.com)
It's official. We're addicted to our smartphones. You probably already knew that. But if not, here's your proof: There's now a water-proof shower cap for your smartphone.
A London-based Kickstarter campaign reached its bare-bones funding goal mere days after launching, underscoring our need to keep our smartphones close in every room of the house.
The design for the Hoyo waterproof smartphone holder is simple. The pouch comes with a suction cup that can be attached to a shower wall, a shower curtain, a bathroom mirror and other surfaces. It won't let water in, but it does let sound out, so you can answer a call or listen to your playlist.
PHOTOS: A look at the Hoyo at work (No nudity involved)
Hoyo is the brainchild of entrepreneur and designer George Sheety, who readily admits that he's obsessed with keeping his smartphone within reach at all times so he can stay on top of tech news and start-up talk:
"I'm always checking CNet, Mashable, TechCrunch... but there's only one place I can't be connected. The shower." (He's not alone. A recent survey found that 60% of respondents can't go an hour without checking their phone.)
Sheety told the Los Angeles Times on Tuesday that he turned to Kickstarter to raise the equivalent of about $42,000 for the project. He was pleasantly surprised at the reaction. It was gratifying to know there was a demand for the dreamed-up product. On the other hand... Sheety probably could have asked for more.
Not that he's complaining.
For the duration of the fundraising campaign, he's focusing on customer feedback, and getting the word out. Additional money raised will go toward "stretch" goals -- about how he can enhance the product and the business, he said.
People who purchase through Kickstarter can get the Hoyo for about $20. When it hits the general market, Sheety says, it will likely sell in the $25 range.
One surprise he discovered during the campaign? He assumed most people would use the Hoyo like he would. To keep a close eye on news or phone calls.
Instead, he said, he has discovered that "people like to listen to music in the shower." Another use: Taking the Hoyo into the garden, garage or kitchen, to provide extra protection for a device.
While the use of the Hoyo is pretty self explanatory, Sheety does offer this bit of advice while showering with a cellphone: "Environmentally, we don't want to waste a lot of water," so turn off the tap if you get a phone call that just cannot wait. Or, forward it to voice mail. " At least you get to see who is calling," he said.
What's on your shower playlist? Tweet me @renelynch.
ALSO:
Does Barbie need to apologize?
Are money worries killing your sex drive?
Principals rap school's snow closure to the tune of 'Ice Ice Baby'
---
Must-read stories from the L.A. Times
Get all the day's most vital news with our Today's Headlines newsletter, sent every weekday morning.
You may occasionally receive promotional content from the Los Angeles Times.