At George W. Bush library, five presidents meet in harmony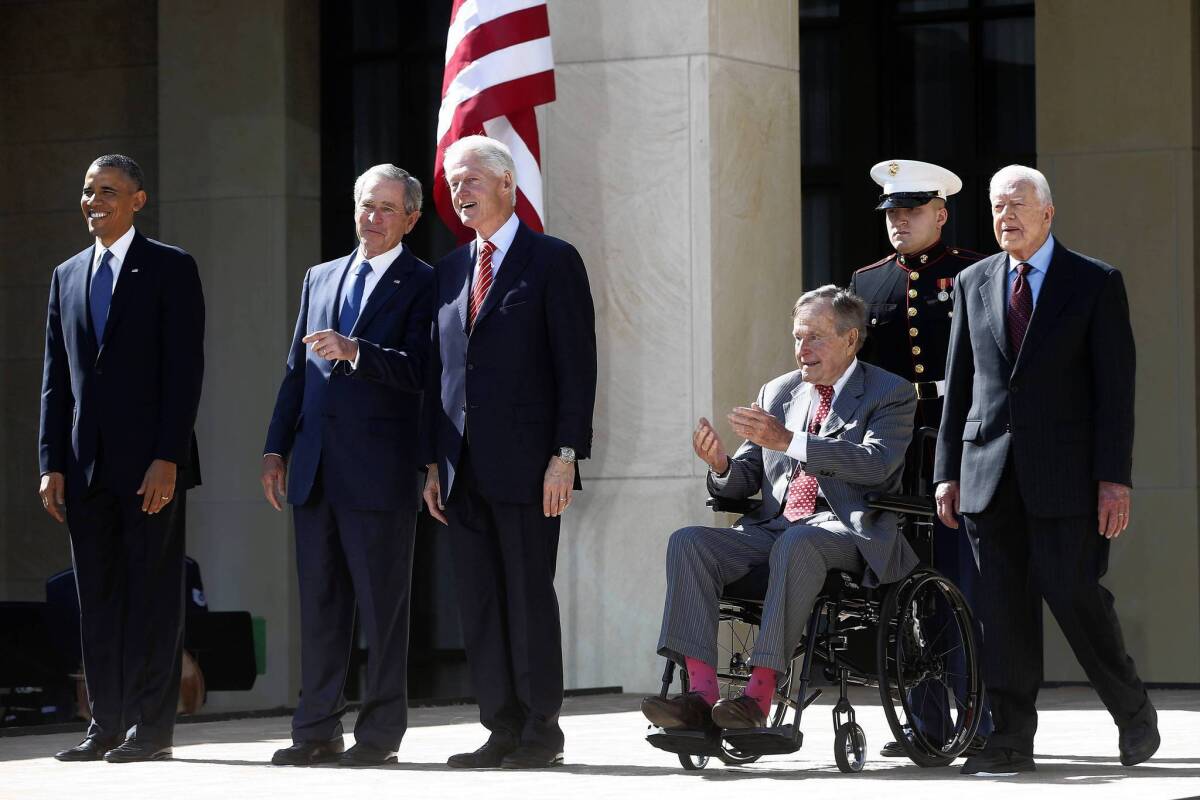 DALLAS — The five men who have held the title of president gathered to celebrate the dedication of George W. Bush's presidential library at Southern Methodist University on Thursday, a rare reunion that focused on praising his achievements and made only passing reference to the controversies that divided the country during his administration.
Bush, former First Lady Laura Bush, President Obama and all the living ex-presidents — Bill Clinton, Jimmy Carter and Bush's father, George H.W. Bush — spoke at a gathering that proved far more collegial than their past political disputes.
"Polls rise and fall, supporters come and go, but in the end leaders are defined by the convictions they hold," Bush told the crowd of supporters, lawmakers and former world leaders.
Although Obama largely campaigned against Bush's moves as president, especially the invasion of Iraq, he had only good things to say Thursday. Iraq went unmentioned.
"To know the man is to like the man because he's comfortable in his own skin. He doesn't put on any pretenses," Obama said of Bush.
Bush, 66, who has largely avoided commenting on the work of his successor, praised Obama in return, thanking him "for your kind words and for leading this country well."
A crowd estimated at 10,000 was drawn to the dedication of the $250-million facility, the 13th presidential library operated by the National Archives. The building houses 43,000 artifacts, 70 million pages of paper records and 200 million emails, the largest digital archive of any presidential library. Admission will be $16 when it opens to the public May 1.
Former Secretary of State Condoleezza Rice introduced a slew of world leaders in attendance, including NATO Secretary-General Anders Fogh Rasmussen and former prime ministers Tony Blair of Britain, Ehud Olmert of Israel and Silvio Berlusconi of Italy.
The gathering also included a who's-who of American political scions: Lyndon Johnson's two daughters, Tricia Nixon Cox, Susan Ford Bales, Michael Reagan and the Bush clan.
They were joined by a host of Republicans: House Speaker John A. Boehner, Texas Sens. John Cornyn and Ted Cruz, and Govs. Rick Perry of Texas, Jan Brewer of Arizona and Chris Christie of New Jersey.
Perhaps most watched was George H.W. Bush, who was discharged from the hospital in January after six weeks of treatment for complications from bronchitis.
"Forty-one, it is awesome that you are here today," George W. Bush told his father, the 41st president. Bush, 88, appeared in a wheelchair and spoke briefly, thanking those "who came to honor our son, our oldest son."
"God bless America," he said, then stood momentarily with his son's help, sparking applause.
Despite talk of dueling Bush-Clinton legacies and potential 2016 presidential runs by former Florida Gov. Jeb Bush and Hillary Rodham Clinton, former President Clinton was warmly received by Thursday's conservative crowd, in part because of his philanthropic work with the senior Bush.
Clinton described George W. Bush as "disarmingly direct" and praised his library for dealing openly with the polarizing decisions he made. (One exhibit allows visitors to decide how they would have handled Hurricane Katrina and the invasion of Iraq, among other crises.)
"Debate and difference is a part of any free society," Clinton said. "By inviting us to make the decisions he made and disagree if we choose, he has honored that tradition."
Both Clinton and Obama seized the opportunity to call for bipartisan support for new immigration legislation, citing Bush's previous efforts.
"I am hopeful that this year, with the help of Speaker Boehner and some of the senators and congressmen here today, that we will bring it home," Obama said. "And if we do that, it will be in part thanks to the hard work of President George W. Bush."
Bush did not weigh in on immigration, instead welcoming allies, including former Vice President Dick Cheney, who appeared in a cowboy hat.
"There was a time in my life when I wasn't likely to be found in a library, much less found one," Bush joked.
But he said the library, and his presidency, would stand the test of time.
"When future generations come to study at this library, they're going to find out that we stayed true to our convictions," Bush said, and that he "made the tough decisions required to keep the American people safe."
Newly a grandfather, Bush showed no desire to return to public life, saying he hopes his center will press for his causes.
"I'm retired from politics — happily so, I might add — but not from service," he said, wiping away a tear and making a three-fingered "W" sign before leaving the stage.
In the audience, some wondered whether the gesture signaled his support for Jeb Bush's candidacy — a potential third Bush in the White House.
Teresa Jimenez, 70, traveled to the event from Bridgeport, N.J., because she considers Bush "a man of heart." She said she would vote for his brother too.
"He really loves this country, him and his family, and he does not brag about what he has done," said Jimenez, an obstetrician who immigrated from Cuba.
Sen. Cruz, who cut his teeth campaigning for Bush in 2000, said he learned from the president's example.
"His greatest strength was he did what he believed was right regardless of criticism and polls," Cruz said.
Many in Thursday's audience enjoyed seeing the camaraderie among presidents.
"There was such a positive spirit among the presidents, the friendships that have lasted through the years," said Diane West, a Dallas Republican who even found herself warming to President Clinton, whose comments about immigration she said were timely.
"They made me laugh — I have tears in my eyes," said retired Houston Rockets center Dikembe Mutombo, who attended with former Dallas Maverick and Los Angeles Laker D.J. Mbenga. "It gives us a different impression. Sometimes we think of our former presidents in their own little rooms, not listening to each other."
Mutombo said he had teamed with all the presidents on humanitarian work in Africa, but it was George W. Bush who mentioned him during his 2007 State of the Union address. Mutombo, originally from Congo, said he appreciated Bush's efforts to fight AIDS in Africa and help broker peace in Sudan.
Annette Strake, a Bush family friend from Houston, praised the 43rd president's remarks at the opening. "I think it will inspire people — one of his best speeches ever," she said. Her husband, George Strake, former Texas secretary of state, called the celebration "a rare coming together of political philosophies."
But Stephen Boyd, 22, was bothered by Obama's mention of immigration, saying he should have "stuck with accolades." The SMU junior from nearby Richardson, Texas, was in fourth grade on Sept. 11, 2001, and came of age during the George W. Bush administration.
"He represents Texas to me, but as a nation, I think he represents real leadership," said the young Republican, who wore his black cowboy hat. "He was a steadfast leader: Once he decided something, he stuck to it. He's very much a statesman — I think he doesn't even know it now. You can see it in his improved ratings."
And how will history judge the 43rd president?
"That depends on who's writing it," Boyd said.
---
Must-read stories from the L.A. Times
Get the day's top news with our Today's Headlines newsletter, sent every weekday morning.
You may occasionally receive promotional content from the Los Angeles Times.