Carnival Triumph was a 'tale of two ships,' passenger says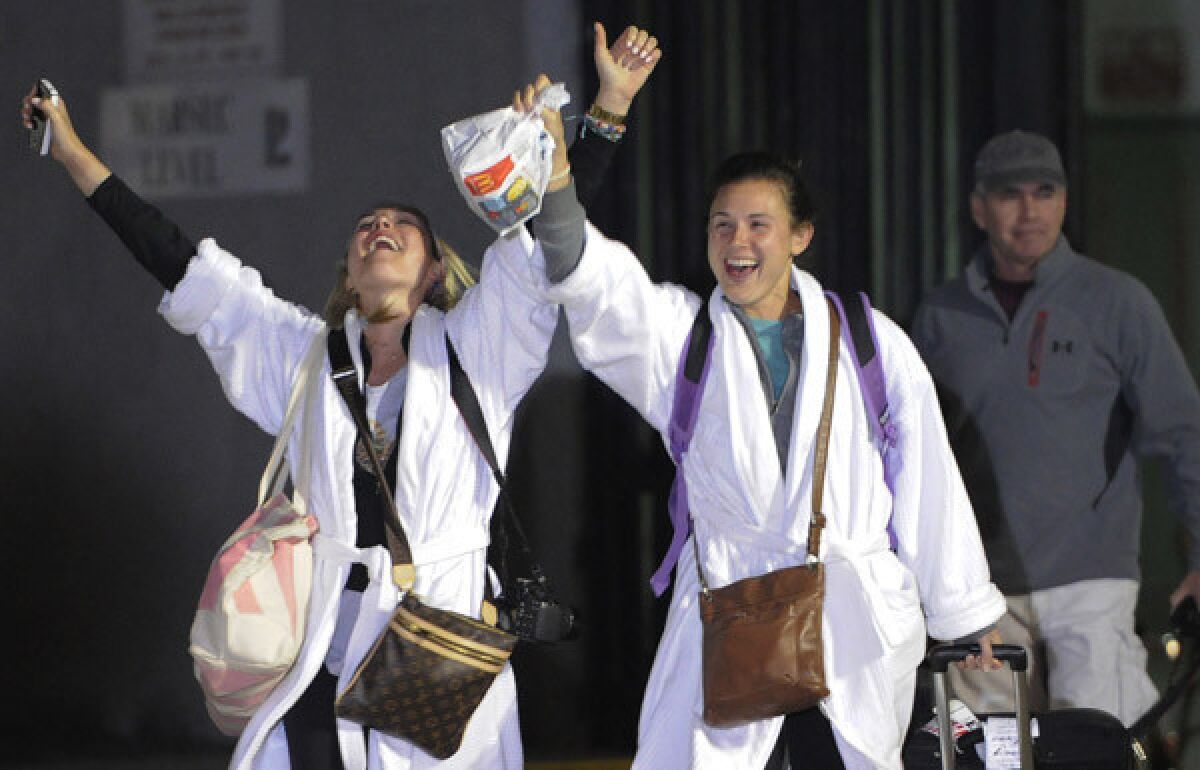 MOBILE, Ala. – The Triumph docked about 9:20 p.m. CST, and the first few passengers walked down the gangway and into the parking lot about an hour later. It was the first real look at what life has been like for those stranded aboard the Carnival Triumph adrift in the Gulf of Mexico.
With only one working elevator, Carnival officials warned that it could take four or five hours for everyone to disembark at the port in Mobile. The process stretched into the early morning hours Friday as passengers were greeted with cheers from the crowd and were mobbed by television camera crews.
Kendall Jenkins, 24, of Houston and her friends teared up and kissed the ground.
"Absolutely we kissed the ground when we got off!" she said afterward.
The emotions of the parade of passengers ranged from irate to simply amused. Many said they had discovered a new-found gratitude after the engine fire stranded the ship without power off the coast of the Yucatan Peninsula on Sunday.
A generator brought aboard days later provided some extra electrical power and many of the 3,143 passengers and 1,086 crew charged cellphones — and contacted relatives with stories and photos of miserable conditions on ship: urine and feces in hallways, spoiled food, long lines for the few working toilets, rooms that were too hot or too cold.
The ship's band played on, staging a special Mardi Gras performance complete with bead tossing on Tuesday.
"What you had was a tale of two ships," said the Rev. Wendell Gill of First Baptist Church in Laporte, Texas.
Gill's congregation sent him and his wife on the cruise to relax. But after the fire, he said no one materialized to lead the ship.
"You seldom saw a deck officer," he said. "I never saw the captain."
Gill and his wife Cindey Gill had a stateroom on the first level, but "sewage came up through the shower drain, pooling in the sink and squishing in the carpet," she said, forcing them to seek out places to stay on upper levels.
"Some of the people in the upper areas had plenty of air, but down below, it was unlivable," he said.
"It was like a sauna of sewage," Cindey Gill said.
When they noticed no one from Carnival was stepping up to help the elderly and sick get around, they and other passengers offered to help, Gill said, carting mattresses and bedding up from the lower decks.
"It was the people on the boat that saved Carnival," Gill said as he stood in the port parking lot after disembarking, luggage in tow, his wife beside him in a Carnival robe.
On Monday, he started gathering with a prayer group, where people worried about getting sick at sea, about their kids and jobs back home. By Wednesday, they had attracted 200 people.
Gill said he was discouraged to see people get drunk and disorderly -- and he's no teetotaler, he had a beer that night too.
But he was encouraged to see so many fellow passengers help out.
"In an adverse situation, most people will rise to help -- that's just the human spirit," he said.
They left the port Thursday feeling oddly thankful.
"When you're on an adventure like this, it's a gift -- because of the way you're going to feel when you go home and see your child or your neighbor," he said, choking up.
Cindey Gill nodded, saying she had a new appreciation of simple things: being able to clean up, "or to be able to go where you want when you want and not have to worry about will you be able to get out of this."
Soon after they left the parking lot, bound for a local hotel one of their friends had reserved, an announcer's voice boomed from the ship: "This is the last and final call."
The final stream of passengers was boarding several charter buses nearby, headed to New Orleans and Galveston, where many passengers had left their cars at the start of the four-day cruise last Feb. 7.
It was 1:31 a.m. CST Friday.
Kim McKerreghan stood clutching an "I love my cruise" bag in one hand and her 10-year-old daughter Allie Taylor in the other.
Allie had sailed on the cruise, her second, with her father and some friends.
"It got super duper scary" after the engine fire, she said, standing in the parking lot in flip flops. "I said 'Daddy, what's going on?' and he said 'I don't know.'"
Later, Allie said she ended up being the stabilizing influence -- when her father ran out of snuff.
"I tried to calm him down," she said.
"Camp Carnival" children's activities slowed after the fire, the pool was out of commission due to a broken filter, and she quickly learned that being late to a meal meant a two-hour wait.
But she learned how to survive, and something else.
Before leaving the port Friday, headed for a local hotel, Allie said she was newly grateful for "food, warmth, water and plumbing."
"You kind of know what you have when it's gone," she said.
One of the last few buses pulled out into the darkness and her mother gave her a hug, saying, "It's been an interesting Valentine's Day."
ALSO:
Drilling company enters guilty plea in Gulf oil spill
Serial killer Israel Keyes was mistakenly given a razor blade
New York Mayor Michael Bloomberg calls for Styrofoam container ban
Must-read stories from the L.A. Times
Get the day's top news with our Today's Headlines newsletter, sent every weekday morning.
You may occasionally receive promotional content from the Los Angeles Times.