Dad gets OfficeMax mail addressed 'Daughter Killed in Car Crash'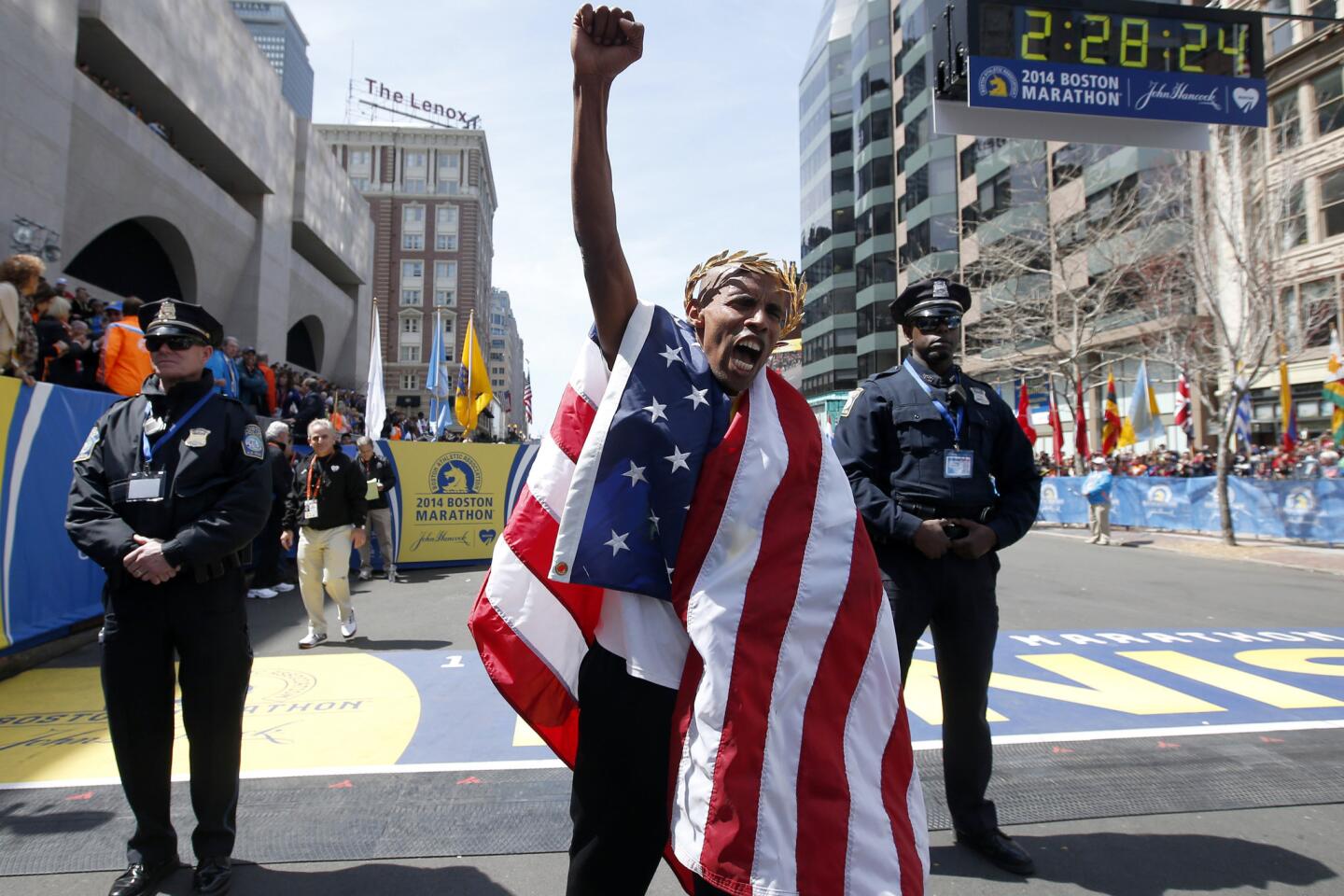 Meb Keflezighi of San Diego celebrates his victory in the 118th Boston Marathon on April 19, a year after deadly bombings struck the event. Keflezighi became the first American man to win the race since 1983.
(Elise Amendola / Associated Press)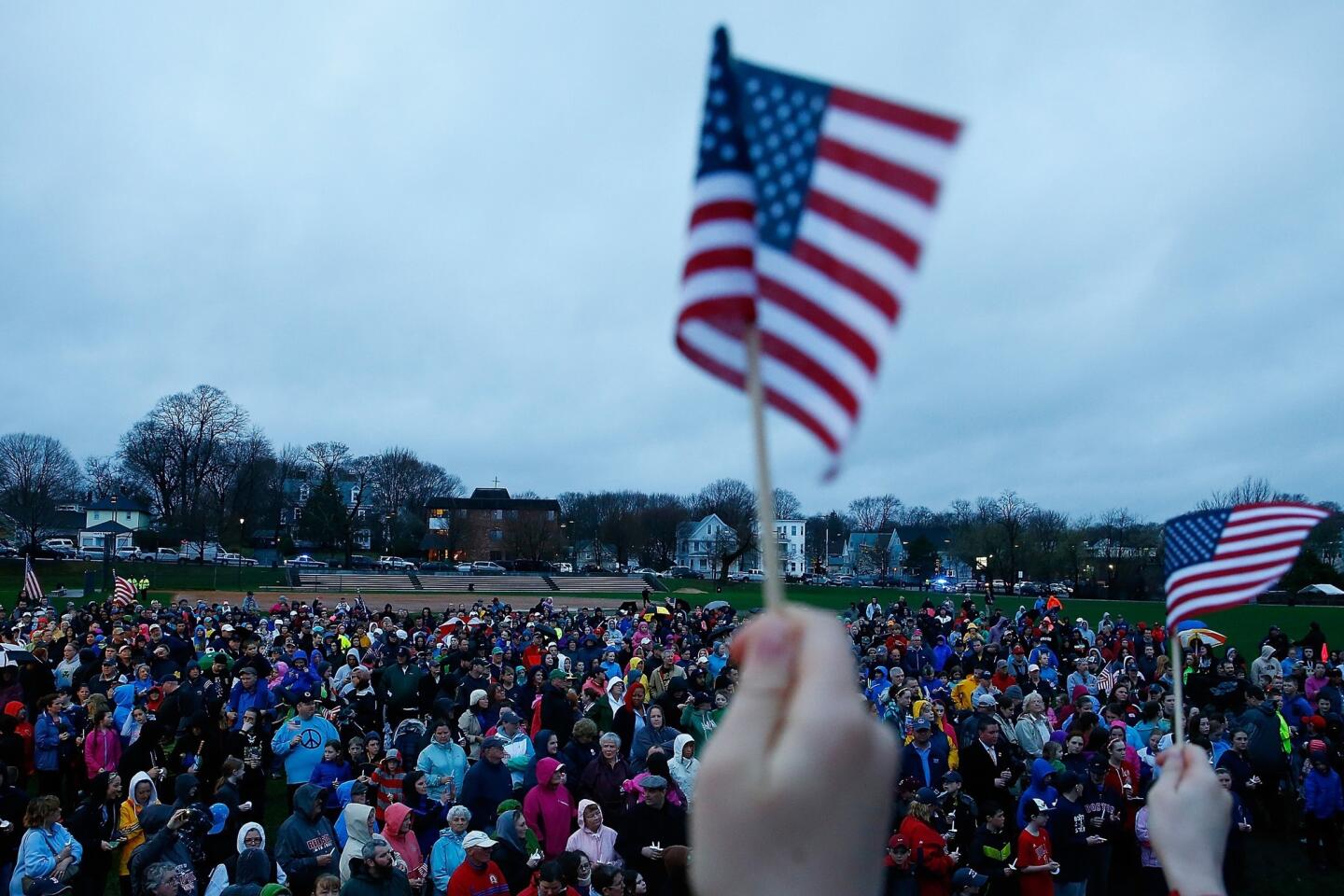 Children wave American flags at the start of an April 15 candlelight vigil on the one-year anniversary of the Boston Marathon bombings in the city's Garvey Park.
(Jared Wickerham / Getty Images)
A flag rests at half staff on a cedar pole behind the face of the massive mudslide that hit Oso, Wash., on March 22, killing at least 40.
(Ted S. Warren / Associated Press)
Brig. Gen. Jeffrey Sinclair, who admitted to inappropriate relationships with three subordinates, arrives at court for sentencing at Ft. Bragg, N.C., on March 20.
(Ellen Ozier / Associated Press )
Workers stand near the ruins of two buildings leveled by an explosion March 12 in the East Harlem neighborhood of New York City.
(John Minchillo / Associated Press)
The College Board announced plans March 5 to revamp the SAT college entrance exam, making the essay portion optional and lowering a perfect score to 1,600 points.
(Karen Tapia Andersen / Los Angeles Times)
Guards stand outside Federal Court in New York City as the trial begins for accused Al Qaeda propagandist and conspirator Sulaiman Abu Ghaith, Osama bin Laden's son-in-law.
(Andrew Burton / Getty Images)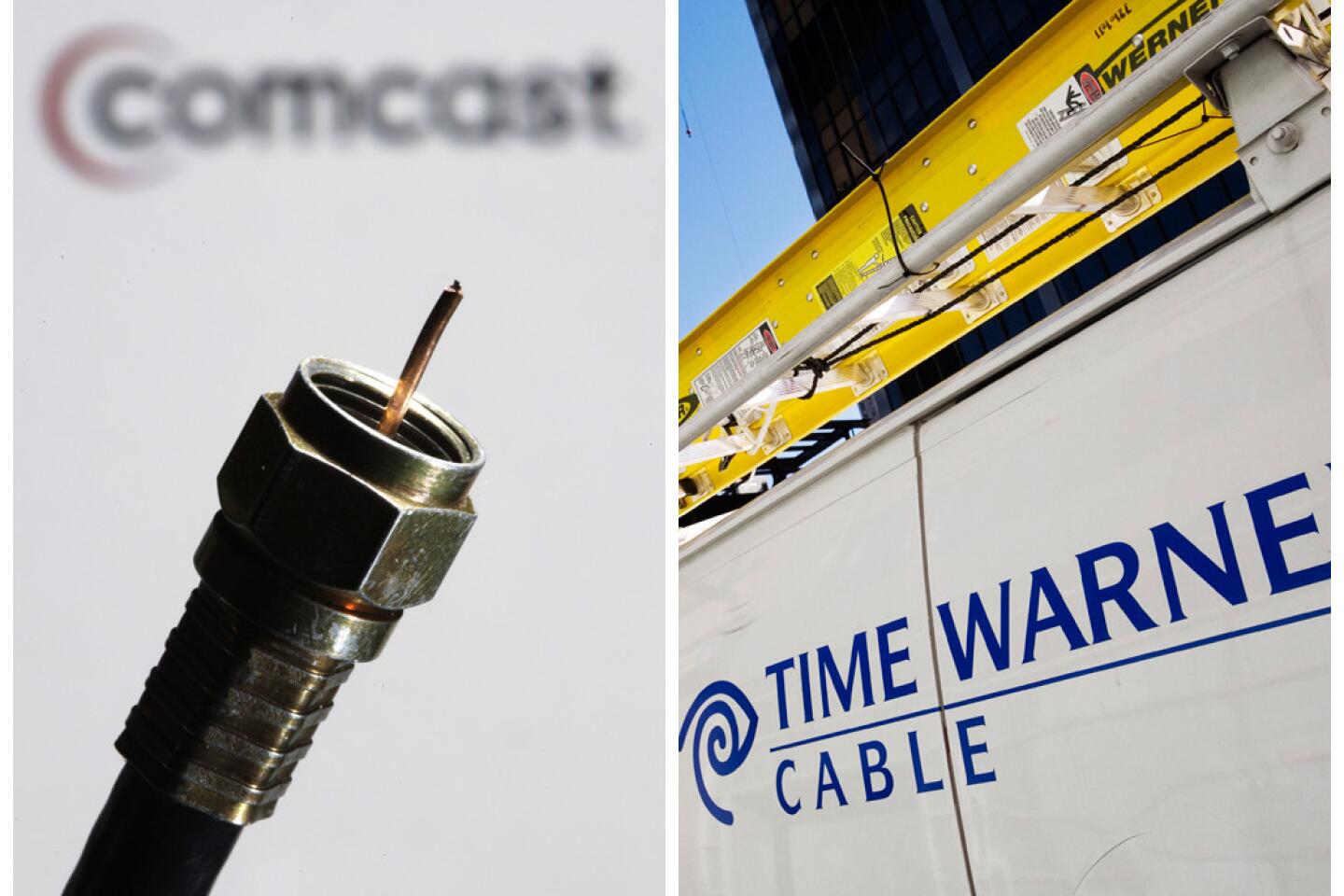 Comcast announced Feb. 13 that it would buy Time Warner Cable for $45.2 billion in stock. If approved, the deal would combine two of the nation's top paid television and Internet service companies.
(Matt Rourke / Associated Press)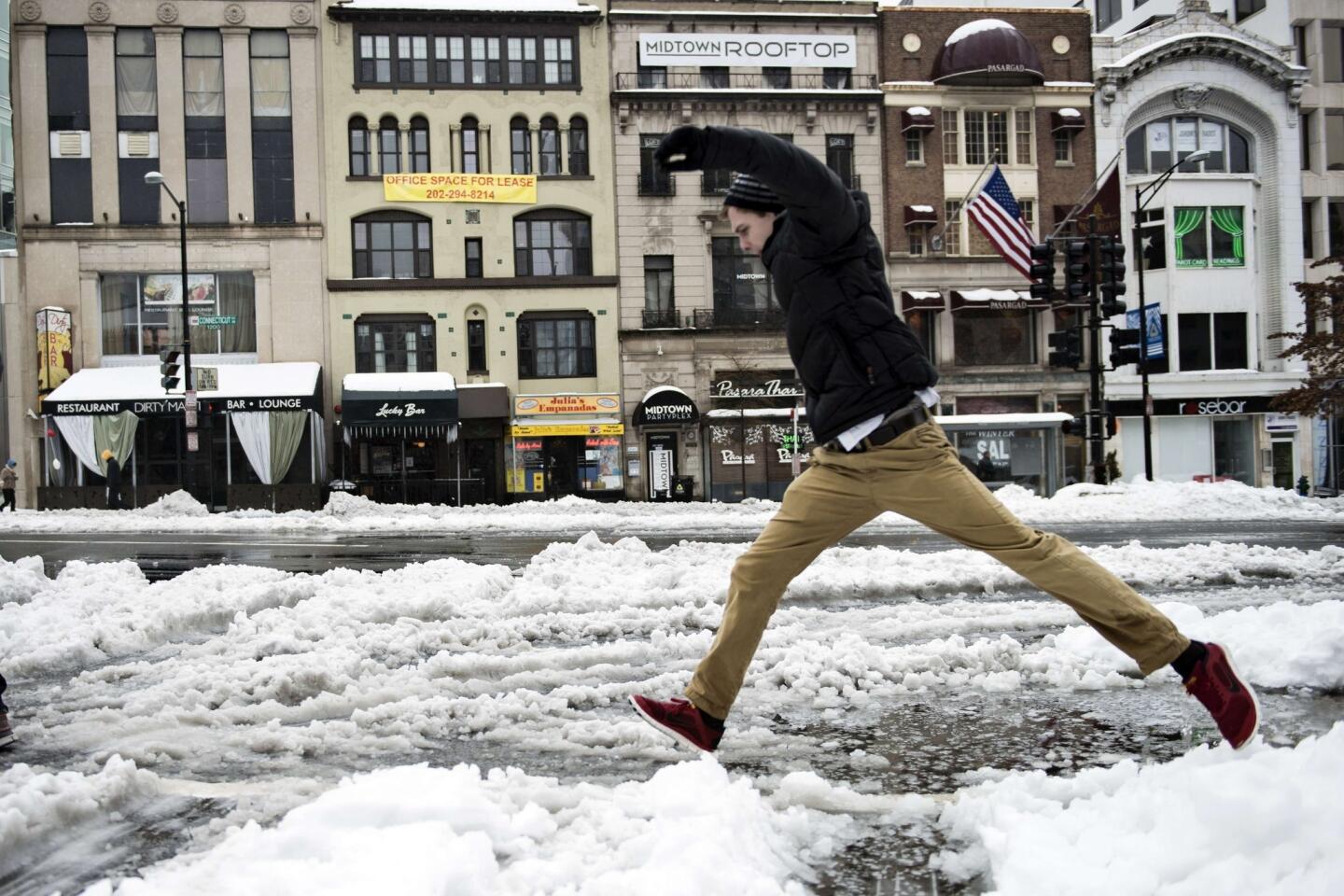 A man jumps over a puddle in Washington, D.C., during a brutal cold spell that hammered Eastern states in mid-February.
(Brendan Smialowski / AFP/Getty Images)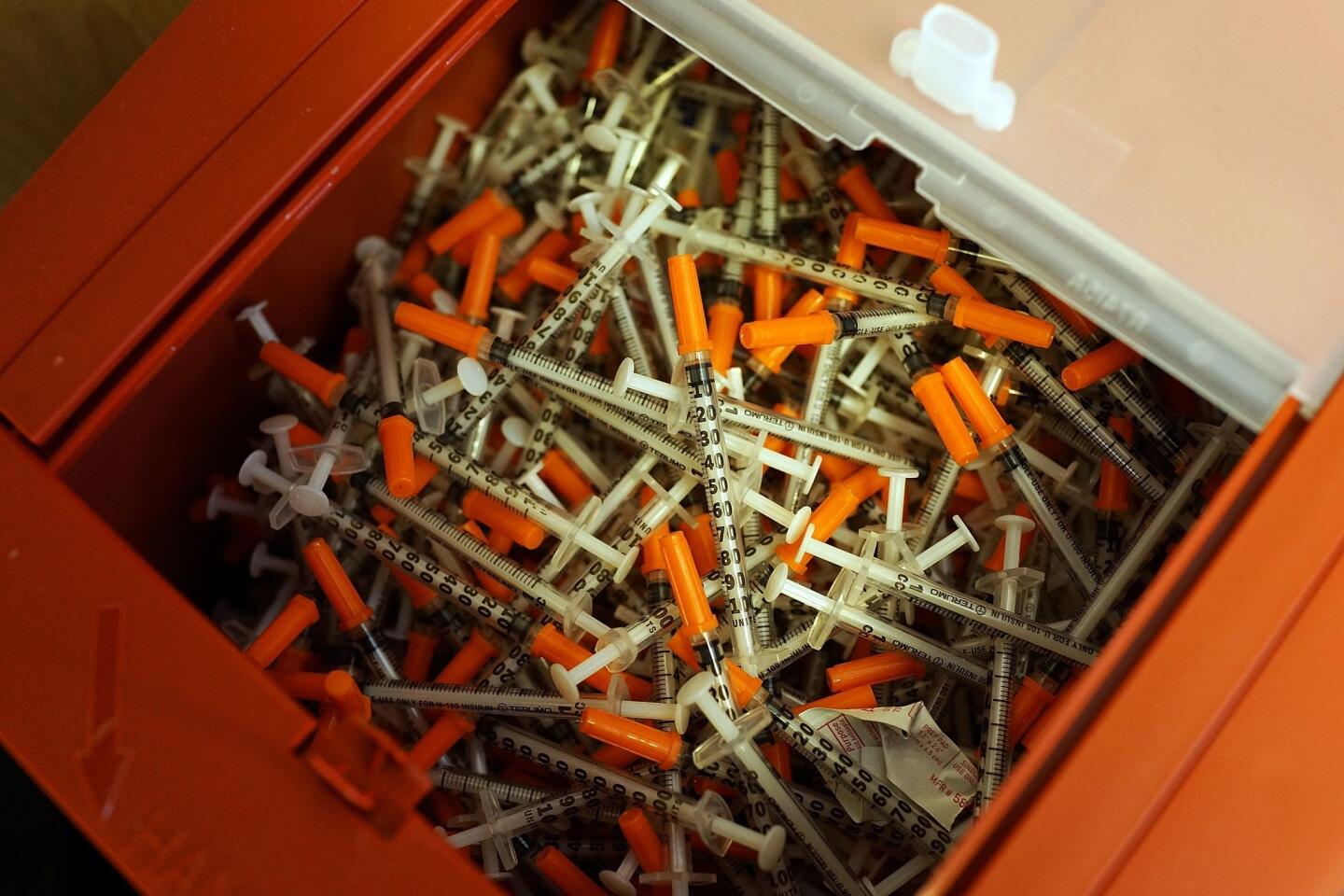 Used syringes left at a needle exchange clinic in Vermont. A surge in fatal overdoses of heroin and other opiates has afflicted communities in the Northeast and Midwest.
(Spencer Platt / Getty Images)
Fans of actor Phillip Seymour Hoffman pay tribute outside his apartment building on Feb. 4. Hoffman died Feb. 2 of an accidental drug overdose.
(Richard Drew / Associated Press)
A man stands on the frozen roadway as he waits for traffic to clear along Interstate 75 in Macon, Ga. A winter storm dumped snow and covered parts of the state with ice.
(John Bazemore / Associated Press)
Two booking images released by police showing Canadian singer Justin Bieber, who was arrested on charges of driving under the influence, driving with an expired license and resisting arrest following an alleged drag racing incident in Miami Beach, Fla.
(Miami-Dade Corrections & Rehabilitation Department / EPA)
Protesters line up outside the prison walls just before receiving word that the scheduled execution of Mexican national Edgar Tamayo would proceed in Huntsville, Texas.
(Pat Sullivan / Associated Press)
Police handcuff Cody Cousins after a deadly shooting on the Purdue University campus in Wast Lafayette, Ind.
(Carl Abernathy / Associated Press)
A
fire and structural collapse
at an animal feed processing plant in Omaha, Neb., killed two people and injured 10 others, four critically, authorities said.
(Nati Harnik / Associated Press)
A woman waits at a staging area where families are being reunited with students after a shooting at Berrendo Middle School in Roswell, N.M.
(Mark Wilson / Associated Press)
An aerial photo shows firefighters battling a blaze at a mansion in Indian Hill, Ohio.
(Joseph Fuqua II / Associated Press)
Residents line up for water from a truck in South Charleston, W.Va., after a chemical spill contaminated the region's water supply.
(Tom Hindman / Getty Images)
Diego Ramos, who is homeless and lives under scaffolding at a nearby building, pauses as he shovels snow from a sidewalk in lower Manhattan after a storm left up to eight inches of snow in New York City.
(Spencer Platt / Getty Images)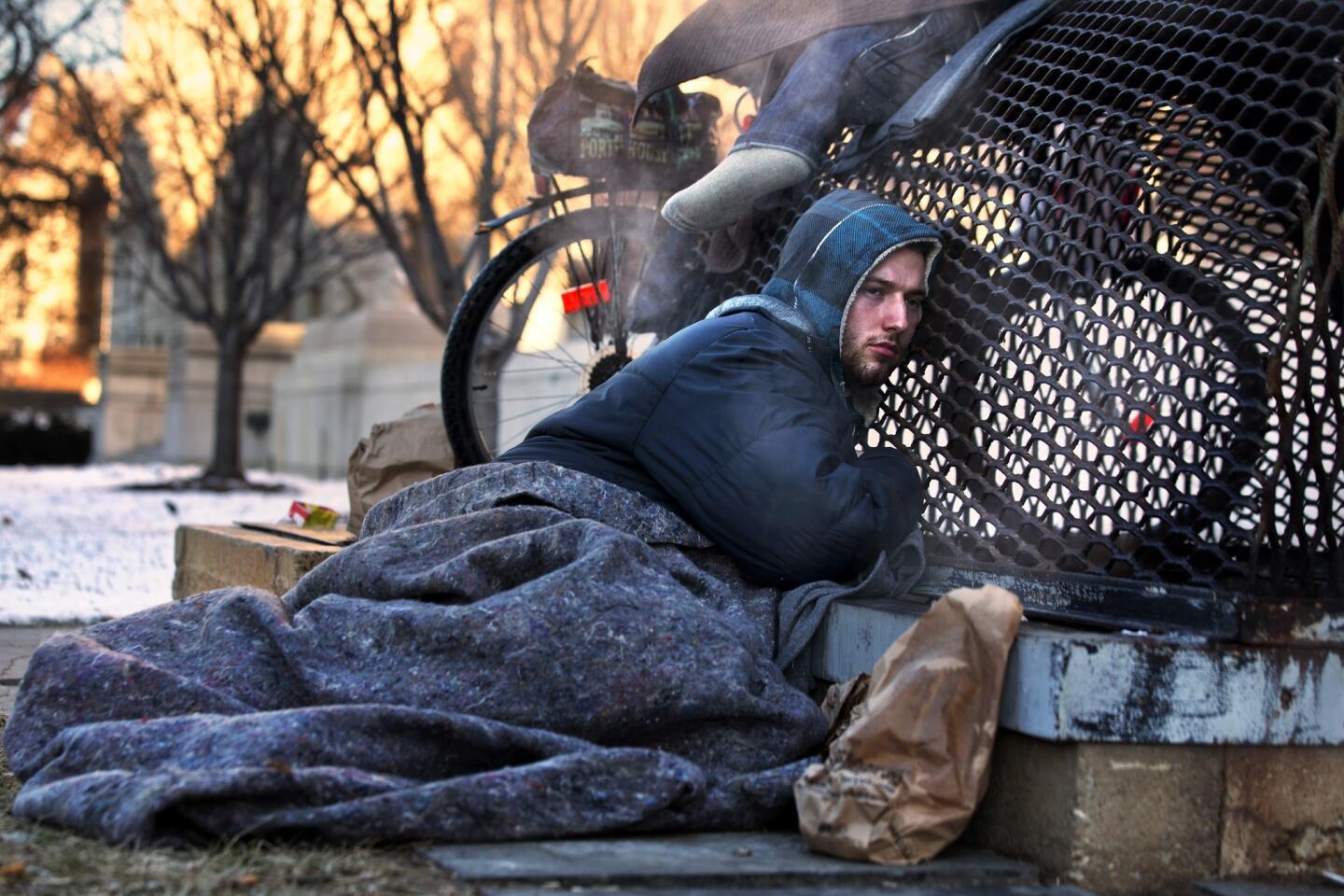 Nicholas Simmons, 20, of Greece, N.Y., warms himself on a steam grate in Washington, D.C., near the U.S. Capitol days after he disappeared from his parents' house. His parents Paul and Michelle Simmons saw this photograph in USA Today and
were able to reunite with him.
(Jacquelyn Martin / Associated Press)
Michael and Desiree Davis, parents of Claire Davis, hold up candles with others at a memorial service held for their daughter at the National Western Stock Show Event Center in Denver. Behind them at left is Gov. John Hickenlooper. Claire Davis, 17, was fatally shot at her suburban Denver high school by a fellow student, who then killed himself.
(Helen H. Richardson / Associated Press)
Prospective marijuana buyers wait in line in Pueblo West, Colo., after a state law takes effect allowing the sale of marijuana for recreational purposes.
(John Wark / Associated Press)
An off-and-on customer of OfficeMax, Mike Seay has gotten the office supply company's junk mail for years. But the mail that the grieving Lindenhurst, Ill., father said he got from OfficeMax last week was different.
It was addressed to "Mike Seay, Daughter Killed in Car Crash."
Strange as that sounds, the mail reached the right guy. Seay's daughter Ashley, 17, was killed in a car crash with her boyfriend last year. OfficeMax somehow knew.
And in a world where bits of personal data are mined from customers and silently sold off and shuffled among corporations, Seay appears to be the victim of some marketing gone horribly wrong.
"I'm not a big OfficeMax customer. And I wouldn't have gone there and said anything to anybody there about it [the car crash]. That's not their business," Seay, 46, told the Los Angeles Times in a phone interview Sunday.
In a statement, OfficeMax said the mailing "is a result of a mailing list rented through a third-party provider" and offered its apologies to Seay. A spokeswoman told The Times on Sunday that the company was still gathering information about what had happened.
The company, however, had not personally called Seay to apologize, Seay told The Times, and he has been worried about the company's behavior since he and his wife received the letter Thursday.
The letter seems to be some kind of discount offering, Seay said.
Seay said that he called an OfficeMax number Friday and that a manager at a call center refused to believe he'd been sent the letter addressed that way.
Then, he said, a spokeswoman for OfficeMax "acted the same way" shortly before he was interviewed by NBC-5 reporter Nesita Kwan on Friday. (Kwan told The Times she couldn't comment until she received approval from her supervisors.) The spokeswoman was more conciliatory after she received a photo of the envelope, Seay said.
Seay, who is unemployed, said that he isn't interested in suing OfficeMax, but that since his wife was "traumatized" by the letter, he wants an apology from the company's chief executive.
He also wants to know how OfficeMax got the information. The last thing Seay remembers buying at OfficeMax since his daughter's death last February is some paper.
"Why do they have that?" Seay said of the information about his daughter's death. "What do they need that for? How she died, when she died? It's not really personal, but looking at them, it is. That's not something they would ever need."
The nation has recently been riveted by the debate over how Americans' personal data is gathered by government agencies, and corporate data-mining has drawn concern as well.
Retail giant Target reportedly knows how to use its data to identify pregnant customers, and it recently lost tens of millions of customers' credit and debit card information to hackers, among other data.
Gatherers of consumer data also are reportedly selling off lists of rape victims and AIDS and HIV patients, a privacy group told Congress in December.
OfficeMax has not identified the company whose mailing list it used to send the letter to Seay.
Sign up for Essential California for the L.A. Times biggest news, features and recommendations in your inbox six days a week.
You may occasionally receive promotional content from the Los Angeles Times.