'Ruthless human smugglers' blamed for deaths of 9 people left in a truck in 100-degree Texas heat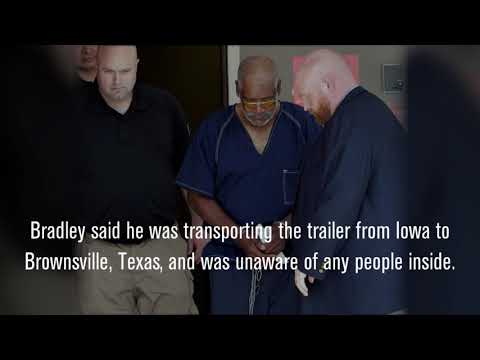 The driver of a broiling tractor-trailer found packed with immigrants outside a Wal-Mart in San Antonio was charged Monday in the deaths of 10 of his passengers and could face the death penalty. (July 24, 2017) (Sign up for our free video newsletter
Reporting from Atlanta —
The call came around midnight. A disoriented man had emerged from a tractor trailer in a Walmart parking lot near San Antonio, Texas, to ask a store employee for water.
After fetching water, the employee called police, who found eight dead bodies and dozens struggling for their lives in the back of the sweltering 18-wheeler.
In an incident the local police chief described as a "horrific" human trafficking tragedy, 39 people were found in and around the trailer in a parking lot off Interstate 35 in San Antonio, about 150 miles from the U.S.-Mexico border.
Eight men were pronounced dead at the scene early Sunday morning and are believed to have suffered from heat exposure and asphyxiation, police spokeswoman Romana Lopez said. Another man died later at a hospital, bringing the toll to nine.
Seventeen of the vehicle's occupants were rushed to hospitals with serious or critical injuries. Another 13 had non-life-threatening injuries. At least two of the occupants were school-age children.
"All were victims of ruthless human smugglers indifferent to the well-being of their fragile cargo," U.S. Atty. Richard L. Durbin Jr. said in a statement. "The South Texas heat is punishing this time of year. These people were helpless in the hands of their transporters. Imagine their suffering, trapped in a stifling trailer in 100-plus degree heat."
Temperatures in San Antonio climbed to a sweltering 100 degrees Saturday, according to the National Weather Service. The truck did not appear to have air conditioning or water on board, said San Antonio Fire Chief Charles Hood.
"It was a mass casualty situation for us," Hood said. "Each one of them had heart rates over about 130 beats per minute. They were very hot to the touch…. You're looking at a lot of heat stroke, a lot of dehydration."
The driver, James Mathew Bradley Jr., 60, from Clearwater, Fla., is in federal custody, and a criminal complaint will be filed Monday morning in a San Antonio federal court, the United States attorney's office for the Western District of Texas said in a statement.
The San Antonio Police Department's homicide division will work with the Department of Homeland Security "to determine the origin of this horrific tragedy," Police Chief William McManus said.
Surveillance video from the store showed that, before police arrived on the scene, several vehicles approached the truck to pick up many of the truck's survivors, he added.
Some of the trailer's occupants escaped into the woods, and McManus said his officers would search the area Sunday on foot and by helicopter.
"This is not an isolated incident," he said. "This happens quite frequently. Fortunately, we came across this one. Fortunately, you know, there are people who survived."
In May 2003, 19 people died when they were abandoned in a trailer at a truck stop in Victoria, Texas. The truck driver, Tyrone Mapletoft Williams, was convicted and is serving a sentence of nearly 34 years.
It's death by policy, and the government is complicit.
— Eddie Canales, director of the South Texas Human Rights Center
"By any standard, the horrific crime uncovered last night ranks as a stark reminder of why human smuggling networks must be pursued, caught and punished," Immigration and Customs Enforcement Acting Director Thomas Homan said in a statement. "These networks have repeatedly shown a reckless disregard for those they smuggle."
In fiscal year 2016, Homeland Security Investigations initiated 2,110 human smuggling inquiries, which resulted in 1,522 criminal convictions, an Immigration and Customs Enforcement spokesman said.
"So long as I lead ICE, there will be an unwavering commitment to use law enforcement assets to put an end to these practices," Homan said.
Immigration advocates, in turn, put the blame firmly on federal, state and local officials for ramping up security on the border and criminalizing refugees and immigrants fleeing violence and poverty in Central America and beyond.
"People are in the hands of smugglers because they are attempting to seek refuge and to find a better life in this country, and our Border Patrol is actively turning away asylum seekers," said Amy Fischer, policy director at the Refugee and Immigrant Center for Education and Legal Services, a nonprofit group in San Antonio that provides free and low-cost legal services to immigrant families.
"The Trump administration and Gov. [Greg] Abbott have to be held to task," she added. "They, in fact, have blood on their hands for creating the kind of situation that allows these tragedies to happen."
Fischer, whose group is contacting local consulates and offering free legal services to all of the survivors, condemned the San Antonio Police Department for calling Immigration Customs and Enforcement.
"The response to a humanitarian situation should not be calling an enforcement agency that has a track record of migrant deaths, detention and deportation," she said.
San Antonio Mayor Ron Nirenberg called the incident "a human tragedy," saying in a telephone interview that his city was working closely with local groups and federal agencies to offer support to survivors and connect them with their families.
Nirenberg took office in June and has been an opponent of Texas' new law banning "sanctuary cities" and imposing fines or jail time on local officials who refuse to honor immigration detention requests.
The deaths of the nine migrants in San Antonio stimulated much discussion on social media, with some conservatives saying it shows the need to ban sanctuary cities and to build a border wall that would stop migrants from making the dangerous trip.
Nirenberg, however, said: "Our focus has to be on the people and to provide support and compassion."
"It's hard not to reflect on how crises like this happen," he continued. "This is a humanitarian crisis born from desperation in countries whose social and political turmoil and economic challenges lead people to risk their lives in search of a better life. So long as we forget that the luxuries of life are delivered on the often back-breaking work of the laborer, and the immigration system that prevents laborers entering the fields of work legally, we've proven ourselves politically powerless to stop it."
Eddie Canales, director of the South Texas Human Rights Center, called it "death by policy, and the government is complicit." His nonprofit group is based in Falfurrias, a small town near a Border Patrol checkpoint about 75 miles north of the Texas border with Mexico.
On Friday, Canales said he found the body of a male migrant, lying spread-eagle in a wooded area, as he checked a water station at a ranch in rural Brooks County. It was the 32nd body found in Brooks County this year.
"If people are forced to cross the border on the dangerous areas because they don't have choices and because of a lack of policy that regularizes the labor needs of the country," he said, "people will continue to die."
Jarvie is a special correspondent.
ALSO
With a daughter's tribute, aircraft carrier Gerald R. Ford is commissioned in Virginia
Minneapolis police chief resigns six days after an officer kills an unarmed Australian woman
In Seattle, vouchers let voters steer city money to political campaigns. But some aren't buying it
---
UPDATES:
5:10 p.m.: This story has been updated with comments from the San Antonio mayor.
3:50 p.m.: This story has been updated with a ninth death, quotes from advocates and other details.
11:45 a.m.: This story has been updated throughout with Times reporting.
5:50 a.m.: Updated to report 20 people were in critical or serious condition.
4:15 a.m.: This article was updated with background on a 2003 case.
3:55 a.m.: Updated with Saturday's temperature.
3:25 a.m.: Updated with the driver's arrest.
This article was first published at 2:50 a.m.
Sign up for Essential California for the L.A. Times biggest news, features and recommendations in your inbox six days a week.
You may occasionally receive promotional content from the Los Angeles Times.