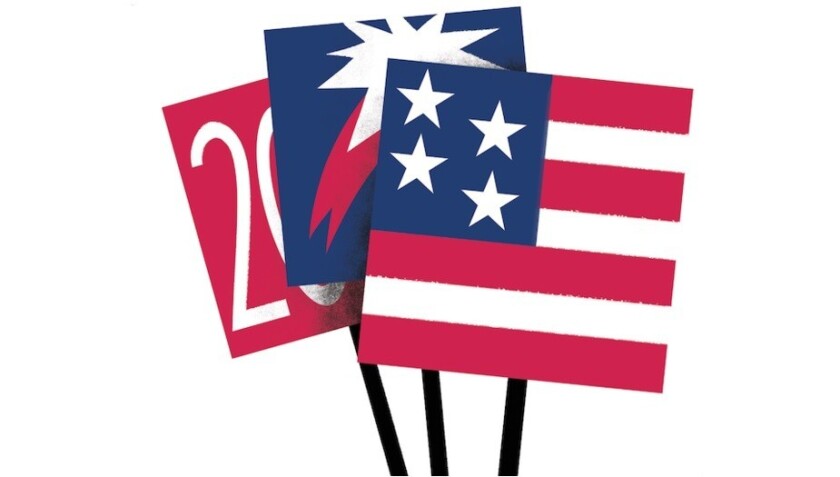 With just over two weeks until Iowa's caucuses kick off the presidential nominating season, the Democratic contest suddenly has become much tighter and unpredictable while the Republican race increasingly appears to be Donald Trump's to lose.
That neither of those scenarios appeared plausible as recently as six months ago says a lot about the unreliability of political forecasting. That's a reminder: Even as the voting nears, what appears inevitable today could be rendered passe in a week. Still, there are some lessons we can learn from what's already happened.
Good afternoon, I'm David Lauter, Washington Bureau chief. Welcome to the Friday edition of our Essential Politics newsletter, in which we review the last week on the campaign trail and highlight a few stories that provided particular insight.
One critical lesson: Even dramatic events may have only a temporary effect on a campaign. In the aftermath of the terror attacks in Paris and San Bernardino, public attention moved away from economic concerns toward national security. On the Democratic side, Hillary Clinton, the former secretary of State, clearly benefited from that shift. She opened a significant lead over Sen. Bernie Sanders in Iowa and threatened to defeat him in New Hampshire, a combination that would effectively have ended the Democratic race.
But as Gallup's polling shows, the priority voters put on terrorism has faded quickly. In December, 16% of Americans rated terrorism as the most important issue facing the country. By this month, that share had dwindled to 9%.
Over the same time span, Sanders' fortunes have rebounded. The latest Des Moines Register/Bloomberg Iowa Poll found the Vermont senator in close to a dead heat with Clinton. Averaging the last several polls gives Clinton about a four-point lead in Iowa and Sanders about a six-point edge in New Hampshire.
So it's now once again quite possible that Clinton could lose both of the first two contests in the race. That wouldn't necessarily be fatal to her candidacy -- Bill Clinton lost Iowa and New Hampshire, too, after all -- but it would reanimate all the fears among Democratic activists about her seeming inability to close the deal with voters.
As Evan Halper and Chris Megerian describe, the Clinton campaign has responded with much greater aggressiveness. Meantime, as Noam Levey and Megerian explain, Sanders' rise has reopened a debate on the Democratic side over the merits of a single-payer, government-run health program.
On the Republican side, the opposite dynamic appears to be taking hold. As Mark Barabak and Noah Bierman spelled out in their story about Thursday night's debate, Trump continues to dominate the field. The one exception is in Iowa, where polls show Trump in a close race, trailing Sen. Ted Cruz of Texas.
Even there, however, a Trump victory is possible -- assuming that his supporters actually turn out to vote, an assumption that has yet to be tested, as we've noted before. Trump and Cruz are waging very different campaigns in the state, as Michael Finnegan and Seema Mehta describe.
But while Trump continues to reign, nationally and in early-voting states including New Hampshire, the other candidates mostly have avoided attacking him in the debate or on the airwaves in recent days. For months, GOP strategists have predicted that Trump would fade by himself. Now, as Cathy Decker noted in her assessment of the debate, the rest of the field may have waited too long to head him off.
One major issue that came up during the debate is the question of whether Cruz, born in Canada to an American mother, meets the Constitution's requirement for the president to be a "natural born" citizen. For a clear understanding of that question, read this explanation of the legal arguments by David Savage.
That wraps up this week. Essential Politics will take Monday off for the holiday. Sacramento Bureau chief John Myers will be back Tuesday with the outline of the week to come. Until then, keep track of all the developments in the 2016 campaign with our Trail Guide, at our politics page and on Twitter at @latimespolitics.
Send your comments, suggestions and news tips to politics@latimes.com.
---