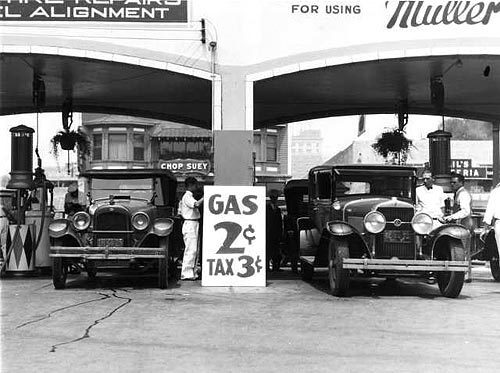 12 Images
Local Auto History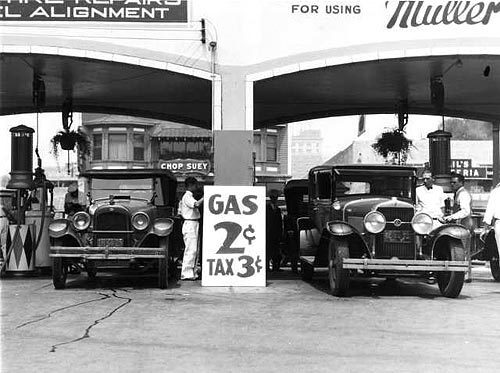 A price war found motorists filling up with gas for 2 cent a gallon -- 3 cent tax not included -- at Hollywood's largest service station. Police were eventually called in to maintain order.
(Underwood & Underwood / CORBIS)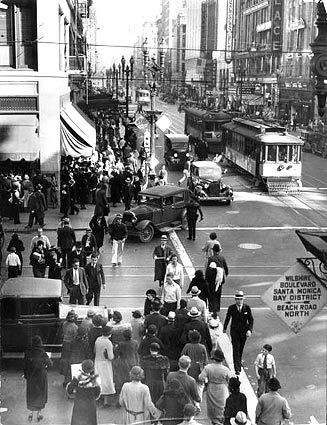 Trolley cars traveled Southern California streets many years before the first auto arrived in Los Angeles in the late 1890s. But, as this 1934 photo of Broadway and 7th street in downtown Los Angeles shows, rail cars eventually had to share and were finally pushed off the road by the growing numbers of autos.
(LAT)
One of the legendary Red Cars enters the busy Westside crossroads where Fairfax Avenue intersects with Olympic and San Vicente boulevards in this 1936 photo.
(LAT)
Passengers at 7th Street and Broadway in downtown Los Angeles await streetcars in this 1943 photo. Twenty years later, the last of the classic streetcar lines halted operations.
(LAT)
This 1940s era "Radio Flash Car" came equipped with a radio telephone to call in breaking stories and a platform that offered photographers a rooftop perch.
(LAT)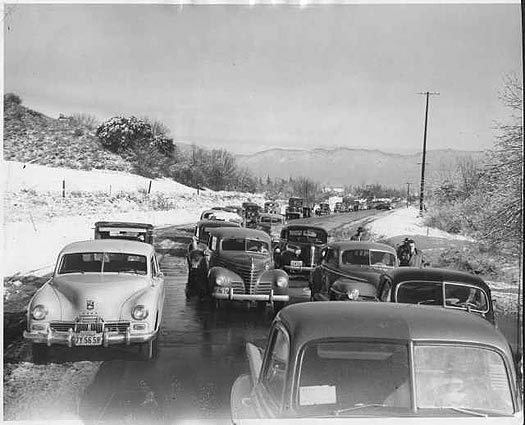 In a city where a brief shower can trigger countless fender benders, Los Angeles drivers wisely wait for ice to melt on Sepulveda Boulevard in Sherman Oaks during a rare snowstorm that struck the region in 1949.
(LAT)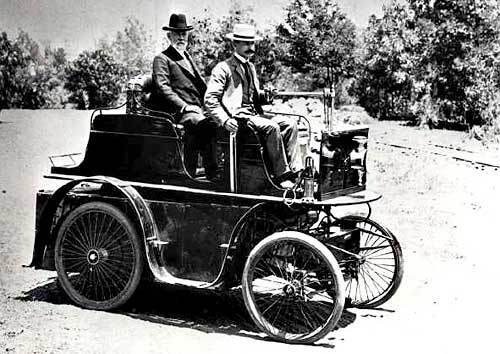 The first gas-powered vehicle to travel L.A.'s streets weighed half as much as similar vehicles run by steam or electricity.
()
The L.A. Auto Show under the chandeliers of the Shrine Auditorium in 1930.
()
The boat/car on Figueroa Street in front of the now-named Engine Co. 28 restaurant in this 1920 photo.
()
The Arroyo Seco Parkway, later renamed the Pasadena Freeway in 1940.
(LAT)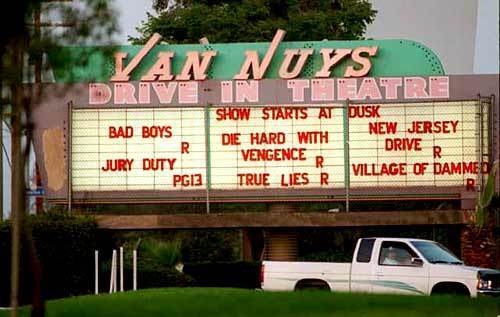 The Van Nuys Drive-In Theater was one of the last in the Valley when it closed in early 1996.
(Gary Friedman / LAT)
The Botts dot, a raised ceramic marker named for engineer Elbert D. Botts, has helped define freeway lanes throughout California for 35 years.
(LAT)