Smugglers hide in plain sight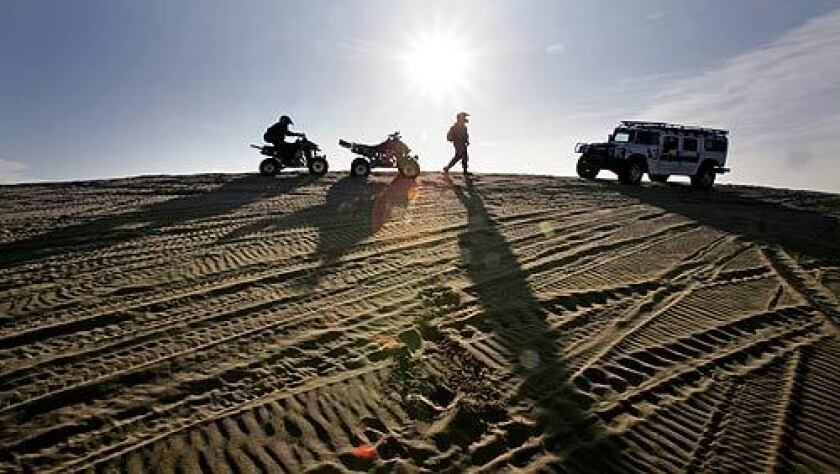 Los Angeles Times Staff Writer
IMPERIAL SAND DUNES RECREATION AREA, CALIF. —
The dirt bikes and dune buggies swarm the sandy slopes by the thousands, turning these giant dunes at California's southeast border into anthills of frenetic activity.
Smugglers in nearby Mexico can't resist trying to blend into the crowd.
They shoot across the border in souped-up vehicles loaded with illegal immigrants and drugs and elude U.S. Border Patrol agents by playing the part of dune enthusiasts: wearing helmets and decorating their bikes and all-terrain vehicles with decals and flags.
The cat-and-mouse game turned deadly recently when a suspected smuggler driving a Hummer ran over an agent and fled back across the border over the dunes. The agent's death focused attention on the federal government's enforcement strategy in this remote corner of the border.
While the Department of Homeland Security expands fencing in other trouble spots on the Southwest frontier, officials say fortifying the border at the Imperial Sand Dunes Recreation Area has been difficult because of shifting sands that render current barriers ineffective. By the end of the year, they say, they will have erected a new type of fortification that they hope will cut down on incursions.
But many critics, including the Border Patrol union, former federal law enforcement officers and environmental groups, say the plan to erect better barriers ignores the most significant problem: the recreational dune riders whose presence poses safety risks for agents and hampers enforcement efforts.
The dunes area is one of the few places on the American Southwest frontier where a major highway runs up against open border. Interstate 8 is generally less than three miles away and only 500 yards off in some spots, giving smugglers easy access to a major transportation corridor.
The public has been barred from other federally managed lands near the border, such as Organ Pipe Cactus National Monument in Arizona, much of which remains closed six years after an employee there was killed by a suspected smuggler.
Critics say the dunes remain open because of the powerful off-road industry, which is seeking to expand access to public lands and has gained the support of the Bush administration.
The border dunes are part of the Imperial Sand Dunes Recreation Area, which is managed by the federal Bureau of Land Management. Officials there say they have no plans for any closures. Senior Border Patrol officials say preserving public access to federal lands fits the agency's goal of improving the quality of life in border areas.
Chief Patrol Agent Paul Beeson, one of two chiefs responsible for the area, said the goal is to balance enforcement and public access.
"I believe that the best way to control that area is through the use of tactical infrastructure, and through use of agents and through the use of technology," Beeson said. "I don't think at this point that depriving people from the use of those lands is the best solution."
The federal government's position on the dunes is different from its aggressive actions elsewhere on the border, where Homeland Security has moved to waive environmental laws and sue private landowners in the name of putting up barriers and tightening security.
Those advocating a dunes closure say it would need to cover a 7,842-acre area between the border and Interstate 8, which amounts to less than 10% of the 80,000 acres open to off-roaders -- most of that area lying north of I-8.
"It's mystifying that this out-of-control situation continues to exist, yet on other parts of the border the Department of Homeland Security seems willing to flex its muscles to get what it wants," said Daniel R. Patterson, southwest director for Public Employees for Environmental Responsibility and a former BLM ecologist.
"Border security should certainly trump the off-road industry," he said. "But it's not clear that's the case with this administration."
The Imperial Sand Dunes, stretching 40 miles from the border to California's Chocolate Mountains, attract more than 1 million riders every year. The wind-sculpted dunes, evoking lunar landscapes and the vastness of the Sahara Desert, have served as backdrops for Hollywood movies such as "Star Wars: Return of the Jedi" and "Jarhead."
For smugglers, the dunes offer unique advantages. The area shares an eight-mile frontier with Mexico and has great freeway access. Crowd camouflage is easy when recreational enthusiasts visit the area in the winter months, especially on holiday weekends. More than 190,000 people have flocked to the area south of the interstate since October.
Smugglers send teams of lookouts into the crowds. Outfitted in full body suits and helmets, they look like everyone else. They roam around, monitor agents' positions and radio the all-clear at times.
Drugs often are brought across in Hummers and other sport utility vehicles. Sometimes teams of ATV riders wear marijuana-filled backpacks and file across the frontier in convoys of up to 10 vehicles. They unload their packs into ordinary-looking vehicles sitting among hundreds in crowded campgrounds.
Last year in and around the dunes area, federal authorities seized more than 48,000 pounds of drugs -- mostly marijuana -- and arrested 2,100 suspected illegal immigrants.
Compounding enforcement difficulties is the fact that recreational riders for years crossed freely back and forth across the border, sometimes going several miles deep into Mexico in search of smooth sand.
Authorities in January instituted a zero-tolerance policy that threatens riders with arrest, but agents say the cross-border jaunts continue, making it hard to distinguish smugglers from off-roaders.
"It's a honey hole" for smugglers, said Border Patrol Agent Quinn Palmer, an agency spokesman, who said keeping track of the cross-border traffic is "logistically impossible." "We have thousands of people out here on a busy weekend with no clearly defined border," he said.
Unlike other frontiers, the first line of physical border defenses is not at the international boundary. It's along Interstate 8, where rail-like metal vehicle barriers line the highway. Authorities say they have been effective in funneling traffickers to choke points near highway onramps.
But critics say the strategy steers traffickers through campgrounds. The suspected smuggler who killed Agent Luis Aguilar in January sped past the Buttercup campground at an estimated 55 mph. Last year, gun-toting smugglers ordered campers to clear an area.
Vendors who sell helmets, flags and automotive parts to dune crowds frequently report thefts by border bandits.
Large smuggling organizations in Mexico specialize in trafficking through the area. A January raid by Mexican police on a gang hide-out in Mexicali turned up 81 ATVs and dirt bikes.
By closing the area, many agents say, they would get a clear picture of cross-border activity. Anyone heading north from the dunes area could be pinpointed. And smugglers wouldn't be able to offload their drugs easily.
One veteran agent called the dunes "our nightmare" and added that most agents support a no-drive zone. Smugglers, he said, would lose their main advantage if they couldn't mix in with the crowds. "If we closed the sand dunes, anybody coming out of the area would be a suspect," said the agent, who spoke on condition of anonymity.
Richard Pierce, executive vice president of the National Border Patrol Council, the union that represents agents, said the enforcement strategy makes no sense. "To say we're trying to secure the border and then leave that area populated . . . is a joke. For the safety of the Border Patrol agents involved, those campers need to be moved north of the interstate," Pierce said.
But longtime dune lovers say a closure wouldn't be fair to the thousands of enthusiasts who flock to the area. James R. Broxholme, a vendor at the Buttercup Campground who sells flags that say "Dune Bunny" and "Ride Hard or Park It," said the best way to improve security is to build strong barriers on the border.
"The solution is simple. You create a physical barrier -- a wall or a trench -- and they won't drive over," he said of smugglers.
Off-roading groups certainly would oppose any closure plan. For years they have lobbied to get more of the dunes reopened after closures to protect endangered species. The Bush administration has favored the expansion of motorized recreation on federal lands in the West, including Yellowstone National Park and the Imperial Sand Dunes. But its plan to reopen about 40,000 acres at the dunes has been blocked by federal courts.
Bob Mason, president of the American Sand Assn., said closing the border dunes would be unacceptable, if not unpatriotic.
"That's part of the United States of America," he said. "To forgo that area would be tantamount to handing it over to the Mexican government."
Environmental groups have long criticized the administration for placing commercial interests and recreational uses ahead of conservation and for giving off-roaders extraordinary access. Now, they say, such access is trumping even national security.
Even some off-road enthusiasts question the current policy. Many have had brushes with border bandits and smugglers, or have seen pursuits through the dunes.
Lee Dove, an attorney who visits about twice a month, once saw a smuggler flash a weapon and said he sympathized with the Border Patrol's mission.
"If they were really serious about shutting down the traffic, they'd have to do something," Dove said. "I don't see how you can really enforce the border unless they have a no-drive zone from the border inland."
Luis Sanchez, a plumber from Tucson who rides the dunes with his wife and daughters, thinks closing the dunes to improve national security is a reasonable trade-off.
"There's plenty of other places to ride . . . with miles and miles of dunes," Sanchez said.
---
Get breaking news, investigations, analysis and more signature journalism from the Los Angeles Times in your inbox.
You may occasionally receive promotional content from the Los Angeles Times.