Housing Search Is Expensive for Getty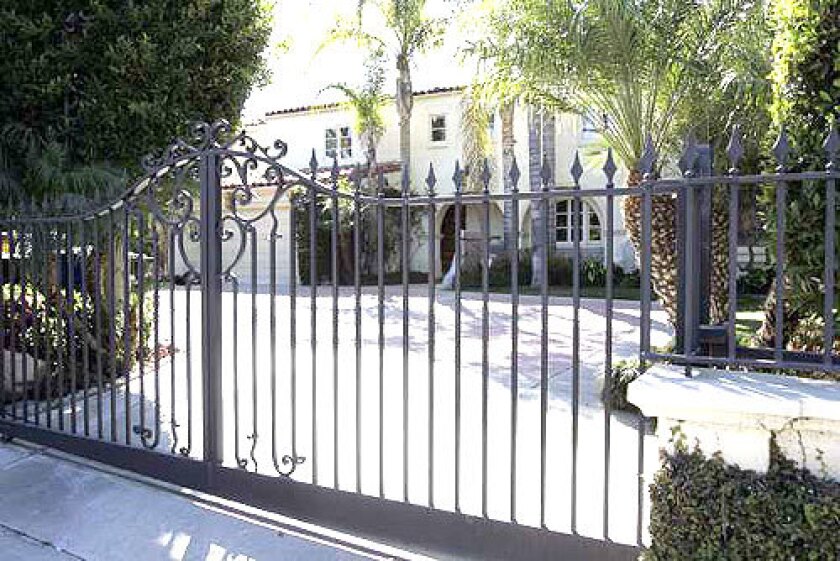 Times Staff Writers
Already under investigation for questionable executive spending, the J. Paul Getty Trust recently purchased a $3.5-million official residence for its new museum director's use only to find that the house was contaminated with mold and uninhabitable.
Getty officials bought the house in Beverly Glen near UCLA in October after Director Michael Brand decided not to live in a home the trust already owned next to the Getty Villa near Malibu.
But shortly before he and his family were to move into the Beverly Glen residence, inspectors opened the walls and found so much mold that the house was considered unsafe to live in.
The Getty then made an offer on a $5.5-million house near Santa Monica. Spokesman Ron Hartwig said the trust pulled out of the deal Tuesday after inspectors found structural problems with the roof.
Meanwhile, the Getty is paying $15,000 a month to rent Brand a Holmby Hills home with five bathrooms and a swimming pool on a two-acre lot.
Nothing prohibits the Getty from buying an official residence for its museum director to use. In fact, many leading museums do so.
But under the tax code, nonprofit organizations must use their resources for the public good and provide "reasonable" compensation for employees. In Brand's case, the use of the house would be considered additional compensation beyond his annual base salary of more than $480,000.
The state attorney general is investigating spending by former Getty Chief Executive Barry Munitz — and at least one land transaction he was involved with — to determine whether any of it jeopardizes the trust's nonprofit status. Munitz resigned last week under pressure from the board.
At least one authority on nonprofit governance, U.S. Sen. Charles Grassley (R-Iowa), chairman of the Senate Finance Committee, said Monday that the Getty's spending on a home for its museum director seemed excessive.
"Apparently Getty officials didn't get the word that 'Lifestyles of the Rich and Famous' went off the air in 1995," said Grassley, whose committee oversees the IRS, which regulates tax-exempt organizations.
"Champagne wishes and caviar dreams still seem to rule the day there," he said. "It's hard to see how a nonprofit museum can justify spending millions of dollars for its director's house."
While acknowledging that they face a "short-term" loss over the mold-contaminated house, Getty officials say they are determined to get a refund and have consulted attorneys about a possible lawsuit.
"We're desperately trying to get our money back," said Getty board Chairman John Biggs. "That house is not going to work out, and I think we're going to essentially come out even."
Getty officials said they didn't order a mold report before closing escrow on the house, relying instead on a 2004 report that the previous owner supplied showing there was no fungus in the walls. The former owner's real estate agent, who spoke on condition that he not be identified, said that along with the report, his client provided a standard written notice urging the Getty to conduct its own mold investigation.
Los Angeles attorney Joel B. Castro, who has represented wealthy home-buyers as well as won multimillion-dollar court awards over construction defects, said the Getty has only itself to blame.
"If someone had come to me and said, 'Gee, Mr. Castro, we had a mold inspection a year and a half ago,' my answer would have been: Are you out of your mind? Do you know how fast mold grows?" he said.
The costly saga over finding a museum director's residence started with the talks to lure Brand from the Virginia Museum of Fine Arts. With the blessings of the Getty board, Munitz offered to buy a home for the 47-year-old administrator's use.
Hartwig said the board set a spending limit of $5 million to $6 million but asked Getty staff to try to keep the purchase to $4 million. He said the intent was to buy a Westside home close to the Brentwood museum and big enough to host community meetings, fundraising events and other museum functions.
Providing such homes is not unusual for major museums. Until last year, the Metropolitan Museum of Art provided a Manhattan residence for Director Philippe de Montebello. The Los Angeles County Museum of Art's new director, Michael Govan, will live in a home owned by a museum-related foundation.
In Virginia, Brand, his wife and their two children lived in a two-story house owned by a foundation associated with the museum he led. The director said that after accepting the Getty job in August, he took a house-hunting trip during which he looked at 30 homes, with specific requirements in mind.
"This is not a house being bought for me," he said in an interview last week. "This is a house being bought for the museum."
Among the properties he toured was one the Getty already owned: a two-story, four-bedroom stucco home on Surfview Drive, next to the Getty Villa, with a swimming pool and a view of the Pacific.
Records show that the trust bought the house five years ago for $2.6 million to settle a neighbor's lawsuit over the Villa renovation. The purchase price was about $1.1 million more than what comparable nearby homes sold for in 2001, records show.
Brand said he decided not to live in that home because it was isolated and didn't have the floor plan or backyard space needed for entertaining. Getty officials said that they realized the home was too small to host museum-related functions and that they did not consider it an ideal fit for their new director.
With the $4-million limit in mind, officials eventually made an offer on the 70-year-old, 4,900-square-foot Spanish-style home at 711 S. Beverly Glen Drive. It was owned by a trust on behalf of an unnamed female celebrity.
A source close to the transaction said the Getty jumped at the four-bedroom house with open-beam ceilings and custom stained-glass windows after the seller dropped the price from $4.4 million to $3.5 million in September.
During the routine inspections, nothing indicated a problem with mold, Getty spokesman Hartwig said.
He added that the trust would have looked closer if there had been indications of mold.
"The people responsible for getting the house ready were very comfortable using the year-old report, since there was no indication of mold in the general inspection," Hartwig said.
Several Westside real estate agents and mold experts said it was a mistake for the Getty to rely on the report, especially after last year's record rains.
With enough space and nutrients, mold can spread throughout a house in three to six months, a prospect that motivates many high-end home buyers and agents to routinely lay out the $300 to $500 for a basic mold inspection.
Their hope: to avoid the kind of nightmare that befell Ed McMahon, the former Johnny Carson sidekick who won a $7.2-million insurance settlement after claiming that mold in his Beverly Hills house killed his dog Muffin and sickened him and his wife.
The 90210 ZIP Code "has been a hotbed for mold issues, primarily because the people who can afford" mold testing have it done, said Dennis Butcher, vice president and general manager of Environmental Management Solutions, a mold remediation company in Chino.
That the Getty didn't do its own mold test "makes no sense to me," said Valerie Fitzgerald, a leading Coldwell Banker agent in Beverly Hills who added that she would have one done even if the owner didn't "just for peace of mind."
"We do a mold inspection with every single sale we do," said Fitzgerald, who called such precautions "de rigueur … even in condos built in 2001."
Hartwig said the Getty discovered its mold problem around Christmas during renovation to ready the house for the Brands. While preparing the living room for painting, crews found moisture on a wall. An expert was called in, the wall was opened and mold was discovered.
That's when the Getty ordered air testing, which revealed mold spores throughout the house. "Destructive" tests, which punched holes throughout the walls, showed that fungus was "rampant," Hartwig said.
The smell was so bad that one Getty employee who walked through the house after the testing felt sick, went home and woke up the next morning with her eyes sealed shut because of irritation.
"The people we relied on believe that mold as extensive as [was] ultimately found in the house would not have grown in a year's time," Hartwig said. "We're at a loss to explain how that could be the case if mold was not present and not made known to us."
He said that even if the Getty doesn't get a refund, it considers the Beverly Glen property a "liquid asset" on which a new home can be built and sold for a profit.
After the trust determined that the house was unsuitable, it scrambled to find a rental for Brand and started looking for a replacement home.
Hartwig said the Getty made its offer on the $5.5-million house near Santa Monica on Feb. 1 and last week opened escrow, only to find the defects that led to the trust's decision Tuesday to withdraw its offer.
Frances Hill, a professor at the University of Miami School of Law, said the IRS' standard in determining the appropriateness of homes provided for nonprofit executives is "reasonableness."
"Shock and awe is the right response, even in Los Angeles," she said when told the Getty was considering the purchase of a $5.5-million home for Brand. But she acknowledged that real estate is expensive in Southern California and added: "There is no number that someone says, 'That's too much.' "
---
The stories shaping California
Get up to speed with our Essential California newsletter, sent six days a week.
You may occasionally receive promotional content from the Los Angeles Times.