Explosion continues to reverberate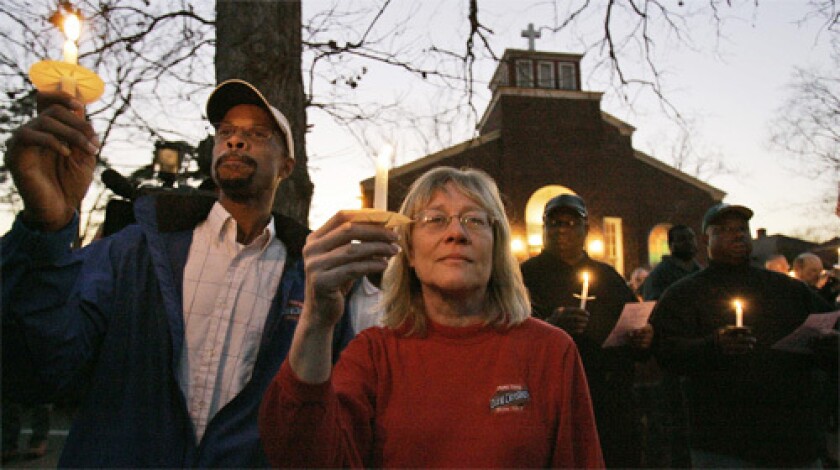 Los Angeles Times Staff Writer
PORT WENTWORTH, GA. —
Tears streamed down cashier Heather Watts' cheeks when one of her longtime customers strolled into the Time Saver Minit Market the other day to play the Fantasy 5 lottery.
Watts had not seen the man since sugar dust exploded into a fireball at the local Dixie Crystals refinery Feb. 7, killing 12. She has worried about the workers who have not been in to grab sodas and cigarettes or fill up on gas.
"You learn their shifts, and you know what they want," Watts said. The spot near the Kool-Aid dispenser and the hot dog stand where workers used to stop to chat on shift changes is empty now. "It feels strange when they don't stop by."
Nearly a month after the ferocious blast, there is little normalcy in this blue-collar town of 3,200. Teams of federal investigators continue to pick through black, sugar-coated rubble as workers mourn the dead and pray for the 11 who remain in critical condition.
Outside the white picket fence that surrounds the sprawling plant, 12 hard hats are hung with wreaths of white carnations. All along the two-lane coastal highway that connects the refinery to the tiny downtown, flags fly at half-staff.
"Our prayers are with the families of Dixie Crystal," reads a sign outside the Bible Connection Ministries. "God Bless."
"It's just been very difficult for everyone," salon owner Toni Geoghagen said as she swooshed a canister of hair spray around a woman's fresh hairdo. "There's not anyone in town who didn't know someone who worked there."
Since 1917, generations of workers have followed their fathers and mothers, uncles and aunts, brothers and sisters to refine and then pack the raw cane sugar that arrives on container ships on the Savannah River.
"This doesn't feel real -- I'm all out of routine," said Andre Collins, a pallet operator who last week joined more than 100 workers, many bundled up in Dixie Crystals sweatshirts, in the city's gymnasium to pick up his paycheck and listen to an update from a company executive.
Less than half of the company's 372 employees are back at the plant, helping with the cleanup and investigation. The rest continue to receive paychecks, but the usual overtime money is gone.
Some workers are struggling to make their mortgage and car payments and pay utility and grocery bills. Scores poured into the First Baptist Church last week to apply for financial assistance from a United Way relief fund.
Sitting down in a metal folding chair, Cinnegar White's eyes misted as he looked around at co-workers.
"It's just an empty feeling," said White, who was knocked to the floor by the explosion. "One minute you're just walking by them in the plant, saying hey. The next minute you're giving condolences to their families."
All around town, locals have rallied to raise money and offer assistance. A car dealer donated vehicles for plant employees to drive the 120 miles to visit their injured co-workers at the Joseph M. Still Burn Center in Augusta. A dressmaker offered to provide prom dresses for workers' daughters. Across Georgia, Piggly Wiggly grocery stores are taking donations at their registers.
Outside First Baptist Church, Walter Jones, who had worked at the plant for two years, talked despondently into his cellphone. A contract employee, he is now out of work.
"Yes, it was like a family -- everyone looked out for each other," he said. "But I have to move on so I can pay my bills."
About 10 to 15 of those injured were undocumented Latino contract workers who have received little assistance in the weeks after the explosion, said the Rev. Bennie R. Mitchell Jr., pastor at Connor's Temple Baptist Church in Savannah.
"These people worked hard, but now that they've served their purpose, they're invisible," Mitchell said.
By Friday, many of the Latino workers who went to First Baptist Church looking for help had been issued United Way debit cards, which they took to Wal-Mart to buy groceries.
It is not clear when the plant, which had been refining about 6.3 million pounds of sugar a day, will reopen. Imperial Sugar Co., which owns the plant, said it could be weeks or months before federal officials complete their investigation into what caused the fire. Investigators found enough combustible sugar dust to fuel the blast but have not determined what caused it to ignite.
Martha Smith, a laboratory technician, is one of those who has gone back to work at the plant.
"I'm just cleaning, painting, kind of like busy work," she said as she rushed to her afternoon shift, "but it's better than sitting back at home, and it's nice to see everyone."
---
For reporting and exclusive analysis from bureau chief John Myers, get our California Politics newsletter.
You may occasionally receive promotional content from the Los Angeles Times.