Newsletter: Turkey and tacos for everyone
Welcome to the weekend, and the last Saturday before Thanksgiving. Which means five more days of chaos before the relative calm of leftover turkey cassoulet. (Shopping? No. Just no.) So for your reading pleasure we have a cooking story about what chef Ray Garcia makes for Thanksgiving, a stunning menu that you still have plenty of time to duplicate. (Two words: bone marrow.) We also have quite a bit more on the holiday front, including what locally-oriented wines to drink, what to pick up at the farmers market (Brussels sprouts!), and a cool list of 29 other recipes you can make for the biggest food holiday of the year.
If you're already experiencing holiday fatigue, maybe head to Bell and get yourself a few tacos, which is what our restaurant critic has been doing lately. Jonathan Gold reviews Tacos & Mezcal, a restaurant which is, you guessed it, a kind of boozy Oaxacan taqueria. Which reminds me, it's worth picking up (or making) some mole this week for leftover turkey and mole tacos.
TACOS! MEZCAL!
This week Jonathan heads to Bell, to the former location of the late, lamented Corazón y Miel and finds, not mole, as one might expect from a Rocio Camacho restaurant, but Tacos & Mezcal. The new place, from a chef known for her mole experimentation, serves, you guessed it, tacos and mezcal. Also, our restaurant critic finds, some notable grilled street corn, chileajo, nopalitos y chapulines — and a dish called Octopus in Love.
A BROKEN SPANISH THANKSGIVING
Turkey brined in citrus, chiles, herbs and Tecate; stuffing with chard, masa and bone marrow (thank you, Fergus Henderson); esquites with pickled blueberries and vadouvan-spiced almonds. And that's just part of the Thanksgiving menu from chef Ray Garcia and his veteran crew at Broken Spanish restaurant in DTLA. Did we mention buttermilk biscuits? Right.
WINES FOR YOUR FEAST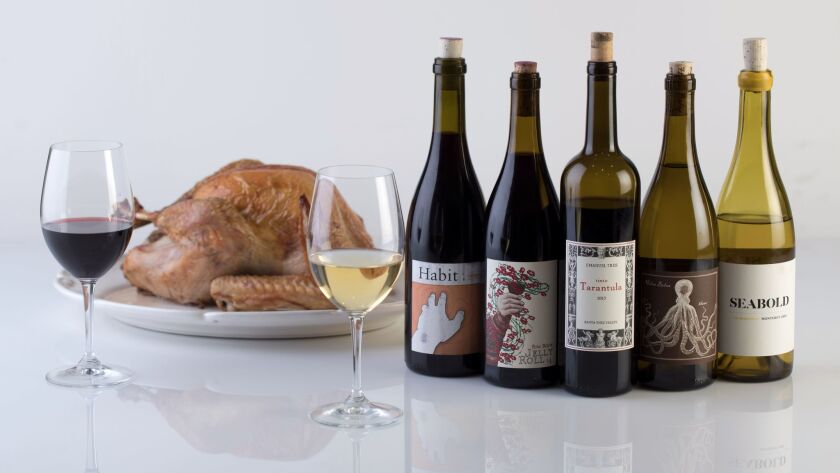 What to pair with all that turkey? Wine writer Patrick Comiskey suggests 5 bottles for your holiday table: two whites (a Roussanne and a Chardonnay) and three reds (a Syrah, a Cabernet Franc and a blend). All five are from winemakers in California.
HOLIDAY ICE CREAM
Food writer Evan Kleiman has spent not a little time in Italy, where the seasonality of the cuisine, she writes, is also applied to gelato. These days in L.A. she's found some pretty wonderful fall flavors in ice cream shops too, including pastry chef Roxana Jullapat's roasted apple ice cream. Yes, we have the recipe. And yes, it would be pretty great for a Thanksgiving dessert.
AND MORE WINES, AFTER THE FIRE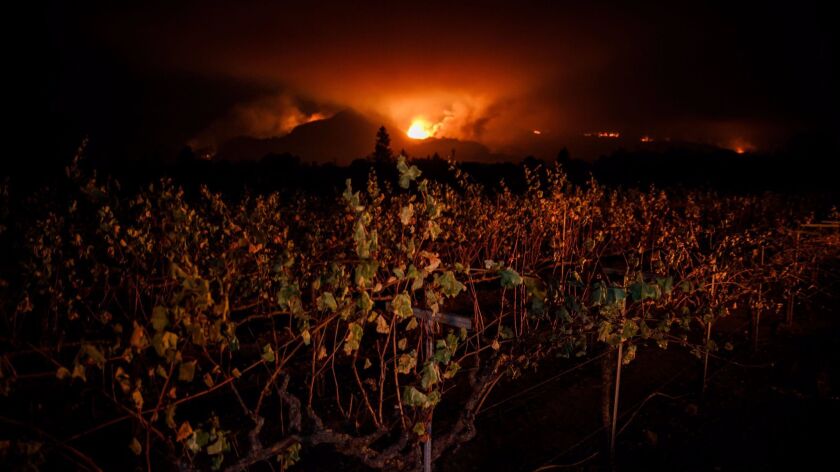 If five wines aren't enough for your holiday (you know your family better than we do), you might consider buying some wines from the areas recently affected by the devastating fires. "The wine you'll see in the marketplace for at least the next six months," writes Comiskey, "will not have been near so much as a wisp of smoke. So buy with confidence."
Our Holiday Cookie Bake-off is back! Got a great holiday cookie recipe? Submit your recipe, plus an essay and photo or video by Nov. 25, to latimes.com/bakeoff. We'll take the top 20 vote-getters and narrow them down to our top 5, which we'll bake in our Test Kitchen. The 5 finalists will be invited to our Test Kitchen and their recipes will be featured in a Saturday section in December.
Jonathan Gold's 101 Best Restaurants, the authoritative annual guide to local dining, is online for subscribers and now features his 2017 Best Restaurants. If you didn't get a copy of the booklet, you can order one online here.
Goldbot: you can now talk to Jonathan Gold any time you want — or at least the robot version of him that now lives on Facebook Messenger. You can ask Goldbot for a personal restaurant recommendation based on location, type of food or price. The bot will also deliver Jonathan Gold's latest reviews straight to your device.
The Daily Meal, the food and drink website under the editorial direction of Colman Andrews, is one of our partners. Check out their stories, recipes and videos.
Check us out on Instagram @latimesfood
Check out the thousands of recipes in our Recipe Database.
Feedback? We'd love to hear from you. Email us at food@latimes.com.
---