Newsletter: Dining at the Grove, drinking in the mountains
The Olympics are almost over, but not to worry: March Madness will be here soon enough! Meanwhile, back to Korean sports coverage, and — if you think like we do — to Korean food. If you didn't get to all of Jonathan Gold's 38 favorite Korean restaurants in the last week (right), here's another look at our homage to L.A.'s Koreatown. Enjoy the last days of snow television over a vat of gamjatang.
Then there are this week's stories, including Jonathan's latest review, of Dominique Ansel's new restaurant at the Grove. Because once you stand in line for a Cronut, there's a whole restaurant upstairs.
There's also much going on at local farmers markets now, including stalls loaded with carrots and blood oranges. We have recipes that use plenty of both, as well as those for margaritas, corn breads, grilled fish and more. We also check out a new distillery up at Mammoth Lakes, and a new '80s-themed bar, as well as some new brunch spots. Enjoy your weekend.
ANSEL DOES DINNER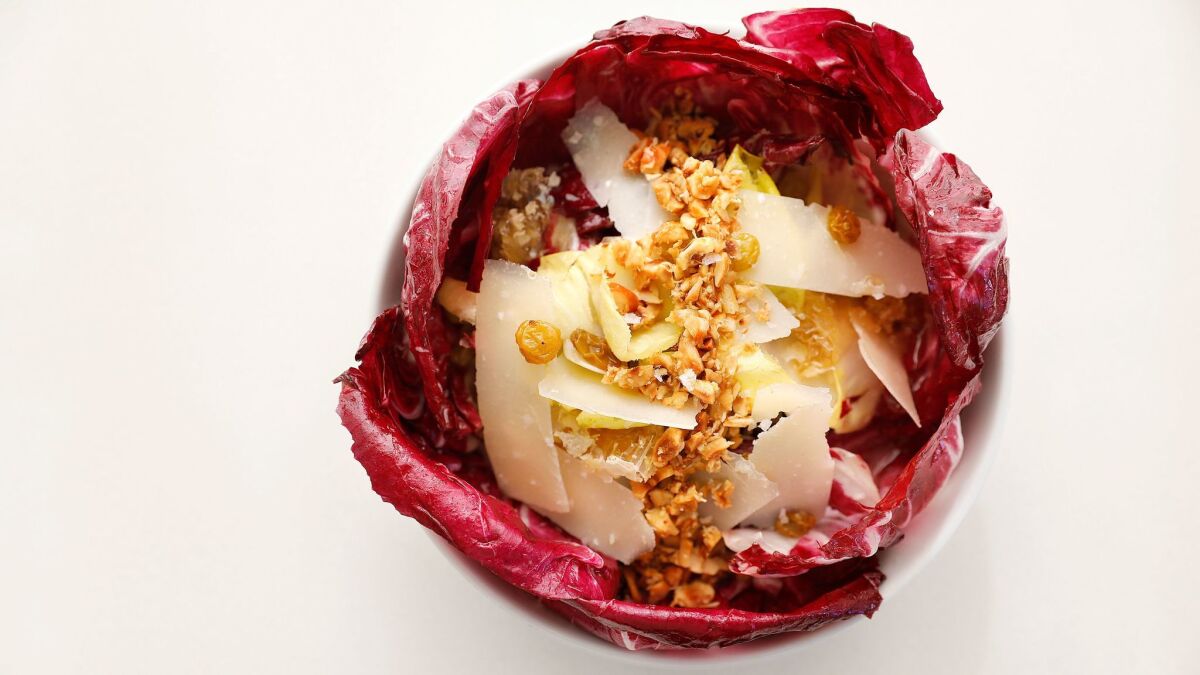 A few weeks ago, we went behind the pastry kitchen doors of Dominique Ansel's new L.A. bakery. This week, Jonathan heads upstairs, to consider Ansel's restaurant 189 by Dominique Ansel (the number is the street address), the noted pastry chef's first full-service restaurant. Unsurprisingly, there are some pretty spectacular desserts; there's also much else to love, including roasted radicchio with honeycomb and hazelnuts and a cheese board that's a bit more evolved than the ones you've probably had. And yes: there are Cronuts.
BOOZE AT ALTITUDE
Despite the woeful lack of precipitation so far this year, you can still get in some pretty good skiing at Mammoth. And food writer Esther Tseng has news of something else to do when you're up at Mammoth Lakes: drink some pretty good spirits. Shelter Distilling, the town's first distillery, opened in December — thanks to a trio of snowboarders.
IN PRAISE OF BLOOD ORANGES
Food writer Martha Rose Shulman considers the wealth of blood oranges on her backyard tree, as well as what to do with them. In her case, this has meant salads, compotes, cocktails and a gorgeous rhubarb and blood orange tart. (If you don't have a tree of your own, the citrus is peaking at local farmers markets.) The oranges are fragrant, delicious, fun to use — and of course, given their scarlet color, downright gorgeous.
PAIRING COCKTAILS AND BIG HAIR
In this week's restaurant news column, Deputy Food Editor Jenn Harris checks in on a new West Hollywood bar, Lazer Kat, which has a decidedly '80s theme. Specifically: Blue Hawaiian cocktails, Mr. T art, an LED dance floor and PBR on tap. There's also much happening in the world of brunch, as three new restaurants — including the new NoMad downtown — are now serving it.
Our lunchtime chats with Jonathan Gold are back! On Friday at noon, our restaurant critic will be fielding your questions on restaurants, dining and food.
L.A. Times Food Bowl returns for a second year this May. It's 31 days of events celebrating L.A.'s food and drink scene and helping raise awareness and funds to fight food waste, hunger and food insecurity and to promote sustainability. Guest chefs include Ben Shewry (Australia), Yoshihiro Narisawa (Japan), Virgilio Martinez (Peru) and Yu Bo (China), along with Diana Kennedy (Mexico) and Fuchsia Dunlop (United Kingdom), with more to be announced. The full program will be released March 31. If you have a restaurant, bar, market or other establishment and are interested in hosting a Food Bowl event, here's how to register.
Jonathan Gold's 101 Best Restaurants, the authoritative annual guide to local dining, is online for subscribers featuring his 2017 Best Restaurants. If you don't have a copy of the booklet, you can order one online here.
Goldbot: You can talk to Jonathan Gold any time you want — or at least the robot version of him that now lives on Facebook Messenger. You can ask Goldbot for a personal restaurant recommendation based on location, type of food or price. The bot will also deliver Jonathan Gold's latest reviews straight to your device.
Check us out on Instagram at @latimesfood.
And don't forget the thousands of recipes in our California Cookbook recipe database.
Feedback? We'd love to hear from you. Email us at food@latimes.com.
---