Newsletter: Gardens, avocados and halvah
Happy Saturday and Happy St. Patrick's Day. If you celebrate the holiday, we have 26 beer-infused recipes that might pair well with yet another screening of "The Quiet Man," the John Ford movie my mother always watched on March 17. They'd also likely go really well with all that March Madness basketball, as would these 11 taco recipes.
On the restaurant front, maybe head out to some of the local restaurants whose chefs were recently named James Beard Award finalists. Instead of a restaurant review (Jonathan Gold is currently in Italy), we have a story about a chef who's been sourcing his produce a little closer to his restaurant than most: in his neighbors' yards. We also talk to the chef behind the new restaurant from José Andrés, and check in on the couple behind an L.A. halvah company. And yes, we have recipes — for what to do with that addictive confection, plus all the avocados on local trees. Have a great weekend.
YARD-TO-TABLE
Chefs have long made it a practice to source their vegetables and greenery from local farmers, or to grow it at nearby gardens. Kali chef Kevin Meehan has been getting his greens a little closer lately: from the frontyards and sidewalk gardens of his neighbors. Deputy Food Editor Jenn Harris talks to Meehan and tours the gardens near his Larchmont restaurant, where the chef's neighbors are now growing mustard frills, arugula, nasturtiums, violas and more for his kitchen.
INSIDE SOMNI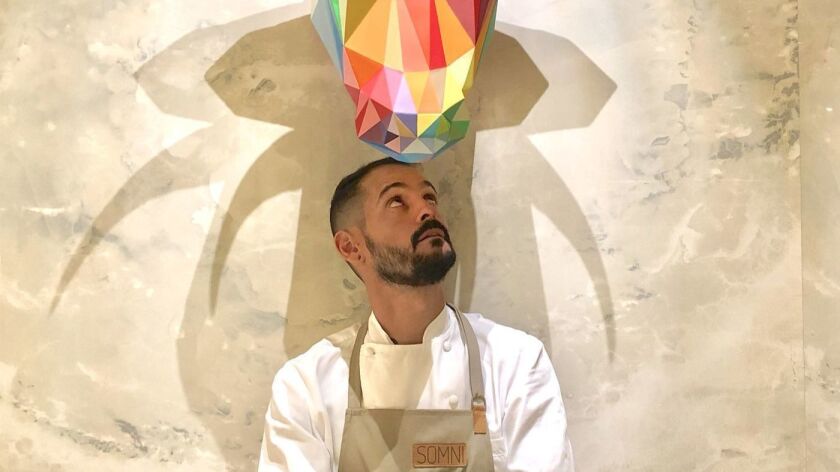 Spanish chef José Andrés' complex in the SLS Hotel in Beverly Hills is a combination of restaurants rather than a single one, and it's evolved since it opened a decade ago. That evolution now includes Somni, a high-end, 10-seat, tasting-menu restaurant that recently opened in what was previously the restaurant Saam. Behind the stoves is Aitor Zabala, a Basque chef and El Bulli veteran. I sat down with Zabala to talk about his new restaurant, the names for genres of cooking and what he cooks at home.
CRUSTACEAN REBOOTS
This week in her weekly restaurant news column, Jenn checks out the Euro-Vietnamese restaurant Crustacean in Beverly Hills, which has recently reopened after a $10-million redesign. There's a new tasting menu downstairs, and upstairs a separate new invitation-only restaurant called Da Lat Rose. Also: Umami Burger founder Adam Fleischman will open Cold Cocked Coffee Co. at the Platform 35 food hall in Koreatown on April 1. And the burger pop-up Burgers Never Say Die will open in a new location in Silver Lake this summer.
IN PRAISE OF HALVAH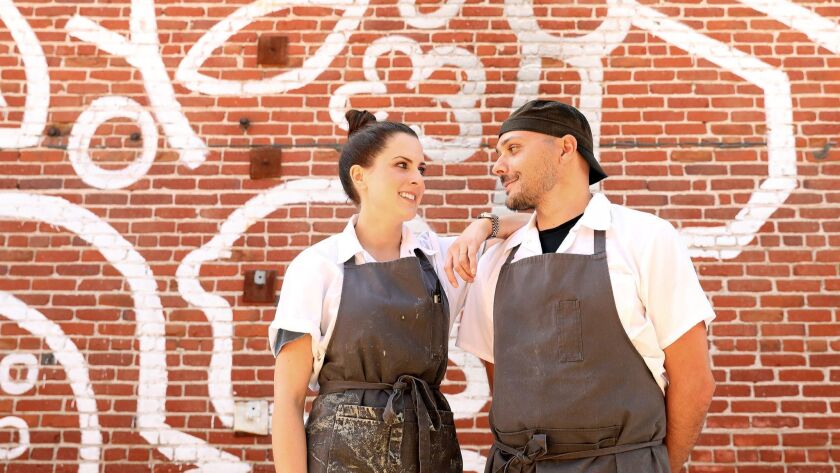 With the growing popularity of Middle Eastern cuisine, it's thankfully easier than ever to find good hummus and baba ganoush — and halvah. Halvah? If you're not familiar with the sesame confection, then maybe check out food writer Amelia Saltsman's story about the folks behind Hebel & Co., an L.A.-based halvah company run by a husband-and-wife team who left jobs to devote themselves to the stuff. Plus recipes!
MORE FUN WITH AVOCADOS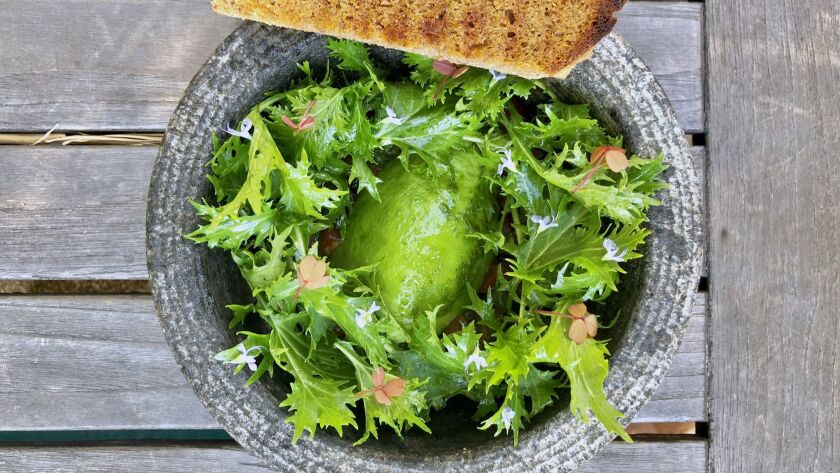 Need some avocados for chef Aitor Zabala's avocado salad? Surprise: they're in season. Test Kitchen Director Noelle Carter discusses the fruit in her weekly market report and gives some more avocado recipes. Because we will, it seems, never really get tired of avocado toast.
L.A. Times FOOD BOWL returns for a second year this May. It's 31 days of events celebrating L.A.'s food and drink scene and helping raise awareness and funds to fight food waste, hunger and food insecurity and to promote sustainability. International guest chefs include Ben Shewry (Australia), Yoshihiro Narisawa (Japan), Virgilio Martinez (Peru) and Yu Bo (China), along with Diana Kennedy (Mexico) and Fuchsia Dunlop (Britain), with more to be announced. The full program will be released on March 31. If you have a restaurant, bar, market or other establishment and are interested in hosting a Food Bowl event, here's how to register.
Jonathan Gold's 101 Best Restaurants, the authoritative annual guide to local dining, is online for subscribers featuring his 2017 Best Restaurants. If you don't have a copy of the booklet, you can order one here.
Goldbot: You can talk to Jonathan Gold any time you want — or at least the robot version of him that now lives on Facebook Messenger. You can ask Goldbot for a personal restaurant recommendation based on location, type of food or price. The bot will also deliver Jonathan Gold's latest reviews straight to your device.
Check us out on Instagram at @latimesfood.
And don't forget the thousands of recipes in our California Cookbook recipe database.
Feedback? We'd love to hear from you. Email us at food@latimes.com.
---