Newsletter: On Native, Persian cuisine, and a Vietnamese restaurant run by nuns and monks
Welcome to a weekend of cool rainy weather and a pretty great NCAA tournament. How's your bracket? I picked Cal State Fullerton to win it all, so there you go. If you're home cooking, we'd suggest focusing on English and sugar snap peas. Or, for the ambitious, how about trying a lemon elderflower cake? It's what California-Brit pastry chef Claire Ptak will be baking for the upcoming royal wedding. We've got some more recipes on hand, including a quinoa burger and coffee cakes.
If you're heading out, you might want to get a table (or try!) at Native, Nyesha Arrington's new restaurant and the subject of Jonathan Gold's latest review. We also have stories about a massive new rooftop restaurant at Eataly, a soba joint in Koreatown, a Vietnamese restaurant in Orange County staffed by Buddhist nuns and monks, and a beloved Persian restaurant that is anything but new. Happy dining indeed.
GOING NATIVE
This week, Jonathan considers the new restaurant from chef Nyesha Arrington, whose Venice restaurant Leona was on his list of 101 Best Restaurants. Arrington's latest project is Native, a vegetable-forward restaurant in Santa Monica that again translates her eclectic background to a series of small plates. Pork chops with gochujang. Spanish octopus with hominy.
25 YEARS OF PERSIAN FOOD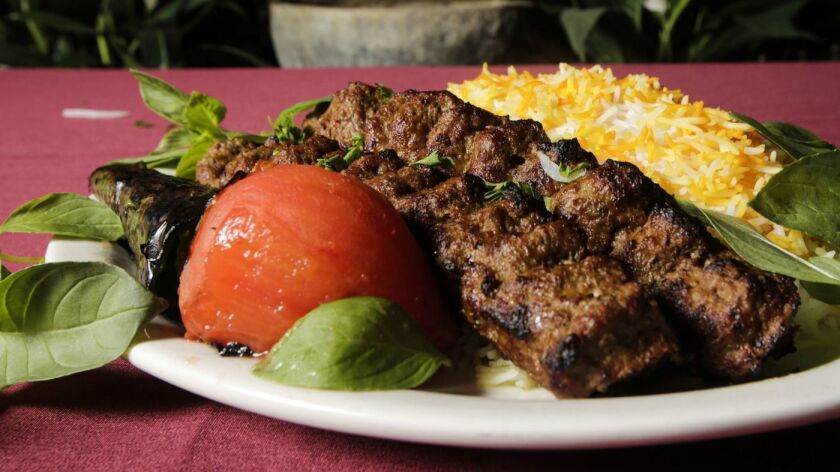 Restaurants have a huge turnover rate, so to make it to the quarter-century mark is a pretty big achievement — which is what Raffi's Place in Glendale has accomplished this year. Deputy Food Editor Jenn Harris talks to the Bakijanian family, who own and operate the Persian restaurant, about what it means to have folks keep lining up outside their doors after all these years.
SPIRITUAL COOKING
If you've spent much time in Orange County's vibrant Little Saigon community, you've likely been to Brodard Restaurant or Brodard Chateau, the Vietnamese restaurants run by Diane Dang. Dang recently opened Lotus, Orange County's largest Vietnamese vegetarian restaurant, where the food is made not by high-profile chefs — but by a group of Vietnamese Buddhist monks and nuns. Writer Quyen Do has the story.
MORE FUN AT EATALY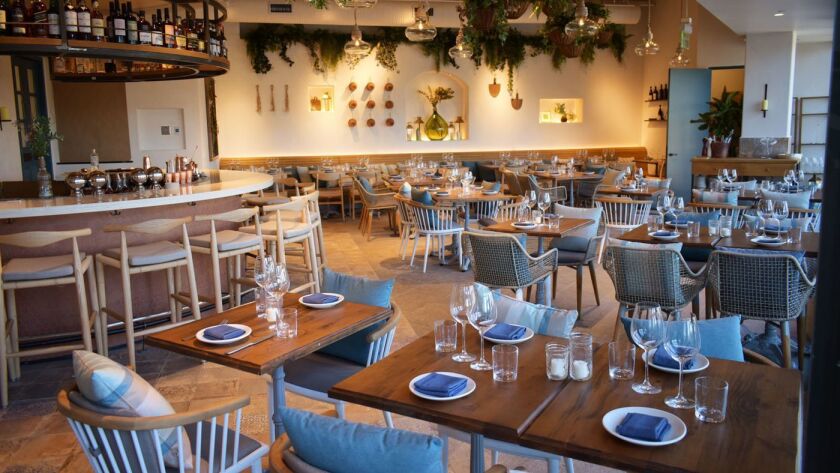 Remember that enormous food hall and marketplace in the Westfield Century City mall? In addition to all that wine and pasta, it will soon have an 11,000 square-foot rooftop restaurant, called Terra. In her restaurant news column, Jenn gets details on that, plus a new gin bar in Westlake called Genever, a new bagel pop-up and a grilled-cheese place. Plus, Pizzana now delivers!
SOS: QUINOA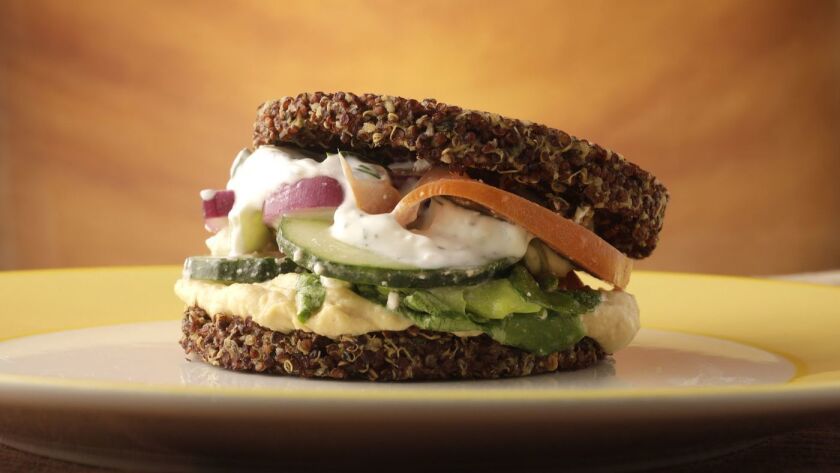 In the latest installation of her Culinary SOS column, Test Kitchen director Noelle Carter gets the recipe for True Food Kitchen's Inside Out burger, which bypasses both burger patty and bun in lieu of two discs of red quinoa. So it's vegetarian, and also a bit Middle Eastern-influenced, because what you put between those quinoa patties includes hummus, feta and tzatziki.
L.A. Times Food Bowl returns for a second year this May. It's 31 days of events celebrating L.A.'s food and drink scene and helping raise awareness and funds to fight food waste, hunger and food insecurity and to promote sustainability. Guest chefs include Ben Shewry (Australia), Yoshihiro Narisawa (Japan), Virgilio Martinez (Peru) and Yu Bo (China), along with Diana Kennedy (Mexico) and Fuchsia Dunlop (United Kingdom), with more to be announced. The full program will be released on March 31. If you have a restaurant, bar, market or other establishment and are interested in hosting a Food Bowl event, here's how to register.
Come to our launch party, at Rossoblu restaurant on April 30. Feast on Things in a Bowl from last year's Restaurant of the Year award-winner LocoL, Rossoblu, Night + Market, Chengdu Taste, Shibumi, DTLA cheese and more. We'll be announcing the 2018 Gold Award Winner and 2018 Restaurant of the Year. Get tickets here. Tickets are also now available for the Power of Food, presented by L.A. Kitchen and the Wiltern on May 1, with José Andrés (James Beard Humanitarian Award Winner), Jonathan Gold and special guests Zooey Deschanel, Ron Finley, Susan Feniger and Tim Kilcoyne.
Jonathan Gold's 101 Best Restaurants, the authoritative annual guide to local dining, is online for subscribers featuring his 2017 Best Restaurants. If you don't have a copy of the booklet, you can order one online here.
Goldbot: You can talk to Jonathan Gold any time you want — or at least the robot version of him that now lives on Facebook Messenger. You can ask Goldbot for a personal restaurant recommendation based on location, type of food or price. The bot will also deliver Jonathan Gold's latest reviews straight to your device.
Check us out on Instagram at @latimesfood.
And don't forget the thousands of recipes in our California Cookbook recipe database.
Feedback? We'd love to hear from you. Email us at food@latimes.com.
---